Are you an Ancestry customer? Do you want to learn more from your DNA data? Upload your DNA data to Nebula Genomics to get a free DNA report and additional new traits every week! In this blog post, we provide instructions to make Ancestry login and DNA data download easy.
Ancestry began as a family history magazine and book publisher in 1983, and over a decade later, launched Ancestry.com to collect genealogy data and track family histories. In 2002, Ancestry partnered with Relative Genetics to offer DNA testing. By 2012, AncestryDNA became the company's flagship service – combining genetic and family history data. Today, Ancestry is the "global leader in family history and consumer genomics". It provided DNA testing to over 16 million people in 30 countries.
Step 1: Find the Ancestry login portal to sign in to your account
To find the Ancestry DNA login portal, first, visit the Ancestry website. There you will see an "Ancestry sign in" button in the right upper corner. Click that button to begin the Ancestry login process.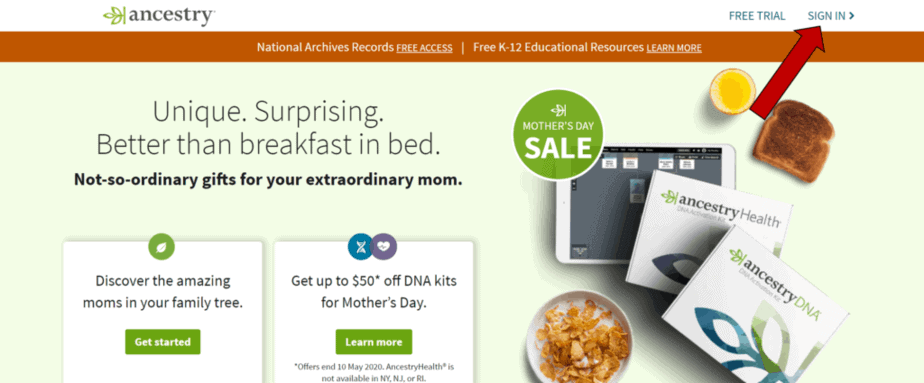 Step 2: Start by entering your Ancestry login information
In the ancestry.com login portal, you will be asked for your email address (or username) and to enter your password. If you don't remember your password, click "Forgot your password?". Ancestry will send you an email with instructions on how to reset your password. After resetting your password, you will be able to resume the ancestry.com sign in process. 
Step 3: After you signed in to your Ancestry account, find the data download page
After passing the AncestryDNA login page, you will reach the AncestryDNA customer portal. Here, you can explore everything that Ancestry has to offer. Along the top of the screen, you can find information about your family tree, the search for relatives, DNA testing results, health reports and more.
Ancestry makes it easy for users to download raw DNA data files. First, click on the DNA tab in the top banner. Then, click on "SETTINGS" on the right.
Step 4: Submit Ancestry raw data download request
On the next page click "DOWNLOAD RAW DANA DATA". A pop-up window will shop up and require you to input your Ancestry log in information. Check the box next to the disclaimer to confirm that you understand that you are responsible for the security of your Ancestry raw data. Then click "CONFIRM". A notification will be displayed informing you that Ancestry has sent you an email. 
Step 5: Check your inbox for an email from Ancestry
Now go to your email inbox. You should have received an email from Ancestry. Open it. In the email click on the "Confirm Data Download" button. You will be taken back to the Ancestry customer portal. You should be still logged in to your Ancestry account. Note that the raw data download request will expire after 7 days, so don't wait too long to download your DNA file!
Step 6: Download your Ancestry raw DNA data
You should now be back on the Ancestry website. If you are not logged in anymore, go through the Ancestry login process again as described above. Next, you will be taken to page with a (final!) "DOWNLOAD DNA RAW DATA" button. Click the button and the data download will begin.

While your raw data is downloading, you will be shown some technical information about it. For example, your Ancestry raw data file contains approximately 700,000 genetic variants.

Step 7: Don't forget to log out after Ancestry login
After AncestryDNA login, it's import to log out of your account, so that nobody else can access your account. You can log out of your Ancestry account by clicking "Sign Out" in the menu in the upper right corner of the screen.
Step 8: Upload your Ancestry raw data to Nebula Genomics
Now you can upload your data to another DNA testing company! This will allow you to unlock more DNA results than AncestryDNA provides. The information is in your DNA, you just need to download and upload it to Nebula Genomics for further analysis.
If you already have a Nebula Genomics account, the login process is similar to the Ancestry DNA results login that we described above. If you don't have a Nebula Genomics account yet, you can create an account and upload your Ancestry raw data here. Enjoy your free expanded DNA report and weekly updates! You can explore our reports here.
Want to go beyond what the AncestryDNA test can offer? AncestryDNA only looks at .01% of your DNA. Whole Genome Sequencing allows you to tap into 10,000 times more information. This can help link the newest scientific studies back to your genome to provide even more information about your health, wellness, and ancestry.
Did you like this tutorial? You might find these tutorial useful as well: