7 Facts from our Endocanna Health Review
Location: Burbank, CA, USA
Products: 2 DNA test kits (EndoDNA and CHS Susceptibility DNA Screening Test) and 2 raw DNA upload options (EndoDNA and Free Immune Function Genetics Report)
Cost: $0-$199
Reports: Reveal insights on DNA and its respective relationship with cannabis tolerance
Data upload option: Yes
Counseling available: No
Alternative Products: Nebula Genomics offers 30X Whole Genome Sequencing that decodes 100% of your DNA and offers reports on diet and much more!
This review is written with the intent to be as unbiased as possible. However, it represents the opinion of an individual reviewer and is therefore subjective. Furthermore, at Nebula Genomics we seek to educate the public about the benefits of Whole Genome Sequencing. Information about our Whole Genome Sequencing DNA test is therefore incorporated into the review.
September 6, 2022
Pros and Cons
Pros
Personalized reports
Related tests available
Lifetime updated reports
Cons
The price can be high
Data upload is not free
Introduction
Endocanna Health is a biotechnology research company that provides customers with a DNA test that tests over 600,000 SNP positions connected to optimal health of their endocannabinoid system. Its flagship product, EndoDNA, is precision cannabinoid medicine, backed by the science of genomics and a product matching algorithm.
The company's goal is to help match people with the right cannabinoid products that suit their needs. This information could be the best terpenes to use and the ones to avoid, the right dose of cannabis that is ideal for their body, and much more.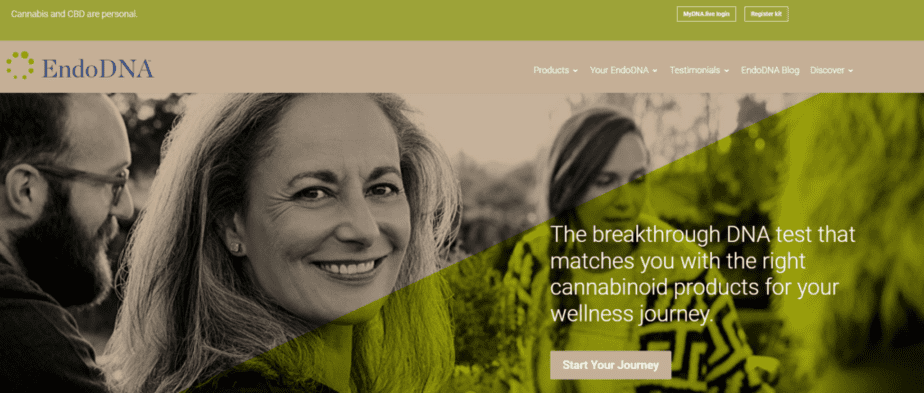 Using a personalized approach, customers can avoid the trial-and-error process of finding the right product. EndoDNA is committed to empowering people to take control of their health with access to more than 55 health reports that include matching them to the right cannabis and CBD products.
The company was founded in 2017 by Len May, a cannabis expert with over 25 years of experience. EndoDNA is based in the Greater Los Angeles Area in California. The team is made of researchers, activists, and advocates, many of whom have been involved with cannabis therapeutics for more than 10 years.
The Science of Endocanna Health
Endocanna Health seeks to provide customers with deep-rooted analyses that help them discover optimal CBD and THC products based on a unique genetic profile.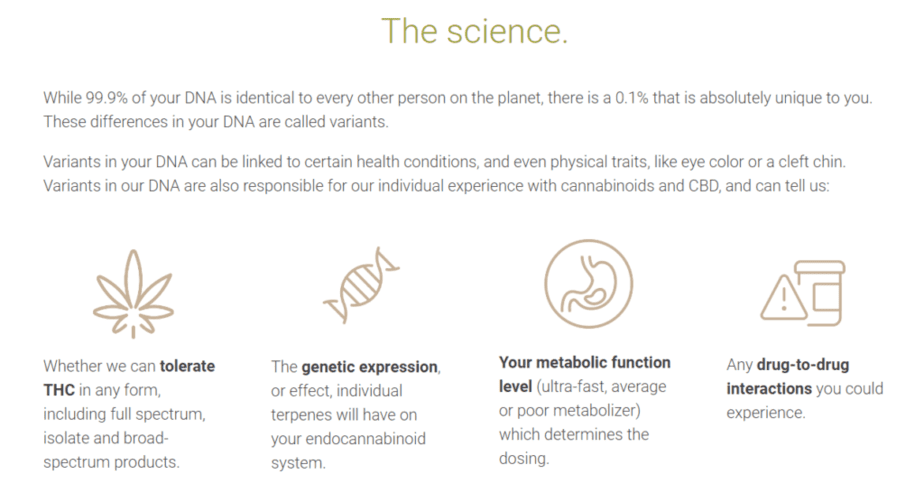 The company sequences over 670,000 SNPs and 91 endocannabinoid genes. It has developed a super chip (patent pending) and algorithm that interprets your genotype. The SNPs used are either directly or indirectly associated with the endocannabinoid system. 
Analysis is based on peer-reviewed scientific publications that meet high standards for scientific research, including quality of protocols, number of research participants, and publication standards.
Based on the results, Endocanna Health recommends one of 14 unique formulations that are aligned with specific genotypes. The difference has to do with the CBD to THC ratios and terpene profiles, which have different effects on individuals. The company will recommend brands that have the specific ratio ideal for the customer's genotype.
Review of Endocanna Health Products
Endocanna Health offers 2 genetic test kits with DNA variant reports. The EndoDNA kit and report is the company's flagship product. Customers who already have 23andMe or AncestryDNA data can upload their raw files and receive the report in this product without purchasing the kit.
It also offers a CHS Susceptibility testing kit as well as a free immune genetics report based on uploaded data only.
Free Immune Function Genetics Report
Your genes hold a lot of information about the genetic predispositions for your immune function. With 8 immune function and 3 vitamin deficiency predisposition reports, you will discover your genetic risk of developing specific immune responses. It also exposes your risk of experiencing intense emotional reactions during stressful situations, severe influenza, acute respiratory tract infection, and stress.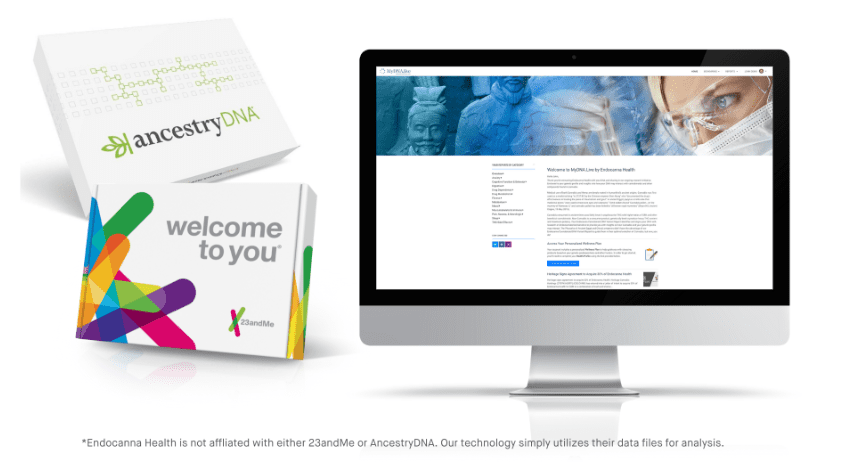 This option also gives you access to resources, information, and tools, to promote a wellness plan and proactive immune health.
CHS Susceptibility DNA Screening Test
This screening helps you know if your genetic markers are connected with Cannabinoid Hyperemesis Syndrome (CHS). CHS is a condition that leads to repeated and severe vomiting caused by long term marijuana.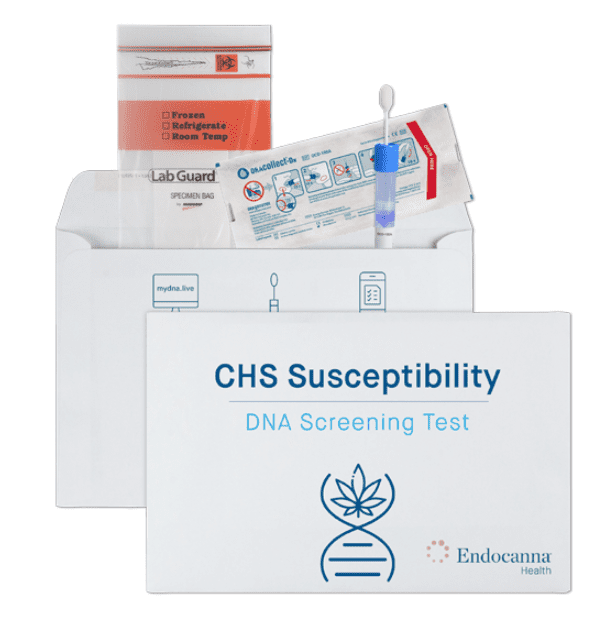 This test will not diagnose CHS but customers are encouraged to share their results with their doctor as part of the diagnostic process.
It's important to remember that these consumer tests are not a substitute for medical advice.
EndoDNA
Every one of us has a system designed to enjoy the benefits of CBD and cannabinoids, called the endocannabinoid system. With so many choices of cannabis and CBD available in the market, getting the right product might be challenging.
This is because every strain or variety of cannabis has a unique blend of terpenes and cannabinoids that we react differently to. This endocannabinoid DNA test helps to unravel your unique endocannabinoid genotype, inform you of the benefits and risks of using cannabinoids in your DNA and recommends endo-aligned formulation that suits your DNA.
It also helps to match you with endo aligned formulation suggestion, ratios, and products available in your area, determining the drug-to-drug interaction or potential risk that you might face.
The report, delivered through a secure online health portal, contains 57 different genetic Trait reports in 12 categories.
DNA upload
If you already have raw data from a different DNA testing company, you can upload the raw data to Endocanna Health to receive the EndoDNA report. Results are available within minutes.
Taking an Endocanna Health Test
Customers create an account and have the chosen product sent to their home. They then activate a unique license key and register the DNA sample in a personal health and wellness portal.
Instructions on how to collect the saliva sample using the provided swab are included in the kit. After they collect the sample, customers return it to the lab by using the prepaid mailer.
Results are available within 4-8 weeks after the sample arrives at the lab. You will receive a digital report in the secure personalized mydna.live portal. From here, you can download and print your report.
Review of Endocanna Health Cost
The EndoDNA and CHS susceptibility tests each cost $199. This is a bit high compared to other commercial DNA tests, although it is a speciality field which may affect the price.
Individuals who have raw data from another testing company can upload their DNA results and receive the EndoDNA report for the reduced price of $50.
Review of an Endocanna Health Report
The cannabinoid DNA variant report, EndoDNA, makes it easy for customers to get a detailed description of their genetics and their tolerance for cannabis CBD and THC. The goal of the Endo Decoded reports is to provide a personalized experience into your optimal cannabis experience.
The company explores a user compatibility profile and presents them in 60 different reports designed for excellent interpretation of the body's tolerance to cannabis. The two main sections take into account cannabinoid ratios and terpene profile matching.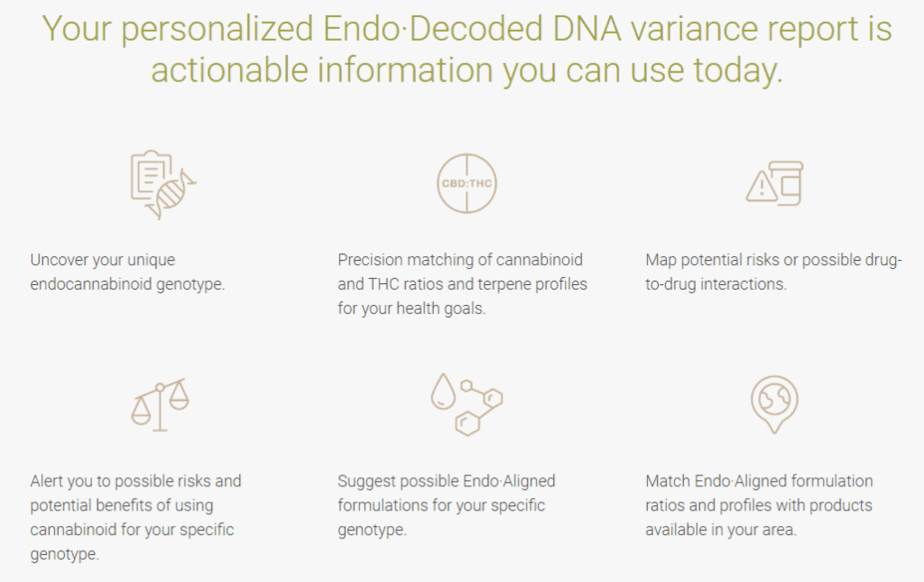 Other sections of the report include cannabinoid risks and benefits for your specific genotype, a personalized wellness plan, potential drug interactions, cannabinoid formulation suggestions, formulations marketplace, and geolocation product finder to buy cannabis products.
The reports come with automatic lifetime updates.
Review of Endocanna Health Privacy
The company states that it takes every reasonable precaution to secure your privacy and your data with state-of-the-art security protocols.
Like most testing companies, your DNA is de-identified from you by using a barcode to connect the sample with your registration. Your genetic data remains anonymous throughout the process of analysis and generating the report.
The results portal is hosted on Amazon's AWS secure servers, which contain the most up to date security precautions.
The company follows all HIPAA regulations to ensure the privacy of health information interpreted from your DNA.
It also promises not to share or sell your personal information or store your DNA sample for longer than necessary to provide the requested services. You may request the deletion of your account and information at any time.
Endocanna Health in the News
In May 2022, Endocanna Health announced a new partnership with We Decode, a genome sequencing company. The two companies seek to improve phytocannabinoid personalization for veterans. Goals include providing dosing suggestions and revealing drug-to-drug interactions.
Other Endocanna Health Reviews
There are not many third-party reviews since these products are only available on the company's website. There is a testimonials page where satisfied customers provide video reviews.
Customers found the information valuable and easy to understand. Multiple people also commented on the diligent research and scientific backing of the results.
Nebula Genomics
Endocanna Health is one of the top companies offering comprehensive tests to help customers use their DNA to gain insight into their body's optimal cannabinoid tolerance. Users can either take a test or upload raw data from other DNA testing services.
Some users may be specifically looking for cannabinoid testing, which makes this test a great option. For a more comprehensive view of the entire genome, which includes those markers associated with the endocannabinoid system, you can consider broader tests.
Nebula Genomics offers 30x Whole-Genome Sequencing, a test that sequences 100% of your DNA to get to the root cause of every biological inclination. The test also comes with ancestry reporting and genome exploration tools.
Like Endocanna Health, Nebula Genomics provides customers with regularly updated reports to ensure that your information is kept up to date with the latest scientific discoveries.
For access to your entire genome, you pay just a fraction more than the cannabinoid-only test. At Nebula Genomics, whole genome sequencing costs $299 or less.
Endocanna Health vs. Nebula Genomics
| | | |
| --- | --- | --- |
| | Endocanna Health | Nebula Genomics |
| Testing method | Genotyping using proprietary super chip | Whole genome sequencing of all 20,000 genes and regulatory regions |
| Reports | Up to 60 reports on cannabis-related biomarkers, lifetime updates | An extended genetic report that is updated regularly |
| Data upload | Yes, for an additional cost | Yes, free |
| Ancestry reporting | No | Performs deep ancestry reporting with the complete Y chromosome and mtDNA sequencing |
| Counseling | No, but data can be shared with healthcare practitioners as part of the diagnostic procedure | No, but data is of the highest quality and can be used by physicians and genetic counselors |
| Cost | $199 ($50 for data upload) | $0, $99, $299 |
Did you like our Endocanna Health review? You can read more reviews on our blog and check out our complete guide to the best DNA test kit and other home tests.
Looking for more options in genetic testing for ideal cannabis recommendations? You may also be interested in MelixGx and Strain Genie.