7 Facts from our MelixGX Review
Location: West Palm Beach, Florida, United States
Products: CannaGx DNA test kit that analyzes users' genetic health relationship with cannabis medical products
Cost: $250
Reports: The CannaGx DNA test kit offers users comprehensive information about their gene's acceptance of cannabis products for personal and medical purposes
How it works: Visit the website and sign up as a user. Order your kit, perform the test, and ship it back to get the result online
Counseling available: No
Alternative Products: Nebula Genomics offers 30X Whole Genome Sequencing that decodes 100% of your DNA and offers reports on diet and much more!
This review is written with the intent to be as unbiased as possible. However, it represents the opinion of an individual reviewer and is therefore subjective. Furthermore, at Nebula Genomics we seek to educate the public about the benefits of Whole Genome Sequencing. Information about our Whole Genome Sequencing DNA test is therefore incorporated into the review.
June 28, 2022
Pros and Cons
Pros
Comprehensive cannabis-gene relationship
The test is easy to perform
Can be ordered directly from home
Cons
The price is quite high for a cannabis test that only analyses specific genes
No longer offers other health tests and fitness information
MelixGx Introduction
MelixGx is a DNA cannabis testing agency specializing in cutting-edge molecular genetic sciences. The company provides customers with various relevant information concerning their genetic health and its relationship with cannabis. The company's flagship product is the CannaGx DNA Test kit that helps people understand the effects of cannabis on their bodies.

This information opens people's eyes to the weight loss experience, why their body reacts to fat the way it does, and their taste tolerance following their cannabis journey. It also analyzes the risk of dependency on cannabis prescribed treatments. This way, the patient's specialist may seek out alternatives if there are concerns.
MelixGx committs to formulating customized solutions based on the DNA profile of individuals. Based in West Palm Beach, Florida, United States, it was founded in 2018 by Morgan Pepitone, Stu Campbell, and Anthony Pellegrino. 
Originally, the company focused on using DNA to provide personalized fitness and diet recommendations. Eventually, the focus shifted towards using genes to provide advice on cannabis-based products.
The Science Behind MelixGx
By combining genetic technology with extensive research on cannabis, MelixGX seeks to give patients comprehensive and accurate data on how their bodies respond to products related to the cannabis plant and related medical treatments. The company uses DNA sequencing to reveal genes that encode predispositions to how you may respond to cannabis use. This may be useful in treating conditions including anxiety, depression, pain, insomnia, and drug dependence. The predictors provided with this test can help a specialist decide what may or may not be helpful for that individual.
Cannabis can improve psychological or physical health related to the endocannabinoid system, help with pain management, and effectively relieve personal stressors. It can also treat sleep disorders. However, it is essential to know how your body may react to these products.
The CannaGx project does not just study if cannabis is potentially harmful. Your results will also identify the most appropriate cannabinoid ratios, terpene profiles, and types of cannabis for your unique genetic profile.

MelixGX uses only modern and well-advanced technology for its tests and partners with third parties genetically and technologically advanced firms. Overall, the company gathers more information about cannabis and its genes and how patients can personalize these data.
Review of MelixGx Products
CannanGxTM
CannaGx is currently the only product the company offers. It is offered through a partnership with CannacoGenetics. This product, available in a text kit pack, analyzes users' genetic connections to cannabis interaction. The aim is to help people know if their genes support borderline cannabis management and medical products.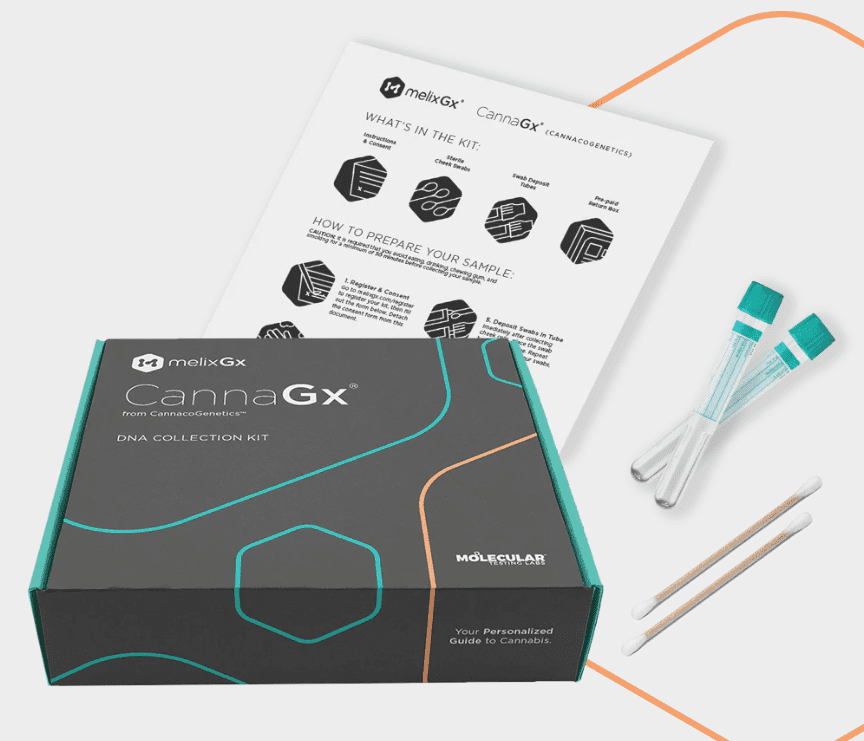 There are many benefits that cannabis offers patients. Following the continued approval of this specialized health drug, this product intends to show people if their body system is a match for cannabis-related treatments or not.
The CannaGx DNA test kit that analyzes how humans uniquely interact with other treatments contains all the tools needed to perform a complete test. There is a possibility that other tests like other products, including the MelixFit and MelixDiet, may be re-introduced.
Taking a MelixGx Test
Customers order their test kit online and receive it within a few days. You will then register the kit and fill out a Patient Consent form.
The instructions note you should wash and dry your hands before performing the test. Then, you will use the provided cheek swabs to individually collect DNA samples from each cheek. The collection process involves placing the swab on the inside of your cheek and rotating gently for 30 seconds, collecting cells, not saliva.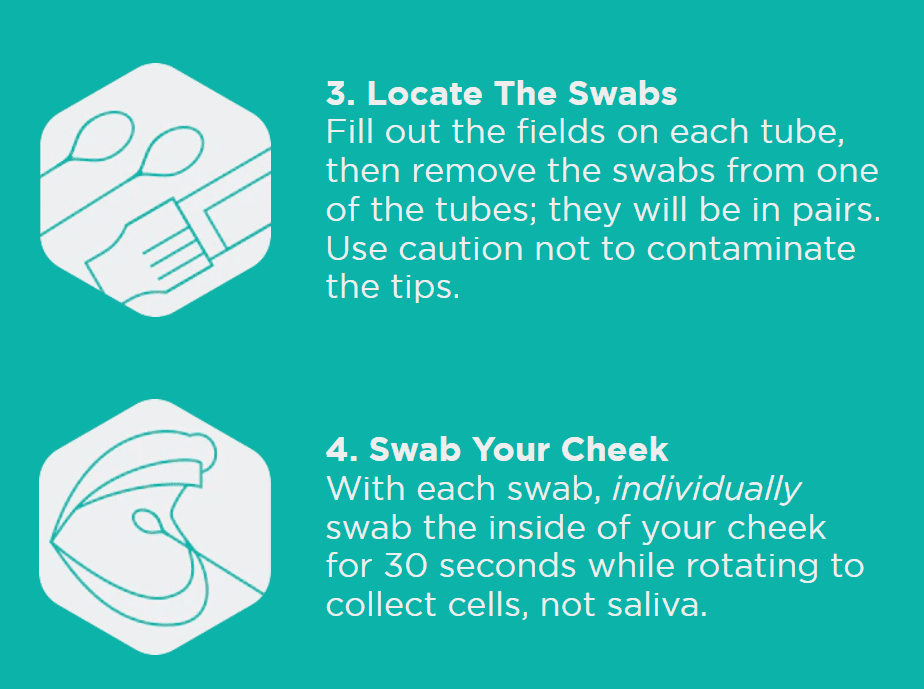 You will place the swab in its tube and repeat the process with 3 more swabs. Finally, you seal the consent form together with swabs in the prepaid shipping package and send it to the designated address.
Test results will be available online within two weeks.
Other Products
MelixGx previously offered DNA tests that provided personalized fitness plans that best optimized your genetic predispositions towards things like fitness and athletic performance. These products are no longer available.
Review of MelixGx Cost
The CannaGx DNA test kit, which is the only test that MelixGX currently offers, is quite pricey at $249.99.
Shipping and taxes (estimated at around $20) are an additional cost.
Review of MelixGx Reports
MelixGx offers users advanced reports on how they are predicted to react to various cannabis products. Patients can work with their physicians to interpret the results and receive a better understanding of how their genes accept cannabis.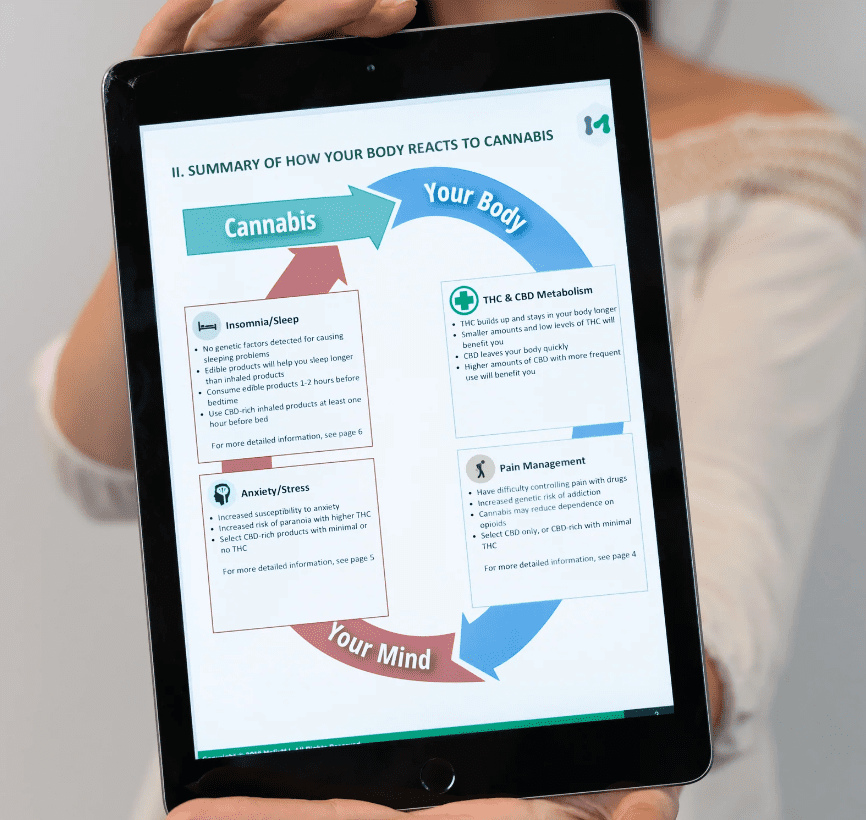 This DNA test acts as a personalized guide on how you should use cannabis as it determines the best cannabis product that is ideal for you and your specific conditions. It also determines the best ways to consume cannabis products, your body's reaction to cannabis, potential side effects, and interaction between cannabis and other drugs.
Review of MelixGx Privacy
Your genetic information, device information, and MelixGx account information that the company can access are used only to provide you with the service you need.
The company also has access to your self-reported information like family and personal medical history, ethnicity, or exercise habits which are also used to provide you with their service. MelixGx will not share, sell, disclose or rent out your information to a third party who has no business in their service. Any third party that has access to the client's personal information from the company uses it to help process the customer's orders.
There are sites or affiliates of the company that also have a privacy policy that ensures they protect any client information that gets into their hands. With MelixGx, clients should be confident that their information is protected and secure.
Use of the website must be in accordance with federal law.
Other MelixGx Reviews
There are not many customer reviews online, noting that access to the subject of this product may be limited by local laws and regulations. The company does share a 5-star review on their website. The customer notes that they liked the information about how they metabolize cannabis products and what CBD to THC ratios they should look for.
Another review is available on Leafly (you must be 21 or over to access this site). This review covers the previous cannabis test offered by this company that was called MelixMJ. This product has been replaced by CannaGx, although they offer similar information.
Here, the customer describes how they were prescribed medical marijuana by their doctor for anxiety. They liked the recommendations provided by the test on the best ways to use the products based on their personalized genetics.
Nebula Genomics
MelixGX offers cannabis reports that suggest how your genes influence your reaction to cannabis products and how that may affect your medical treatment. The company's main aim is to provide users with information on whether cannabis medical products are beneficial for them or not.
While the cannabis-genetic test places MelixGx in a focused market, it is also a limitation. The company does not currently offer other tests apart from cannabis-related genetic analyses. This means that customers who want to perform a more comprehensive genetic test will not be able to do so with MelliGx.
On the other hand, Nebula Genomics offers an affordable and comprehensive test known as 30x Whole-Genome Sequencing, that decodes 100% of the human genome. Nebula gives its customers access to the whole data set so that they can analyze it in any way they see fit, including to seek out genes in relation to cannabis.
The sequencing includes other additions such as deep ancestry reporting on the X and Y chromosomes and genome exploration tools. Regularly updated reports ensure that you will not miss the latest genetic research and that your decoded DNA continues to provide information on your health and wellness.
For only $299 or less, customers will get access to their entire genome, allowing them to continue to ask more questions as more research is conducted. 
MelixGX vs. Nebula Genomics
| | | |
| --- | --- | --- |
| | MelixGX | Nebula Genomics |
| Testing method | Sequencing selected genes | Sequences all 20,000 genes and regulatory regions |
| Reports | Report on cannabis-related conditions | An extended genetic report that is updated regularly |
| Ancestry reporting | No | Performs deep ancestry reporting with the complete Y chromosome and mtDNA sequencing |
| Counseling | No | No, but data is of the highest quality and can be used by physicians and genetic counselors |
| Cost | $249.99 + tax and shipping | $0, $99, $299 |
You may also be interested in other at-home cannabis reaction tests, such as Endocanna Health and Strain Genie. A similar test, CannabisDNA, must be ordered by a physician.
Other companies
You may also be interested in these other precision medicine DNA tests:
Rare disease
Tumor genetics
Mental health
GeneSight (clinical genomic test for psychotropics)
Genomind (pharmacogenomic testing for mental health treatment)
Did you like our MelixGx review? You can read more reviews on our blog and check out our complete guide to the best DNA test kit and other home tests.