7 Facts from our Strain Genie Review
Location: Santa Monica, CA, USA
Products: A personalized cannabis health report
Cost: $200
Reports: Over 150 analysis on your DNA to show which cannabinoids and terpenes are best for you as well as how they affect general health
Data Upload Option: Yes
Counseling available: No
Alternative products: Nebula Genomics offers 30X Whole Genome Sequencing that decodes 100% of your DNA and offers reports on diet and much more!
This review is written with the intent to be as unbiased as possible. However, it represents the opinion of an individual reviewer and is therefore subjective. Furthermore, at Nebula Genomics we seek to educate the public about the benefits of Whole Genome Sequencing. Information about our Whole Genome Sequencing DNA test is therefore incorporated into the review.
September 13, 2022
Pros and Cons
Pros
Deep, comprehensive analysis of the genes and SNPs involved with cannabis use
Quick return time
A good starting point
Cons
Limited genetic analysis
Can be expensive for a single analysis
No free shipping outside of the U.S. and Canada
Introduction
Strain Genie offers DNA tests to help customers who consume cannabis discover products that work best for their unique genetic profile. The reports provide personalized health insights needed to improve your experience with cannabis.

This report gives you knowledge of how your body and brain respond to the terpenes and cannabinoids found in cannabis. It also tells you specific cannabis and marijuana-related warnings like your susceptibility to cannabis-induced psychosis, how fast or slow you metabolize CBD or THC, and if you are at risk of becoming cannabis dependent.
Strain Genie knows the importance of using the right cannabis dosage; this is why their report also comes with a dosage calculator to help you know the right dosage of CBD or THC. The company's mission is to provide people with objective, honest, and useful information when looking for the best DNA test for their cannabis needs.
Nicco Reggente, David Chester, and Zhong Sheng Zheng founded Strain Genie in 2016. The company is based in Santa Monica, CA.
The Science of Strain Genie
Strain Genie's test is based on the knowledge of the endocannabinoid system, a collection of neurons in the brain. When someone uses parts of the cannabis plant, these neurons fire, giving the "high" feeling. The unique structure of this system, based in genetics, may help explain why people react to cannabis products differently.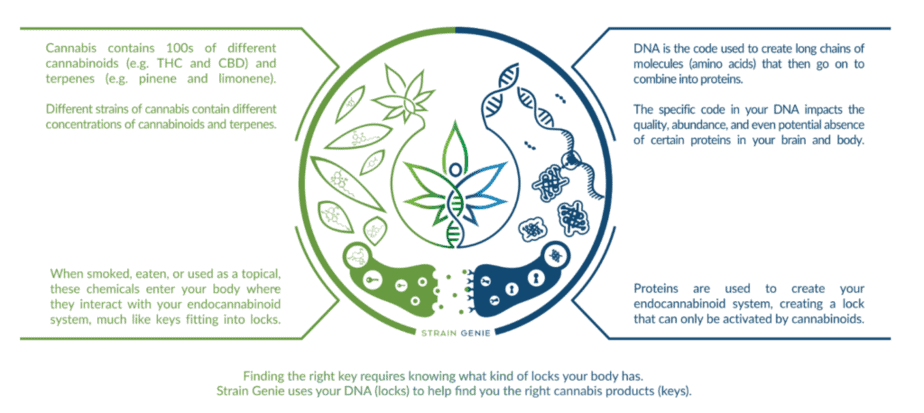 This DNA test seeks to interpret the genetic markers in the endocannabinoid system to make recommendations on the most effective cannabis products. It compares different cannabis strains to the user genes and determines which of these strains is a match. The algorithm considers 450 biomarkers, over 120 SNPs, and 90 genes in the user's DNA and how they significantly affect cannabis use. Its analysis is based on 200 peer reviewed publications.
Review of Strain Genie Product
Cannabis DNA testing kit
If you use cannabis correctly, you can get its maximum medical benefits. With so many cannabis products on the market, it is difficult to know the right one that suits our needs. The wrong choice can result in a bad experience and ineffective medicine. 
The Strain Genie DNA test seeks to remove the uncertainty and provide recommendations for cannabis users to find the ideal product the first time.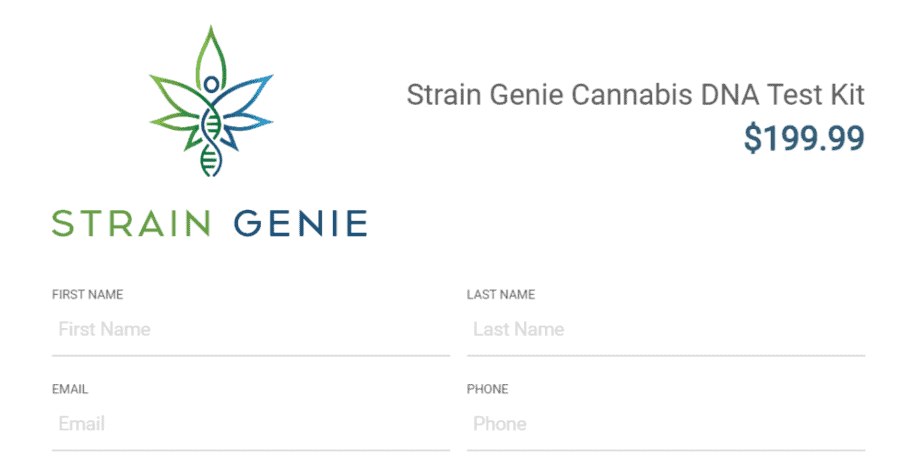 This genetic analysis matches you with the right cannabis products, strains of cannabis, flowers, terpenes, edibles, and cannabinoids. Its proprietary algorithm explores more than 450 biomarkers in your genes that affect your health and cannabis use. The analysis provides you with important warnings and personalized insights about how you may or may not react to specific cannabis products, strains, terpenes, and cannabinoids.
It also helps you know the right ratio and dosage of terpenes and cannabinoids. With strains, terpenes, cannabinoids, cannabis product recommendations, and consumption warnings, you will be well informed about cannabis use.
DNA upload
Straine Genie allows customers to upload raw data from companies like 23andMe and AncestryDNA to receive its cannabis health report.
Customers can upload a .zip or .txt file directly to the company website.
Taking a Strain Genie Test
Users create an account and order a genetic test kit online. They will follow the instructions to register their test kit and take an online survey.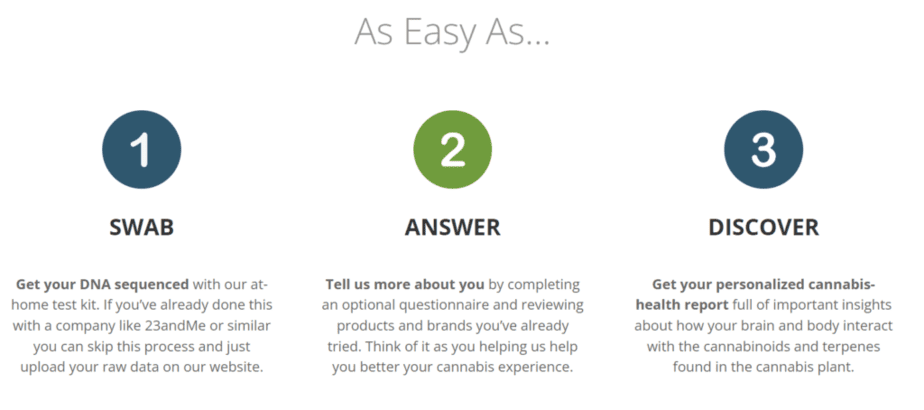 The company includes a buccal swab for the customers to take a DNA sample and return it to the lab in the provided pre-paid return envelope. Although customers can order anywhere in the world, return labels are available in the U.S and Canada. Purchasers in other countries will need to procure their own postage for returning their samples.
Results are available within 2 weeks after the sample arrives in the lab.
Review of Strain Genie Cost
The Strain Genie testing kit and analysis report costs $199.99.
If you already have raw DNA data from another company, you can upload this data and receive the report for $29.99.
Review of Strain Genie Report
Straine Genie reports have over 65 pages of insights based on your genetic makeup. The left hand panel of the online report contains the various categories. Some highlights include:
Consumption warning (cannabis-induced psychosis, dependence, edibles and smoking.)
The right cannabidiol for the user system to mitigate the risk of undesirable reaction
Terpene recommendations
Exact THC: CBD ratios
Strain recommendations
Recommended product with direct links to purchase them from CBD.co
The top of the report is a summary of the most relevant insights when considering cannabis use, including recommended THC:CBD ratio, primary and secondary terpenes, activity groups, and CBD form factors.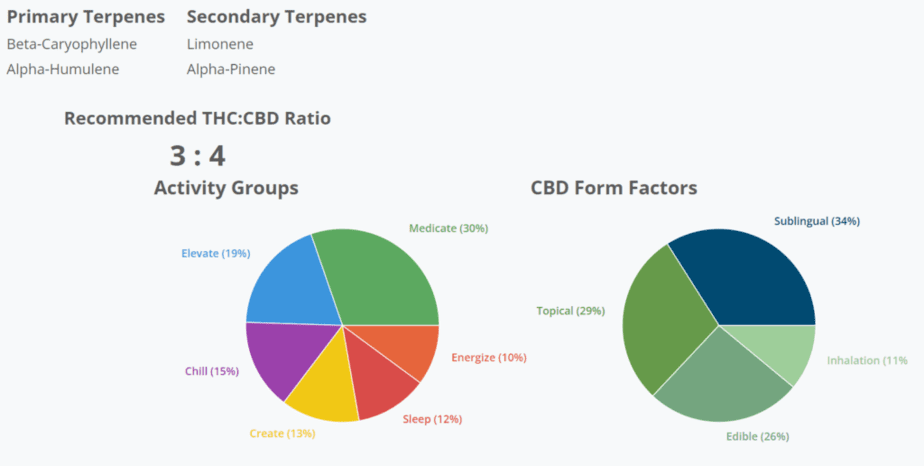 Product and CBD recommendations are also prominently displayed at the beginning of the report.
The report divides the next pages into 3 categories: How To, Medical, and Tools.
The How To section provides instructions for getting the most out of your report. There are introductions to DNA and cannabis, instructions for how to read the report, an introduction to activity groups, and warnings.
It makes an "activity group" association based on the trait. 
For example, it associates some traits analyzed with stress. They would be given preferential weight in the "Chill" activity group products. A pie chart shows which of the activity groups were found to be most important for you.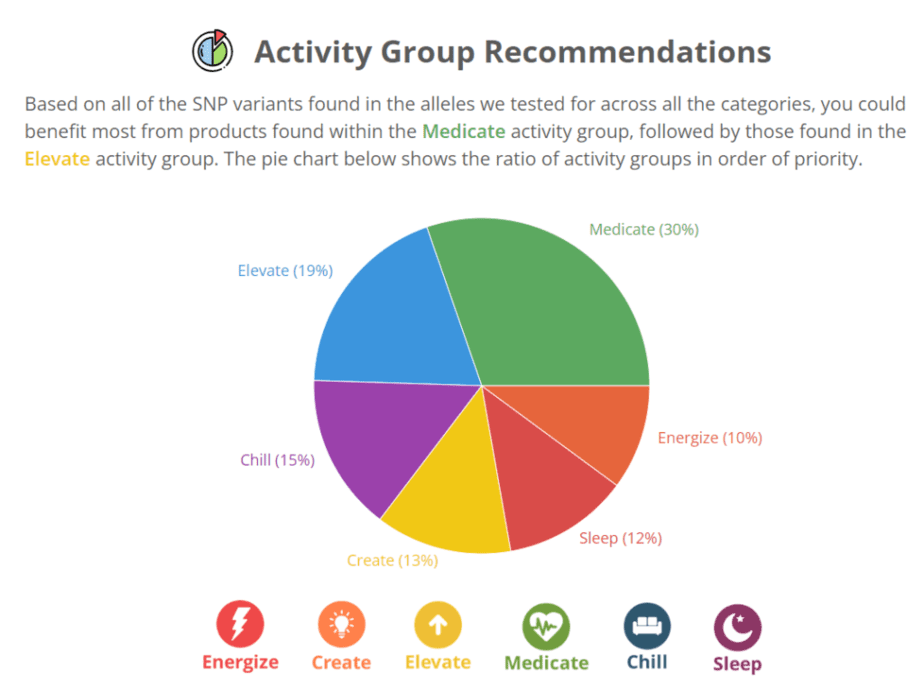 Another section of the report focuses on CBD form factors. In this pie chart, customers can see which forms of CBD would benefit them most based on their genes. These are topical, sublingual, inhalation, and edibles.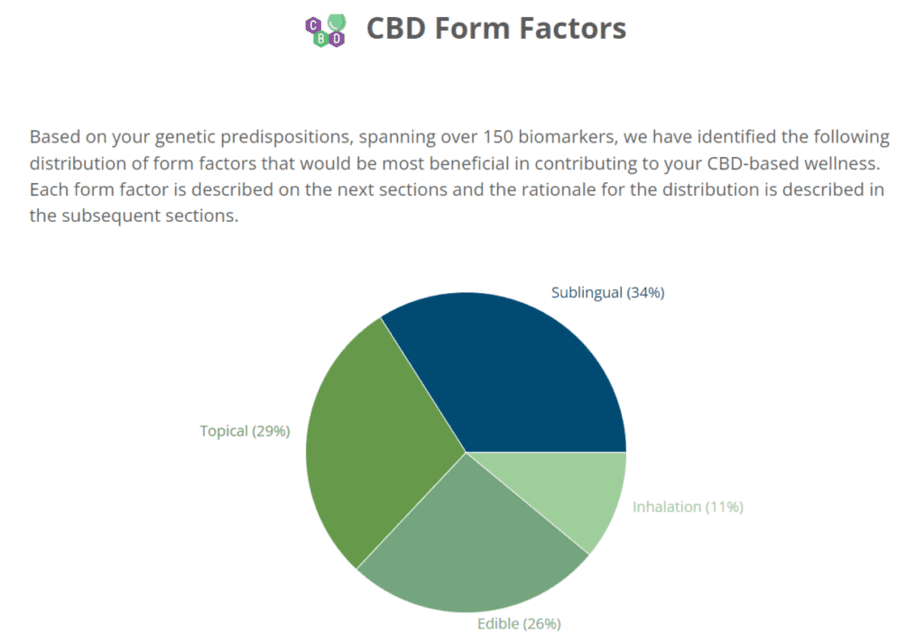 Recommendations
Recommendations for cannabinoids and terpenes are divided into category specific ones and report-wide ones.
The category specific recommendations for strains and products are divided into 14 different medical categories, grouped by their symptoms. The goal of this section is to help customers make purchases related to specific conditions.
Your genes for overall health will contribute to the recommendations ultimately provided. The example provided in the company's sample report uses the genetic predisposition for eye pressure increases to decide whether to recommend or downgrade CBD products, which are bad for eye pressure.
Below is an example of the category-specific recommendations related to gut health. In this case, the cannabinoid and terpene recommendations are based on the increased risk of traits associated with inflammatory bowel diseases (Crohn's disease and ulcerative colitis) and slight risk associated with Celiac disease.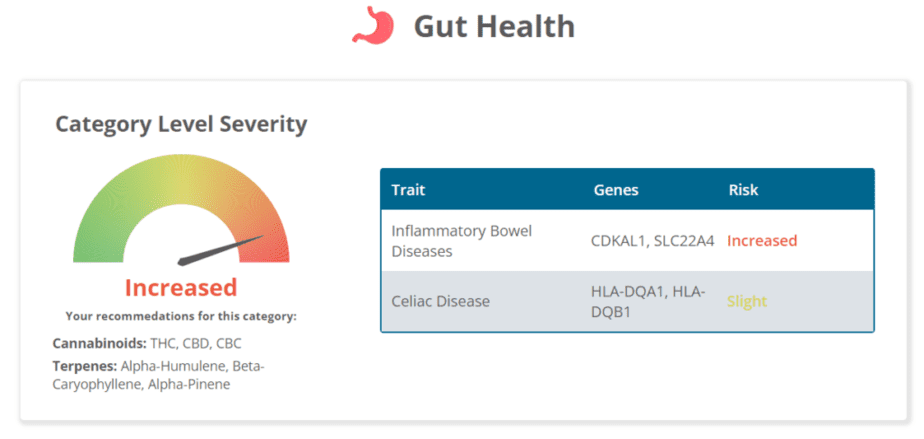 The other categories are:
Metabolism
Sleep
Substance abuse
Mood/personality
Neurodegenerative diseases (Parkinson's disease and Alzheimer's disease)
Cognitive health (intelligence, age-related decline)
Eye health (glaucoma and macular degeneration)
Endocrine health (diabetes and thyroid disease)
Cardiovascular health (heart disease)
Musculoskeletal health (arthritis and osteoporosis)
Cancer
Others (pain sensitivity, obesity, and endometriosis)
Review of Strain Genie Privacy
Their company's privacy policy explains better how it commits to protecting customer information. Your contact address and name that you submit to the company when filling out their questionnaire are used to provide you with the company's products and services.
It's laboratory is CLIA-certified, CAP-accredited, and HIPAA-compliant.
The company states that it does not sell data to third parties or submit it to any databases. If you would like Strain Genie to delete your data after your report has been generated, you can make a request by filling out the contact form.
If uploading raw data, it is uploaded to secure servers and used only once to generate the report before it is archived.
Other Strain Genie Reviews
The company's product used to be available on Amazon, although as of September 2022 it is unavailable. While it was on this third-party site, it received 3 reviews between the years 2019-2020 for an average rating of 4 stars. Two customers found the reports detailed and useful. A third customer felt that the recommendations were not backed up by enough science.
Nebula Genomics
Strain Genie offers a comprehensive understanding of their body and the best cannabis products. This is great for users who are looking at this specific aspect of their health and for those who may be new to the cannabis market.
As is shown in the Strain Genie test, lots of genes can influence an individual's reaction to cannabis. For customers who want a comprehensive view, not just on the endocannabinoid system, but their entire body, may be interested in whole genome sequencing.
With 30x Whole-Genome Sequencing, Nebula sequences 100% of your DNA to get to the root cause of every biological inclination. The test is incredibly accurate and comes with other additions, including ancestry reporting and genome exploration tools.
In addition to covering the entire genome, the reports are also regularly updated to capture the most up to date genetic discoveries.
While trait specific tests that reveal only a small subset of genes go for as high as $200, whole genome sequencing at Nebula Genomics costs $299 or less.
Strain Genie vs. Nebula Genomics
| | | |
| --- | --- | --- |
| | Strain Genie | Nebula Genomics |
| Testing method | Swab test for genetic markers related to cannabis | Saliva test for whole genome sequencing that sequences all 20,000 genes and regulatory regions |
| Reports | 65-page report, no updates | An extended genetic report that is updated regularly |
| Ancestry reporting | No | Performs deep ancestry reporting with the complete Y chromosome and mtDNA sequencing |
| Upload option | Yes | Yes |
| Counseling | No | No, but data is of the highest quality and can be used by physicians, and genetic counselors |
| Cost | $200 | $0, $99, $299 |
Did you like our Strain Genie review? You can read more reviews on our blog and check out our complete guide to the best DNA test kit and other home tests.
Looking for more options in genetic testing for ideal cannabis recommendations? You may also be interested in MelixGx and Endocanna Health.