7 Facts from our Christian Healthcare Ministries Review
Location: Barberton, OH, United States
Products: Health programs: Gold, Silver, and Bronze and the Optional Brother Keeper Program
Cost: $90 – $705
Privacy: HIPAA-compliant forms and appropriate safeguards
How it works: Members make monthly contributions and money is used to cover approved medical bills submitted by other members
Counseling available: No
Other Products: Nebula Genomics offers 30X Whole Genome Sequencing that decodes 100% of your DNA and offers reports on diet and much more!
This review is written with the intent to be as unbiased as possible. However, it represents the opinion of an individual reviewer and is therefore subjective. Furthermore, at Nebula Genomics we seek to educate the public about the benefits of Whole Genome Sequencing. Information about our Whole Genome Sequencing DNA test is therefore incorporated into the review.
February 7, 2023
Pros and Cons
Pros
An alternative or complement to health insurance
Maternity program
No application fee
No one is denied due to pre-existing conditions
Cons
Limited to individuals and families who strictly follow Christian guidelines
Alternative therapies not included
Some providers such as chiropractors and psychologists not included
Lack of preventative care
Introduction
Christian Healthcare Ministries (CHM) is a healthcare cost sharing program. It is built for practicing Christians in all 50 states and around the world. The major criterion is to be a Christian who practices the belief based on the New Testament. Its foundation is in the passage that Christians carry each other's burdens (Galatians 6:2).
CHM helps registered members pay for healthcare through programs where members share each other's medical bills. Although some of the components might feel similar, the ministry is not a medical insurance company.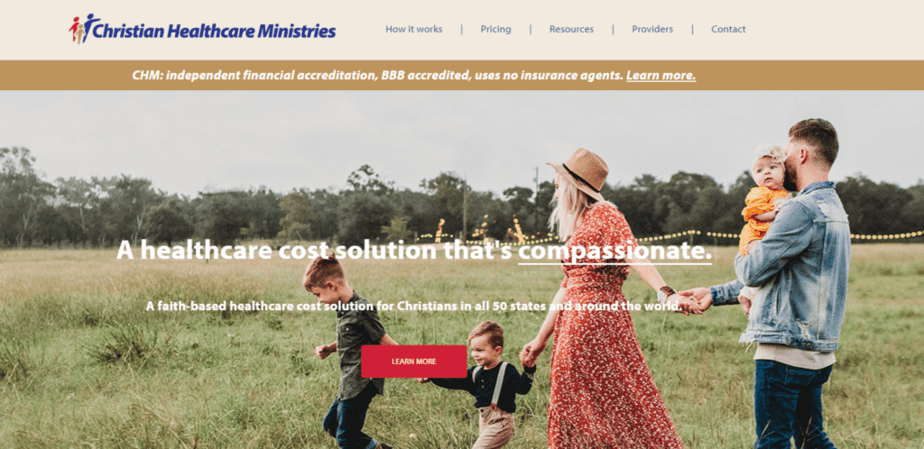 The program is the first and longest-serving health cost sharing ministry, having started in 1981. Overall, it has satisfied nearly $8 million in eligible health bills. The ministry started when a pastor was left with thousands of dollars in medical bills after an accident. With the help of donations from CHM members in a rescue mission he founded, he paid off his medical bills.
The founders formalized the program throughout the 1990s and put in checks to help safeguard donations. Since its inception, the company has grown, including becoming a Better Business Bureau accredited Charity.
You can become a member from anywhere in the world. However, you must have either a U.S. mailing address or reliable internet in order to receive funds.
As a member of this ministry, you must subscribe to any of the three major compulsory health programs and may decide to go for the optional Brother's Keeper for catastrophic bills. CHM is based in Barberton, OH, United States.
Review of Christian Health Ministries
Christian Health Ministries is a membership-based nonprofit ministry designed to help Christians worldwide with their health challenges by providing financial help with their bills. For many, it is a healthcare cost solution that allows them to also fulfill a spiritual component of their life. Some or all of qualifying bills are paid for through the money voluntarily shared by each member on a monthly basis.
When a member receives a bill for eligible medical costs they can submit the bill and accompanying forms to the ministry. The program will decide how much of the bill can be shared or reimbursed and send the member that amount, usually by a check in the mail.
When the cost is eligible based on the ministry guidelines, the amount of bills paid depends on their subscribed program. All members must meet their monthly fees as stated in their specific programs.
CHM is an initiative that satisfies Christian costs, so they don't exceed their budget. The ministry has been up for around 40 years and provides a cost-effective, accountable, and faith-based framework for believers with health issues and conditions.
It is a federally certified exemption to the individual mandate under the U.S. Affordable Care Act. This means that CHM is an eligible option for individuals and families under the national healthcare law. The next few sections will review Christian ministries, its programs, costs, and Benefits for Believers globally.
Program costs remain the same regardless of health history. There is no physical evaluation or medical tests requirement to join.
Review of Christian Healthcare Ministries Process
The qualification to join CHM is to be a Christian adult that consistently lives their life according to the new testament and Christian beliefs. They must maintain a lifestyle based on CHM's statement of beliefs and attend fellowship with the brethren as much as their health allows.
Christian Health Ministries work with biblical principles on how to use alcohol while abstaining from harmful or poor practices that are not in line with what is expected from a biblical believer. These include abstinence from tobacco, illegal drugs, cigars, vaping, and nicotine.
Applicants may already have insurance or they can be self-pay patients.
Application
You can apply for CHM membership by completing a secure online application or request an application by mail.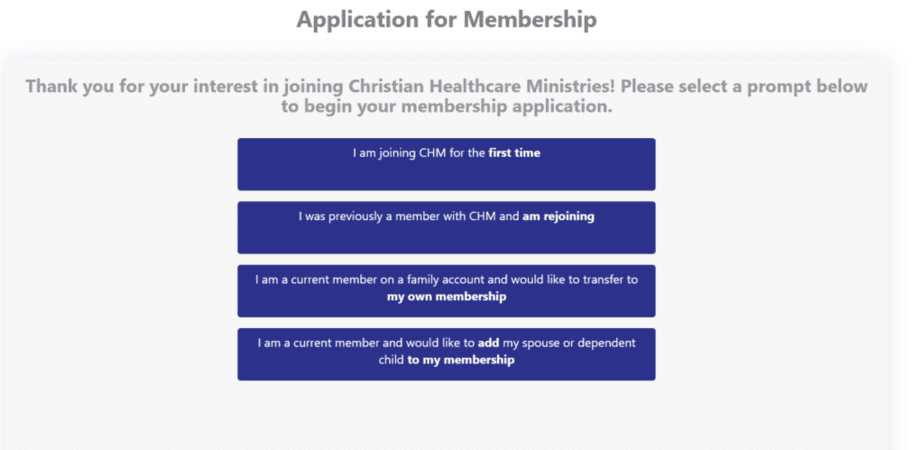 Christian Healthcare Ministries will determine how much financial support a sick member can get based on their program. The programs have their maximum money cap and their expected monthly obligations. There are three major Programs:Gold, Silver, and Bronze. A member can register for an optional Brother Keeper Program to support any of the three major programs.
Potential members should note their pre-existing conditions as they may determine which program the member should join. There are two programs for those with pre-existing conditions: The Gold Schedule (available for those at Gold level) and the Prayer Page.
Christian Healthcare Ministries sends a welcome packet and CHM membership card(s) within two to three weeks after a candidate submits their application. The Heartfelt Magazine is also included. This publication is CHM's monthly magazine, which it sends around the 1st of each month. New Members also receive the Member Gift Form (billing statement) around the 15th of each month.
Using the program
Members submit their monthly give either through the online member portal or by mailing their gift to Christian Healthcare Ministries.
When a member receives a healthcare bill eligible for sharing they can submit a copy of the itemized bill along with the CHM Sharing Request Packet, and additional forms if applicable (accident verification, maternity verification, etc.). Patients submit these items either through the online member portal, the mail, or by fax.

Members can use any provider for their care as long as they comply with CHM guidelines. The company does not share bills for care from non-medical providers (chiropractors, psychologists, counselors, naturopaths, homeopaths, etc.) or any medical doctors practicing alternative, complementary or functional treatment.
Review of Christian Healthcare Ministries Services/Programs
As already stated, there are three major Christian Healthcare Ministries programs, with the optional Brother Keeper Program able to be added to any of the main ones. Healthcare sharing can be an alternative to traditional health insurance.
Gold Program
The Gold Plan has the most extensive financial support. CHM shares 100 percent of the bills for medical incidents that cost $1,000 or more. The money can be up to $125,000 per illness when other guidelines are fulfilled. Gold Program Annual Personal Responsibility is $1,000 per unit, while the Qualifying amount per incident is $1,000 per unit.
Members who are pregnant have a separate personal responsibility for maternity of $1,500, which can be reduced by $500 if they inform CHM within the first 16 weeks of pregnancy.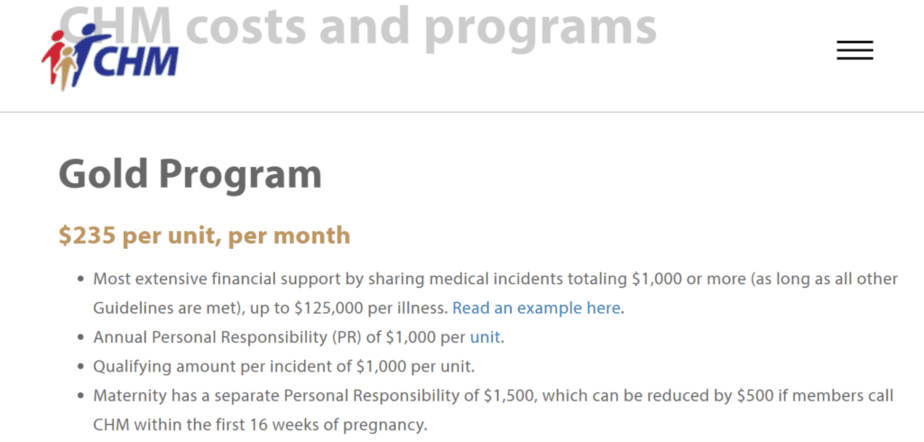 The Gold Program service includes
Inpatient and outpatient hospital incidents & surgery
Urgent care
Independent lab work and radiology
Maternity
Physical therapy and home healthcare (up to 45 visits for each type)
Incident-related doctor's office visits
Incident-related prescriptions
CHM SeniorShare™ gift reduction for eligible members
Telemedicine services access
Removes the $125,000 per illness cap when adding Brother's Keeper
The optional Brother Keeper Program for the Gold Service offers health cost exceeding $125,000 per illness to an unlimited amount.
Silver Program
The Silver Program immediately follows up the Gold Program in the health care relevance order. It offers a total cost of $2,500 for medical incidents but can increase to as much as $125,000 per illness for patient care as long as the relevant health guidelines are met.
Silver Program has an Annual Personal Responsibility of $2,500 per unit and a qualifying amount per incident of $2,500 per unit.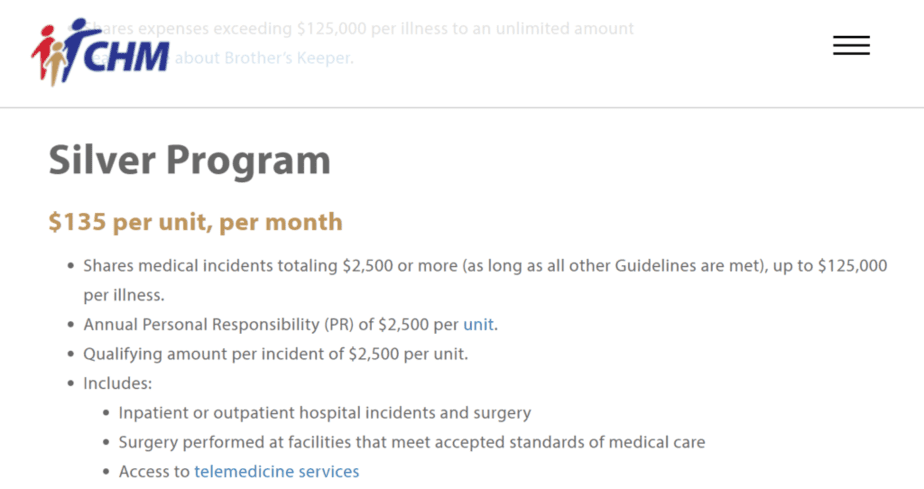 Its services include:
Inpatient or outpatient hospital incidents and surgery
Surgery performed at facilities that meet accepted standards of medical care
Access to telemedicine services
Does not include
Maternity bills
Testing and treatment outside of a hospital
Urgent care facilities
The optional Brother Keeper Program for the Gold Service offers
An additional $100,000 of cost support
Every annual renewal by members attracts an additional $100,000, accruing up to $1 million per illness
Bronze Program
Bronze Program Shares medical incidents totaling $5,000 or more (as long as all other guidelines are met), up to $125,000 per illness. Its Annual Personal Responsibility for members is $5,000 per unit, while the qualifying amount per incident is $5,000 per unit.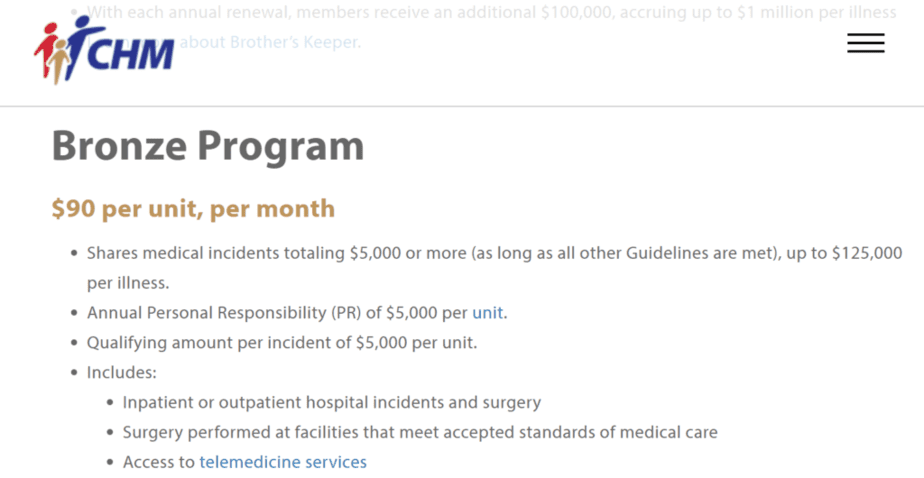 Bronze Program Service includes:
Inpatient or outpatient hospital incidents and surgery
Surgery performed at facilities that meet accepted standards of medical care
Access to telemedicine services
Its services do not include:
Maternity bills
Testing and treatment outside of a hospital
Urgent care facilities
The optional Brother Keeper Program for the Gold Service offers
An additional $100,000 of cost support
Every annual renewal by members attracts an additional $100,000, accruing up to $1 million per illness
It's important to note that CHM, like many healthcare cost sharing ministries, does not cover preventative care.
Review of Christian Healthcare Ministries Cost
Christian Healthcare Ministries is very budget-friendly, with all three programs' costs ranging from $90 to $705. You could settle for any price cap depending on your chosen program and how many family members you add to your CHM membership.
Family members are counted as units. A single person is one unit, a married couple is two units, and a family is three units no matter the number of dependents.
CHM also has an optional program for catastrophic bills known as the Brother Keeper program.
Gold: $235 per unit per month
Silver: $135 per unit per month
Bronze: $90 per unit per month
Brother's Keeper: $22 per unit per month
There is no application fee or additional cost for previous medical conditions.
Review of Christian Healthcare Ministries Privacy
Christian Healthcare Ministry's privacy policy shows their devotion to securing their customer's privacy. Your contact information, genetic data, and personal data that you give to the company are stored properly and used to provide you with the required service. It does not share, sell, or rent your personal information to third parties for marketing purposes.
The form that members submit with their eligible medical bills includes a HIPAA-complaint form that authorizes Christian Healthcare Ministries to obtain your medical records from your doctor. Once sent, the company keeps the medical information secure and only allows access to individuals who need it to complete the bill sharing process. The company is not responsible for compromised security when medical bills are in transit.
It warns patients against sending any medical information by email as this is not a secure communication method.
The company takes all reasonable measures to protect security online, such as encryptions.
Other Christian Healthcare Ministries Reviews
Christian Healthcare Ministries is reviewed on HealthSharing Reviews. Currently, it has a 2.7 star review with over 100 ratings. Numerous reviewers had good things to say about the company, indicating that the company pays the bill in a timely manner. Some indicate that the negative reviews of the organization not paying could be from users not reading the Guidelines fully.
Most of the recent negative reviews have to do with monthly rate increases. For instance, the Bronze Program use to cost $85 per unit per month until it was raised to $90 sometime between 2021-2022.
Other Healthcare Sharing Ministries
Other Christian ministries that provide similar sharing programs include Liberty Healthshare, Medishare, Samaritan Ministries, and Zion Healthshare.
Christian Healthcare Ministries
Liberty Healthshare
Medishare
Samaritan Ministries
Zion Healthshare

*Church participation not required
Number of programs
Three
Five
Based on household size and age, special program for seniors
Two
Based on age, household size, and IUA amount
Add on for catastrophic bills
Brother Keeper – an extra $22 per member per month
No
No
Save to Share­™ – an extra $133, $266, or $399 each year + $15 administration fee
No
Reach
Nationwide – must have U.S. mailing address
Nationwide
Nationwide
Nationwide – bills outside the U.S. qualify
Nationwide
Are pre-existing conditions covered?
Yes – with the Gold plan and the Prayer Page
Up to $50,000 in the second and third year of membership
Up to $100,000 per member per year after 36 consecutive months or up to $500,000 after 60 consecutive months
Only of the conditions has been symptom, treatment, and medication-free for 12 consecutive months. Some require five years waiting period
Only if they are considered cured and do not require medical intervention within 24 months of joining the organization
Routine care
No
Yes, excluding dental/vision and bills less than $200
No (some discounts for vision, dental, and auditory)
No
Yes, with some restrictions unless using a Preventive Care add-on, excludes dental/vision
In-network provider needed?
No
No
Yes
No
No
Cost
$90 – $705
$85 to $1239
$100 to $995 (plus $176 in fees)
$99 – $682 per month
$103-$515 per month
Nebula Genomics
CHM is dedicated to providing a healthcare bill sharing ministry for Christians registered with any of its programs. At over 40 years old, it is the longest running ministry of this type. Many people are looking for new ways to monitor, treat, and cover their health. For Christians, CHM offers a way to fulfill both religious and health goals.
Generally, doctors recommend everyone take proactive approaches to their health. While there are numerous ways to do this, one option is through at-home genetic testing. Nebula Genomics, uses 30x whole genome sequencing technology.
This next-generation sequencing decodes all 20,000 genes in the human genome. Results also come with ancestry reporting and genome exploration tools.
Nebula offers a comprehensive test for any genetic predisposition related to disease, traits, and health. We also provide customers with regularly updated reports on the latest genetic discoveries.
For only $299 or less, customers will get access to their entire genome, allowing them to continue to ask more questions as more research is conducted.
Did you like our Christian Healthcare Ministries review? You can read more reviews on our blog and check out our complete guide to the best DNA test kit and other home tests.