7 Facts about our InsideTracker Review
Location: Cambridge, Massachusetts, United States
Products: Different biomarker testing plans and bundles, including: The Ultimate Plan, Essentials Plan, The Home Kit, and InnerAge 2.0
Cost: $29 – $659
Reports: There are three categories for each biomarker tested: At Risk, Needs Improvement, and Optimized. They also include examples of nutritional foods that help improve each biomarker
Privacy: The company is fully HIPAA compliant and uses industry standards of information protection
Raw Data Access: InsideTracker provides access to raw DNA data, although its partner Helix charges $469 for DNA data access
Complementary Data Access: Nebula 30X WGS Sequencing provides all the information you need about your DNA. Reading over 6,000,000 positions on your genome, this test offers 100% of the information readable from your DNA.
This review is written with the intent to be as unbiased as possible. However, it represents the opinion of an individual reviewer and is therefore subjective. Furthermore, at Nebula Genomics we seek to educate the public about the benefits of Whole Genome Sequencing. Information about our Whole Genome Sequencing DNA test is therefore incorporated into the review.
February 9, 2023
Pros and Cons
Pros
Option to analyze a number of biomarkers and DNA
Comprehensive analysis and specific recommendations
Cons
Prices can be prohibitive
The information given in the results could be overwhelming
It charges for raw data access and DNA files upload
No testing for susceptibility to diseases
Introduction
InsideTracker is an expert health and wellness-testing company based in Massachusetts, United States. The company was founded in 2009 by a group of individuals from institutions like Harvard, MIT, and Tufts. Unlike most other health and fitness organizations, which specialize in a single health area, InsideTracker addresses a wide range of overall health issues.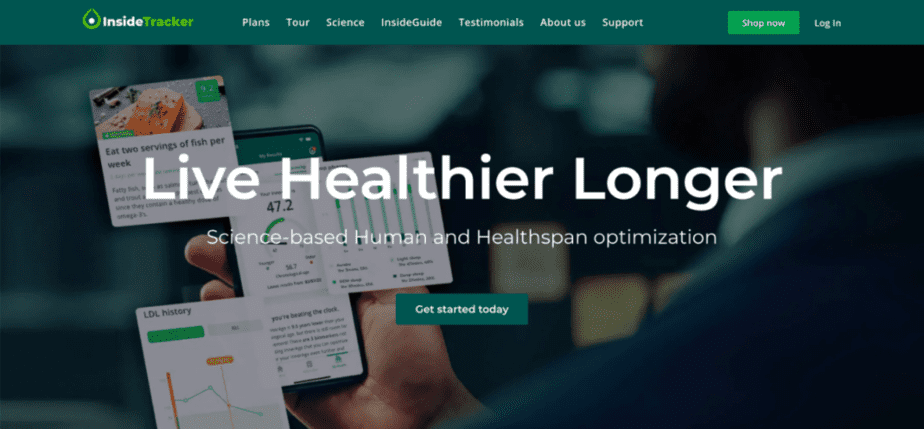 The company's only known partnership is with the DNA company Helix DNA. Together, they made the GoalGetter product, which is Helix's product that uses DNA for testing general health and wellness. The InsideTracker products use the biomarker testing method.
The company was founded in 2009 by Dr. Gil Blander (an expert in longevity and biometric data), the company's Chief Scientific Officer. Although he spearheaded the project, he started it with many renowned scientists from Harvard, MIT, and Tufts. Examples include Dr. David Sinclair (a professor at Harvard Medical School), Dr. Lenny Guarente (a professor at MIT), and Dr. Jeffrey B. Blumberg (a professor at Tufts University Friedman School of Nutrition and Policy).
Thanks to its SegterraX algorithm, this company gives you some of the most insightful information on personalized nutrition and lifestyle recommendations.
Review of InsideTracker Science: The analysis of blood biomarkers
InsideTracker mainly uses biomarkers to test for different health factors in the body. Generally, a biomarker is any characteristic of the body that you can measure. Biomarkers encompass everything from vitamins and minerals to blood pressure readings. This company tests for the presence of specific biomarkers found inside the blood that influence optimal health.
Examples of some common biomarkers tested for include glucose, cholesterol, cortisol, Vitamin B12, and creatine kinase. The InsideTracker test figures out the optimal biomarker range based on age, gender, ethnicity, lifestyle, and other demographic factors.
The company uses this information to provide personalized recommendations on how to improve your health if certain areas are found to be lower than optimal ranges. This includes information about changes in exercise, nutrition, supplement, and lifestyle that optimizes your body.
At InsideTracker, they believe the best way to know what is happening inside the body is to combine blood analysis and DNA testing. This notion, that the combination of both will help give the most accurate personalized guidance possible prompted a partnership with Helix DNA testing service.
The service also looks into other factors like your height, age, metrics, and lifestyle to determine the healthiest recommendations for you. The type of goal you want to achieve (endurance, metabolism, cardiovascular health, etc.) also plays a role in how InsideTracker streamlines your personalized recommendations.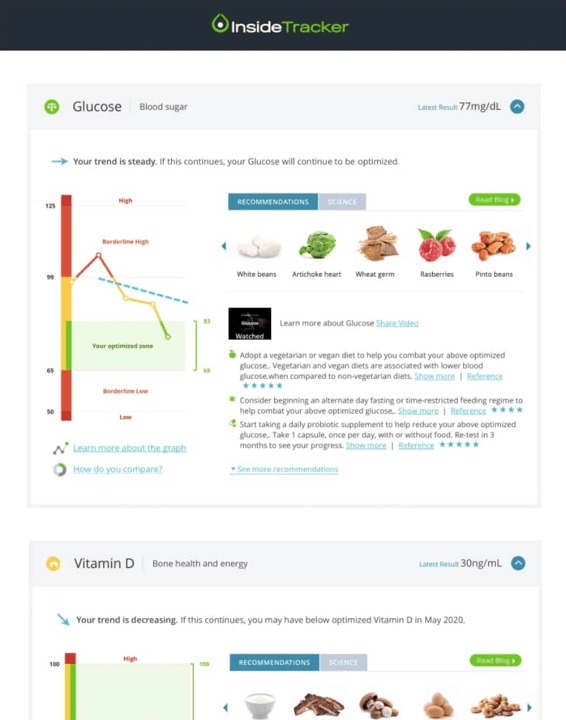 How it works
Personal information gets entered into its data engine, the SegterraR. This engine helps mine vast amounts of data to find people with similar metrics and lifestyles as yours. It then moves this data to the SegterraX, an algorithmic engine that produces most of InsideTracker's science backed action plans and recommendations.
It filters a combination of over 2,500 peer-reviewed scientific publications, a demographic database of over 180,000 healthy individuals, a database of over 8,000 unique foods, and the 200+ combined years of scientific experience across our team and scientific advisory board. As most of these factors tend to change, SegterraX is constantly evolving.
Due to the constant change happening in the genetic world, InsideTracker will advise you to take the test once every three months to know how your biomarkers have fared over this time. This way, you can also stay ahead of new developments. To help you track your progress over these real-time intervals, it compares your results to past ones if you've had a test with the company before.
InsideTracker Review
Review on taking an InsideTracker test
To get any of the tests, you pick any of the plans on its website after registering as a customer and using your InsideTracker login. You must provide personal information such as your name, email, and other contact information.
After picking a plan, you provide a blood draw. You can either take the lab test option and go to one of the 2,000 locations of the Quest Diagnostics lab all over the U.S. or pay for a mobile blood draw (costs $96). In this second option, you arrange for a phlebotomist to come to your location at your preferred time to draw your blood. If you choose the first option, the blood draw cost is already included in the plan's price.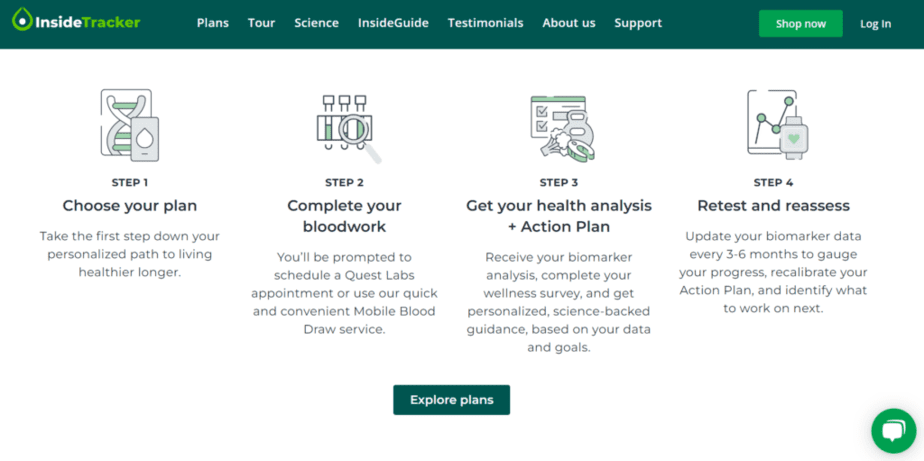 After drawing your blood, the next step is to fill out a questionnaire about your habits and food preferences, such as your sleep pattern and the type of exercise you do. After filling this out and submitting your InsideTracker blood test results, it analyzes your blood and places your test results on your dashboard on the website. Generally, results are ready within a week.
You can also upload your DNA results from 23andMe and AncestryDNA to the InsideTracker website, but you need to pay $29. At Nebula, you can get this for free.
Review of InsideTracker Products
While InsideTracker services are excellent, prices tend to be high, especially for someone who plans to use the service on a recurring basis. Its all-encompassing product is the Ultimate Plan, which tests for 43 biomarkers and includes blood work. This plan is meant for anyone concerned about their general well-being.
The test gives results and recommendations based on age, gender, ethnicity, and many more. It also helps you monitor your progress and allows the upload of past blood tests.
InsideTracker offered a plan known as the Vitality Plan meant for professional athletes or those aspiring to reach that level. The plan tests for 20 blood biomarkers. However, it has been discontinued for unknown reasons.
The InnerAge 2.0 plan, which tests for the body's biological age is for anyone who wants to improve their quality of life. This test uses the biological age of your body to provide recommendations backed by peer-reviewed scientific publications. It tests for 14 biomarkers in women and 18 biomarkers in men. At-home testing options for biological age information are available from Elysium Health, Muhdo, Teloyears, Toolbox Genomics, and TruDiagnostic.
Other tests
For people who are only interested in knowing more about their genes, the InsideTracker DNA Kit is the best option. The kit tests your DNA for 29 wellness traits using 261 genetic markers. It tests how your genes affect wellness factors like sleep, weight, aging genetics, sensitivities, and performance. You could also add blood testing to the DNA kit to get even more information and precise recommendations.
With the Home Kit, you can take the test from your home. All you need to do is mail a blood sample to InsideTracker. You will get access to your reports and personalized recommendations on your dashboard. However, this tests for only seven biomarkers.
The Essentials Plan focuses on the markers that affect essential body wellness and health factors, such as sleep, metabolism, and energy. The plan tests for 12 biomarkers. It provides recommendations backed by scientific publications to help with your general wellness quest.
The Blood Results Upload plan is the 2nd InsideTracker plan available internationally (alongside the Home Kit). It allows users to upload their blood test results from any major clinical lab and provides in-depth analysis of up to 44 biomarkers. With a comprehensive report of personalized recommendations, users can take steps towards reaching their goals with tailored daily action plans and follow-up support.
All these tests include a free blood draw in any of the 2,000 InsideTracker-certified locations in the U.S. However, as mentioned earlier, you could also choose to have a certified phlebotomist come to your home to get the blood drawn for an additional fee.
InsideTracker Costs Review
| | |
| --- | --- |
| Plan | Price |
| Ultimate Plan | $659 |
| Shalane Flanagan Panel | $399 |
| Home Kit | $299 |
| Immunity | $269 |
| Inner Age | $249 |
| DNA Kit | $249 |
| Essentials | $189 |
| Blood Results Upload | $96 |
| Analysis of DNA results from Ancestry and 23AndMe | $29 |
The prices for the InsideTracker tests are quite on the high side, so those on a budget should consider cheaper alternatives, especially if you want to take the tests on a recurring basis.
InsideTracker discount codes and InsideTracker coupons are available from coupon sites.
InsideTracker Reports Review
InsideTracker reports are relatively comprehensive. They organize all of the biomarkers tested by the Ultimate Plan into eight parts. For other plans, it picks among these categories of biomarkers.
The White Blood Cell Count is grouped under the Inflammation category. There are other categories like Strength and Endurance, Oxygen and Performance, Bone and Muscle Health (tests your calcium levels), Brain and Body (tests hemoglobin), Liver Health (tests liver function), and Electrolyte and Fluid Balance.
Each biomarker under these categories has its section that groups your level of abundance of this biomarker into three categories: At Risk, Needs Improvement, or Optimized. If your level is optimized, it suggests foods to keep it at that level and encourages you to keep on with whatever you're doing right. If it falls into one of the other two categories, it not only suggests meals but also provides tips on how to improve the abundance.
Some popular ones, like glucose and cholesterol, are under Energy and Metabolism. Cortisol, a stress indicator, is located under the Strength and Endurance category. In a report, you can see your latest quantitative result at the top right and a comparison of where your level should be on the left-hand panel. A clear indication of whether your levels are within the optimal zone is included with the dietary recommendations.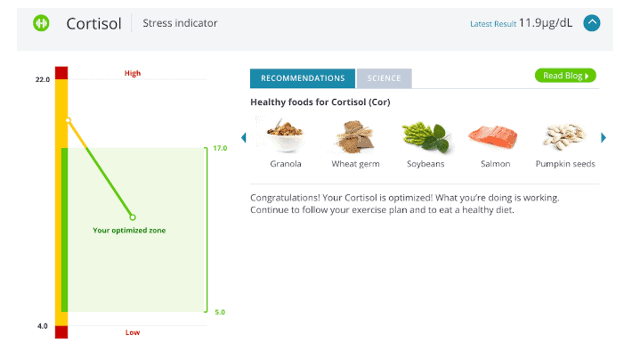 If a biomarker is outside the optimal range, InsideTracker will provide additional detailed steps based on your current information and lifestyle, as shown in this example of iron below.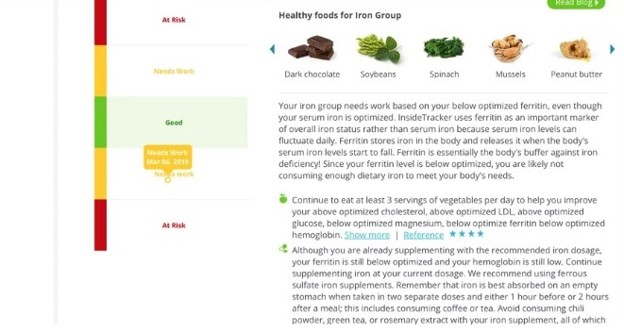 The InsideTracker app analyzes data from the blood, DNA, lifestyle, and fitness tracking to give you readily accessible results. You'll also be prompted to track your progress in a Daily Journal.
InsideTracker Privacy Review
InsideTracker is fully HIPAA compliant. For DNA testing, you can opt-in for your data to be used for scientific research, but this is not essential, and you can opt out at any time.
While it claims not to use the personal information collected for marketing or financial purposes, it might provide this information to data storage services and service providers and to deliver goods and services.
It claims to utilize industry-standard security measures to secure its clients' data. At Nebula, we use a combination of blockchain-type security and privacy computing to make your data inaccessible to anyone except you.
Nebula Genomics
InsideTracker mainly focuses on biomarker analysis but has recently expanded to DNA analysis. The DNA test complements the blood test by providing insights into things like weight, sleep, aging, performance, and food sensitivities. In total, the company says that it analyzes up to 261 genetic variants for these specific health areas that it includes in its reports.
While we don't cover biomarker analysis, Nebula Genomics decodes your entire genome to provide insights into the topics covered by InsideTracker, plus much, much more.
With Whole Genome Sequencing, Nebula provides the most comprehensive results for the most affordable price. Unlike other DNA testing companies like 23andMe and AncestryDNA, which only read approximately 600,000 positions (0.02%) of your DNA, or InsideTracker, which only focuses on a few hundred, we read approximately 6,000,000,000 positions (100%).
Once you buy our kit, you get access to our genome exploration tools, which you can use to continuously answer new questions about your genes affect health, wellness, and various other traits. Bundled in with your one-time payment for this kit are lifetime access to your data and our regularly updated blog, which keeps you updated about the latest happenings in genetic research and provides personalized DNA reports.
| | | |
| --- | --- | --- |
| | InsideTracker | Nebula Genomics |
| Testing Method | Blood sample (biomarkers) and cheek swab (DNA) | Saliva sample |
| Number of genetic variants tested | 261 (DNA test), most tests use biomarkers instead of DNA | ~ 6,000,000,000 (30X Whole Genome Sequencing) |
| Reporting | Abundance of biomarkers related to health and wellness and new blood and DNA testing options | Genetic predispositions and updated weekly reports (learn more) |
| Data Upload options | Yes (for $29) | Yes (for free) |
| Ancestry reporting | No | Deep ancestry reporting with a full Y chromosome and mtDNA sequencing |
| Focus on Privacy | No | Yes (learn more) |
| Tools to explore data | No | Yes |
| Cost | $29 – $659 | $0 – $299 |
Other at-home testing companies
If interested in other at-home health and wellness testing, InsideTracker alternatives include:
You may also be interested in virtual health care such as that offered by PlushCare, Teladoc, and Lemonaid Health!
Did you find our InsideTracker review helpful? You can read more reviews on our blog and check out our complete guide to the best DNA test kit and other home tests through links on our site.