Medi-Share is an agency that offers reimbursement for medical expenses. Some reviewers say they are more economical than a deductible. This review will attempt to provide a fair assessment to all parties. However, it represents the opinion of an individual reviewer and is therefore subjective. In addition, NebulaGenomics is focused on helping the public learn about genome-wide coding. Therefore, information about our Whole Genome Sequencing DNA test is incorporated into the review.
November 29, 2022
Edited by Christina Swords, Ph.D.
7 Facts from our MediShare Review
Location: Melbourne, FL
Products: Healthcare sharing ministry
Privacy: Share member information only for the purposes of providing its service or with permission from the member
How it works: Apply online, create an account, present card at service provider's office, and MediShare will determine discounts and eligibility
Cost: Fees = $176 ($50 application fee + $120 new member fee (individual/family) + $2 one-time membership fee for setting up your sharing account); Monthly cost: $100 to $955 depending on the annual amount paid before shares can be used, age, and household size
Reviews: Generally good
Complementary products: Nebula Genomics (DNA test that decodes 100% of DNA and provides the ability to explore health-related genetic traits)
Pros and Cons
Pros
Cost-effective
An alternative to the Affordable Care Act Marketplace
Membership cannot be terminated due to a developing medical condition
Cons
Little to no legal protection if a claim is not paid or if the ministry goes bankrupt
Restrictions based on lifestyle and pre-existing conditions
No Health Savings Account (HSA) contributions
Introduction
MediShare (Medi-share) is a health care sharing ministry administered by Christian Care Ministry (CCM), Inc. Members pool their funds to cover eligible medical bills to improve community health.
Dr. E. John Reinhold in 1993 founded MediShare in 1993.. The program is part of a not-for-profit organization, Christian Care Ministry, based in Melbourne, Florida. The ministry reports that over 400,000 members have joined MediShare, and more than $2.6 billion in medical expenses have been shared and discounted.
MediShare is not a health insurance program. These groups typically rely on a pool of members' funds, whereas MediShare members share their funds directly with other members each month through an online portal. Fund sharing is always voluntary.
Not all health conditions are eligible for sharing. To join Medi-Share, members must be Christians who belong to a church and commit to values prescribed by the church. Certain conditions that arise due to actions not in line with those values, such as illegal drugs or alcohol use, or extramarital sex, are not eligible to be shared.
Although Medi-Share is not insurance, it complies with the Affordable Care Act. As such, members are exempt from insurance regulations.
MediShare operates in all 50 US states. The ministry has released disclosures concerning an individual's responsibility for medical bills required for the state.
The Genetic Basis for Reducing Disease Risk
Many diseases have a genetic basis. Certain parts of your genome may put you at greater risk of developing a condition. Knowing your genetic makeup lets you discuss your risk with a doctor and take preventative measures to lower your disease risk.
Genetic testing sites like Nebula Genomics allow you to explore your genome and learn about your disease risk. Nebula Genomics is not a diagnostic company, and changes to your lifestyle should be discussed with a licensed medical provider. If you know your disease risk, you can make healthy decisions that can lower your medical bills and make a program like this one even more cost-effective.
Review of MediShare
MediShare is a Christian community in which members share the financial burdens of medical bills. Members log on to choose a monthly share amount, which the company matches with another member's approved health expenses. The online public portal is transparent so that everyone knows whose bills they are paying each month.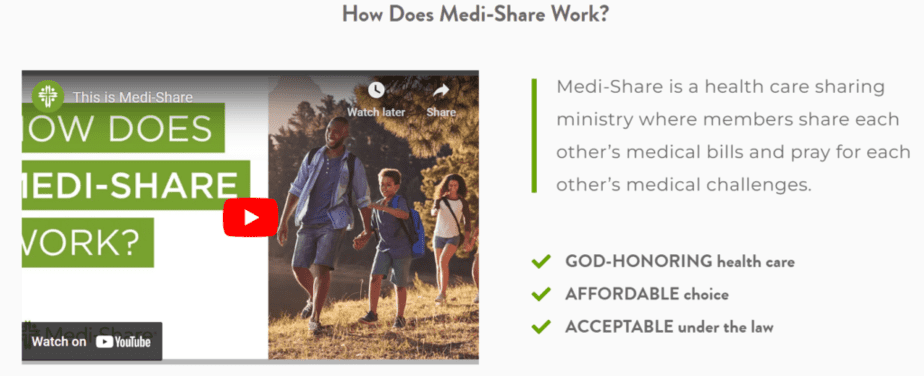 Guidelines are publicly available and voted on by members. They outline the program requirements and how MediShare facilitates sharing medical bill payments.
Review of MediShare Process
How does Medi Share work? Potential members apply online or over the phone to the MediShare program and pay a one-time $50 application fee. Customer service is available Monday to Friday from 8 am to 9 pm EST and Saturday from 9 am to 7 pm EST.
Application forms include a health history questionnaire and a Testimony & Commitment Form. If approved, the applicant pays a one-time $120 new member fee in addition to the $50 application fee (does not apply to Senior Assist members).
Members then create an individual sharing account with MediShare's financial partner, America's Christian Credit Union (ACCU), in which they will share bills and deposit their monthly share amount. There is a $2 one-time membership fee for setting up your sharing account. There is also a $2 monthly administrative fee and an additional $1 monthly paper statement fee if you choose to have your statements sent by mail instead of email.
After receiving medical services, members present their ID cards to their medical service provider and receive negotiated rates. The provider then sends the bill to Medishare, where the ministry negotiates discounts and decides if it can be shared. Then, the provider will bill the patient for what they owe.
It should be noted that MediShare is intended for unexpected medical bills that burden members. Examples include doctor's visits, emergency room visits, hospitalizations, prescriptions, maternity, well-child care, and adoption costs. Other expenses like well-visits, routine medical care (including immunizations and vaccines), and preventative care are not eligible to be shared. There are some exceptions for pregnancies and unborn children.
Review of Medi Share Cost
Review of MediShare Annual Household Portion and Monthly Share Payments
Members choose an Annual Household Portion (AHP), ranging from $1,000 to $10,500. An AHP is similar to an insurance deductible. It is the annual amount a household will contribute to its medical bills. Members must pay the AHP before they can participate in bill sharing with other members.
Members can change their AHP at any time with a $75 administrative fee.
Members contribute a monthly "share" to their account based on age and the number of people in their household. Shares are comparable to traditional health insurance premiums. These monthly payments that act like monthly premiums go directly to pay other members' medical bills.
MediShare offers seven AHP options for households:
$1,000 (individual only)
$1,750
$3,000
$4,250
$5,000
$8,000
$10,500
Review of MediShare Monthly Share for Individuals and Families
Members can apply for the Health Incentive to save a household up to 20% on their monthly share payments. To qualify, both spouses must apply as individuals and meet the criteria within 30 days of each other. To be eligible, individuals must:
Complete the online health form
Report blood pressure less than or equal to 121/81
Report an abdominal circumference less than 38" (men) or less than 35" (women)
Report a BMI greater than 17.5 and less than 25
Members can choose either the "Complete" or "Value" program. MediShare Complete is a comprehensive program developed with a network of providers. On the other hand, MediShare Value is a self-pay options which grants members more flexibility in where they get their care.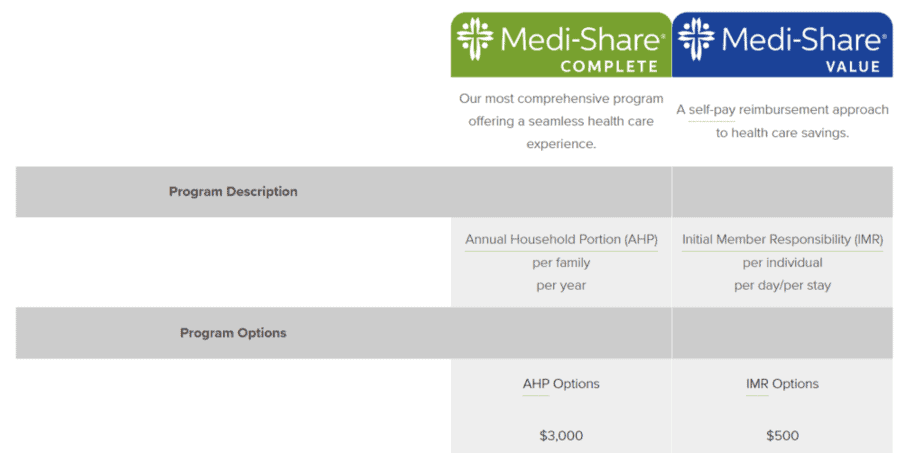 Review of MediShare Monthly Share for Seniors
MediShare offers an option for individual seniors age 65 and older with Medicare Parts A and B called the Senior Assist program.
Medical procedures that qualify for sharing through the Senior Assist program include:
copayments
deductibles
hospitalization
skilled nursing facility care
out-of-country urgent care
The monthly share amounts for seniors start at just $70 per month.
65-70 years old: $70 per month
71-75 years old: $85 per month
76 or older: $95 per month
Review of MediShare Monthly Share for MediShare Groups
Employers can enroll in MediShare groups for themselves and their employees and receive group billing.
Review of MediShare Medical Visits
MediShare members are encouraged to choose a medical MediShare provider within their network. Members are responsible for a $35 provider fee for doctors and hospitalizations and a $200 provider fee for emergency room care. These fees must be paid even after the AHP is reached; these installments do not apply to the AHP.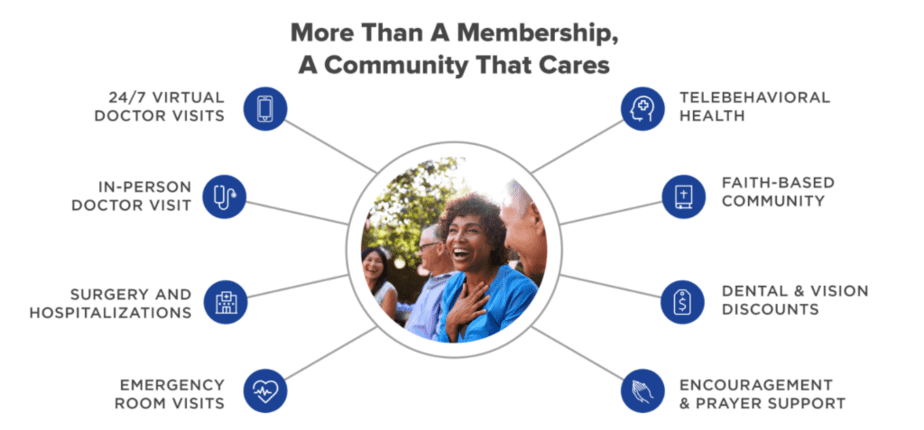 Members may choose to use a medical provider outside the preferred provider organization, but bills incurred with these providers will not be eligible for discounts.
Review of MediShare Telemedicine
MediShare members have 24/7 access to telehealth doctors through MDLIVE. This service is for non-emergencies. The doctor can review symptoms, provide a diagnosis, and order prescription drugs.
Review of MediShare Dental, Vision, and Auditory Discounts
MediShare members receive 20% to 60% savings on most dental care through the Careington network. Services in the MediShare pricing include routine oral exams, unlimited cleanings, and major work such as dentures, crowns, and root canals.
Members receive 5% to 30% off the retail price of eyewear with the Superior Vision discount program. Members are eligible for discounts on exams, eyeglasses, contact lenses, and LASIK at more than 40,000 participating provider locations.
MediShare members may also receive hearing aid discounts from 30% to 60% at over 5,000 network providers nationwide.
Review of MediShare Privacy
According to its privacy policy, MediShare typically does not share member information with anyone outside Christian Care Ministry, Inc. without permission. However, Christian Care Medi-Share may disclose information to partners who provide services on the member's behalf.
MediShare uses standard security measures to protect personal and financial information online, such as a Secured Socket Layer (SSL).
Other MediShare Reviews
MediShare has a mix of high reviews and neutral reviews.
Most reviewers on Healthsharing gave Medi-Share a very low score. The most frequent complaint was the company denying payment.
A review from August 1st, 2020 claims: " I thought this would be a good option because I needed affordable healthcare. I'm healthy and had never been hospitalized until the end of last year. I had almost 60K in medical bills. Medi-share refused to pay, falsely stating, pre-existing condition. I spend my days helping people with severe trauma and now I'm looking at probably having to file for medical bankruptcy."
The editors for Part-time Money and DoughRoller gave much higher ratings, mainly based on MediShare's lower costs compared with insurance and ease of the application process.
Member reviews are also available on the MediShare website.
Other Healthcare Sharing Ministries
Other Christian ministries that provide similar sharing programs include Christian Healthcare Ministries, Liberty Healthshare, Samaritan Ministries, and Zion Healthshare.
Christian Healthcare Ministries
Liberty Healthshare
Medishare
Samaritan Ministries
Zion Healthshare

*Church participation not required
Number of programs
Three
Five
Based on household size and age, special program for seniors
Two
Based on age, household size, and IUA amount
Add on for catastrophic bills
Brother Keeper – an extra $22 per member per month
No
No
Save to Share­™ – an extra $133, $266, or $399 each year + $15 administration fee
No
Reach
Nationwide – must have U.S. mailing address
Nationwide
Nationwide
Nationwide – bills outside the U.S. qualify
Nationwide
Are pre-existing conditions covered?
Yes – with the Gold plan and the Prayer Page
Up to $50,000 in the second and third year of membership
Up to $100,000 per member per year after 36 consecutive months or up to $500,000 after 60 consecutive months
Only of the conditions has been symptom, treatment, and medication-free for 12 consecutive months. Some require five years waiting period
Only if they are considered cured and do not require medical intervention within 24 months of joining the organization
Routine care
No
Yes, excluding dental/vision and bills less than $200
No (some discounts for vision, dental, and auditory)
No
Yes, with some restrictions unless using a Preventive Care add-on, excludes dental/vision
In-network provider needed?
No
No
Yes
No
No
Cost
$90 – $705
$85 to $1239
$100 to $995 (plus $176 in fees)
$99 – $682 per month
$103-$515 per month
Nebula Genomics
At Nebula Genomics, we aim to empower you to discover more about your genome, including your genetic risk of disease. This information can help you take preventative steps that reduce healthcare costs. These changes can benefit members of cost-sharing programs such as MediShare. A healthy lifestyle tends to reduce the number of medical visits, lowering how much you pay out-of-pocket while reducing the frequency of medical bills.
Whole-genome sequencing is Nebula Genomics' most extensive genetic testing. This service decodes 100% of your DNA.
You can investigate genes of interest, identify relevant mutations, and look for genetic variants. You can even view your sequencing data from your computer. Data access, weekly reports, ancestry analysis, and exploration tools are among the results.
As a customer, you have access to hundreds of traits and curated research studies through the Nebula Research Library, allowing you to stay up-to-date with cutting-edge studies, including health research and what it means to you and your DNA.
Summary
MediShare is a healthcare cost-sharing ministry in which members contribute monthly shares to help pay for other members' health bills. The company offers patient protection and affordable care. This service has advantages for those who have high costs and often unexpected health procedures. Alternatives to MediShare include Christian Healthcare Ministries, Liberty HealthShare, and Samaritan Ministries.
Genome sequencing can help understand how genes affect health and take preventative measures to lower healthcare costs. Customers can use this risk information to decide if a cost-sharing program is right for them or their families now or in the future.
Members of Medi-Share are exempt from the individual mandate in the Patient Protection and Affordable Care Act found in 26 United States Code §5000A(d)(2)(B). However, there are no legal protections if the ministry goes bankrupt or if your bills fail to be paid. Also, because it is designed for unexpected, burdensome medical bills, things like routine check-ups, vaccinations, and preventative care are not eligible to be shared.
Did you like our MediShare review? You can read more reviews on our blog and check out our complete guide to the best DNA test kit and other home tests. In particular, you might be interested in these articles:
Elysium Health (supplements designed to slow down aging)
FoundMyFitness (one-time report or lifetime updates)
Noom (health and fitness subscriptions)
Rootine (personalized supplement and vitamins based on DNA test)
Tru Niagen (supplements designed to slow down aging)
Yoga Burn (yoga instuctional videos for weight loss)