7 Facts from our Zion Healthshare Review
Location: St. George, Utah, United States
Services: Memberships for individuals and families. There are also separate plans for companies, and direct primary care (DPC) members which can save a lot of money on routine care
Cost: Ranges from $103-$653 per month depending on age and family size
Privacy: Information shared only with strategic partners
How it works: Members pay or contribute a set amount of money each month based on household size, age, and the chosen initial unshareable amount (IUA) amount. Once the IUA is paid, a member submits a need request when they have an eligible medical need
Counseling available: No
Other Products: Nebula Genomics offers 30X Whole Genome Sequencing that decodes 100% of your DNA and gives reports on diet and much more!
This review is written with the intent to be as unbiased as possible. However, it represents the opinion of an individual reviewer and is therefore subjective. Furthermore, at Nebula Genomics we seek to educate the public about the benefits of Whole Genome Sequencing. Information about our Whole Genome Sequencing DNA test is therefore incorporated into the review.
March 14, 2023
Pros and Cons
Pros
Partnerships for telemedicine and mental health resources
No yearly or lifetime sharing limits
Excellent member reviews
Members do not need to be part of a faith
Covers a wide range of health conditions, not just for emergencies
Cons
Adoption expenses and fertility not shareable
Insulin-dependent diabetes medications are not shareable
ADHD, ADHS, and SPD are not shareable
Introduction
Unlike most health sharing companies, Zion HealthShare is not a faith-based organization. Instead, it requires members to comply with Principles of Membership, which primarily focus on minimizing medical risks and encouraging good health practices.
It shares medical expenses and also offers several resources to support their members and help keep healthcare costs low. These include a health and wellness program, telemedicine services, and discounts on health-related products and services.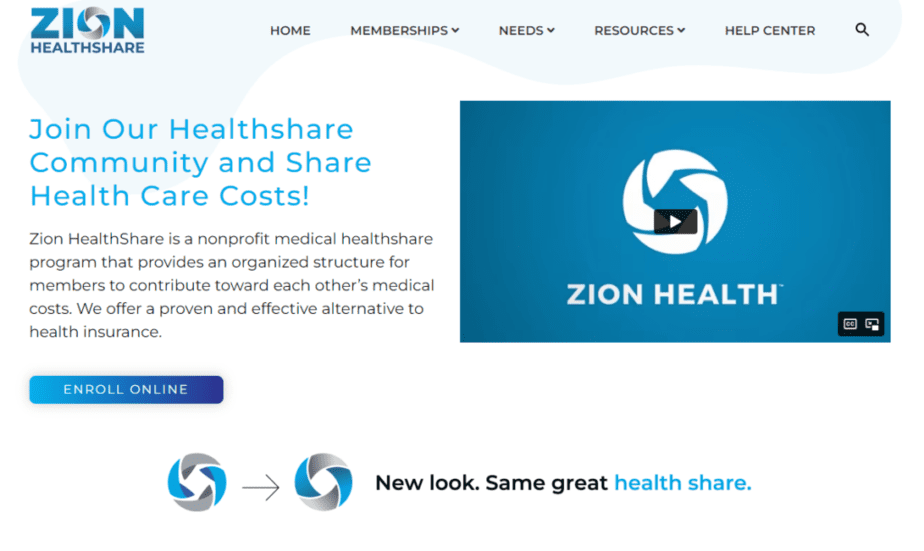 Zion HealthShare was founded in 2019 by entrepreneur and business owner Nathan Udy. With over a decade of experience managing healthcare plans in the traditional insurance industry, Nathan reimagined what a HealthShare could offer to its members. As a result of founding Zion HealthShare, he created a HealthShare community built around healthy living, inclusivity, and personal responsibility.
Zion was one of the earliest secular health shares and has grown—in just a few short years—to include over 40,000 members in all 50 states. Although Zion HealthShare acknowledges a higher power, they don't require statements of faith or evidence of worship from their members. The core values of the Zion HealthShare community include living a healthy lifestyle, caring for others in the community, and avoiding harmful habits such as substance abuse.
Review of Zion HealthShare
Zion HealthShare is a benevolent organization, not a health insurance company. Therefore, its mission is to reimagine the health sharing landscape by creating a member-focused community. People from all faiths are welcome to join this group. 
Eligibility rests on two factors: adherence to the organization's Principles of Membership and submission of monthly contributions.
Although members do not need to demonstrate participation in a particular faith or hold certain religious beliefs, health share membership can be revoked if it is found that they violated the Principles while active in the program.
Review of Zion Healthshare Programs
There are four types of Zion Healthshare membership, and member contributions are calculated depending on the participating members of a household, initial unshareable amount (IUA), and member age.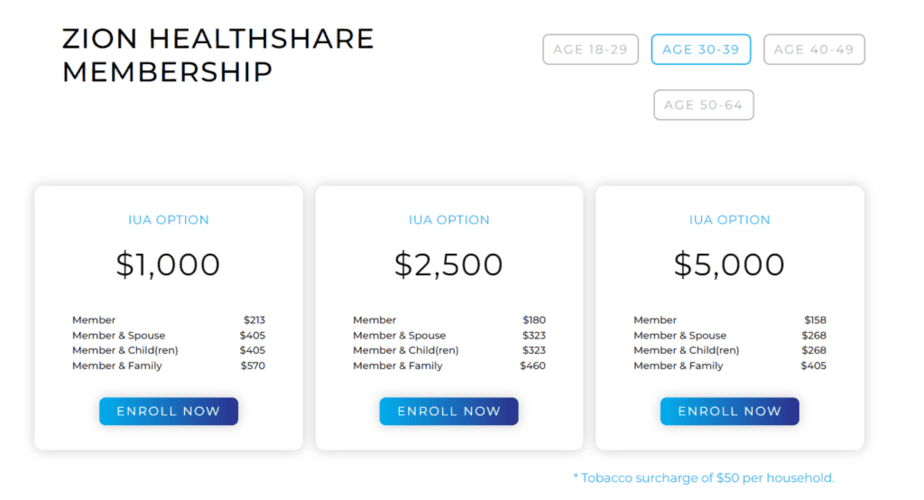 Member Only: an individual member of Zion HealthShare
Member & Spouse: Two married members
Member & Child(ren): A member and any eligible dependent children without membership of a spouse
Member & Family: A member, spouse, and any dependent children
It determines monthly rates by the member's age (18-29, 30-39, 40-49, and 50-64), household size, and chosen Initial Unshareable Amount (IUA).
Members owe their IUA per incident. Unlike a deductible typically paid annually, Zion members could pay their IUA multiple times (up to three in a membership year). Therefore, a member who chose a $1,000 IUA would owe up to $3,000 annually. Members must also use their insurance plan first, if available, before engaging with the sharing ministry for any unpaid bills.
Fortunately, related medical costs are included as part of one need. For example, a broken arm could include sharing for the urgent care visit, setting the cast, follow-up appointments, short-term medication, and even physical therapy. For the purpose of the Zion HealthShare model, all those services would be shareable under one need—the broken arm.
Review of the Zion Healthshare process
Members submit medical treatment needs through the online portal or the company website. Documentation, including itemized bills, receipts, and other relevant documentation, should be submitted as soon as possible with non-emergency procedures being submitted prior to the service date. At most, medical bills can be submitted six months after the service date.
The IUA must be met before any bills can be submitted for sharing. Since Zion Healthshare is not insurance, patients should inform their provider that they are self-paying. This often provides discounts that consequently keeps the company's costs low.
What is shareable?
Generally, this service is for unexpected medical bills although there are some exceptions.
There is no annual or lifetime maximum shareable amount for any member or membership household. Additionally, pre-existing medical conditions are only sharable if they are considered cured and do not require medical intervention within 24 months of joining the organization. There is a one year waiting period before any pre-existing conditions can be shared and the shareable amount increases with each membership year.
High blood pressure, high cholesterol, and diabetes (types 1 and 2) are not considered pre-existing conditions for sharing purposes as long as they are controlled and the member has not been hospitalized due to them in the past year.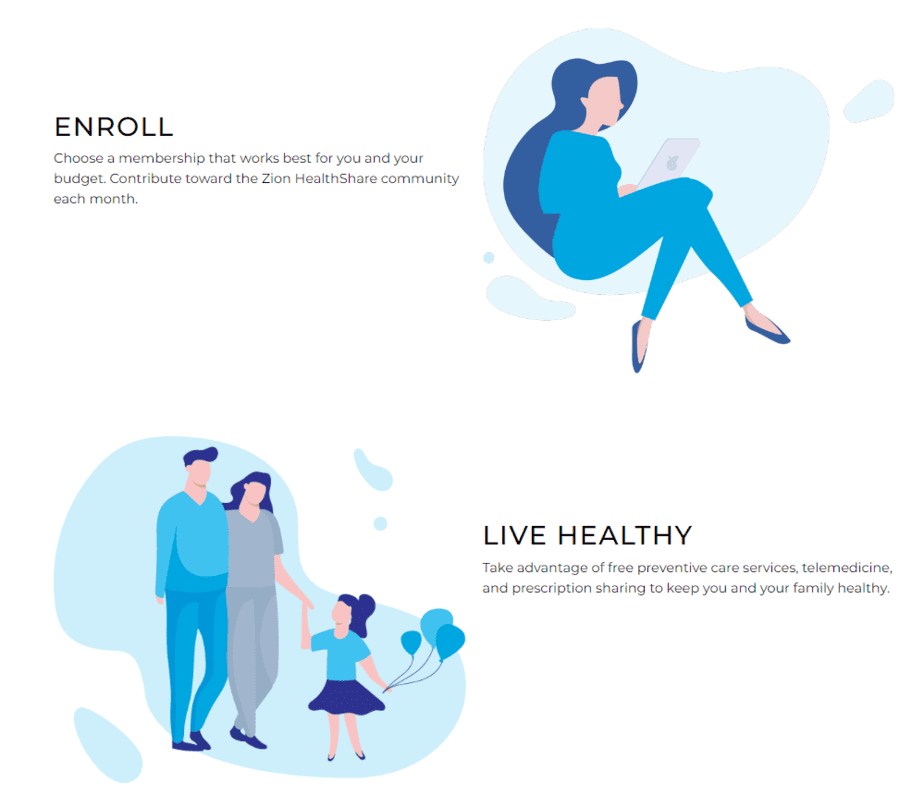 Unlike many other health sharing plans, Zion Healthshare allows alternative and integrative health care with prior authorization and with certain sharing limitations. It also covers maternity care.
Some things, like vision and dental are not sharable, although members can get discounts with the organization's prescription plan.
Preventative services like an annual provider visit, are sharable with the direct membership in a limited capacity. On the other hand, a member can enroll in the Preventive Sharing add-on for the Essential Membership (for employers). 
Members can also choose to give a bit extra beyond their required contribution each month. These funds go to the Additional Giving fund, which is used to assist members who have a medical need request that would not normally qualify for sharing.
Review of Zion Healthshare's other benefits
The company offers discounted prescriptions from any pharmacy. It has also partnered with LifeWorks to offer mental health services for a small additional monthly cost.
Additionally, it has partnered with Teladoc to offer unlimited office visits 24/7 with no consultation fee.
Review of Zion Healthshare Cost
Zion Healthshare offers affordable health sharing in four age ranges: 18-29, 30-39, 40-49, and 50-64. They also provide three IUA brackets: $1,000, $2,500, and $5,000.
The price ranges depend on the primary member's age. Monthly contributions also raise with age. They are also higher for lower IUA plans.
Single IUA amounts
$1,000 IUA ($185-$268)
$2,500 IUA ($130-$240)
$5,000 IUA ($103-$185)
Spouses or Member and child(ren) IUA amounts
$1,000 IUA ($350-$515)
$2,500 IUA ($240-$433)
$5,000 IUA ($185-$350)
Family IUA amounts
$1,000 IUA ($515-$790)
$2,500 IUA ($405-$653)
$5,000 IUA ($295-$515)
To cancel your membership you contact the company and note your reason for cancellation and the requested effective month. Zion Healthshare requires 15 days notice prior to next payment.
Review of Zion Healthshare Privacy Policy
Zion Healthshare collects personal and non-personal information through the site, including name, address, social security number, date of birth, etc. Personal information will be processed fairly and securely but may be shared with the company's strategic partners. The company may also disclose personal information if required by law or to protect its rights or property. It does not guarantee that internet transmissions are 100% secure, so it recommends caution when sending personal information online and using encryption technology.
Other Zion Healthshare Reviews
Zion Healthshare generally has good reviews from members online—reviewers on Health Sharing Review rate it 4.8 stars with 215 reviews. In short, it is a top-rated company on this site. Most customers noted it was a seamless process and also has good customer service. However, a newer complaint noted that they did not feel informed that the IUA was payable up to three times a year. 
There are also Google reviews available that give the company a 4.5-star rating with close to 235 customer reviews. Overall, members report exceptional customer service and incredibly affordable and comprehensive healthcare support.
Other Healthcare Sharing Ministries
Other Christian ministries that provide similar sharing programs include Christian Healthcare Ministries, Liberty Healthshare, Medishare, and Samaritan Ministries.
Christian Healthcare Ministries
Liberty Healthshare
Medishare
Samaritan Ministries
Zion Healthshare

*Church participation not required
Number of programs
Three
Five
Based on household size and age, special program for seniors
Two
Based on age, household size, and IUA amount
Add on for catastrophic bills
Brother Keeper – an extra $22 per member per month
No
No
Save to Share­™ – an extra $133, $266, or $399 each year + $15 administration fee
No
Reach
Nationwide  – must have U.S. mailing address
Nationwide
Nationwide
Nationwide – bills outside the U.S. qualify
Nationwide
Are pre-existing conditions covered?
Yes – with the Gold plan and the Prayer Page
Up to $50,000 in the second and third year of membership
Up to $100,000 per member per year after 36 consecutive months or up to $500,000 after 60 consecutive months
Only of the conditions has been symptom, treatment, and medication-free for 12 consecutive months. Some require five years waiting period
Only if they are considered cured and do not require medical intervention within 24 months of joining the organization
Routine care
No
Yes, excluding dental/vision and bills less than $200
No (some discounts for vision, dental, and auditory)
No
Yes, with some restrictions unless using a Preventive Care add-on, excludes dental/vision
In-network provider needed?
No
No
Yes
No
No
Cost
$90 – $705
$85 to $1239
$100 to $995 (plus $176 in fees)
$99 – $682 per month
$103-$515 per month
Nebula Genomics
Zion Health share is not a health insurance company but an organization that helps its community members with health bills. In brief, it has used the knowledge of what has worked well and what has been challenging with other healthcare ministries to provide a community-focused service to its members. Given that the company operates as a non-profit, any surplus funds are used to improve the program and support its members.
Healthcare bill sharing is one way to take control of your health, allowing you to get care without excessive expenses. Another way to learn more about your wellbeing is through genetic testing. To that end, Nebula Genomics is revolutionizing the genomic sequencing industry by offering its customers more flexibility and cost savings. By providing a range of sequencing options, a secure platform for data storage and access, and a blockchain-based marketplace, the company is empowering individuals to take control of their health and wellness while also helping to advance scientific research. 
With 30x Whole-Genome Sequencing, Nebula sequences 100% of your DNA to get to the root cause of every biological inclination. The test is incredibly accurate and also includes other additions, including ancestry reporting and genome exploration tools. Additionally, regularly updated reports ensure that you will not miss the latest genetic research. 
Nebula is not a diagnostic test, but the results are of the highest quality and can be used in consultation with health care professionals.
For only $299 or less, customers will get access to their entire genome, allowing them to continue to ask more questions as more research is conducted.
Did you like our Zion Healthshare review? You can read more reviews on our blog and check out our complete guide to the best DNA test kit and other home tests.