7 Facts from our Samaritan Ministries Review
Location: Peoria, Illinois, United States
Services: Samaritan Classic and Samaritan Basic
Cost: $99 – $682 per month
Privacy: Protects User data and will not share their information unless completely necessary
How it works: Users can register as singles, couples, or families and meet all financial obligations as indicated in their subscribed program. They enjoy financial health relief from the community during a health crisis
Counseling available: No
Other Products: Nebula Genomics offers 30X Whole Genome Sequencing that decodes 100% of your DNA and offers reports on diet and much more!
This review is written with the intent to be as unbiased as possible. However, it represents the opinion of an individual reviewer and is therefore subjective. Furthermore, at Nebula Genomics we seek to educate the public about the benefits of Whole Genome Sequencing. Information about our Whole Genome Sequencing DNA test is therefore incorporated into the review.
February 21, 2023
Pros and Cons
Pros
Less expensive options than similar ministries
Good customer service
Members can choose their healthcare provider, pharmacy, and hospital
Optional add-on for catastrophic bills
Cons
Only two plan options
Only available for Christians
Experiences with Samaritan Ministries are mixed
Introduction
Samaritan Ministries is a health cost sharing program based in the US, offering its service to the Christian community. The ministry makes it clear that all Christians are welcome, with the only requirement being that they are active adherents of the Christian faith, as highlighted in the Bible.
Samaritan Ministries is not health insurance. Instead the founders designed a program to enable members to help each other with health bills through prayer, encouragement, and financial support. In many ways it is a way to spread the word of being a good Samaritan and Christian practices.
There are programs for singles, couples and families, with different costs for each. However, the pricing is not very high and is considered quite affordable.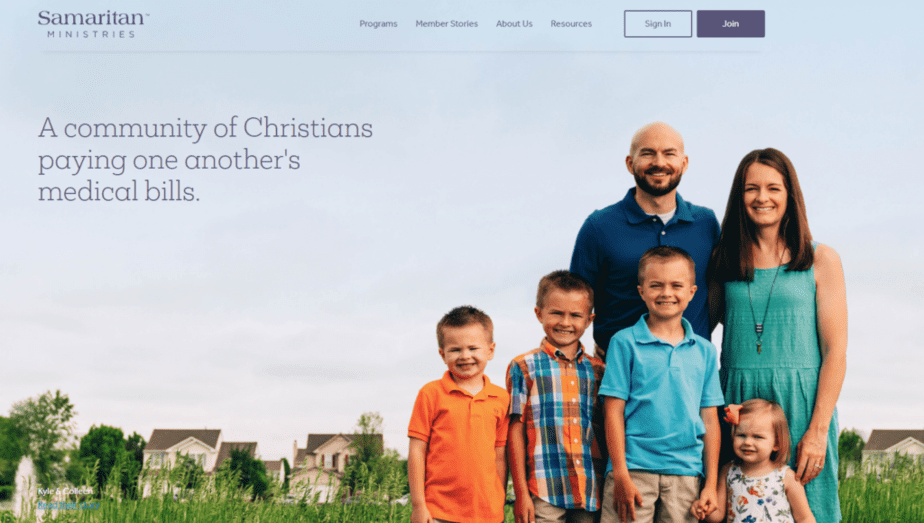 Founder Ted Pittenger started the ministry in 1994 with 10 members. By 2004, the program had reached 10,000 members. It is governed by a member-elected Board of Directors. In 2023, Samaritan Ministries was accredited by The Healthcare Sharing Accreditation Board, which determines whether health sharing ministries achieve the highest standards of quality and ethical business practices.
Samaritan Ministries is based in Peoria, Illinois, United States but has a reach across all 50 states and depends on Members' contributions for medical relief whenever the need arises.
Review of Samaritan Ministries
With both programs, you can choose the healthcare provider, pharmacy, and even hospital that works best for your treatment. You only need to ensure that you work with the cost relief allocated to you and be prepared to be responsible for bills not covered.
The ministry and its two programs are exempted from the federal Affordable Care Act, California, District of Columbia, Massachusetts, New Jersey, and Rhode Island's Individual mandate. Also, there is no state law penalty for their service as a cost-facilitating community.
Review of Samaritan Ministries Process
Like most health cost-sharing communities, Samaritan Ministries focuses on Christians. The ministry states that its membership requirements strive to encourage Christian maturity and foster accountability and a healthy lifestyle. As such, it requires all members to agree to its Statement of Faith and its Membership Agreement.
The Membership Agreement is an official acceptance that all members must undertake and is a long list of biblical inspired Do's and Don'ts. The first major requirement is that all intending members attend a Christian church regularly, at least three out of four weeks per month or as much as health or weather permits. If it is not possible for intending members to attend a Christian church regularly, they will need to submit a letter giving the details.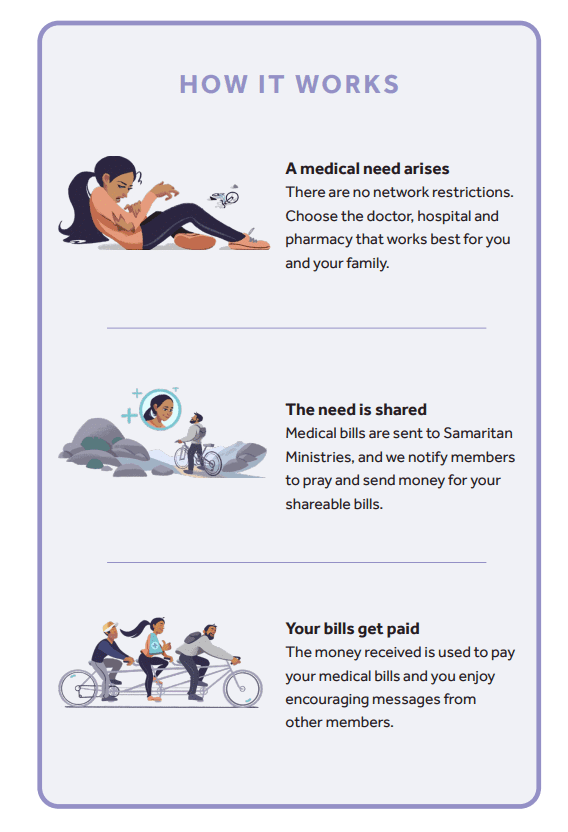 Intending members that are active in Fellowships, churches, temples, wards, and denominations that fall outside of Biblical, Christian faith—such as the Church of Scientology, Unitarian, Jehovah's Witnesses, and The Church of Jesus Christ of Latter-day Saints—do not qualify for the ministry requirement. Also, members must be ready to bear one another's burdens and abstain from all recreational or illegal prescriptions, among other requirements.
Once members meet all the requirements, they can join the ministry and subscribe to any available programs. It is available in all 50 states, U.S. territories, and abroad. Users must convert share costs into U.S. dollars.
Review of Samaritan Ministries Programs
There are two main Programs available in Samaritan Ministries: Samaritan Classic and Samaritan Basic.
The main purpose of the cost sharing is for unexpected expenses, such as emergency room visits.
With either plan, there are some restrictions on pre-existing conditions. Additionally, routine care (dental, vision, yearly wellness checks, colonoscopies, etc.) is generally not shared by Samaritan members. Expectations exist if a sharable condition is discovered during a routine care visit.
Some prescriptions can be shared with a limit. However, the ministry does include discounts for prescriptions to help keep costs low.
Sometimes, the ministry will help with health costs not covered by health insurance companies, such as home birthing. It may also be helpful for those with no insurance or high deductible plans.
Samaritan Classic
Active for 25 years, Samaritan Classic is the first plan started by the company. It is available for a single person and works for couples, multiple people and families.
$400 Initial Unshareable Amount: The amount members must pay before their eligible bills can be shared.
Samaritan classic provides a full package for the following:
Sharing Medical Needs: Samaritan Ministries' Medical bills related to the same condition will be shared as one needs.
100% Sharing Percentage: All amounts above the initial unshareable amount are shareable for any member with a medical condition.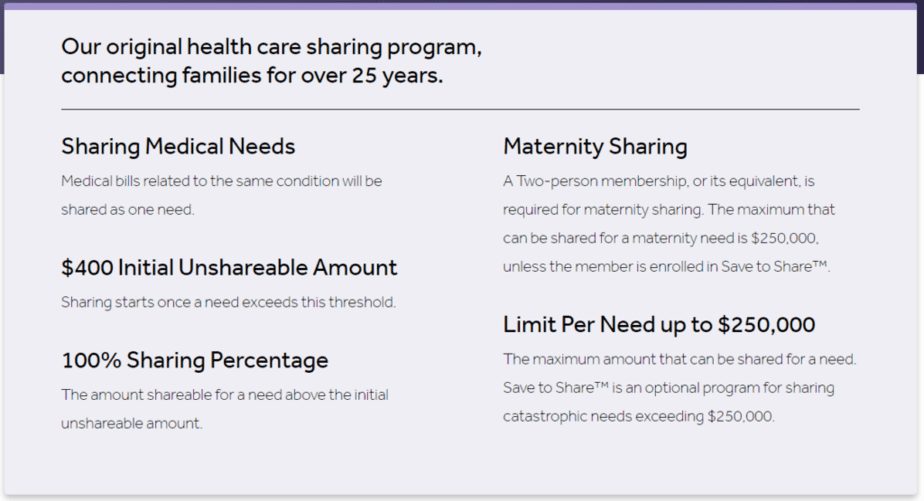 Samaritan members share medical needs that begin after membership. A need encompasses all the medical bills related to the same condition and is shared with your fellow members 100%* after the $400 IUA is met.
Maternity Sharing: A Two-person membership, or its equivalent, is required for maternity sharing. The maximum that can be shared for a maternity need is $250,000 unless the member is enrolled in Save to Share­™.
Limit Per Need up to $250,000: The maximum amount that can be shared for a need. Save to Share­™ is an optional program for sharing catastrophic needs exceeding $250,000.
Note: Needs that result from a condition that existed prior to membership are only shareable if the condition has been a symptom, treatment, and medication-free for 12 consecutive months. Some pre-existing conditions, such as cancer, heart conditions, and hereditary diseases, have five years before they are eligible for sharing.
Samaritan Basic
Samaritan Basic is a lower-cost option designed for those who want a reduced monthly share amount. It is available for a single person and works for couples, multiple people and families.
$1,500 Initial Unshareable Amount: Sharing starts once a need exceeds this threshold. The initial unshareable amount (IUA) can be reduced or eliminated dollar-for-dollar by discounts received.
The Package available for the Samaritan Basic is:
Sharing Medical Needs: Medical bills related to the same condition will be shared as one needs.
Percentage: The amount shareable for a need above the initial unshareable amount. There is a maximum cumulative co-share of $13,500.
Maternity Sharing: A Two-person membership, or its equivalent, is required for maternity sharing. Maternity needs have a $5,000 sharing limit. The maximum 10% co-share amount of $13,500 applies to prevent medical bills from becoming a burden.
Limit Per Need up to $236,500: The maximum amount that can be shared for a need. Save to Share™ is an optional program for sharing catastrophic needs exceeding $236,500.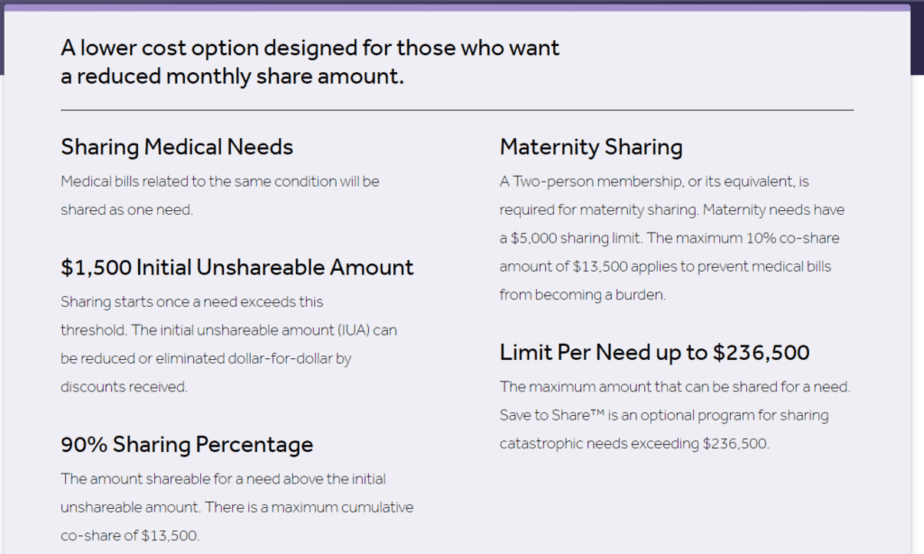 There is also a Special Prayer Need in the monthly newsletter that includes certain costs that are not sharable. However, members can choose an optional gift to these special requests.
Review of Samaritan Ministries Cost
The costs for the Samaritan Classic and Samaritan Basic are based on factors such as:
The type of program
The number of people subscribing to the program
The age range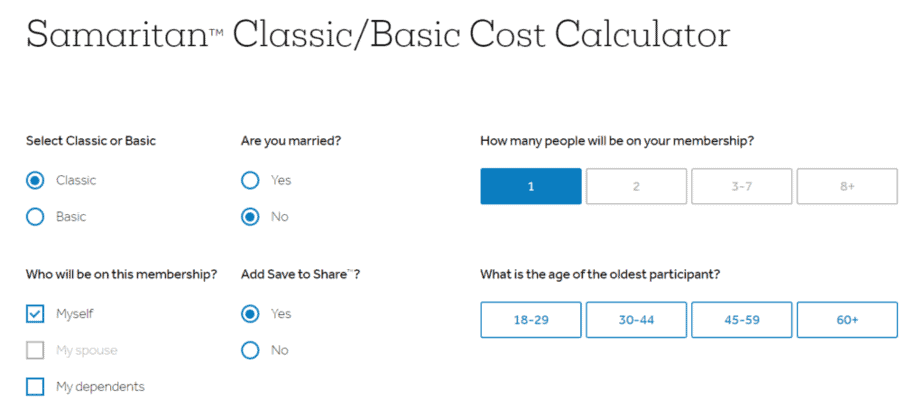 For example, the Basic Program for a single person between the ages of 18 to 29 is $99.00 monthly, the cheapest subscription. The highest subscription is the Classic Program for a family of 8 and more at $682 monthly.
In the Basic plan, below is the cost range
1 person: $99 – $263
2 people: $209 – $511
3+ people: $263 – $682
Unlike the Basic Plan, the Classic plan does not have different prices for age range differences for each category.
1 person: $263
2 people: $511
3-7 people: $596
8+ people: $682
Individual ≤ Age 29: $177
Widowed/Divorced & Children: $408
The general cost for Samaritan Pricing is less expensive than most competitors.
Review of Samaritan Ministries Privacy
The ministry collects personal data from users, including their names, medical reports and contact information. It works to collect only the minimal amount of information necessary to process the requested services. It does not sell member information or allow its partners to use member information for their own marketing purposes.
Members may share personally identifiable information as well as protected health information. Medical information is kept confidential and will only be used by staff or their partners to either determine the bill's eligibility for sharing or negotiating charges. Only authorized personnel have access to the data and only in the most minimal amount needed.
Other Samaritan Ministries Reviews
Samaritan Ministries has a 3.4 star rating on HealthSharing Reviews with 41 reviews. Some reviews are very positive, noting that the service has been helpful with their medical bills. However, there are also a variety of complaints from some people who tried to join Samaritan Ministries that claim the company excludes some churches and reports of it taking a long time to distribute funds.
Other Healthcare Sharing Ministries
Other Christian ministries that provide similar sharing programs include Christian Healthcare Ministries, Liberty Healthshare, Medishare, and Zion Healthshare.
Christian Healthcare Ministries
Liberty Healthshare
Medishare
Samaritan Ministries
Zion Healthshare

*Church participation not required
Number of programs
Three
Five
Based on household size and age, special program for seniors
Two
Based on age, household size, and IUA amount
Add on for catastrophic bills
Brother Keeper – an extra $22 per member per month
No
No
Save to Share­™ – an extra $133, $266, or $399 each year + $15 administration fee
No
Reach
Nationwide – must have U.S. mailing address
Nationwide
Nationwide
Nationwide – bills outside the U.S. qualify
Nationwide
Are pre-existing conditions covered?
Yes – with the Gold plan and the Prayer Page
Up to $50,000 in the second and third year of membership
Up to $100,000 per member per year after 36 consecutive months or up to $500,000 after 60 consecutive months
Only of the conditions has been symptom, treatment, and medication-free for 12 consecutive months. Some require five years waiting period
Only if they are considered cured and do not require medical intervention within 24 months of joining the organization
Routine care
No
Yes, excluding dental/vision and bills less than $200
No (some discounts for vision, dental, and auditory)
No
Yes, with some restrictions unless using a Preventive Care add-on, excludes dental/vision
In-network provider needed?
No
No
Yes
No
No
Cost
$90 – $705
$85 to $1239
$100 to $995 (plus $176 in fees)
$99 – $682 per month
$103-$515 per month
Nebula Genomics
Samaritan Ministries is one of several health care sharing ministries that allows its members to share in each other's health care burdens. It is a community of Christians who attest to following the tenants of the Church.
For some, taking part in one of these communities is part of taking care of their health. There are also other ways you can take proactive measures to ensure a healthy life. One of them is through genetic testing.
Nebula Genomics uses 30x whole genome sequencing technology to decode all 20,000 genes in the human genome. This is the most comprehensive view of your genome that allows you to explore ancestry and genetic predispositions. Regularly updated reports provide new information on the latest discoveries and genome exploration tools give you the power to search your genome based on your own interests.
For only $299 or less, customers will get access to their entire genome, allowing them to continue to ask more questions as more research is conducted.
Did you like our Samaritan Ministries review? You can read more reviews on our blog and check out our complete guide to the best DNA test kit and other home tests.