Ancestry Introduction
Ancestry DNA was launched in 2012. Today, with over 16 million samples, it has the world's largest DNA database. Ancestry DNA has also the largest collection of family history records, containing over 100 million family trees. We start with an overview of the Ancestry tests and their cost. After that, we will dive into Ancestry sales, Ancestry coupons, and Ancestry discounts.
Ancestry offers two different DNA testing products, the AncestryDNA test and the AncestryHealth test. In both cases, customers submit their DNA sample through a saliva sample collection kit. The company also offers memberships that allow access to historical records and don't require genetic testing. Ancestry offers a 14-day free trial that offers this family history access for free for 14 days. You can also purchase gift memberships that provide access to Ancestry's records.
Updated 2020 by Christina Swords, Ph.D.
AncestryDNA ($99 without Ancestry sale, Ancestry discount or Ancestry coupon)
AncestryDNA is available for $99. It can be purchased in over 30 countries including the United States, Canada, Australia, Mexico, and the United Kingdom.
Ancestry uses your DNA as well as a comprehensive database of genealogical records to help you discover your family history. The company provides genetic ethnicity estimates and will dig even deeper with information about where your ancestors came from, broken down into 1,000 different world regions.
You will also be able to see how your ancestors moved around over time. Using Ancestry's ability to identify potential DNA matches, you will even have the option to connect with living family members who are also Ancestry members. Using your DNA results and Ancestry's genealogical records, you'll be able to build your own family tree. You'll also be able to learn more about your family history.
In the United States only, customers can gain access Ancestry Traits for an additional $20 when they purchase an AncestryDNA kit. This will provide you with information about 26 different genetic traits. It includes traits like eye color, cleft chin, and cilantro aversion.
AncestryHealth ($149 without Ancestry sale, Ancestry discount or Ancestry coupon)
AncestryHealth is available for $149. It is only available in the United States but cannot be purchased in New York, New Jersey, or Rhode Island.
When you purchase AncestryHealth, a physician or genetic counselor will order the test and review your results. AncestryHealth will provide you with nine different health reports. You'll receive reports on your genetic risks of certain types of cancer and heart disease.
You'll also find out if you are a carrier for certain genetic diseases. These include cystic fibrosis, sickle cell anemia, and Tay-Sachs disease.
If you are at elevated risk, you'll be able to access Ancestry's educational videos, online tools, and genetic counselors. This will help you and your healthcare provider figure out the next steps.
AncestryHealth also provides eight different genetic wellness reports. These include your risk of being lactose intolerant and your body's ability to process caffeine.

Ancestry sales, coupons, and discounts
Ancestry gives you a lot of insight into your health and ancestry, but their services can be expensive. If you don't want to pay full price and want to save money, here is a list of Ancestry sales, Ancestry coupons, and Ancestry discounts.
Ancestry Sales
Ancestry has several sales throughout the year. The Ancestry DNA kit goes on sale the most often, generally for 40% off. The latest major sale was in October for Prime Day 2020 in which AncestryDNA went on sale for 50% off ($49).

The latest Ancestry Black Friday 2020 deals run until November 25, 2020. Black Friday deals are normally some of the lowest discounts of the season.
AncestryDNA – 40% discount (available for $59)
AncestryHealth – 34% discount (available for $119)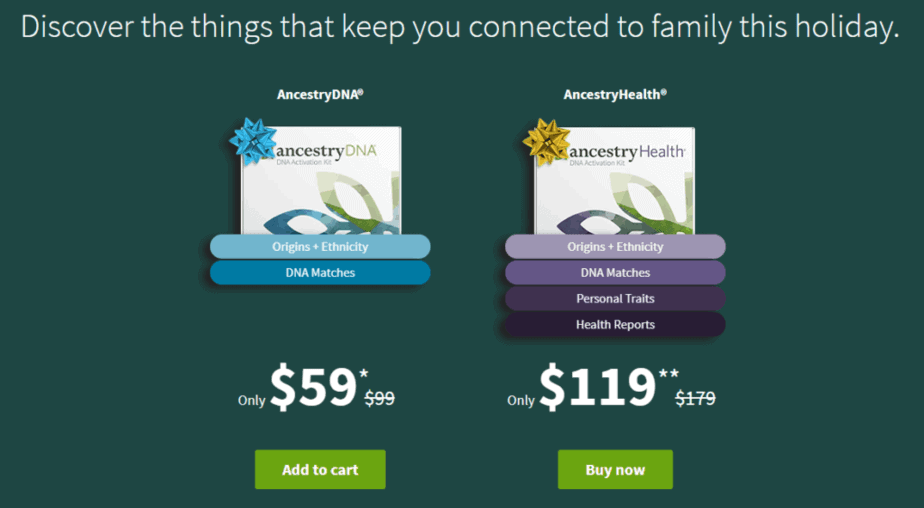 Here is a list of the sales that Ancestry had in 2019:
Ancestry Coupons
Currently, Ancestry is offering a free 14-days trial of their family tree exploration service. Furthermore, there is an Ancestry DNA coupon code available that gives AARP members (users with AARP membership) a 30% Off Ancestry World Explorer.
There are several Ancestry coupon codes available for Ancestry services. However, most coupons are for the US Discovery or World Explorer memberships. (For example, Groupon is offering $50 Ancestry coupon for US Discovery 6-month membership.)
These multi-month memberships allow you to search genealogical records to find past or present family records. However, they do not include DNA testing services.
There is only one currently-active Ancestry coupon for Ancestry's DNA testing services (see below). However, Forbes and the Wall Street Journal list a few expired Ancestry coupons, so make sure to check back for future deals. At this time, Ancestry does not offer student discounts. 

It should be noted that many of the "deals" advertised on sites like Forbes and Groupon do not actually require Ancestry coupons. For example, as seen below, Forbes advertises AncestryDNA kits for as low as $99. However, this is just the regular price of the DNA test kit on Ancestry.com.

Nebula Genomics
Even with all these Ancestry sales, Ancestry coupons, and Ancestry discounts, Ancestry is actually still expensive for what it offers. However, this service is still quite expensive when you consider that you are provided with relatively little data. For $149, AncestryHealth decodes only about 0.1% of your genome. It provides you with only 17 reports on your health and wellness. This is because Ancestry uses outdated DNA genotyping technology. This means that you'll be left in the dark about 99.9% percent of your own genome!
The Nebula Genomics 30x Whole Genome Sequencing costs twice as much as AncestryHealth. However, it decodes 100% of your DNA and provides you with about 10,000 times as much data! Nebula Genomics lets you fully explore your genetic ancestry. Thanks to our partnerships, we can give our customers access to the largest Y-DNA and mtDNA databases in the world.
If you already purchased an Ancestry DNA test you might also be interested in our DNA upload service. Simply upload your DNA data from Ancestry to get an expanded DNA report from Nebula Genomics for free! You will receive access to a large library of reports with many new traits added every week.
Make sure to check out our guide on 23andMe sales, coupons, and discounts!
Here are a few more resources that you might be interested in: