7 Facts from our Contrave Review
Location: Brentwood, Tennessee
Product: A weight-loss medication
Costs: $99 – $115 (plus a $45 doctor consultation fee)
Active ingredients: bupropion and naltrexone
How it works: This company claims its supplement works on areas of the brain that process rewards and hunger to help you feel full appropriately. The exact mechanism of action is unknown.
Recommended dose: Work up to two Contrave pills in the morning and night
Complementary Products: Nebula Genomics 30X Whole Genome Sequencing decodes 100% of your genetic makeup with high accuracy to help you decide if certain medications are right for you
This review is written with the intent to be as unbiased as possible. However, it represents the opinion of an individual reviewer and is therefore subjective. Furthermore, at Nebula Genomics we seek to educate the public about the benefits of Whole Genome Sequencing. Information about our Whole Genome Sequencing DNA test is therefore incorporated into the review.
February 23, 2023
Pros and Cons
Pros
It was found to lead to 2% to 4% more weight loss than the placebo.
It can be ordered online and shipped directly to a patient's home.
It is affordable
FDA-approved and physician prescribed
Free shipping
Cons
A consultation fee is required on all new orders.
Not suitable for children under 18 years
Not covered by insurance
Side effects are common, especially when just starting to take the medication.
Not an over-the-counter drug
Introduction
What is Contrave? Contrave is a weight-loss medication that may help overweight adults (with a weight-related medical problem) lose body weight and keep it off. It is a Food and Drug Administration (FDA) approved prescription weight-loss medication for individuals who are either overweight (adults with a body mass index or BMI of 27, defined as greater than or equal to 27 kg/m2) or obese (adults with a body mass index (BMI) of 30 or greater).
Adults with a BMI in this range also tend to have at least one weight-related medical problem, such as high blood pressure, high cholesterol, or type 2 diabetes mellitus. Doctors may prescribe this medication as a first choice for persons with a history of binge eating disorders.
The company that makes Contrave, Currax Pharmaceuticals LLC, is a specialty pharmaceutical company focused on acquiring and commercializing prescription drugs within the U.S. market. The company was founded in 2019 to enhance patients' lives by providing access to life-changing medications.
George Hampton, president and CEO of Currax, has led the company to great successes. In 2019, Currax exceeded its growth projection, generating over $70M of revenue in eight months and substantial cash flow, enabling a 30% debt reduction.
Side effects
For full information, potential patients should consider the medication guide for more drug information. Contrave is not for people suffering from mental health issues including depression, bipolar disorder, and suicidal thoughts and behaviors. It is also not approved to help people quit smoking. Antidepressants can trigger a manic mixed or hypomanic episode.
Some common side effects of Contrave, including:
nausea
constipation
headache
vomiting
dizziness
trouble sleeping
dry mouth
diarrhea
For most people, these common side effects disappear within the first four weeks of taking the medication. The medicine may also cause serious side effects, including:
Risk of seizures (Contrave and alcohol: seizure risk increases if you drink a lot of alcohol and suddenly stop)
Risk of an opioid overdose
Using opioids 7-10 days before you start taking Contrave can lead to sudden withdrawl symptoms
Severe allergic reactions
Increases in blood pressure or heart rate, which may result in chest pain or heart attack
Dark urine caused by Liver damage or hepatitis
Manic episodes or other unusual changes in behavior
Panic attacks and trouble sleeping
Visual problems (angle-closure glaucoma)
Patients that experience any of these severe Contrave side effects should call their doctor. You should not stop taking Contrave before consulting a medical professional. Patients should also be mindful that it may increase the risk of suicidal thoughts and behaviors or worsen depression.
When to talk to a doctor
You should not use Contrave if you have uncontrolled high blood pressure, seizures, an eating disorder, opioid addiction, if you take narcotic medicine or use other drugs that contain bupropion such as Wellbutrin, Aplenzin, or Zyban, have bulimia or anorexia nervosa, are taking monoamine oxidase inhibitors (MAOIs), or if you have suddenly stopped using alcohol, seizure medication, or a sedative. Drug interactions may occur. At least 14 days should elapse between discontinuation of an MAOI intended to treat depression and initiation of therapy with Contrave.
Persons who are pregnant or breastfeeding should not take this supplement.
Review of Contrave Science
Experts have yet to fully understand the exact neurochemical effects of Contrave leading to weight loss. However, they believe Contrave works on the part of the brain that deals with hunger and the reward system. To better understand this, you first need to know how the craving for food works.
When you feel hungry, it is your brain notifying you that your body needs food. When you eat and feel filled, the brain sends a similar but opposite signal saying you're filled. However, there are certain conditions where the brain either refuses to send the hungry or filled signal or sends the wrong signal. This is due to some malfunctioning, like obstruction of the neurons that send the message.
In such cases, an individual tends to overeat without knowing when to stop. As a result, they eat more, and the body converts the unneeded foods to fat. Extra fat storage may eventually lead to obesity and other health problems.
This is where Contrave comes in. Experts believe the drug works on two crucial brain areas—the mesolimbic reward system to help control food cravings and the hypothalamus (hunger center) to reduce hunger.

Effects
The goal of this medication is that the brain will be able to effectively perform its function and quickly notify your body when to stop eating. It'll also help to control the way you crave food. Thus, you'll begin to eat only the required quantity your body needs, and obesity will be a thing of the past.
This medication produces better results when combined with drinking a reduced calorie diet and increased physical activity. Three studies conducted on patients who added the medication to their routine for a full year revealed that they lost approximately 2 to 4 times more weight on average than with diet and exercise alone. The study claimed that Contrave weight loss in patients at 56 weeks ranged from 3.7% to 8.1%, compared to 1.7% to 4.9% with a placebo.
Contrave ingredients
Contrave comprises different ingredients, including naltrexone and bupropion. Naltrexone is an anti-addiction medication approved to treat alcohol and opioid dependence. At the same time, bupropion is an antidepressant approved to treat depression and seasonal affective disorder and is an aid in smoking cessation treatment. These individual drugs are not approved as weight-loss products.
Also, Contrave is not approved, nor has it been proven to treat any of the disorders targeted by the individual ingredients (depression, smoking cessation, or alcohol or opioid dependence).
Contrave bupropion may increase the risk of suicidal thinking in children, adolescents, and young adults. Therefore,adolescents and young adults under 18 should not use this drug.
Contrave Weight Loss Review
How to Get Contrave
You can get this drug directly from the company's website, although it must be approved and prescribed by a physician. On the homepage, you'll find a portion that reads, "get started today, talk to a doctor." You will first need to register for an account with your name, date of birth, email, and password.

You'll be directed to a page where you'll find a link that reads, "Get Contrave Now." Next, you will see another page where you will be provided with different options from which you'll choose a suitable one. If you're new to Contrave, click "Get Started Now." You'll be required to fill out a quick medical questionnaire, including the current prescription drugs and over-the-counter medicines, vitamins, and herbal supplements you currently take.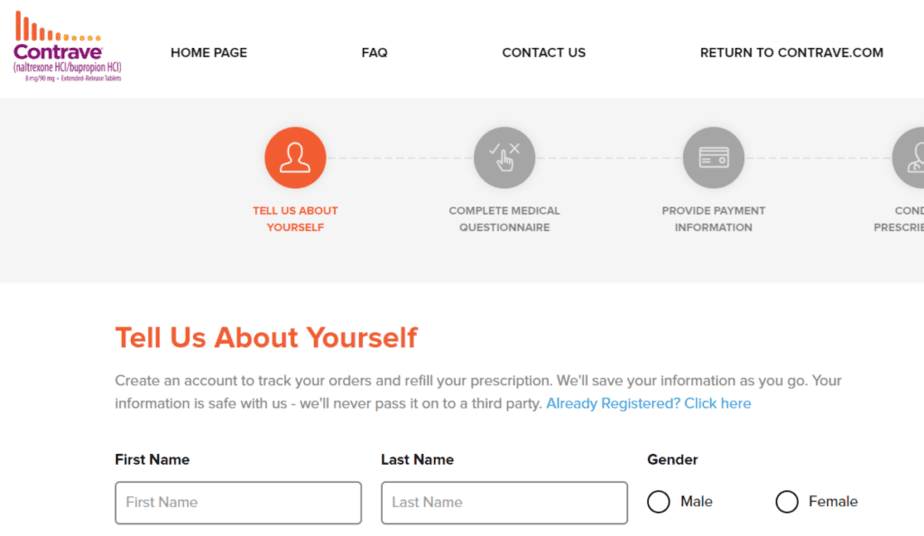 A doctor will access the information you provide to help determine if Contrave is right for you. Customers will also speak one-on-one with a doctor or nurse practitioner.
If approved, the prescription will be sent to the company's pharmacy for review. The type of consultation (audio, video, or digital) may vary depending on your state's regulations. Before talking to a doctor or nurse practitioner, you pay a $45 consultation fee. Shipping is free.
Customers then fill out payment and shipping details and receive the medication at their doorstep.
On the other hand, if you're a returning user, click Reorder Contrave. You'll also be required to pay a $45 physician consultation fee on your new orders.
How to take the prescription
Contrave should be taken orally in the morning and the evening and should not be taken with high-fat meals. You should drink plenty of water when taking Contrave. The FAQ section of the company website provides a handy dosing chart that it recommends for most customers. The recommended dose of Contrave is four diet pills a day.
You may notice that you start taking the medication in small amounts before taking a full recommended dose. However, some individuals with certain medical complications might be instructed to follow a different Contrave dosage schedule. It is important to follow the directions provided by the doctor exactly.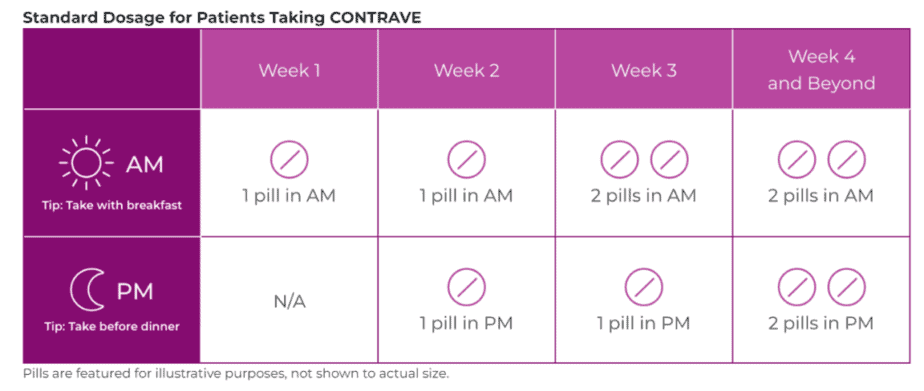 Contrave Cost Reviews
Contrave sells for $99 per 120 tablets, a one-month supply. Because this medication is prescribed for regular use, you will automatically be set up with a monthly subscription that you can cancel anytime.
You'll also pay a $45 physician consultation fee on all new orders. The consultation fee applies whether or not you are prescribed the medication. This is cheaper than many weight loss pills on the market.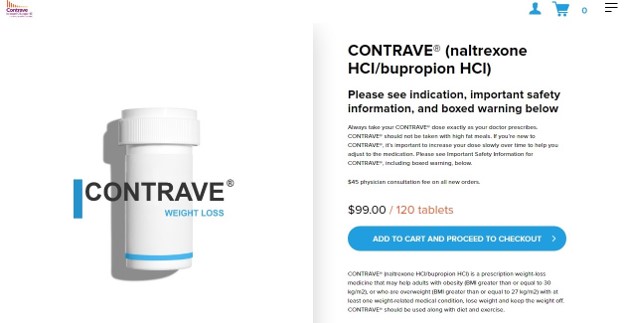 Contrave does not accept insurance at this time. Customers can choose to use FSA and HAS cards as forms of payment.
You can find Contrave coupons on certain websites such as GoodRx or the company's savings card.
Contrave Privacy Reviews
Currax Pharmaceuticals LLC, the company that makes Contrave, upholds its customers' privacy and ensures that their information is well protected. The company collects the customer's personal and medical information to enable them to offer better services. As regards sharing your data with a third party, Currax Pharmaceuticals LLC considers your personal information private and confidential. The information will only be shared with those individuals needed to assess your qualifications.
Prescription information is sent to the company's pharmacy using HIPAA-compliant encrypted software before being sent to the customer's home in discreet packaging. It uses FedEx and USPS Express shipping, and the return address will display the pharmacy's name and address that shipped the product.
Contrave in the News
In 2015, Forbes reported that a former scientist at Contrave made claims that the company misled consumers with inconclusive data. Specifically, the company claimed that Contrave not only led to weight loss but also prevented heart attacks, strokes, and deaths caused by cardiovascular disease. The former employee, a top cardiologist, warns that the data in the clinical study used to make this claim did not show the benefits it claims.
Contrave hit the headlines in several press platforms during 2022 as one of four medications approved for weight loss among people with obesity. Experts explain that, typically, exercise and diet alone are not enough to lose body weight because the causes of obesity can be biological, and require medical assistance.
Other Contrave Reviews
Does Contrave work? Here is an example of an honest review from WebMD from a patient who started taking Contrave:
"I have struggled with my weight for as long as I can remember. I am a 51 year old female. My doctor has seen me yoyo with weight and struggle at times with my type 2 diabetes. She seemed excited to offer me this prescription.
I read some reviews and had some doubts, but I trust her implicitly, so I started the process.
Honestly, I wanted to quit within the first couple of months. Horrible nausea, terrible vomiting, and I hate vomiting. I persevered and am ecstatic with my results so far. I have been on this medication for seven months, and I have lost 57lbs… I recommend sticking it out…"
Drugs.com
A customer has this to say on Drugs.com "So I have been taking these for one and a half months, four pills a day.
The Good: I have to force myself to eat, or I can go all day without eating. I have lost 20 lbs. Contrave has helped curb my alcohol addiction, which is helping with the weight loss. I have no trouble sleeping.
The Bad: I've had to throw up a couple of times. I've had a few tummy aches, little constipation; I have had a few headaches, but nothing too bad.
Once I went up to 4 pills a day, I've noticed that I am a little jittery, more depressed, anxious, and for the last few days, my chest has been hurting, and I got a couple of sharp pains in my heart. So I'm dropping down to 3 pills a day.
I don't want to stop taking the pills because they do work. If I don't feel any better, I will drop to 2 pills a day. I feel like I'm dehydrated all day!
But this has made me have to drink a lot more water, which is also helping with the weight-loss. I am thrilled that I'm sleeping well during the night; I do get tired still during the day and have been taking naps."
Another Contrave review from a patient claims that he "started Contrave 4 weeks ago and have lost 10kg (~22 lbs)". He does admit to some mild side effects like a fuzzy head and needing to pay attention to eating habits.
The above Contrave reviews from 2020 or later.
Reddit
Contrave reviews on Reddit include dialogues discussing the purpose of the medication and many personal stories demonstrating that the supplement is not a miracle drug. Many people experience some side effects, and it often requires additional treatment for addiction disorders.
Contrave vs. Phentermine
Phentermine is a similar prescription medication that is often confused with Contrave.
| | Contrave | Phentermine |
| --- | --- | --- |
| | Contrave | Phentermine |
| Prescribed for | Obesity and overweight with other risk factors | Obesity and overweight with other risk factors |
| Drug type | Opioid antagonist/Aminoketone combination | Sympathomimetic/Anorectic |
| Generic | No | Yes |
| Drug forms | Tablet | Tablet and capsule |
| Average Price | $99 per 120 tablets | $40 per 30 tablets |
Nebula Genomics
Contrave is a weight loss medication that works for people with at least one weight-related medical problem. However, for some individuals, the medical conditions causing their weight gain and obesity are deeply rooted in their genetic makeup. Therefore, to adopt a suitable medication, it may be helpful to sequence your DNA!
There are several DNA tests performed out there, but it will amaze you to know that most of them only analyze 0.02% of genetic makeup. To obtain a more comprehensive result, you need a DNA test that examines 100% of your genome. Nebula Genomics 30X Whole Genome Sequencing decodes 100% of your DNA and produces 10,000 times more data than other DNA tests like 23andMe and AncestryDNA.
You can fully unlock your genetic blueprints with Nebula Genomics. Our patients can download their FASTQ, BAM, and VCF files and dive deeper into their Whole Genome Sequencing data. Our Whole Genome Sequencing data is of the highest quality and can be used by physicians and genetic counselors to help you assess your health and disease predisposition.
You can check the Nebula Research Library to learn more about genetic variants related to weight gain and obesity. It also contains weekly updated information about the latest scientific discoveries and advanced ancestry analysis.
If you're interested in losing weight, you may be interested in programs such as Noom, Nutrisystem, Optavia, Beyond Body, and Yoga Burn.
Did you know you can test your metabolism at home? Learn more in our article about metabolism tests at home.
Other supplements
You may also want to check out these other weight-loss drugs:
Did you find our Contrave review helpful? You can read more reviews on our blog and check out our complete guide to the best DNA test kit and other home tests.