5 Facts about At Home Heart Health Tests
Purpose: To test if your heart muscle is functioning optimally and has optimal levels of cholesterol, high-density lipoproteins, low-density lipoproteins, and triglycerides
How It Works: After you might have purchased your home test kit, you will register it by following the details on the box. Afterwards, you collect your sample (blood tests, saliva, or urine) and mail it to a certified lab, and you will get your result within a couple of days
Cost: The cost of the home kit varies. Ideally, the price varies from $20 – $250
Results: Processing time may vary, but it takes up to 5 working days to get your result. Results are sent by email, and you can access them through your dashboard on the company's website or through your mail.
Recommended Products: Nebula 30X Whole Genome Sequencing is a reliable DNA Test that decodes all of your genetic blueprints with high accuracy
Balanced meals and regular exercises are excellent ways to take good care of your heart and prevent heart disease or heart attacks. However, sometimes diet and exercise are not enough, risk factors are too high, or some people have a genetic predisposition or family history of heart conditions. In all cases, the earlier you can diagnose heart problems, the better outcomes tend to be. This is where at home heart health tests come in.
There are a few ways you can monitor your heart without having to visit the doctor. When you check it at home constantly, you and a healthcare professional have a better chance of catching problems early.
One of the easiest ways to check your heart health at home is to ascend four flights of stairs. If it takes you more than one minute and thirty seconds, you might need to visit your doctor. Some other quick and easy ways to monitor your heart health with little to no equipment include:
Measure your Pulse: Your pulse lets you know the strength of your blood flow. This can be measured by:
Placing your index and middle fingers below the base of your wrist
Counting the number of taps that occur in 10 seconds and multiply it by 6
Calculating your heart rate per minute. An adult's heartbeat is 60 to 100 beats per minute. Anything higher or below that may signal a problem
Alternatively, you can use a blood pressure cuff. It is more accurate, and it can be used to check if your heart is in good shape.
A blood pressure cuff will also measure your blood pressure. If your blood pressure is 130/80 consistently or higher, then it means you have hypertension or high blood pressure.
If undetected, blood pressure can narrow or stiffen the artery walls, which blocks the flow of blood to your heart. This can increase the risk of heart disease and stroke.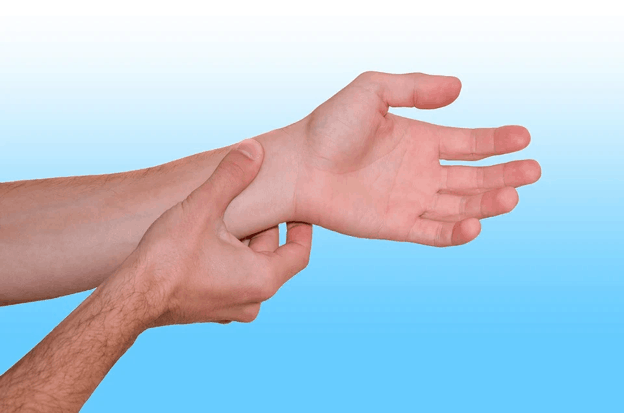 Monitor your Breathing: If you feel breathless after physical activity or feel winded when you haven't done any physical activity, you need to visit your doctor. It is essential to monitor your breathing even while you have your rest.
Aerobic exercise: This is not as specific as other methods, but it can set you on the right track. If you find yourself out of breath during an aerobic session, you might have an underlying heart condition, which means insufficient oxygen in your blood.
What is an At Home Heart Health Test?
One of the most reliable ways to test for your heart health is through the use of heart health test kits. Different types of at home heart health kits can be used to measure total cholesterol level, HDL (high-density lipoprotein or the "good" cholesterol), LDL (low-density lipoprotein or the "bad" cholesterol), triglycerides, and blood sugar.
An at home heart test kit is used to monitor and measure cholesterol levels to ensure you are not at risk of coronary artery disease or other cardiovascular diseases. With these kits, you can take a sample of your blood, send it to the lab for testing, and receive your results within a couple of days. All these can be done from the comfort of your home, without a visit to the doctor or clinic.
This test can be taken by anyone, but is most important for individuals 40–60 years. At this age, you are more likely to be at risk of heart failure or hypertension.
EverlyWell offers 30 at-home kits samples, and if you are scared or bothered about poking your hands with a needle, you can also use your saliva or urine to carry out tests for certain heart conditions.
For EverlyWell, they ensure their sample kits are certified under the clinical laboratory improvement act 1988. They are validated with the traditional sampling method. All these are done by a team of experts that carefully and thoroughly scrutinize the whole process.
The results from Everlywell are provided in a way that is easy to understand, even for someone without any medical experience. Because they are performed in accredited laboratories, you can share the results with your physician.
Getting Started with an At Home Heart Health Test
It is important that you read the information on the box carefully before you use its content. Most at home testing kits must be done precisely or the results will not be accurate. Cholesterol and other heart monitoring substances are measured in blood.
Some tests require a dry blood sample which is then sent to a lab for processing. To collect the sample, you click a lancet against the side of your finger, gently squeeze the base of your finger to produce more blood, and drop the blood on the card. It's important not to squeeze your hand too much as this might affect the quality of the results. Once the blood drop is dry, it can be shipped to the lab.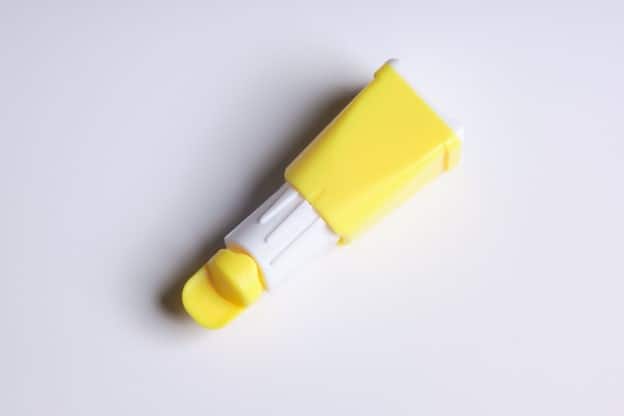 Other at home heart health tests, like the CardioChek test provide you the results immediately. Similar to the mail in tests, you use a lancet to create a drop of blood on your finger. With these tests, you will use an instrument such as a capillary rod to get some blood and drop it onto the device. The device will read the results in a few minutes.
At Home Heart Health Testing Kit Reviews
Getting a sampling kit does not have to make you break the bank. You can get a sampling kit for as low as $20–$35 dollars. They can also run as high as over $200. It depends on the brand, how much it tests, its accuracy, and processing time. Here are some other brands available presently:
CardioChek Analyzer
This test can be purchased on Amazon for $187 and on Walmart for $130. Or, you can get double the amount of supplies for $244 on Amazon.These kits are accurate, and results can be relied on for doctor's appointments. It comes with test stripes for total cholesterol, HDL, and triglycerides (LDL can be calculated from the other values using a formula). Results are available within minutes of sample collection.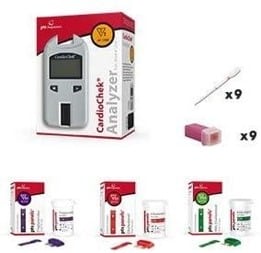 Pros
Accurate
Analyzes different cholesterol levels
User friendly interface
Results are delivered quickly (three to five minutes)
Results can be displayed in six different languages
Cons
Expensive
Can be a bit difficult to use initially
Different test stripes are required for each analysis
Curo L5 Blood Cholesterol Test Kit
This test can be found on Amazon for $99. The kit has a user-friendly interface that makes it very easy to use. With this kit, you can get your result in just two minutes, and to make it even better, it comes with a lifetime warranty.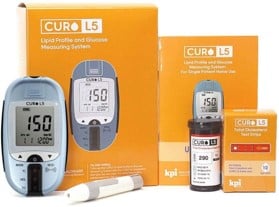 Pros
Cons
Only measures total cholesterol
Curo L7 Cholesterol Test Kit
It can be purchased on Amazon for $299. This test is sleek and portable for frequent travelers. It comes with the meter, 10 strips, lancets, capillary pods, and one year warranty. It makes use of cholesterol strips, and this strip does not require a new test strip for every type of cholesterol.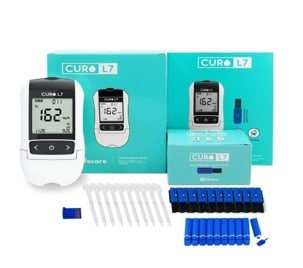 Pros
Ideal for travelers
With just one sample, it gives you your full blood lipid panel
Cons
Everylywell Cholesterol and Lipid
It is one of the cheapest sampling test kits in the market. It can be gotten on Amazon for as low as $35. This sampling kit isn't time-sensitive. It is analyzed by physicians in the laboratory, and your results will be mailed to you within a couple of days.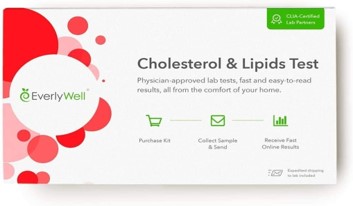 Pros
Results can be shared with the doctors directly
Results are easy to understand
Offers additional information on cardiovascular health.
Cons
It is expensive (per test)
Delayed results
Choose Health Cholesterol Health and Internal Health Test
This test kit gives you insights into how your lifestyle could be affecting your long-term health. You send in your sample and results are made available within seven days. It gives you details about your blood cholesterol level and other important cardiovascular health in just one test. It is available on Amazon for $70.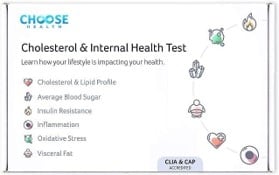 Pros
Results are available within the Choose Health App
Provides additional info on your general health
Cons
When at home heart health tests indicate a problem, it is a good idea to see your doctor, Other tests that can only be performed in a doctor's office may help diagnose heart disease, such as a heart CT scan or stress test.
At Home Heart Health Test Results
Heart health tests provide the numerical values for substances related to your heart health, usually in the form of a lipid panel that includes cholesterol, HDL, LDL, and triglycerides. Once you know your numbers, there are standard ranges that classify these values as high, borderline, or low. For example, total cholesterol values under 200 are considered low, between 200 and 239 are borderline, and 240 or higher are high.
If you have been looking for ways to monitor your cholesterol level, there are various options at pocket-friendly prices within the comfort of your home, and without those visits to the hospitals.
For more information on research and resources, you should visit the National Heart Lung and Blood Institute or the American Heart Association.
You may also be interested in these other wellness tests you can take from home: