7 Facts from our Curofit Review
Location: Las Vegas, Nevada, United States
Products: Various home health monitors including Curo L7 (lipid cholesterol), Curo L5 (blood cholesterol), Curo G10 (blood glucose), and Curo B3 & W3 (blood pressure and weight)
Cost: $10 – $265
Reports: A wellness score on cholesterol, glucose, and blood pressure levels to help customers monitor their health
How it works: Customers purchase their chosen test from their homes. They perform the test and get their results almost instantly
Counseling available: No
Complimentary Products: Nebula Genomics offers 30X Whole Genome Sequencing that decodes 100% of your DNA and offers reports on diet and much more!
This review is written with the intent to be as unbiased as possible. However, it represents the opinion of an individual reviewer and is therefore subjective. Furthermore, at Nebula Genomics we seek to educate the public about the benefits of Whole Genome Sequencing. Information about our Whole Genome Sequencing DNA test is therefore incorporated into the review.
October 11, 2022
Pros and Cons
Pros
At-home health monitoring for cholesterol, glucose, and blood pressure
Quick and accurate results
Small amount of blood needed
Cons
Cost can get high with continuous testing
Introduction
Curofit is a wellness company that provides health test kits. A subsidiary of O2 Life, this company has established itself as an independent organization providing wellness analyses. Clinical and data science back up each of the tests. Overall, the company's mission is to help customers take control of their overall health.
Currently, it offers tests for cholesterol, glucose, and blood pressure levels.

The company is based in Las Vegas, Nevada, United States and provides service to all U.S. states. It does not ship internationally at this time.
Curofit has made it abundantly clear that it uses results discovered from deep clinical research to carry out its test. However, the company does not exactly reveal its research depth to the public. Scientists have developed the meters and confirmed them to be sufficient for clinical research.
Review of Curofit Products
Curofit offers a variety of products. This section will review a number of them.
All products come with an instruction manual and 1 Year Warranty. The company ships anywhere in the United States. Customers can return the items. However, any open box or items that are open or used are assessed a restocking fee since these are home health medical products that have to be destroyed once returned.
The test strips and cartridge items are non refundable and cartridges are final sales items. They cannot be returned for exchange credits or refunds.
Another advantage of this equipment is its portability. Customers can carry it in a provided pouch or bag.

Cholesterol test kits
Many people find it difficult to schedule regular health checkups and laboratory examinations. At-home technology has helped create useful kits like the Curofit options that allow customers to take tests at home. CURO L7 and CURO L5 are the cholesterol level testing options.
The best seller blood cholesterol CURO L5 is a blood lipid monitoring device that measures Total Cholesterol, Triglycerides and Glucose. There are different profile strips for each of these measurements.
Customers perform the test with the device and the appropriate strip. Curofit provides 10 total cholesterol strips with the device and customers order additional strips separately. The device gives results within 2 minutes after testing.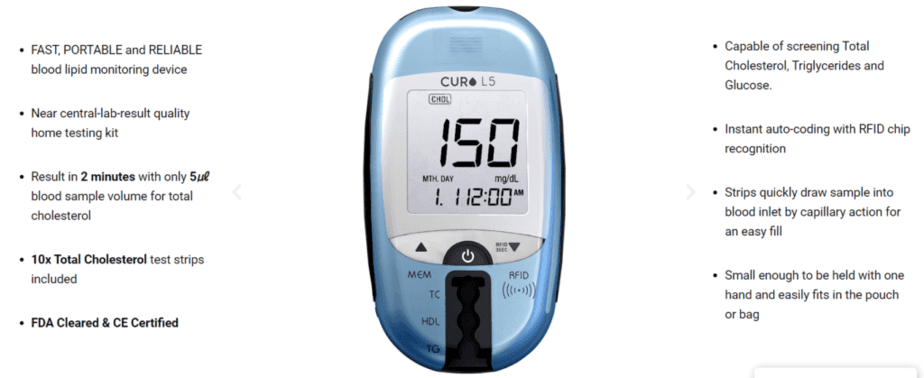 The L7 device helps to determine your lipid blood profile and gives results within three minutes. There are six test results, including Total, Triglyceride, HDL, LDL, LDL/HDL, and non-HDL. The device stores the 500 most recent results.
The L7 device is the most accurate and thus the company recommends it for clinic or hospital settings. However, unlike the L5, it does not measure glucose.
Both devices are FDA Cleared & CRMLN Certified.
Glucose test kits
The CURO G10 blood glucose meter measures blood sugar. It is sold with 10, 60, or 210 lancets and test strips included. Unchecked glucose level is one of the causes of many health complications in humans, especially as people age.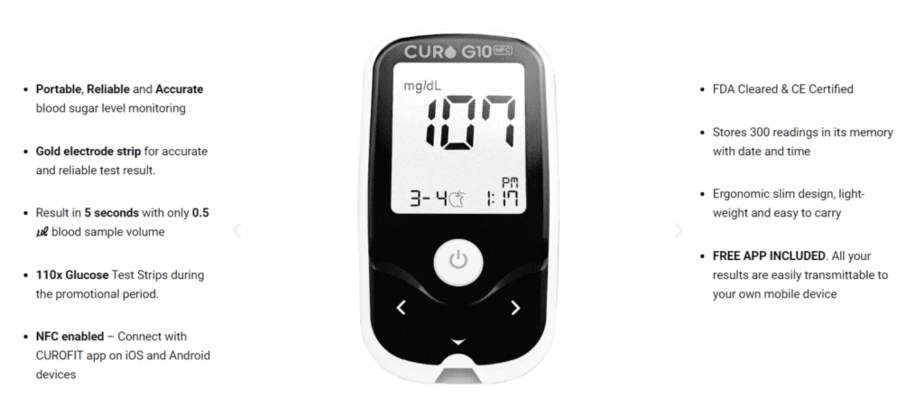 With a very small amount of blood sample, the device reads the amount of glucose in your blood in just 5 seconds. It is NFC enabled and customers can connect it to their smart devices like your iOS and Android. Lastly, it can store up to 300 prior results.
The glucose monitor is FDA Cleared & CE Certified.
Blood pressure test kit
The CURO B3 blood pressure monitor with cuff is a fully automated bluetooth-ready device that measures systolic, diastolic, and pulse.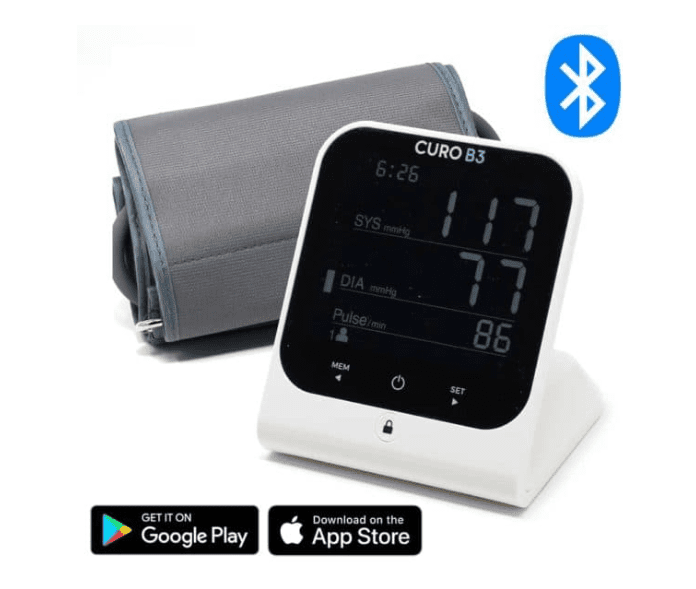 It has a bold and easy-to-read result display and can connect to the TeloMD app on iOS and Android devices. You just have to connect with the Bluetooth in your smart devices. It has a good pressure sensor, detecting every slight change in the regular heartbeat.
Replacements
The company sells additional test strips and lancets separately.
Review of Taking a Curofit Test
Taking a cholesterol or glucose test from home with these devices is quick and easy.
Customers order their device online. Most kits come with lancets and testing strips and customers can purchase additional ones separately. Each kit comes with detailed instructions. The company also includes the following note on each of its product pages: "Because this is a medical device, please ensure to carefully watch an instruction video before the test in order to get the most consistent and accurate results."
To test, customers connect the test strips to the meter and use the provided sterilizer to clean a fingertip. Then, they use the lancet device to prick a finger and fill the yellow part of the test strips with a drop of blood.
The meter will automatically start reading, and provide results in 10 minutes or less. Some of the devices connect to smartphones for easy reading.
Review of the Curofit Test Costs
Curofit sells medical devices designed for customers to use continuously. Thus, their costs can be considered high, but fair for the product.
The most expensive product is the CURO L7 professional testing device. This is most likely because of its high accuracy and intention to be used in a hospital or clinic setting.
The blood cholesterol CURO L5 and glucose CURO G10 are more reasonable for customers looking to test these biomarkers at home.
CURO L5 Digital Cholesterol Meter (Device Only): $79
CURO L5 – Cholesterol Test Kit – At Home Blood Testing Meter & 10 Strips: $89
Replacement test strips for CURO L5: $13-$18
CURO L7 – Professional Testing Set for Lipid Blood Triglyceride HDL LDL: $265
CURO L7 – Cholesterol Multi Test Strips – 1 Box of 10 Strips (Device is NOT Included): $79
Curo G10 Glucose Test Kit – Blood Sugar Monitor Device, 10 Strips & 10 Lancets: $10
60 Test Strips for Curo G10 Glucose Meter 2 boxes of 50 strips (100 count): $15
CURO B3 Blood Pressure with Cuff: $15
Review of Curofit Report
The Curofit results are not complicated. They are actually very simple to understand because they are analyzed with numbers compared to standard values. Below we will highlight the features of the two most popular at home devices for measuring cholesterol and glucose.
The CURO L5 measure total cholesterol, triglycerides, and glucose using the following ranges:
Total Cholesterol: 100 ~ 450 mg/dL
Triglycerides: 70 ~ 600mg/dL
Glucose : 20 ~ 600 mg/dL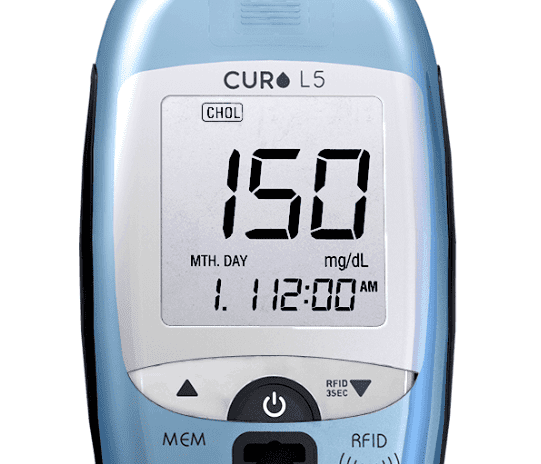 The monitor will clearly display the results between three seconds and two minutes depending on the biomarker measured. Additionally, the device stores 200 results.
The glucose test, using the CURO G10, analyzes results within the measurement Range of 10 – 600 mg/dL. Results are ready in five seconds.
For the glucose test, the result is in mg/dl. The meter follows the standard reading of low, normal and high blood glucose levels.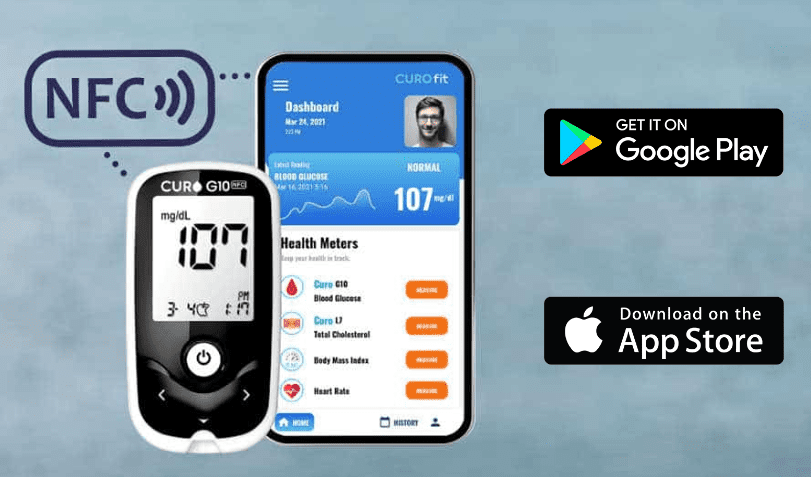 Additionally, the device can transmit the results to the Curofit app on a smart device using Near Field Communication (NFC). This technology is a way to make secure transactions, exchange digital contents, and connect electronic devices. Essentially, you will hold your CURO G10 close to the smart device, causing the results to transmit wirelessly.
Review of Curofit Privacy Policy
The privacy policy of Curofit describes the procedure for collecting the personal information of individuals who use their services online. It tells you about your rights and how the law protects you. They ensure your data is disclosed to authorized bodies e.g law enforcement with prior notice to you. Curofit advises that you should not use their products or services if you do not agree to the privacy terms.
Since your health data is only used after you purchase the product, the company's privacy policy focuses on personal data used to make the purchase (name and contact information) and website analytics such as usage data and cookies.
Other Curofit Reviews
Curofit products are available on Amazon where they receive average reviews. The CURO L5 has a rating of 3.7 stars with 153 reviews. The largest complaints were with difficulty of sample collection and having to purchase the different strips separately. A number of customers also claim that the results are inaccurate when compared to levels measured in a lab.
The CURO G10 has better reviews. Overall, customers give it a 4.3 rating with 236 reviews.
Customers liked that it is easy to use. However, there are some customers who feel that it is inaccurate or have too high of an error range. One review suggested that they got a bad batch of strips and that new strips were more accurate.
Nebula Genomics
Curofit provides at-home testing for cholesterol and glucose levels. For those interested in a holistic view of their health, they may also be interested in adding genetic testing to their health analysis. Nebula Genomics is a genome sequencing company that can analyze 100% of your DNA.
Nebula Genomics offers a comprehensive test that highlights predispositions related to diet, fitness, metabolism, and much more. With 30x Whole-Genome Sequencing, Nebula allows you to explore the root cause of every biological inclination. The test is incredibly accurate and comes with other additions, including ancestry reporting and genome exploration tools.
We focus more on genetics than other analytic tests to reap the benefit of unlocking the genes in the human body. Since genes have a foundational role in causing different medical conditions, whole genome sequencing can help provide a deeper understanding and potential guide for treatment.
Nebula Genomics also provides customers with regularly updated reports on genetic discoveries so that they stay up to date with significant developments and groundbreaking research.
For only $299 or less, customers will get access to their entire genome, allowing them to continue to ask more questions as more research is conducted.
Curofit vs. Nebula Genomics
| | | |
| --- | --- | --- |
| | Curofit | Nebula Genomics |
| Testing method | Blood tests for cholesterol, glucose, and blood pressure levels | Sequences all 20,000 genes and regulatory regions |
| Reports | Near instant results | An extended genetic report that is updated regularly |
| Ancestry reporting | No | Performs deep ancestry reporting with the complete Y chromosome and mtDNA sequencing |
| Counseling | No | No, but data is of the highest quality and can be used by physicians, and genetic counselors |
| Cost | $10 – $265 | $0, $99, $299 |
There are several tests on the market that give customers the opportunity to test things like cholesterol and glucose. You can find many tests marketed towards men, women, heart health, and even just cholesterol.
Everlywell is one of the most popular tests of this type.