7 Facts from our Ka'Chava Reviews
Recommended dose: Two heaped scoops of the product dissolved or blended in 12 to 14 oz of water once a day
Active ingredients: Protein, adaptogens, antioxidants, omega EFA, fiber, folic acid, probiotics, prebiotics, vitamins, minerals, and digestive enzymes.
Costs: 1 bag = $69.95 (15-day supply). $59.95 if you subscribe
How to Order: You can order through the website or other online sellers
How it Works: Ka'Chava claims that by taking one glass of the product every day as a replacement for one complete meal, you get appropriate amounts of all essential nutrients
Who can take this: There is no age or condition restriction, but everyone should ask their doctor before taking a meal replacement drink
Complementary products: Nebula Genomics provides accurate information on how well your body will react to any ingredients in this supplement. A DNA test can reveal how much of each nutrient your body requires to function correctly.
This review is written with the intent to be as unbiased as possible. However, it represents the opinion of an individual reviewer and is therefore subjective. Furthermore, at Nebula Genomics, we seek to educate the public about the benefits of Whole Genome Sequencing. Information about our Whole Genome Sequencing DNA test is therefore incorporated into the review.
October 14, 2022
Edited by Christina Swords, Ph.D.
Pros and Cons
Pros
It is composed of high-quality natural, organic ingredients, and most of them with proven positive effects
It is not too expensive if thought of as a meal replacement
The shake is easily prepared
It does not require a prescription
Cons
Besides online purchasing, it is only distributed and sold by one seller in the U.S.
No cheaper packages are available
Users must drink it regularly and consistently to see results
Introduction
The Ka Chava shakes is a meal replacement with over 70 nutrients mixed into a single cup. This easy-to-prepare beverage claims to be the best food replacement ever. In this Ka'Chava review, we will go over all these claims.

Ka'Chava Tribal Superfood is a health shake developed and distributed in the U.S. by Ka'Chava. Originally sold as vanilla and chocolate flavored powder, it is now available in chai, matcha, and coconut acai flavor as well. One serving or meal size contains around 240 calories when preparing the suggested serving size of two heaping scoops of powder with 12-14 oz. of ice-cold water.
Some reviewers say it tastes "amazingly good" while others find it a bit "chalky." To achieve better taste profiles, some users blend it with other ingredients such as peanut butter, almond milk, or fruits. Others drink it pre- or post- workout.
History of Ka'Chava
Simon Malone started Ka'Chava while in Thailand for travels. He got away from the corporate world and into nature when he decided that his health was too important. Malone was looking for a product that would provide all the essential nutrients needed to be healthy and look great. At the same time, this product should help control hunger cravings.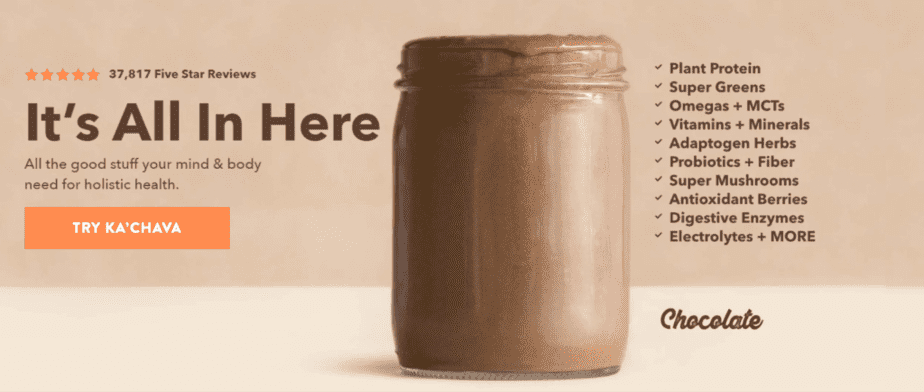 The goal was to turn the painstaking and sometimes impossible task of getting proper nutrition into a mere two scoops dissolved in a glass of water. Produced in the USA, Ka'Chava is the result of two years of research and testing.
Where to buy Ka'Chava: It can be purchased online and through its only retailer in the U.S., Cedra Pharmacy.
The Science behind Ka'Chava
Ka'Chava describes its Tribal Superfood as "A blend of organic superfoods and plant-based proteins inspired by ancient wisdom." It goes on to state that this product contains "all your essential nutrients in one."
The amount of nutrients your body can safely absorb without suffering adverse effects is locked in your genes. Nebula Genomics offers a complete DNA test to help you know this and more. Once you have a clear picture of your genetic composition, you can safely start a customized dietary program to get faster and longer-lasting results.
Review of Ka'Chava Science
To function properly, Ka'Chava provides a beverage with just the right amount of each nutrient the body needs. It does this through a careful combination of essential ingredients. In this way, Ka'Chava's Tribal Superfood becomes a meal substitute, providing you with vital biomolecules and helping you lose fat weight.
Review of Ka'Chava Ingredients
Ka'Chava is made of over 70 plant-based foods, including brown rice, kale, blueberry, and raspberry.
Of course, we will not be reviewing all of them, but we will look at some of the most important ones or those that supply these nutrients in more significant amounts.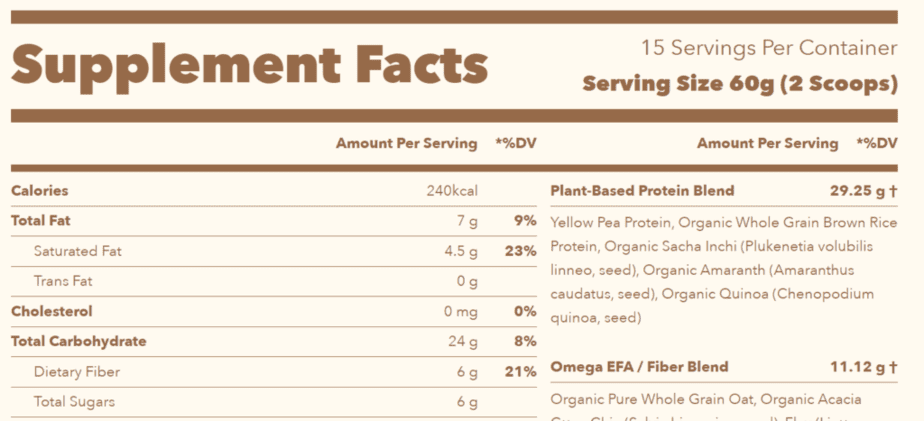 Sacha Inchi: This plant is native to Peru and is also known as jungle peanut, Sacha peanut, or Inca peanut. The seeds are rich in protein, omega-3, omega-6, vitamin E, and other vital nutrients.
A study found that Sacha Inchi has a remarkably high content of tryptophan, a serotonin precursor. This essential amino acid (tryptophan) has a crucial role in several metabolic processes that affect a person's mood, behavior, and cognition. More importantly, serotonin is an appetite suppressant.
Camu Camu berry: The many benefits of this Amazon rainforest native berry have made it popular worldwide. It is considered a superfood thanks to its high content of nutrients, including vitamin C. Every 100 grams of fruit contains around 3 grams of vitamin C.
A study suggests that treatment with camu camu alters the gut microbiota to prevent obesity and benefit overall gut health. Amazonian locals have been using this fruit as an energy booster for ages. Besides vitamin C, it contains anthocyanins and ellagic acid, two powerful flavonoid antioxidants. Ellagic acid particularly inhibits reductase, an enzyme specialized in triggering inflammation.
Did you know you can test inflammation markers at home? Learn more in our article about at-home inflammation tests.
Chia: Chia seeds are among the most important superfoods as they contain massive amounts of nutrients and very few calories. The Aztecs and the Mayans knew of this tiny seed's importance in boosting their energy. "Chia" is the ancient Mayan word for "strength."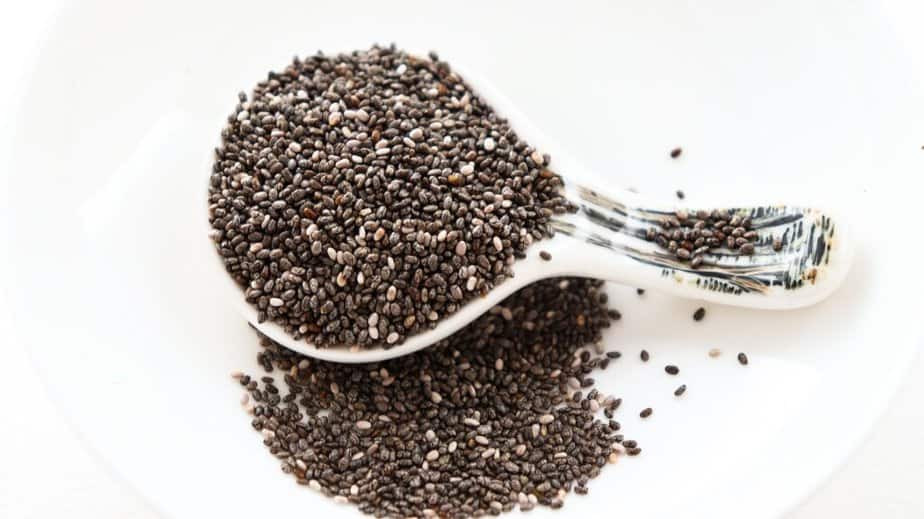 Review of more of Ka'Chava ingredients
Organic reishi mushroom: This mushroom, also known as lingzhi, grows in various hot and humid climates in Asia. For thousands of years, traditional healers in Japan and China have used it to help support the immune system and aid with sleep and depression. This positive effect of Reishi on the immune system is mainly on the white blood cells, making it an important ally in fighting infection and even cancer.
Acai: A superfood with good looks, acai is found in acai palm trees in South American forests, mainly in the Amazon. The berry is 80% seed, but the flesh and rind are rich in vitamins and other nutrients.
Chlorella: This alga has gained popularity in recent years. As a supplement, it seems to help get rid of toxins and improves cholesterol levels. The nutrients found in most algae of the Chlorella genus are protein, vitamin B12, iron, vitamin C, antioxidants, omega-3, and fiber. They also contain small amounts of copper, zinc, magnesium, folic acid, calcium, and several B vitamins.
Quinoa: Another trendy health food, quinoa, is high in grams of protein and is gluten-free. It also has substantial amounts of B vitamins, fiber, magnesium, potassium, phosphorus, calcium, vitamin E, and several antioxidants. Quinoa has been eaten in South America for thousands of years, but it has only recently gained massive popularity. Besides the nutrients mentioned above, it also contains small amounts of omega-3 fatty acids.
Maitake: "Maitake" is the Japanese word for "dancing." They say the name comes from people dancing with joy after finding it in the wild. This adaptogen mushroom helps the body fight against any physical or mental difficulty. It is rich in antioxidants, vitamins B and C, beta-glucans, fiber, minerals, copper, potassium, and amino acids.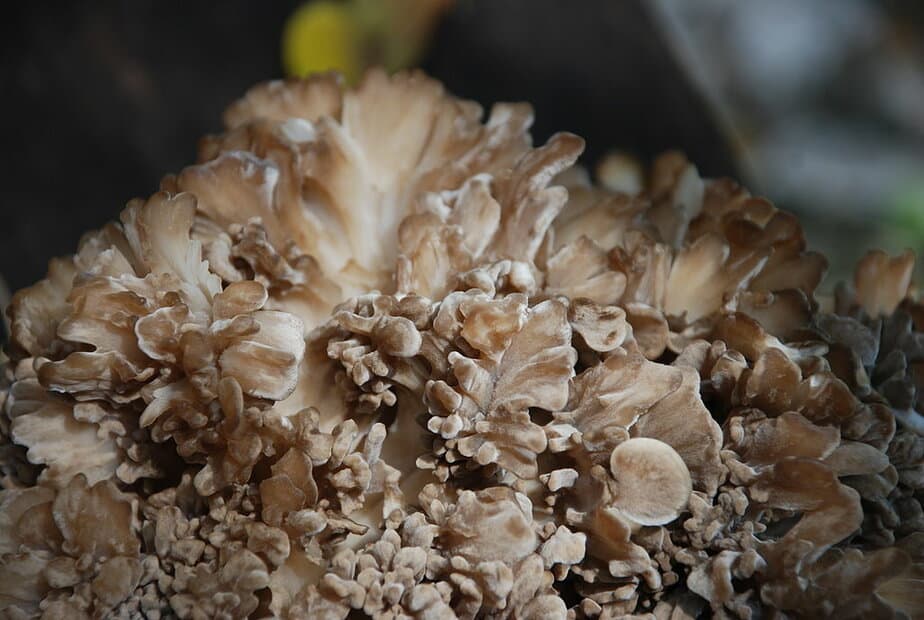 Remaining Ka'Chava ingredients
Shiitake: Shiitake is a type of mushroom native to East Asia used for centuries in traditional Chinese medicine. Today, many Asian countries cultivate it and use it for medicinal purposes. It has a long list of bioactive compounds.
Coconut milk: For more than 4,500 years now, coconuts have grown in tropical regions. Only until recently has their popularity increased thanks to their culinary uses and potential medicinal benefits. While most fruits provide carbs from starch and sugar, coconuts are mostly rich in fat.
Maqui: The antioxidant content and potential health benefits of this South American berry make it a superfood. It helps control blood sugar, reduce inflammation, and promote heart health. This fruit is rich in fiber, protein, potassium, calcium, vitamin C, vitamin E, sodium, and iron. Other potential benefits include anti-aging, anti-cancer, and antioxidants.
Maca: Recently, maca has become highly popular and is considered a superfood. This Peruvian plant has been traditionally used to improve sex drive and fertility. The roots are dried and ground into a very nutritious powder.
It is rich in carbs, protein, fiber, fat, vitamin C, copper, iron, potassium, vitamin B6, and manganese. Maca root also contains polyphenols and glucosinolates, compounds that help treat several diseases.
Other ingredients:
Other ingredients mentioned on the company's website are organic coconut flower nectar (an alternative to added sugar), pure whole grain oat, organic green onion, organic raspberry, plant protein blend (yellow pea protein, organic whole grain brown rice protein, organic sacha inchi protein, amaranth, and quinoa), organic maqui berry, chia seeds, flax seeds, organic green pepper, and probiotics/prebiotic blend.
Review of Ka'Chava: Simple Nutrition with a Holistic Approach
Through the website, you have two options to obtain the product.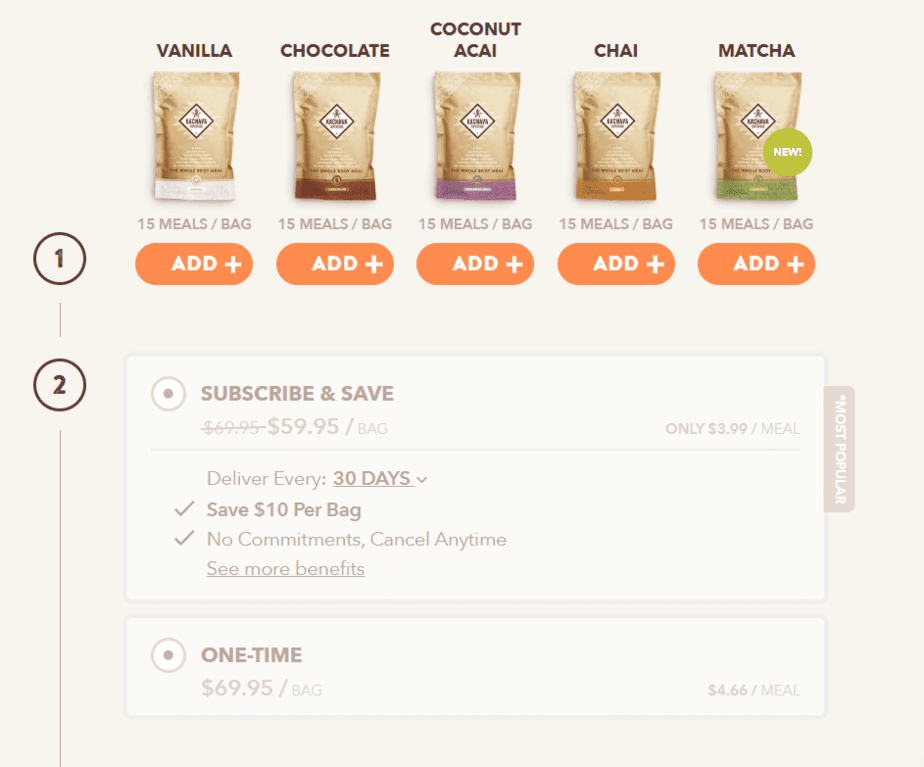 You can straightforwardly make one purchase of the product if you want to try it without risking the site storing your credit card information. However, you will get the retailer's price.
Since you probably need a steady supply for at least three months to see results, you will probably be compelled to get the "subscribe & save" option. You can choose how often you want the product delivered to you.
There is a 30-day money-back guarantee in case you are not happy with the product. But this offer applies to 1 bag of each flavor only, and you have to ship the unfinished or empty bags to a return address.
It should also be noted that this guarantee applies only to first orders. If you want a refund for non-first orders, you will need to provide a justification. The company does state that it will try to make it work.
Ka'Chava recipes are available on the company's website.
Review of Ka'Chava Cost
A subscription supply of Ka'Chava represents a monthly expenditure of $120 if you follow the 1-glass-per-day plan. This is $4 per meal. If this is at or below the relative cost of any of your daily meals, and the program works well for you, then the price should work out well.
No matter how you look at it, this product is not cheap, although not crazy expensive. It is generally more costly than a protein powder, whey protein, or similar products. The price tag is perhaps justified by the type and amount of quality ingredients it contains. Ka'Chava discount codes are available from some online sites.
Is Ka'Chava Safe?
This product's nutritional load is elevated and is high in Ka'Chava protein and low on carbs. This makes it the perfect option for anyone following a weight loss regime. Some Ka'Chava users would even feed this product to their young children.
Is Ka'Chava safe for kids? So far, there have not been any complaints about side effects from verified users. However, we encourage you to speak to your child's doctor first.
Review of Ka'Chava Privacy
The privacy policy of this company seems clear and straightforward. It collects your information when you input it for purchasing. While browsing, cookies collect your IP to help the site learn about your operating system and browser.
According to the text, Tribal Nutrition LLC, will only use your personal information to verify your card, place orders, etc. It says neither the company nor third parties will use this for marketing purposes.
Users can withdraw their consent via email or through snail mail. When it comes to disclosing information, Ka'Chava will only do it if required by the law or if the user has violated the terms of service.
Other Ka'Chava Reviews
Ka'Chava has a section on its website for customer reviews of the product. It includes a free forum for any participant to write about their experience. Most of the reviews are positive.
Overall, reviewers give the company a 4.6 star review with over 48,000 reviews. These customers thought the product was effective and tasted great. A few customers disliked either the high price or the taste.
We collected a couple of reviews from its site.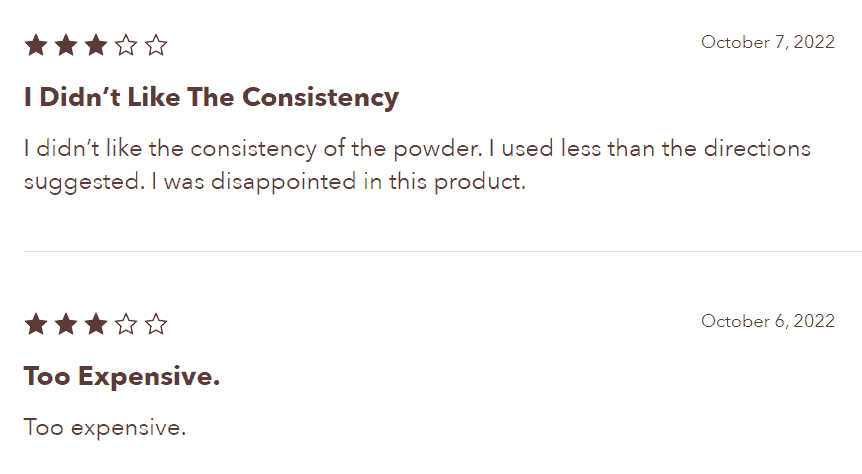 Ka'Chava vs. Huel
Huel is a similar food powder for complete nutrition in one shake.
| | | |
| --- | --- | --- |
| | Huel Food Powder | Ka'Chava |
| Vegan | Yes | Yes |
| Protein Content | 37g per serving | 25g per serving |
| Flavors | Chocolate, Vanilla, Gluten-Free Vanilla, Unflavored Unsweetened, Gluten-Free Unflavored Unsweetened | Chocolate, Vanilla, Chai, Matcha, Coconut, and Acai |
| Sugar | 1-2 g per serving | 8-9 g per serving |
| Price | $42.50 for 17 servings | $60 for 15 servings |
Nebula Genomics
Nebula Genomics is a leader in delivering accurate information about ancestry, DNA, and personalized programs for a healthy life. There is one thing everyone agrees on- there is no one-size-fits-all when it comes to supplements or any other substances you intake.
So, even if you love Ka'Chava, the best you can do for your health is to get a complete DNA test to determine if the product can deliver on its promises.
With our exclusive 30x Whole Genome Sequencing, you get complete information on your DNA and how effectively you react to meal replacement shakes like Ka'Chava. You can find out if you may have a predisposition to thinness or obesity. With whole genome sequencing, you can find out what your DNA says about your anatomy and physiology for weight loss and many other traits and disorders.
We utilize the most advanced DNA testing technologies to guarantee that your entire genome is sequenced and not only a small percentage, like with other companies. Once your raw DNA data is processed, you get a full report on the next steps to healthy lifestyles. Our periodic adjustments keep you up-to-date on the newest genetic discoveries, and with DNA exploration tools, there is no limit to what you can ask about your DNA.
Other tests
You may also be interested in weight loss programs such as Noom, Nutrisystem, Optavia, Beyond Body, or Yoga Burn.
Did you know you can test your metabolism at home? Learn more in our article about metabolism tests at home.
Or you can check out these other weight loss supplements:
Did you find our Ka'Chava review useful? You can read more reviews on our blog and check out our complete guide to the best DNA test kit and other home tests.