7 Facts from our Relief Factor Review
This review is written with the intent to be as unbiased as possible. However, it represents the opinion of an individual reviewer and is therefore subjective. Furthermore, at Nebula Genomics we seek to educate the public about the benefits of Whole Genome Sequencing. Information about our Whole Genome Sequencing DNA test is therefore incorporated into the review.
Recommended dose: 2 packets containing four pills every day
Active ingredients: Epimedium, turmeric, resveratrol, icariin, and omega-3
Costs: $79.95 per month + shipping & handling
How to Order: You can order through the website
How it Works: When you order the 3-Week Quickstart for $19.99, you automatically subscribe to a monthly supply worth $79.95 before taxes and shipping. You may cancel anytime, but the process may be slow
Who can take this: There is no age restriction as aches and pains may be present even in very young people.
Complementary products: Nebula Genomics offers a complete DNA sequencing test to better understand your pain's genetics and predict your response to this product. With Nebula, you get regular report updates, data exploration tools, and much more!
October 10, 2022
Edited by Christina Swords, Ph.D.
Pros and Cons
Pros
Most of its ingredients have proven effective against inflammation
The formula is based on 15 years of clinical research
It may help with pain associated with everyday activities
It is a botanical, fish oil product, and 100% drug-free
Cons
The health product contains traces of soy, which some people are allergic to
Requires taking four pills (two pills and two soft gels) at once; this amounts to up to 12 capsules per day during the first Quickstart period.
Customer service has been reported to be inefficient
Actual health benefits vary
Introduction
Relief Factor is a drug-free botanical and fish oil solution developed over 15 years to relieve aging, exercise, and everyday discomfort. It is a dietary supplement presented in a bag with two soft gels and two capsules. This Relief Factor review will thoroughly go through all the ingredients, claims, interviews, and reviews of this pain relief supplement.
In regards to pain, Relief Factor claims taking this product regularly will reduce:
Joint stiffness
Discomfort
Relief Factor is a blend of drug-free ingredients made of botanical and fish oil extracts. The company claims it activates four different metabolic pathways to help reduce or eliminate pain and inflammation. It is recommended for people with back and neck, hip, shoulder, or knee pain. Some people feel better within a few days, as we will see, while others feel very little or no relief at all.
The company was founded by father and son Pete and Seth Talbott. According to them, 70% of customers keep their subscription (after a "3-Week Quickstart") as they see great results.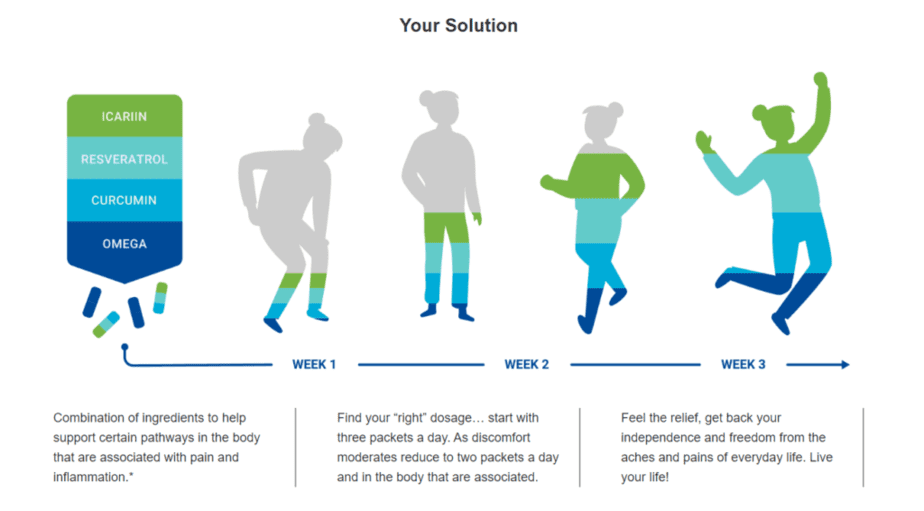 The product
According to ads, doctors created this supplement with four key ingredients that help deal with or eliminate pain that comes from aging, exercise, and everyday physical activities. People who got positive results, indicating that they had reduced or eliminated pain associated with exercise and everyday living, reported that it takes them three weeks, on average, to overcome pain. From this feedback, the company's founders created the "3-Week Quick start", a program to have users test-drive the product for three weeks.
According to its manufacturers, Relief Factor must be taken regularly for optimal results. This means that the 3-week program will not suffice, and users must accept the Preferred Customer plan to get a steady supply. The premise is that the results are guaranteed, and the consumer will feel so good that they will want to continue with the program.
At Nebula Genomics, we believe that treatments to reduce inflammation and pain should target the root cause and offer personalized options. A DNA test will provide the necessary information to help create a highly customized plan for your pain.
Relief Factor offers a generic solution, so results will vary. Some of the ingredients in the product might prove useful. DNA testing may inform you of the most effective treatment to reduce pain.
The Science Behind Relief Factor
These capsules are elaborated from fish oil and soy. This means that those allergic to these ingredients must stay clear of this product. As with any supplement, it is always advisable to consult with your doctor first.
All the ingredients in Relief Factor are anti-inflammatory substances. The goal of the active ingredients in this product is to use anti-inflammatories to repair damaged tissue and promote better joint health.
Review of Relief Factor Ingredients
What's in Relief Factor?
There are four main active ingredients found in Relief Factor. Although the site does not point it out, the most important can easily be Turmeric, an herb that promotes pain relief, thanks to its curcumin content. The combination of ingredients (Turmeric, Resveratrol, Icariin, and Omega-3) helps support the body's natural response to inflammation.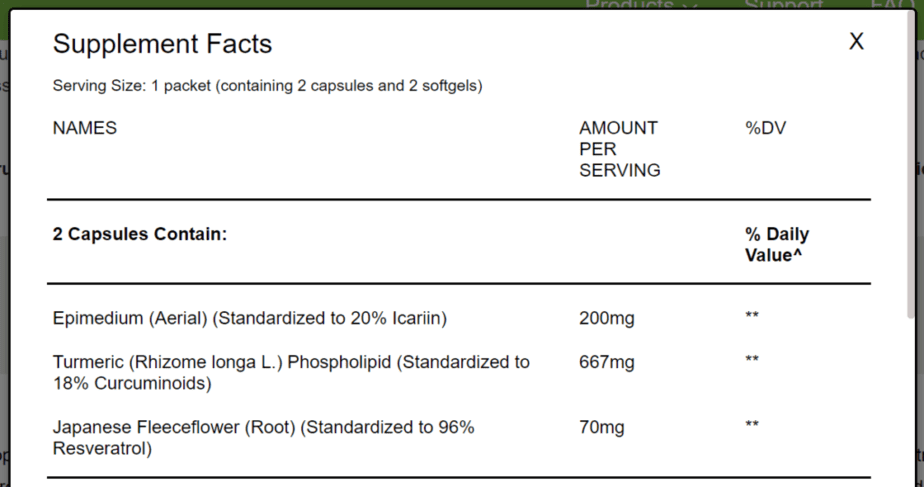 What are the ingredients in Relief Factor?
To better understand how the product works, let's take a look at how some other ingredients work.
Epimedium
Epimedium, also known as Horny Goat Weed, has a positive clinical effect against osteoporosis. It also has anti-aging, anti-atherosclerosis, and anti-depression functions.
There is very little evidence that Icariin, found in this plant, will be of any help to your joints. According to Relief Factor's website, Icariin helps maintain optimal amounts of nitric oxide, which supports blood flow and tissue health. Given the almost non-existent evidence on this, we don't believe there will be any conclusive results to demonstrate that it helps against inflammation.
Japanese Fleeceflower
This plant is a vehicle for Resveratrol, which helps promote blood flow and supports blood vessel health. A good flow helps with absorption, which in turn prevents inflammation.
Turmeric
Due to its curcumin content, turmeric has been considered good support for your joints. Of all the ingredients, this is the one that effectively provides Relief Factor with anti-inflammatory properties.
Further research has shown many other medicinal properties of curcumin, including being a therapeutic agent in several diseases such as diabetes, Parkinson's, arthritis, cardiovascular disease, and pulmonary disease. Although this is not the product's intended effect, it does not hurt to have it in the mix.
Omega-3
Eicosapentaenoic acid (EPA) and docosahexaenoic acid (DHA) are Omega-3 fatty acids provided by the fish oil in the soft gels. Clinical trials have shown that EPA & DHA are effective in producing anti-inflammatory actions. This includes the reduction of the expression of inflammatory genes.
Review of Relief Factor: Breaking Free from Everyday Pain
The steps on how this program works are vague, and users report some confusion.
The Talbotts would receive feedback from their clients and realized that most of them saw results three weeks into taking the supplements. This is why they created the 3-Week QuickStart, a starter program.
How does the program work?
The Relief Factor Quick Start is a pouch containing 49 packets consisting of two pills and two soft gels. Users take three little bags per day during the first week and then two per day for two weeks.
What happens after the three weeks are over? Here's where it gets shadowy for some customers who placed their credit card information for the "heavily discounted 3-Week Quickstart." When users purchase this feature, they also subscribe to a steady supply.
You can see at the bottom of the checkout slip that once a user purchases the 3-Week Quickstart, within less than those three weeks, they will be charged $79.95 + $6.95 S/H.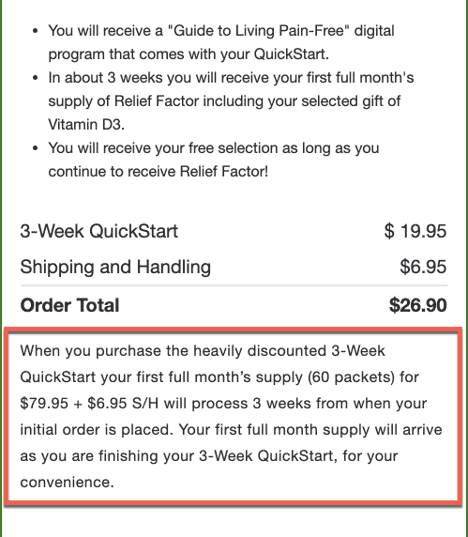 The company does this so that customers keep a steady supply of the product once the three-week testing ends. This may sound like a good plan, but some users complained that these instructions were not clear enough and that the cancellation process was not optimal.
Is Relief Factor safe?
The ingredients are 100% drug-free botanical and fish products, so there is no reason to believe Relief Factor is not safe. Although not for their effectiveness in treating joint pain or inflammation, all components have been clinically tested for safety. Since they are natural products, reports of Relief Factor side effects are rare.
Our bodies respond differently to every substance. This is why, before trying any supplement, you should seek professional advice. Do your research on these ingredients and how they affect your body.
You should not take a product if you are allergic to any of its ingredients. You can also try genetic testing to understand how your genetics will affect how your body responds to Relief Factor's components.
Review of Relief Factor Cost
An entire month's supply (60 packets) costs $79.95 plus shipping and handling. When ordering the 3-Week Quickstart at $19.95, you are subscribing to a monthly charge and supply.
If you do not want a charge on your credit card for the monthly supply after your Quickstart, you must contact support. Customers must do this soon after the first payment, as there is no guarantee that the company will cancel the subscription.
After getting the first monthly supply, you may ask for a refund, but you must have opened none of the packages. Refunds take a week or so, depending on how fast the returned product arrives.
Review of Relief Factor Privacy
Relief Factor will collect the information you place on the site. There is a login, and the info is processed to personalize your experience and better respond to service requests.
Relief Factor will not share or sell your information to "other" parties, except those that help it operate its website, which will proceed according to law.
This "outside parties" label does not include Longevity Medical Clinic, a sister company also a member of Promedev, the biotech, health care, and medical conglomerate Relief Factor exclusively produces for. So, the identifiable information you provide to Relief Factor may be shared with the clinic without advance notice.
In general, the company's privacy policy is clear and transparent and seeks to protect your information. There is a common cookie policy that users accept upon visiting it. Your usage of the website is consent to the terms detailed.
Relief Factor in the News
Suffer From Debilitating Back Pain? So Does Seb Gorka, According to His New Gig as Spokesman For Fish Oil Pills A note on former White House assistant and his endorsement of Relief Factor.
CSPI Asks Federal Trade Commission to Take Enforcement Action Against Relief Factor, Maker of Pain Pills Endorsed by Sebastian Gorka This news was on Sept. 2019. After this complaint, the "Dr." title was removed and substituted with "Ph.D." and a note specifying that his title is in political science, not the medical field.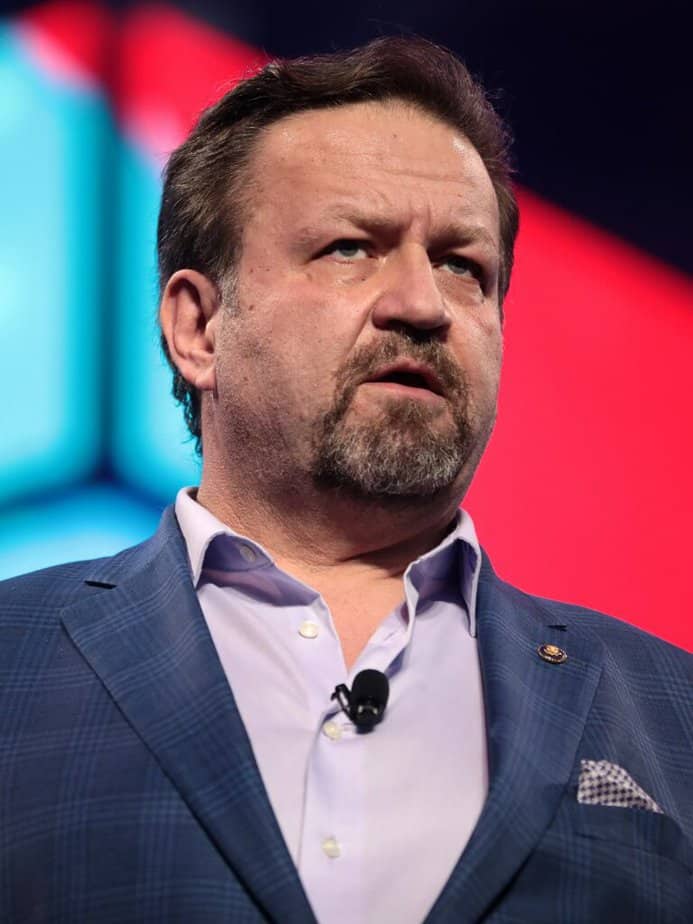 Other Relief Factor Reviews
Does Relief Factor Work?
The products and services seem to have found success with some users. The company's website does not specify that results may vary, but this is expected as our bodies are unique in their genetic makeup.
So, Relief Factor's reviews tend towards the negative. It has a 2.2 star rating on TrustPilot. However, this is based on only eight reviews.
The product worked pretty well for some users. One review noted that the customer had been taking the product for four years and has seen noticeable relief in their arthritis pain.

But, as expected, it will not work as well for other users.

Many customers seem to agree that Relief Factor's customer service is not at par with what it claims is the quality of its product. Plus, many have reported shady practices with how the company manages shipping and returns. Unfortunately, comments on these methods overshadow comments on the actual effectiveness of the product.
On the Better Business Bureau (BBB, US only), the company has a 1.51 star review with 96 reviews. The company appears to respond to complaints on this site.
Relief factor is not available on third-party sites like Amazon.
Nebula Genomics
The start of a program that seeks to eliminate pain associated with aging, exercise, and everyday living based on natural ingredients, should always be knowing what your body can process and what it cannot. There are typical allergies, but nothing will get you more accurate information than a DNA test from Nebula Genomics. Before wasting money on nutritional supplements that might not work, you may want to have your genome analyzed.
Our advanced and unique 30x Whole Genome Sequencing will get you results and reports like no other test, most of which only sequence a tiny portion of your genome. Information on how well your body responds to this type of program is found inside your cells. Upload your raw DNA data or order one of our kits and get your results in a short time.
We will walk you through what your specific needs are for you to get your body to reduce pain by studying your unique inflammatory response. No need for trial-and-error anymore.
If you want to know more about how genetics determines even our pain sections, look at these two reports on the genetics of knee pain and neck or shoulder pain. With Nebula Genomics, you can personalize these reports and many more!
Other reviews
If you want to learn more about supplements, you should check out these other reviews:
Aging:
General Health:
Relief Factor claims to relieve inflammation. You can also learn about at-home inflammation tests on our blog.
Did you find our Relief Factor review informative? You can read more reviews on our blog and check out our complete guide to the best DNA test kit and other home tests.