The use of DNA tests is unlimited in modern-day applications ranging from finding your long-lost relative to determining your children's paternity. However, if you do not want to go through the stress of blood draws at testing labs or even going to a store to get a kit, you can order an at-home testing kit. These direct to consumer tests are the closest to finding a DNA test near me – right in your own home. After ordering, you complete the test from home and mail the sample to the lab to be analyzed. Results are most often emailed or returned through a secure online portal. This article will explain how to go through the process of finding an at-home DNA testing kit.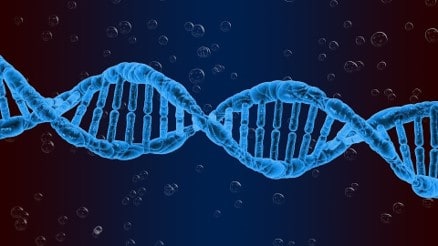 How does a DNA test work?
Every human is unique in their genetic makeup; therefore, almost no two humans have precisely the same DNA. An individual's DNA is composed of the genes transferred to them by each of their parents, which explains why individuals have their parents' traits. It is also the basis of state of the art DBA testing for paternity, which analyze the DNA of the offspring and all alleged fathers to determine if there is a match.
For example, the DNA restriction analysis, otherwise called DNA fingerprinting, uses specific protein restriction enzymes. The enzyme cuts DNA at a unique combination of A, G, T, and C. These enzymes cut DNA at different locations, each having its sequence. The pattern of DNA fragments in the offspring is then compared to that of the parent. If the child's DNA matches with theirs, then the child is theirs. If they are not related, the pattern will differ.
Below is an example DNA profile report from Validity Genetics. DNA lab test reports show numbers (in the first column) indicating each of the 21 pairs of chromosomes involved in the genetic testing process. There are two columns on the result, indicating the two alleles found at each locus.
For example, if a person has an allele designated 13.1 and 6, and the mother has allele 13.1 and 10, such an individual inherits the 13.1 alleles from the mother. The 6 must have been inherited from the child's biological father.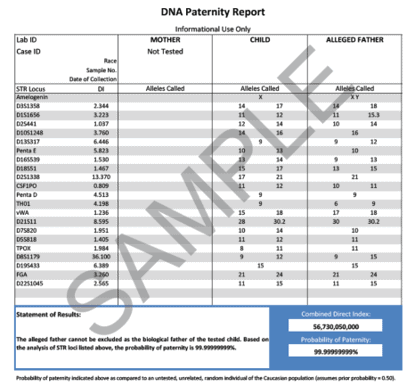 Under the table, you'll find a portion that reads "probability of paternity." An individual should have close to 100% (about 99.99%) correlation with their biological parent and 0% with whom they're not related to.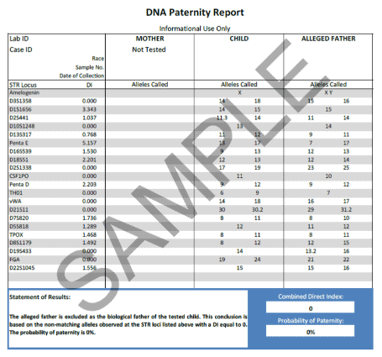 How accurate are DNA tests?
With modern advancements, accuracy is very high, with many tests boasting 99.9% accuracy. However, most DNA tests only less than 0.02% of DNA, producing a less reliable result. Nebula Genomics, on the other hand, decodes 100% of your DNA, producing a more accurate result. Nebula Genomics provides reports highlighting your predisposition to disease and traits as well as deep ancestry with full Y chromosome and mtDNA sequencing.
How does a DNA Home testing kit work?
Performing DNA testing near me at home is a fairly easy process:
Order online: There are multiple test kits to choose from; what you should do is check online for your choice and place an order. Some companies make provisions for you to order directly from their sites, while some don't. In that case, you should check a third-party website like Amazon to place your order.
Receive the kit: The kit will be shipped down to your address, where you'll easily get it.
Register the kit: Open up the kit and register. This does not apply to all DNA kits, though, but it applies to some. You can visit the DNA testing company's website and fill up a small form for the kit to be registered.
Take the DNA sample: The kind of sample to take depends on the type of kit and the kind of test you wish to perform. Some tests may require DNA collection from the mouth (such as a cheek swab, also called a buccal swab), while some may require a small blood sample. Whichever one is, it should be indicated in the kit, or you check the company website for more information. Ensure that you follow all the instructions and ensure your sample is free of contamination.
Send down to the DNA testing laboratory: After the sample collection process, label the sample such that it bears your information, and ship it down the sample to the testing facility. There, they will perform, and you can wait for your result.
Result: You'll receive a communication (usually an email) from most companies or laboratories notifying you when your DNA results are ready. You can then login to their website to download your result.
How long does a DNA test near me take?
The time it takes to get DNA test results largely depends on the type of test and when the company receives your sample. Paternity tests have the shortest times ranging from 2 – 5 working days; ancestry tests could take up to 2 weeks, while dog DNA testing near me usually take up to 6 weeks.
People get DNA testing kits for different reasons, and here are some popular uses of DNA testing kits:
DNA paternity testing near me
Legal paternity testing
This is what comes to the mind of most people whenever they hear "DNA tests." These tests help settle paternity disputes. It helps to clarify who the birth father of the child is and can be used to fill out birth certificates and social security cards if the answer is not certain. Nearest locations in the hospital tend to be on-site, state of the art labs meaning that most tests take anywhere from a few hours to a few days. However, "at home" paternity testing is not always available near me, and you may not get them in states like New York.
For peace of mind cases, most areas in the United States allow the sale of at-home paternity tests. However, you cannot perform legal DNA testing at home for use in court cases. For court admissible legal purposes such as child support, you will need to schedule a DNA test at an approved DNA testing center near me. This ensures the DNA is analyzed at an accredited laboratory and the chain of custody of the samples is not broken.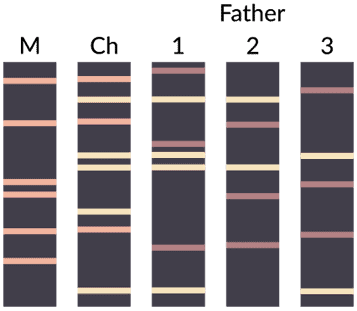 A mother can also receive a DNA test while pregnant near me through clinical at-home DNA tests. These results can be used in consultation with a physician and are often used to determine prenatal screening for disease susceptibility. If interested in this type of genetic screening, you may want to check out Myriad Genetics, GeneDx, Invitae, Integrated Genetics, and DNA Services Unlimited.
Ancestry testing
DNA tests help us understand our origin and where we come from. Ever thought you have connections to another part of the world? Ancestry testing helps you to learn more about your family tree. A vast understanding of this helps us know that we are all interconnected in one way or another.
Testing for susceptibility to disease
Among the things an offspring is likely to inherit from parents is the susceptibility to diseases. If either or both parents are prone to a particular disease, there are chances that such susceptibility will be passed down to their offspring if it has a genetic root. By performing a test to check for susceptibility to a particular disease, an individual can begin a preventive treatment as quickly as possible.
Predisposition to nutritional preferences
Not all foods are suitable for everyone. Some individuals are sensitive to certain foods while others need more of one nutrient than another. By analyzing their DNA to check their natural nutritional needs, it will be easier for you to know which nutrients your body needs more of and which one to stay away from.
Testing for behavioral traits
Behavior is one significant phenomenon of offspring inherited from their parents. DNA tests help individuals find out why they act in a particular way.
DNA testing for pets
Apart from the various uses listed above, you can also get a DNA testing kit for your four-legged furry friends. The price of these tests depends on the laboratory and the sophistication of the test.
On average, you can get a dog DNA test kit around $30-$70, excluding the shipping costs. However, if you wish to get a blood-based DNA test done by a vet, you should expect to spend between $100 to $300.
For a comprehensive reviews of these types of DNA tests and more, you should check out our product reviews as well as our guide to the best DNA tests!
Factors to consider before choosing a DNA company
Due to the industry's rapid growth, it is easy to get scammed of your hard-earned money. Cheap DNA testing might sound tempting, but quality of the result will also be important. After deciding to order a DNA paternity test or other genetic test, it is essential to look up the most credible companies before deciding. Some factors you should consider include:
Shipping coverage
An important question you need to answer before you patronize any DNA company is their shipping coverage. Is the company located near you? Are they available to ship the product to your location? Nebula Genomics ships to almost every country in the world.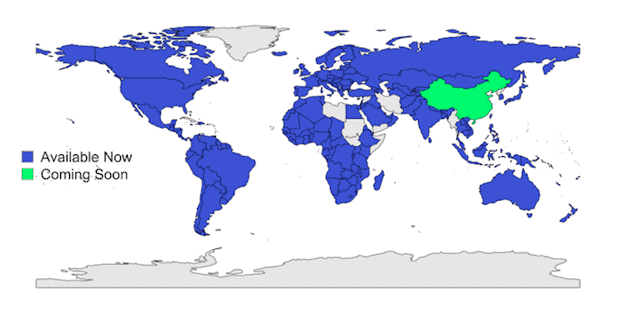 Shipping costs
How much will it cost to ship the kit from the company to your location? If the shipping cost is too much, you may try a closer company. Most companies offer free shipping for people in a specific region. Therefore, if you want a free shipping cost, look for a DNA company that ships free to your location.
The company's privacy policy
You don't want to risk releasing your personal information to a company that cares less about it. Thus, an essential factor to consider before choosing any company to patronize is to review its privacy policy. Note that some companies don't have strong security to protect the information on their site, allowing third-party to find their way around to see your information easily. You don't want to patronize such a company.
Catalog of products
Many companies offer different products for specific needs. Check their catalog of products to see whether they have the kind of kits you need or not.
Size of their database
It is safer to patronize a company with a good, large database. You can rely on such a company to safely keep your information. Larter databases also improve your chances of finding matches on ancestry databases.
The science behind their DNA testing
What is the principle behind how their DNA tests are performed? You should take the time to study the science behind their DNA testing to see whether it is rigorous and backed up by empirical evidence.
Customer comments and complaints
The review section is a good starting point to find out what the past customers of a DNA company say about them. You can also check other third-party websites like Amazon for customer reviews. The Nebula Genomics blog has reviewed many at-home DNA tests, including customer reviews and customer service team reviews.
Nebula Genomics
Unlike most DNA tests that only decode 0.02%of your DNA, Nebula Genomics decodes 100% of your genetic makeup and provides 10,000 times more data than other DNA tests.
Our 30X Whole Genome Sequencing (WGS) decodes all 6.4 billion DNA base pairs in the human genome, including the complete set of all 20,000 genes, mitochondrial DNA, and the Y chromosome.
If you wish to begin a lifetime of discovery with full access to your genomic data, Nebula Genomics is right for you.
When you use the Nebula DNA kit, we provide you with a result that's ready for diagnostics. Our Whole Genome Sequencing data is of the highest quality and can be used by physicians and genetic counselors.
Nebula Genomics DNA testing is almost always near you since they ship their test kits to nearly every part of the world. If you're looking for an at-home DNA testing kit that decodes 100% of your genome near you, you are almost guaranteed to find Nebula Genomics.