7 Facts from our Invitae Review
Location: San Francisco, CA, USA
Products: Sequencing of gene panels and whole exomes (ordered by patients or providers)
Reports: Diagnostics, proactive health, and reproductive health
Data access: No
Privacy: Shares anonymized, aggregated data
Cost: $0-$250; some tests covered by insurance
This review is written with the intent to be as unbiased as possible. However, it represents the opinion of an individual reviewer and is therefore subjective. Furthermore, at Nebula Genomics we seek to educate the public about the benefits of Whole Genome Sequencing. Information about our Whole Genome Sequencing DNA test is therefore incorporated into the review.
July 18, 2022
Pros and Cons
Pros
One of the first clinical genetic testing companies
An extensive collection of single-gene tests
Access to genetic counselors, supporting an informed customer experience
Health insurance can cover the costs of some tests
Cons
More expensive than other genetic tests on the market
No differentiated scientific qualities
The billing process can be confusing, especially when it comes to insurance reimbursements
Invitae Introduction
Invitae corporation is a leading medical genetics company based in San Francisco. Sean George, Ph.D., is the current Chief Executive Officer and co-founder. The company's goal is to bring "genetic information into mainstream medicine."
The company offers a wide array of diagnostic tests for hereditary cancer (breast cancer, prostate cancer, etc.), heart disease, reproductive health, and rare disorders. They can be ordered by a patient or by a clinician on a patient's behalf. This company also offers medical professionals access to special tools, such as the Invitae family history tool. With this feature, clinicians can digitally record patient family history to help recommend genetic testing.
To date, the company has provided its genetic testing services to more than half a million individuals. Learn more in our Invitae review!
The Science Behind Invitae's Products
Invitae testing offers assays for sequencing single genes, panels of genes, and exomes.
Full-gene sequencing: This is a targeted next-generation sequencing-based test in which clinically essential gene regions are sequenced at 350x coverage. These important regions include the parts of the gene that code for a protein, called exons. In addition, the service typically sequences 10 to 20 base pairs flanking the exons (i.e., within introns).
Exome analysis: The Invitae "Boosted Exome" test allows one to capture all coding variants within ~20,000 coding genes across the entire genome. This test is available for affected individuals and their biological parents.
The major limitation of these assays is that they do not capture genetic variants within the non-coding regions of the genome (that are captured by whole-genome sequencing), which are known to play regulatory roles and may be associated with the risk of developing particular health conditions. Read more about different DNA tests.
Review of Invitae Genetic Testing Products
Invitae has three types of tests that can be ordered by individuals online:
Oncology
Proactive
Reproduction
Customers receive a saliva collection kit in the mail. Diagnostic tests are performed in CLIA- and CAP-accredited labs. Test results will be reviewed by a team of scientists, lab directors, and genetic counselors to ensure high quality. Moreover, healthcare professionals can also order most of these tests through a HIPAA-compliant online portal, allowing genetic information to help guide how they care for their patients.
All of the Invitae forms for requisition and consent are publicly available on the company website. Healthcare providers can also add additional genes to existing gene panels when ordering for patients. Finally, patients use their Invitae login to access their accounts and test results.
Once the lab receives the sample, the turnaround time for most tests is around 10 – 21 days. Certain breast cancer panels only take an average of 7 days, while the Boosted Exome test results take about 6-8 weeks.
Review of Invitae diagnostic tests
Invitae offers diagnostic genetic testing for a number of different hereditary conditions, including common hereditary cancers and epilepsy panels. These tests are appropriate for individuals with a personal or family history of cancer, heart disease, neurological conditions, rare diseases, and pediatric conditions. They may be covered by insurance.
Patients who order themselves can use a cost estimator to estimate their out-of-pocket expense. Final costs may vary based upon certain health plan design, deductible, co-insurance, and out-of-pocket limits.
The company supports its mission to help make quality comprehensive testing affordable and accessible with its financial assistance program available to patients who meet certain criteria. The company also offers a patient pre-pay option of $250. According to the company, individuals typically pay out of pocket expenses of between $0 and $100.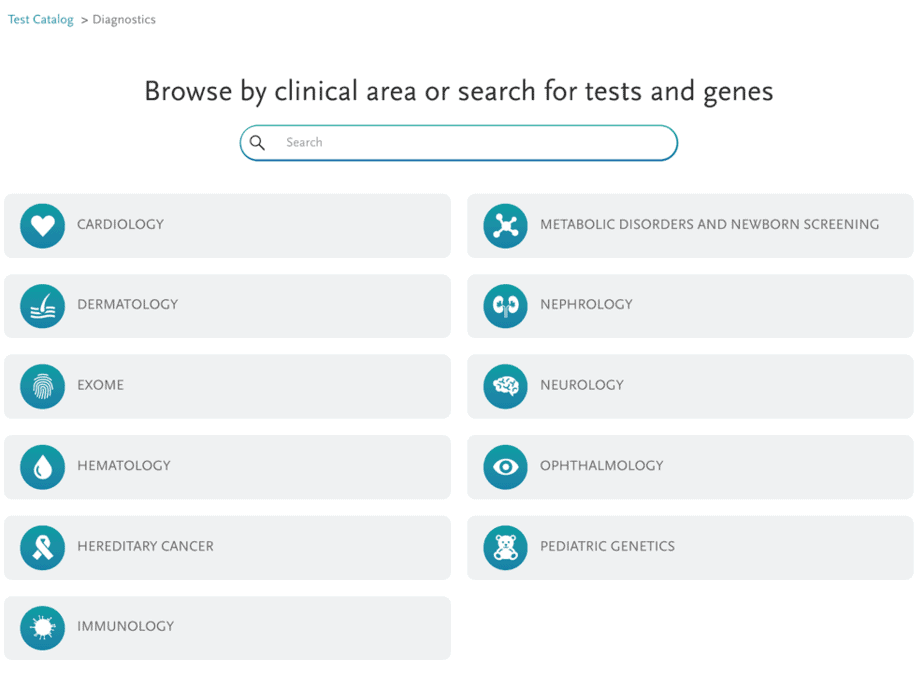 Providers can order from an even larger array of diagnostic tests. These include the Invitae Breast Cancer STAT panel, the Invitae Comprehensive Carrier Screen, Invitae Aortopathy Comprehensive panel, Invitae Epilepsy panel, and Invitae Common Hereditary Cancers Panel, and Invitae Breast Cancer.
Review of Invitae proactive tests
This company offers proactive genetic testing to healthy individuals that do not have a known family history of genetic conditions. This allows individuals to identify their risk of developing a particular disease in the long term. The company thinks this is important because its research has suggested that ~15% of healthy adults carry a potentially serious health-related genetic risk.
Invitae offers three such proactive screening tests. Unfortunately, these are not covered by health insurance.
Cancer Screen ($250): This screen analyzes 61 genes associated with the risk of developing an inherited form of cancer.
Interested in genetic testing for hereditary cancer? You may want to look into these posts:
Cardio Screen ($250): This screen analyzes 77 genes associated with the risk of developing an inherited form of cardiovascular disease.
Genetic Health Screen ($350): This screen analyzes 147 genes associated with the risk of developing an inherited form of cancer, cardiovascular disease, and various other diseases. This test is available to both Americans and Canadians.
Review of Invitae reproductive tests
This company launched reproductive genetic testing for patients before, during, and after pregnancy. These tests include:
Carrier Screening ($250): Before or during pregnancy, couples in the United States and Canada can obtain information about their child's risk of inheriting a genetic disease.
A carrier has a variant in one copy of a gene associated with a disease, which can be passed down to a child. Invitae offers testing for up to 288 carrier disorders. For example, this test can detect muscular dystrophy, among other conditions.
Most genetic testing is done for autosomal recessive disorders, which require both parents to be carriers. Some testing is also done for X-linked disorders, which are caused by genes on the X chromosome.
*Non-Invasive Prenatal Screening (NIPS): This test analyzes small fragments of DNA circulating in the blood, otherwise known as cell-free DNA, to screen for common genetic disorders, such as Down Syndrome, Edwards Syndrome, and Patau Syndrome. All these conditions result from additional or missing pieces of genetic material in a child's genome, called chromosomes. NIPs can be performed as early as 10 weeks into a pregnancy.
*Prenatal Diagnostic Testing: Invitae offers two microarray-based tests, one that identifies genetic variants across the whole genome and one that targets genetic variants in selected genes with known clinical significance. This service is useful to confirm a positive or negative NIPS result. It can only be performed during pregnancy.
*Preimplantation Genetic Testing (PGT): This test can help identify viable embryos for transfer during in vitro fertilization (IVF).
*Pregnancy Loss: Invitae offers a chromosomal microarray analysis (CMA) for pregnancy loss, in which small deletions or duplications of DNA sequences can be detected. This can allow individuals to potentially uncover the cause of recurrent miscarriage or stillbirth.
*These tests can only be ordered by a healthcare professional and may be covered by insurance.
Genetic Counseling Services
Genetic testing can be stressful and confusing. In general, tested individuals do not have direct access to healthcare professionals trained in genetics and counseling that can help explain what their test results mean for themselves and their family members. Invitae has an extensive list of genetic counseling resources on its website. Additionally, customers can speak with a board-certified genetic counselor by phone after receiving their testing results at no additional cost.
Looking for genetic counseling? You may also be interested in Genome Medical, a virtual genetic counseling company with ties to Invitae.
Reimbursements
Invitae accepts insurance from most health plans. The process is intended to be simple as the company works directly with the insurance companies to coordinate payment, otherwise known as filing a claim to insurers. This usually results in patients paying $0 to $100 out of pocket.
Most insurance companies will cover tests ordered by a physician for diagnostic purposes. These may include tests to determine if a hereditary condition could be passed to children, understand the genetic cause of unexplained symptoms, or to better understand an inherited disease.
Some Invitae customers, as well as customers of other clinical genetic testing services, have discussed getting "hit with surprising bills." This happens because different insurance companies reimburse different genetic tests and sometimes only cover part of a test. In addition, other insurance companies may not reimburse a test at all if they don't deem it "medically necessary."
Invitae also launched a sponsored testing program for patients affected by select genetic conditions.
Review of Invitae Privacy Policy
Invitae strips personal identifiers, such as name and date of birth, from customers' data. With this, the company reserves the right to share anonymized or aggregated data with third parties. The company also shares personal information, not genetic data, with service providers, business partners, and third parties.
However, every six months, the company does share information about genetic variants discovered from collected data with a third party database of genetic variants, ClinVar, which is managed by the National Center for Biotechnology Information and National Institutes of Health. This policy was put in place because the American College of Medical Genetics (ACMG) highlighted the importance of sharing clinical genomic data to improve health care.
Invitae in the News
Invitae news has been both supportive and critical.
In 2019, Invitae presented a study at the American College of Medical Genetics and Genomics annual meeting highlighting a problem with consumer genetic tests called the "clinical false-negative result." Specifically, the study outlined that the many individuals who had undergone BRCA1 and BRCA2 genetic testing for breast and ovarian cancer risk by 23andMe were wrongly given negative results. This is because of 23andMe genotypes only three genetic variants, known as founder mutations, within BRCA1 and BRCA2, whereas Invitae sequences the entire BRCA genes.
Therefore, after testing 100,000 individuals, Invitae determined that 5% of these individuals had BRCA mutations. Among these individuals who tested positive, Invitae determined 94% of non-Ashkenazi Jewish individuals and 19% of Ashkenazi Jewish individuals harbored mutations that would have been missed by the 23andMe test.
Invitae has also been scrutinized. A genetic counselor discovered that the company's test missed a case of Lynch syndrome, which increases the risk of developing several types of cancers. When the patient was re-tested 11 months later, they tested positive. This led to the company having to retest over 50,000 samples and implement additional quality measures to ensure fewer testing errors.
Recently, Invitae acquired three companies: YouScript, Genelex, and Diploid.
Invitae regularly participates in the Annual J.P. Morgan Healthcare Conference, presenting news and product updates.
October is Breast Cancer Awareness Month, and breast cancer survivor and founder of SurviveHer, Lyndsay Levington, shares her story on how a genetic test from Invitae helped her get a better prognosis of her condition.
Invitae Reviews
Because the products are diagnostic tests normally ordered through a doctor's office, there are not many public reviews online. Most complaints focus on the billing and insurance processes.
The Best Business Bureau has only six reviews on the company, and all of them agree on 1 out of 5 stars. Interestingly, all of them involve a confusing and damaging billing process.
Employment reviews are mainly positive with a few comments that the day to day work can get repetitive.
Nebula Genomics
Nebula Genomics offers a 30x Whole-Genome Sequencing service that decodes 100% of your DNA. In contrast, Invitae and other clinical laboratory-based genetic tests cost hundreds of dollars to test a single gene. Although Nebula Genomics is not a diagnostic test, our Whole Genome Sequencing data is of the highest quality and can be used by physicians and genetic counselors. Ultimately, if an individual has a known family history of a genetic disorder, we recommend consulting a healthcare professional first.
Here is how Nebula Genomics compares with Invitae's genetic tests.
| | | |
| --- | --- | --- |
| | Invitae | Nebula Genomics |
| DNA testing method | Full-gene sequencing (covers clinically important regions of a single gene) | Whole-Genome Sequencing (all genes in the genome as well as non-coding regions in between genes) |
| Average Coverage | 350X (single-gene) | 30X (whole genome) |
| Regular updates based on the latest discoveries | No | Yes (learn more) |
| Tools to explore data | No | Yes (learn more) |
| Ancestry reporting | No | Deep ancestry reporting with full Y chromosome and mtDNA sequencing |
| Data access | No | Yes (FASTQ, BAM and VCF files) |
| Cost | $250 or $350 (patient purchase per test) | $0, $99, $299 |
| Diagnostic | Yes | No, but our data is of the highest quality and can be used by physicians and genetic counselors |
If you're interested in learning about how your genetics may influence hereditary conditions, you may also be interested in these alternative clinical genetic testing companies.
Diagnostics and disease risks:
Includes carrier status:
Mental health:
GeneSight (clinical genomic test for psychotropics)
Genomind (pharmacogenomic testing for mental health treatment)
Rare diseases:
Tumor genetics for personalized treatment:
Plus, check out more of the blog to learn more about the importance of sequencing Y-DNA and mtDNA and things like paternity testing.
Other DNA tests that use exome sequencing include:
Learn more about whole exome sequencing!
Did you like our Invitae review? Read more reviews on our blog and check out our complete guide to the best DNA test kit and other home tests.