7 Facts from our GlycanAge Review
Location: Newcastle upon Tyne, United Kingdom
Products: A test for biological age
Cost: $348-$599
Reports: Biological age score based on glycan biomarkers that indicate inflammation
How it works: Order a kit, collect a sample using a simple finger prick test, and send it back to GlycanAge. Results are typically available in 3-5 weeks
Counseling available: Yes
Other Products: Nebula Genomics offers 30X Whole Genome Sequencing that decodes 100% of your DNA and gives reports on diet and much more!
This review is written with the intent to be as unbiased as possible. However, it represents the opinion of an individual reviewer and is therefore subjective. Furthermore, at Nebula Genomics we seek to educate the public about the benefits of Whole Genome Sequencing. Information about our Whole Genome Sequencing DNA test is therefore incorporated into the review.
May 30, 2023
Pros and Cons
Pros
A unique biological age assessment based on glycans
May motivate lifestyle changes to improve health
Less invasive blood sample than venious collection
Consultation included
Cons
Expensive test not covered by insurance
Free shipping only available in U.S., U.K., and Canada
Introduction
GlycanAge is a glycan-based biological age test to help individuals measure and optimize their health, wellness, and longevity. Biological age is your body's age on the molecular, separate from chronological age. Overall, this aging is the result of damage to the body over time, caused by chronic activation of the immune system.
GlycanAge measures the state of the immune system's inflammation directly linked to lifestyle which in turn determines your biological age. The developers created the test through 30 years of scientific research and more than 200,000 samples from global biobanks representing diverse ages, genders, and ethnicities. 
Lifestyle factors cause your biological age to increase or decrease. Therefore, the company recommends testing at least once or twice a year to determine how lifestyle changes are influencing your molecular structures. This approach is designed to make changes long-term.

Dr. Gordan Lauc, a Biochemistry and Molecular Biology Professor at the University of Zagreb, leads the scientific efforts behind GlycanAge's product. He conducted the first large-scale studies of human plasma glycome in 2009. The company's scientific advisory board includes prominent experts such as Ronald Schnaar, Vlatka Zoldoš, and Prof. Dragan Primorac, which further enhances the scientific credibility of the product.
Each test includes a consultation with a company expert to help customers interpret their results and make changes to improve their health.
The company ships its tests worldwide.
The Science Behind GlycanAge
Glycans are sugar molecules that modify proteins. They are regulated almost equally by genetics and lifestyle choices. Although you cannot change your genetics, you do have control over the lifestyle influences. 
Research has shown that glycans play a significant role in various biological processes, including cell signaling, inflammation, and immune system regulation. As such, glycans have been implicated in the pathophysiology of many diseases, including cancer, diabetes, and autoimmune disorders. Gylcans evolve with age and accelerated glycan aging often correlates with unhealthy lifestyles and diseases.
GlycanAge analyzes 27 glycans attached to Immunoglobulin G (IgG), the most common antibody in the blood. These glycans represent over 99% of the IgG glycome. The glycans bound to IgG and affect its function, making it pro-inflammatory or anti-inflammatory. The balance between pro and anti-inflammatory glycans is critical for maintaining a healthy immune system and overall health.
The test assesses the state of the immune system and inflammation. As we age, the balance of pro and anti-inflammatory glycans changes, leading to low-grade systemic inflammation, associated with increased risk for many diseases and accelerated aging.
This approach is different from most other biological aging, which focus on things such as telomer length, epigenetic clocks, and epigenetics. GlycanAge claims to be unique in combining genetics, epigenetic, and environmental factors into its calculations.
Review of Glycanage Products
GlycanAge offers a single test, but three different plan options.
Customers who purchase the test can assess their current biological age. It includes
An at-home test kit
Personal dashboard to view results and track progress
Breakdown of key glycan indexes
Consultation with a health-span doctor who will assess results and guide improvements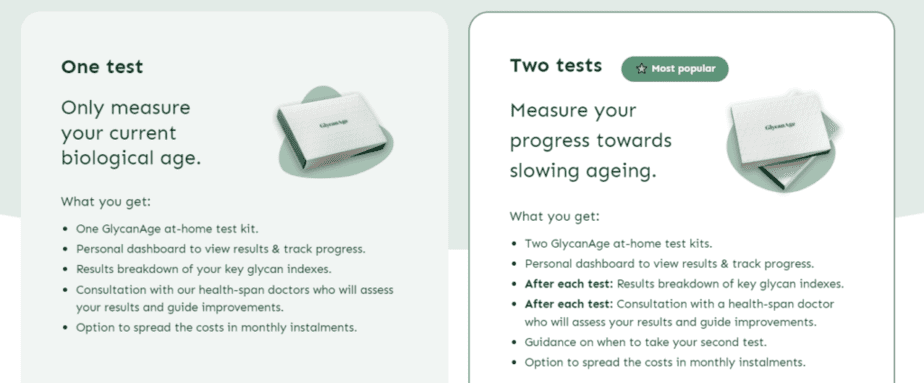 Alternatively, the two test option gives customers the ability to measure their progress over time. It includes,
Two at-home test kits
Personal dashboard to view results and track progress
Breakdown of key glycan indexes after each test
A consultation with a health-span doctor to assess results and guide improvements after each test
Guidance on when to take the second test
Finally, customers have the option to create a custom plan if they desire things like more frequent testing or any customized experience with more than two tests. These plans are available through consultation with the company.
Review of Taking a GlycanAge Test
The GlycanAge test measures your biological age based on your glycan profile using a finger prick blood test.
The test kit comes in a sturdy and well-designed box with well-organized contents. It includes all the necessary items for collecting blood samples, such as sterile alcohol prep pads, lancets, a blood collection card, adhesive bandages, a plastic bag with desiccant, and a return envelope
The kit includes instructions for collecting the blood sample. In brief, customers will fill four circles on the collection card. One or two drops of blood on each circle are enough.
The collection card must dry for 2 hours before writing the sample collection date and sending it back to the Genos laboratory, a leading site for high-throughput glycomics, in Zagreb, Croatia.
Generally, results are available in 3-5 weeks. The company notes that this time allows them to test the samples multiple times to ensure accuracy.

Customers receive an email when the results are ready to view on their personal dashboard. Completing the profile portion on the dashboard beforehand will help the company provide the best advice during the included consultation.
A 30-minute video consultation with a GlycanAge Team Specialist is included with each test. Once the results are ready, customers can book this session online.
Review of GlycanAge Cost
A single GlycanAge test costs $348 while the two test option costs $599.
Customers can also choose to set up a 12-month payment plan which costs $29 per month for the single test or $49.92 for the two tests.
Shipping is free from the UK, USA, and Canada. Shipping to other locations costs $12.39 via UPS.
Review of a Glycanage Report
The test results show a person's biological age measured by the level of inflammation of the immune system. It responds specifically to changes in environment and lifestyle choices. This is partially why the company recommends testing no less than once a year – to determine if changes are working. 
By weighting the various data on your glycans found in the blood samples, the report gives a single number that compares your biological age to your chronological one. The company claims that its margin of error is +/- one year.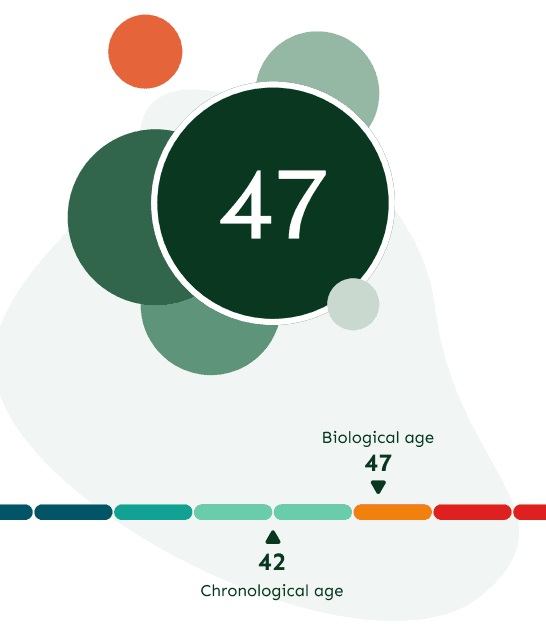 The report then provides a breakdown of the result. Markedly, the test groups the glycan structure into three subsets: anti-inflammatory (good), pro-inflammatory (bad), supportive (additional information). 
Anti-inflammatory groups
The anti-inflammatory groups include Glycan Youth and Glycan Shield. The former represents glycans with two galactoses, which are common in younger people while the latter represents glycans with sialic acid, which protects against inflammation.

The report shows the numerical result from the blood test and ranks the person in a percentile. It will also note if it is better to be in a higher or lower percentile for this value.
Pro-inflammatory groups
The pro-inflammatory section gives information on Glycan Mature, which represents glycans that are missing galactoses, a sign of chronic inflammation.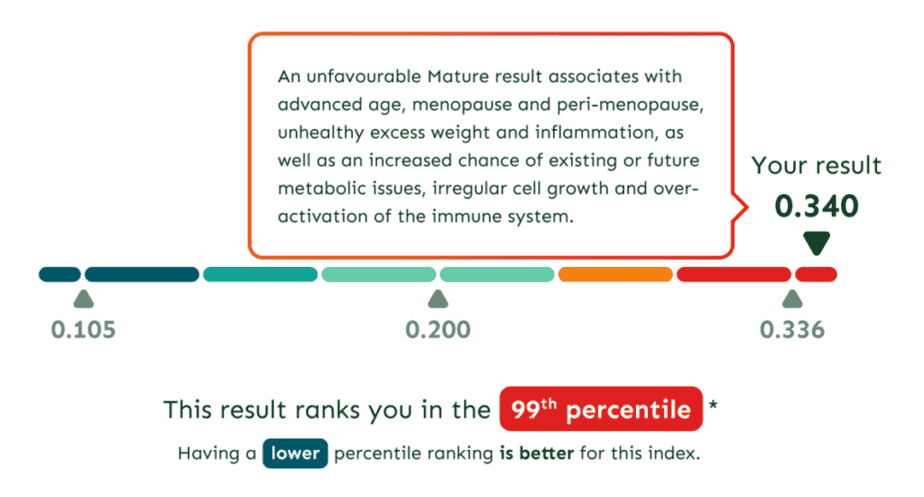 If the sample's percentile is over a certain amount an alert to the potential health effects will be noted in the results.
Supportive groups
Finally, the supportive group doesn't provide specific anti- or pro-inflammatory information. Instead, glycans in this category give additional information that can help a consultant give advice. These include glycans in the subgroups Glycan Lifestyle, those that have a bisection modification, and Glycan Median, those that have one galactose.
A good result of Glycan Lifestyle suggests a healthy lifestyle while a poor result correlates with smoking and obesity. The Glycan Median score is based more on your genes and helps you understand how well your body can process glycans.
The remainder of the report provides instructions for next steps, background information on the science and lifestyle, and a list of references.
The Glycan Mature measures IgG glycans without terminal galactoses and promotes inflammation, and the person scored in the bottom 4% for this category.
The Glycan Youth measures IgG glycans with two terminal galactoses and tends to suppress inflammation, and the person performed even worse, scoring in the bottom 2%.
The Glycan Health looks at IgG glycans in which terminal galactoses are further extended with an additional sialic acid and are considered a biomarker of good health.
The report also includes the raw data in CSV format, but it may not be useful without understanding what each of the 24 data points represents.
Review of Glycanage Privacy Policy
The company collects personal information directly from users, medical practitioners, or clinics that may have recommended their services. The data collected includes account information, inquiry information, consultation information, health profile questionnaire, testing information, research participant information, and web behavior information.
It claims to protect data under the Data Protection Act 1998 as well as the GDPR 2018 directive. Additionally, it also does not share private information with third parties without the customer's consent. The company also explicitly notes that it will not provide information or results to employers or health insurance companies.
As an assurance, the company uses standard physical, technical and administrative security measures.
Other GlycanAge Reviews
There are no reviews of Glycanage on third-party sites like Trustpilot and Amazon.
However, the company does share customer testimonials on its website. Customers have reported positive results with GlycanAge, with one person reducing their biological age by five years in 6-7 months and another improving their biological age by 18 years in 18 months. Another customer recommended using GlycanAge to measure health data instead of a gym membership.
GlycanAge in the News
The company has been featured in popular media outlets such as BBC, The Wall Street Journal, Daily Mail, and Forbes.
Most recently, in 2023, GlycanAge founder Gordan Lauc discussed the science behind the test on Longevity.Technology.
In 2022, Forbes interviewed the CEO, Nikolina Lauc, to discuss fundraising and women's health. GlycanAge is designed for both males and females but is particularly important during menopause, when the glycans change significantly.
Nebula Genomics
GlycanAge focuses on analyzing glycan biomarkers to assess biological age. The results directly relate to lifestyle decisions that reflect the body's age on a molecular level. In consultation with an expert, customers can use this information to make changes and improve their overall health and wellness.
This approach is different from the genetic analysis provided by companies like Nebula Genomics. We provide a comprehensive look at our customers' genomes that includes information on predisposition towards diseases, traits, and much more.
With 30x Whole-Genome Sequencing, Nebula sequences 100% of your DNA to get to the root cause of every biological inclination. The test is incredibly accurate and includes other additions, including ancestry reporting and genome exploration tools. Regularly updated reports ensure that you will not miss the latest genetic research.
Nebula is not a diagnostic test, but the results are of the highest quality and can be used in consultation with health care professionals.
For only $299 or less, customers will get access to their entire genome, allowing them to continue to ask more questions as more research is conducted.
| | | |
| --- | --- | --- |
| | GlycanAge | Nebula Genomics |
| Sample collection | Blood | Saliva |
| Testing method | Immune glycans | Sequences all 20,000 genes and regulatory regions |
| Results | Biological age | Genetic predispositions |
| Report | GlycanAge score and individual glycan breakdown | An extended genetic report that is updated regularly |
| Ancestry reporting | No | Performs deep ancestry reporting with the complete Y chromosome and mtDNA sequencing |
| Counseling | Yes | No, but data is of the highest quality and can be used by physicians and genetic counselors |
| Cost | $348-$599 | $0, $99, $299 |
Did you like our GlycanAge review? You can read more reviews on our blog and check out our complete guide to the best DNA test kit and other home tests.
Other companies
If you are interested in your biological age you might want to check out these other products: