7 Facts from our myDNAge Review
Location: Costa Mesa, CA
Products: Two epigenetic tests: Blood Biological Age Test and Urine Biological Age Test
Cost: $299
Reports: Biological age based on Dr. Horvath's epigenetic aging clock
How it works: Customers purchase a collection kit online (for either blood or urine) and collect the samle. They mail it back using the prepaid label. The DNA is analyzed for the methylation patterns to predict the DNAge® in the lab. The company then sends a data report summarizing the age prediction
Raw data download: No
Alternative Products: Nebula Genomics offers 30X Whole Genome Sequencing that decodes 100% of your DNA and gives reports on diet and much more!
This review is written with the intent to be as unbiased as possible. However, it represents the opinion of an individual reviewer and is therefore subjective. Furthermore, at Nebula Genomics we seek to educate the public about the benefits of Whole Genome Sequencing. Information about our Whole Genome Sequencing DNA test is therefore incorporated into the review.
April 4, 2023
Pros and Cons
Pros
Provides insight into aging and personalized health recommendations
Two sample collection options
Only company with rights to this analysis
Cons
Epigenetics is only one factor in overall aging
Cost not covered by insurance
Introduction
The Epimorphy myDNAge test provides valuable insights into the user's biological age. To that end, it includes personalized recommendations for lifestyle changes and dietary modifications to help improve health and reduce the risk of age-related diseases.
The myDNAge test is an epigenetic age determination test, a biological age test based on Dr. Horvath's epigenetic aging clock. In detail, it uses the company's proprietary SWARMTM (Simplified Whole-panel Amplification Reaction Method) technology to analyze DNA methylation patterns of over 2,000 loci on the human genome, generating high throughput epigenetic age predictions.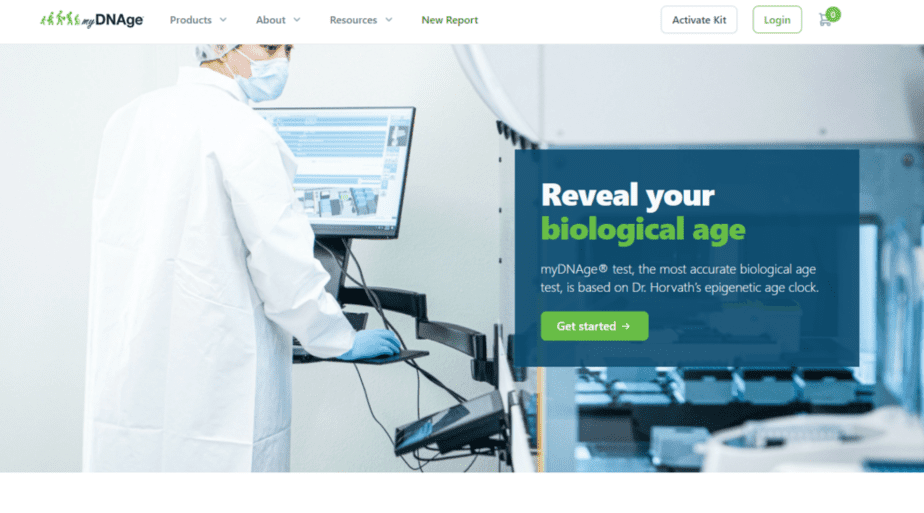 This company is the only one that can offer commercial services for Horvath's Clock age prediction because it has an exclusive license for the analytical sites on which the method is based.
The test is sold by Epimorphy LLC., which is based in Costa Mesa, CA. It ships to customers in USA, Canada, Europe and Australia. You must be 21 years and older to use this test.
This service has not been cleared or approved by U.S. Food and Drug Administration.
Review of the Science Behind myDNAge Test
Epigenetics refers to the field of science that deals with heritable changes in the genome that are not the primary DNA sequence. These modifications play a role in biological aging, such as metabolism and disease progression. Experts often use DNA methylation, the most abundant and best-studied epigenetic modification, as a representation of biological age. To this end, Dr. Steve Horvath created an analytical method based on 353 CpG (DNA Methylation) sites that serves as a biological aging clock.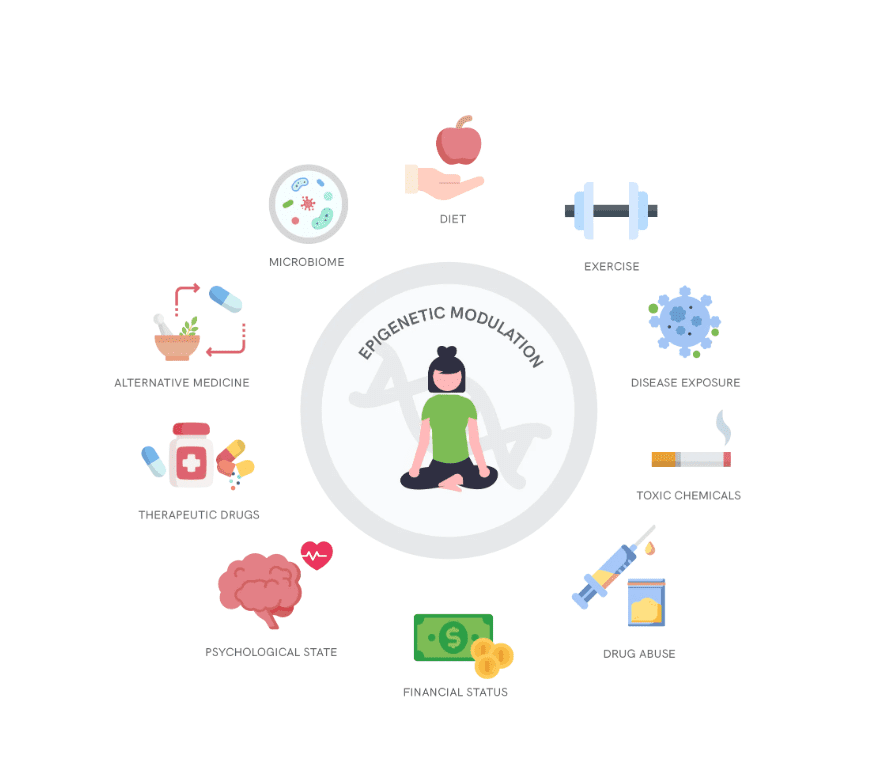 Epimorphy currently owns the exclusive license to these DNA methylation sites, and myDNAge uses most of them in their biological age test. Each methylation site can be either methylated (1s) or unmethylated (0s). The Hovarth clock applies the pattern of methylation across a person's DNA in sequences of 1s and 0s.
The company's algorithm compares it with patterns from people at different stages of life, providing customers with a personalized biological age predication.
Factors like genetics, lifestyle, diet, and environment can influence epigenetic modifications, like DNA methylations. Thus, understanding biological age can help customers take action to protect or manage these risk factors, improving health and quality of life.
Review of myDNAge Tests
myDNAge sells three epigenetic tests:
Blood Biological Age Test
Urine Biological Age Test
myDogDNAge Biological Age Test
The first two tests provide a similar output, with the difference being in sample collection (blood vs. urine). Customers can choose either based on their preference. While the performance of these two tests are very similar, the exact biological age may be different based on the kit used.
This is because the source of DNA is different, with the blood sample using white blood cells (overall immunity) and the urine test using urine (overall urinary tract health).
Blood Biological Age Test
The At-Home Blood Collection Kit is a lancet-based kit that requires 2-3 drops of blood.

There are several advantages to choosing the blood collection over the urine one. Overall, it provides a more complete assessment of the body's health than urine, which only assesses the urinary tract system. It also quantifies metabolic diseases risks. Finally, it has faster extraction and processing and better accuracy than the urine test.
Urine Biological Age Test
The at-home urine collection kit allows customers to get similar biological age results with the simple collection of urine. Some may prefer this collection method rather than the finger prick.

While the price is the same and the company notes that the results are similar, the blood test has several advantages noted above, including enhanced accuracy. Also, myDNAge Report Version 2 is not available with the Urine Biological Age test.
myDogDNAge Biological Age Test
The biological age test for dog's was a limited edition available through January 31, 2023. Users collect the DNA sample by using a cheek swab on their dog.
The test was developed by the company's scientists, using some data from Dr. Steve Horvath's pan-mammalian clock. When it was sold, it was only available to customers in the United States and took 8 weeks to process.
Review of Taking a myDNAge Test
Customers order one of the two collection kits from the website, either blood or urine. Once ordered, users will receive their collection device within a week.
Each kit contains instructions on how to collect the blood or urine sample. Then, customers mail it back using the provided prepaid return label.
Finally, results will be delivered by email in 4-6 weeks.

Both testing kits contain an instructional manual, biohazard bag, and prepaid return envelope. However, they differ in some components. For example, the blood test has blood collection tubes, capillary tubes, lancets, gauze pads, alcohol wipes, and bandages. In contrast, the urine test contains non-latex gloves, a transparent cup, a urine collection bottle, and a urine preservation reagent.
Review of myDNAge Cost
The price of any of the test products is $299.
The price includes the testing kit (blood or urine), shipping costs, sample analysis, and data summary report.
Review of a myDNAge Test Reports
The myDNAge report is about 30 pages long and contains five categories:
Results
Data interpretation
Index data interpretation
Genetic variants data interpretation
Resources
The results are a relatively small part of the report (about four pages) while the majority of the report is dedicated to data interpretation.
DNAge results
The main result is the calculated DNAge. In brief, this analysis of over 2,000 biomarkers compares the customer's biological age with their chronological age.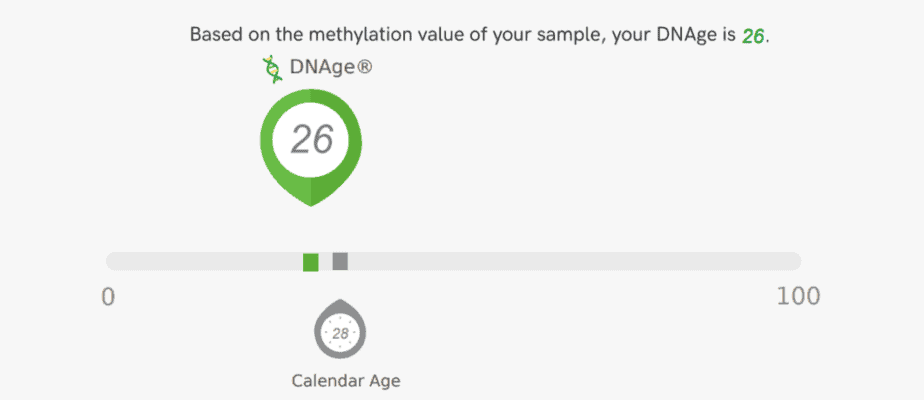 This also includes the DNAge index, which compares the customer's results to others of their same calendar age group and sex.
The next result is the Epi-Metabolic Index, a score developed to display risk of developing metabolic disorders.
If a customer's measurement is below the reference point, they are not at metabolic risk. The higher the measurement, the higher the risk.
The final part of the results section focuses on genetic variants. In the report, the company analyzes two SNPs (APOE and MTHFR) that may contribute to aging and thus the reported biological age.
For instance, the APOE gene encodes a protein that helps carry cholesterol and other types of fat in the bloodstream. Some variants are associated with reduced longevity and Alzheimer's disease. On the other hand, MTHFR encodes a protein that assists with metabolic pathways.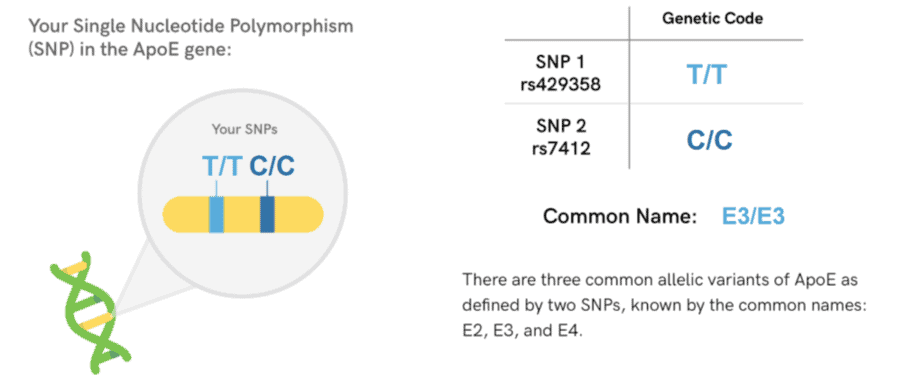 Some customers may not want to know their status on these genes as they are associated with debilitating conditions. Therefore, the results portion of the report will only show the SNP found. Customers will need to find the section of the report under genetic variants data interpretation to learn what their SNP means.
Interpretations
The next three sections of the report go into detail about what the results mean and the science to how the results were calculated.
The interpretation sections also include improvement plans of ways to better overall health and wellness, which can affect biological age. These include things such as reducing stress and air pollution and improving exercise and sleep.
The last section is a list of references.
Review of myDNAge Privacy Policy
The myDNAge epigenetic age determination service and myDNAge.com website are owned and operated by Epimorphy, LLC.
It claims that customer authorization is needed for it to share the results of the report with third-parties.
When they order a kit, customers provide personal information including name, age and address. None of the information is considered protected health information as defined under federal law. Additionally, kits are de-identified to minimize risk.
When a customer orders and submits a kit, the company owns the sample material and may use it and the data generated for any reason including but not limited to sharing with its associated research laboratory, Zymo Research Corp. for improving services.
The company claims that it takes reasonable steps to safeguard personal information but admits that no precautions insure complete security. These include internal and third party physical and technical measures.
Data is stored for a reasonable amount of time to provide services and comply with the law.
Other myDNAge Reviews
Customer reviews from myDNAge do not appear on third-party sites like Trustpilot.
The myDNAge test has a 3.7-star rating with 13 reviews on Amazon. Markedly, most customers felt the test was easy and straightforward and that the results were interesting.
Nebula Genomics
myDNAge is an epigenetic testing service that provides insights into biological aging based on alternations to the genome. Because biological aging is closely linked with lifestyle and environment, this information can help people make targeted choices to reduce their rate of aging.
Epigenetics is just one piece of the genetic puzzle. To complete a comprehensive view of how genes may affect your health, you can sequence your genome. This is also the most complete way to discover genetic predispositions.
Nebula Genomics offers a comprehensive test highlighting predispositions related to diet, fitness, disease, and much more. For this purpose, we use 30x whole genome sequencing, a next-generation sequencing technology that decodes all 20,000 genes in the human genome. Results also come with ancestry reporting and genome exploration tools.
Nebula also provides access to all of your raw DNA data. Thus, you can take your sequence and analyze it in any way you see fit.
Nebula is not an epigenetics-centered institution. However, it offers comprehensive information and tests for any genetic predisposition related to disease, traits, and health. We also provide customers with regularly updated reports on the latest genetic discoveries.
For only $299 or less, customers will get access to their entire genome, allowing them to continue to ask more questions as more research is conducted. This is also on par with the epigenetic test offered by myDNAge.
myDNAge vs. Nebula Genomics
| | | |
| --- | --- | --- |
| | myDNAge | Nebula Genomics |
| Sample collection | Blood or urine | Saliva |
| Testing method | Epigenetics | Whole genome sequencing |
| Reports | Biological age based on 2,000 biomarkers | An extended genetic report that is updated regularly |
| Raw data download | No | Yes |
| Counseling | No | No, but data is of the highest quality and can be used by physicians and genetic counselors |
| Cost | $299 | $0, $99, $299 |
Did you like our myDNAge review? You can read more reviews on our blog and check out our complete guide to the best DNA test kit and other home tests.
You can also find other epigenetic tests with these companies: