7 Facts from our TruDiagnostic Review
Location: Lexington, KY, United States
Products: Two epigenetic tests: TruAge Pace and TruAge Complete Collection.
Cost: $229 – $499
Reports: Report on core age tracking and traits based on epigenetics
How it works: Customers create their accounts and receive their chosen test at home. They provide a blood sample to return to the lab and receive results in 2-3 weeks
Raw data download: Yes
Alternative Products: Nebula Genomics offers 30X Whole Genome Sequencing that decodes 100% of your DNA and offers reports on diet and much more!
This review is written with the intent to be as unbiased as possible. However, it represents the opinion of an individual reviewer and is therefore subjective. Furthermore, at Nebula Genomics we seek to educate the public about the benefits of Whole Genome Sequencing. Information about our Whole Genome Sequencing DNA test is therefore incorporated into the review.
January 10, 2023
Pros and Cons
Pros
Epigenetics is backed by science
Company has its own laboratory and research arm
You can pay for the test products in installments
Detailed analysis
Cons
The tests can be expensive up front
No third-party customer reviews
Introduction
TruDiagnostic is a home testing company that seeks to help its customers understand and make changes to their health through decoding the epigenome. It also has a research and development arm that creates and investigates new methylation-based medical diagnostic tools. It has a CLIA-certified laboratory and an online portal for patients and health professionals. Overall, its focus is in the health and aging industry.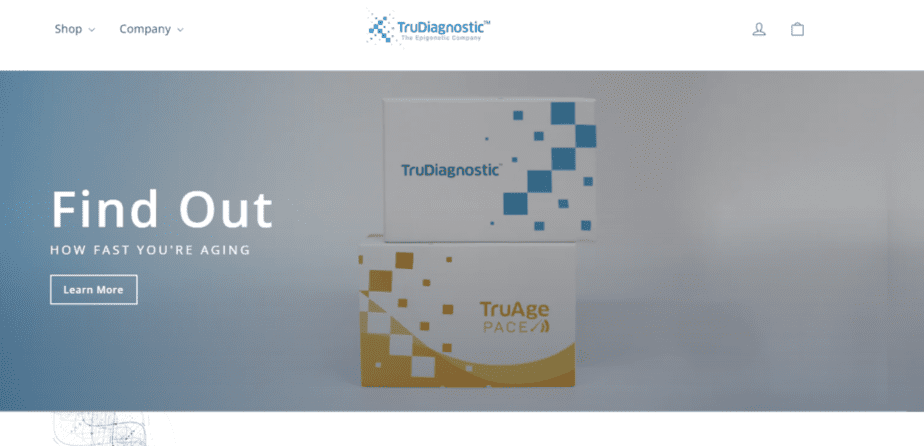 The company was founded in April 2020 as an epigenetic laboratory for researchers. Only three months later it began to offer epigenetic testing to the public. The following year it signed an exclusive agreement with Duke University to use the DunedinPoAm rate of aging algorithm in its public-facing test. Since then, it has continued to enhance its technology with new features, research, and collaborations. The current Medical Director of the company is Dr Stickler. He is also the co-founder of Apeiron ZOH Inc.
The Science Behind TruDiagnostic
TruDiagnostic is a commercial company and research institution offering two major tests backed by scientific evidence.
The company's aim is to deliver the most accurate information and analysis of epigenetics so that everyone can better understand their ageing biology process. To achieve this objective, the company leverages data generated in the largest private epigenetic database in the world to create tools that look at specific methylation data to detect changing disease risk factors.
They also run clinical trials with products that claim to reduce aging to see if they're as effective as claimed. The TruAge commercial test has been used in 30 clinical trials since its 2021. Finally, they partner with research institutes and top scientists globally to create new methods of epigenetic identification and new algorithms, many based on machine learning.
The two tests are a product of biological aging analysis. Individuals have a chronological age, which is how old they are in a number of years. They also have a biological age clocks, which is the age based on biomarkers. People experience biological aging through the gradual loss of function on the cellular and molecular level. Accelerated biological age can lead to chronic conditions such as heart disease.
Often, these two ages are not the same. Understanding your biological age and the factors affecting it can help you make lifestyle choices to change or maintain this age.
By analyzing epigenetics, you can access biological age calculations. The science of epigenetics is highlighted in published research by Steve Horvath, Morgan Levine, and others. Epigenetics describes how behaviors and environment can affect the way genes work. It's important to note that these are not genetic factors. Epigenetic changes are modifiable with a change in lifestyle.
Such anti-aging interventions include nutrition, exercise habits, medications, injuries, environmental pollution, sleep, stress, etc.
Review of TruDiagnostic Products
TruDiagnostic features two epigenetic clock products: TruAge Complete Collection and TruAge Pace. The TruAge tests analyze over 850,000 CpG loci and customers can download their raw data.
TruAge Complete Collection
The TruAge Complete Collection is the company's most comprehensive biological age test kit, offering the entire suite of aging reports and algorithms. Overall, the aging test works by helping customers understand the conditions that cause biological aging through epigenetic measurements. It also provides health insights into how they can make changes to lower it.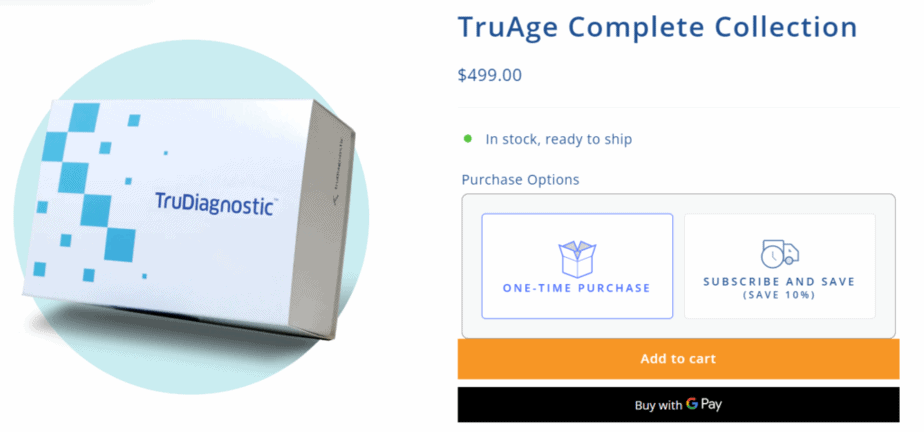 This test works in a different way from other drugs or products that reduce chronological aging. That is, it works by targeting the mechanisms that underlie biological aging and not just the obvious symptoms. The test measures DNA methylation. When the body wants to turn on or turn off a gene, it will add or remove a methyl group. Remember, epigenetics is the regulation of genes, not gene sequences.
Biological aging is the gradual loss of cellular function expressed by wrinkles to chronic diseases. While some products are aimed at taking off wrinkles, TruAge helps restore cellular health and stop the cause of function loss.
This test includes:
Core age tracking
Epigenetic Biological Age
Telomere Length (aging based on cellular replication)
Dunedin PACE (a speedometer for pace of aging)
Trait reports
Extrinsic Epigenetic Age (immune system)
Intrinsic Epigenetic Age (not based on the immune system)
Immune cell-type ratios and CD4:CD8 ratio
Weight Loss Response to Caloric Restriction
Lifestyle suggestions sourced to the latest public research on epigenetic aging
The Complete Collection option also lets customers download CpG beta values (raw data), receive new trait reports as they are added, and take advantage of a free 30-minute Epigenetic consult to discuss results, advanced reporting, and make a personalized plan.
Customers automatically receive 1,300 of their CpG beta values with this test. They can request the full 850,000+ data set at any time.
TruAge PACE
Although this is the newest product, it is essentially a basic version of the Complete Collection option.
Biological age is a summary of how a person's lifestyle choices and behaviors are affecting their body. TruAge pace is a biological pace of aging test that is highly sensitive to short-term changes.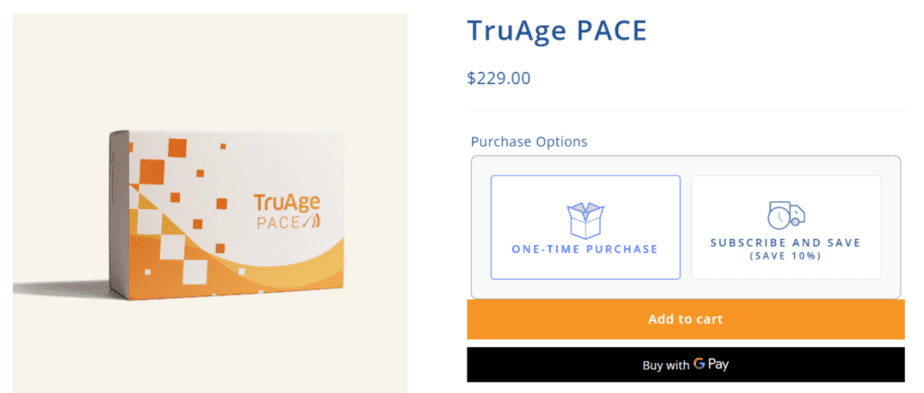 It is built as a starting point to measure epigenetic age acceleration. You can also use the company's report as a reference point to track changes in your lifestyle that are affecting your aging at a molecular level.
The test includes:
Telomere Length (aging based on cellular replication)
Dunedin PACE (a speedometer for pace of aging)
Lifestyle suggestions sourced to the latest public research on epigenetic aging
It does not include the other markers or services offered in the Complete Collection test. Instead, this product is designed to be more affordable so that customers receive the basic information at different time points. The company recommends retesting every 3 months to assess how lifestyle changes are affecting your biological age.
Review of Taking a TruDiagnostic Test
After ordering the test, the company sends the kits along with instructions on how to complete it. Customers first register their kit and then collect the sample on a blood spot card obtained from a pricked finger blood draw. Users ship the sample back to the lab in a prepaid envelope and receive their results in 2-3 weeks.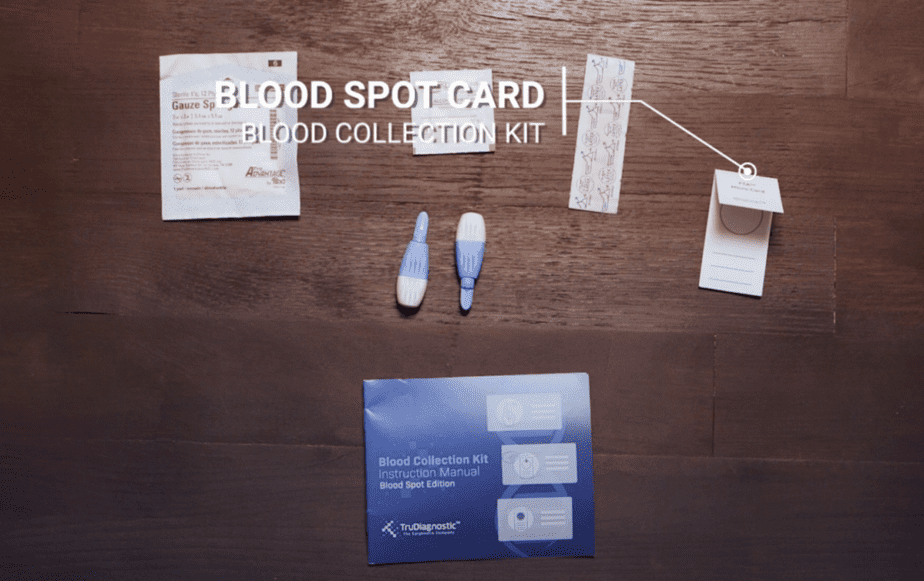 Every type of tissue has a different epigenetic signature. Since most of the published reference values use whole blood tests as the tissue source TruDiagnostics uses a blood sample to create the most accurate test.
The company used to offer an alternative way of blood collection through a Tasso+ device. Tasso+ sticks onto your shoulder and collects blood with a push of a button. Both kits had an option to include this device with purchase. However, as of December 2022, these products were sold out.
Review of TruDiagnostic Cost
When it comes to the prices, the TruDiagnostic products are more expensive than one would see with genetic tests. However, it's important to remember that the information is different. Epigenetic testing tends to be more expensive on average due to the technology and amount of information provided. An advantage of this company is that it allows payment in installments without interest.
Below is a summary of the prices of the test products.
TruAge Complete Collection: $499
TruAge PACE: $229
TruAge Complete Collection with Tasso+: $529
TruAge PACE with Tasso+: $259
Customers can also save 10% on either kit by signing up for a subscription.They can choose to have a new test shipped to them once every six months or once per year.
Review of a TruDiagniostic Report
The TruAge Complete Collection Report is one of the most comprehensive and includes information on the following:
Core Age Tracking
Epigenetic Biological Age and Whole-Body Summary
Telomere Length: Aging based on cellular replication
Dunedin PACE: A speedometer for your current rate of aging
Trait Reports
Extrinsic Epigenetic Age: Immune System Impact on Age
Intrinsic Epigenetic Age: Aging Independant of Immune System
Immune cell-type ratios and CD4:CD8 ratio
Your Weight Loss Response to Caloric Restriction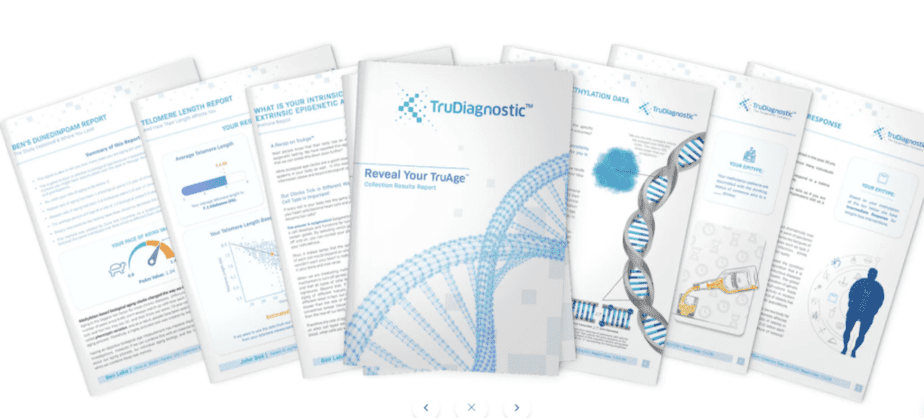 The smaller test pack, the TruAge PACE, allows users to track the pace of their biological age and depends on the Dunedin PACE technology. If a user reports below 1, then they are aging properly. If they report above 1, they are aging faster than they should. They also receive their telomere length information and lifestyle recommendations to help you feel years younger.
Review of TruDiagniostic Privacy Policy
The TruDiagnostic laboratory in Lexington, KY is CLIA certified, and HIPAA compliant. It does not use third-parties for testing or personal data sharing.
It collects and uses clients' personal information for providing services and improving them. Customers can choose to be contacted regarding third-party research opportunities. They can withdraw consent to participate in TruDiagnostic Research at any time in their account settings.
The third parties that may receive personal information are those involved in order fulfillment and shipping. It will also share aggregate information and personal information if required by law.
The company uses physical, technical, and administrative measures to keep personal information safe. It also regularly reviews and improves security practices.
Other TruDiagnostic Reviews
Customer reviews from TruDiagnostic do not appear to be available on third-party sites like Trustpilot. This could be a result of the company being fairly new (founded in 2020).
The company does include some ratings on its product pages, although it's hard to tell if there is bias in what it posts.
The TruAge Complete Collection test has a 4.5 star rating with 12 reviews. Most customers felt that the test was easy to use, contained valuable information, and the results were easy to understand.
The TruAge PACE test has only a single review, which rated the product as 5 stars. This customer thought that the product was easy and fun to do.
Nebula Genomics
TruDiagnostic is undoubtedly a standout epigenetics research institution and is well known for its success. However, epigenetics is just one part of your genetic blueprint. To get the most out of your DNA, you may want to also consider sequencing your genome. This type of analysis decodes your genes and helps you understand your risk of genetic predispositions.
Nebula Genomics uses 30x whole genome sequencing technology. This next-generation sequencing decodes all 20,000 genes in the human genome. Results also come with ancestry reporting and genome exploration tools.
Like TruDiagnostic, Nebula believes you should have access to all of your raw DNA data. Thus, you can take your sequence and analyze it in any way you see fit.
Nebula is not an epigenetics-centered institution. However, it offers comprehensive information and tests for any genetic predisposition related to disease, traits, and health. We also provide customers with regularly updated reports on the latest genetic discoveries.
For only $299 or less, customers will get access to their entire genome, allowing them to continue to ask more questions as more research is conducted. This is on par with the full epigenetic test offered by TruDiagnostic.
TruDiagnostic vs Nebula Genomics
| | | |
| --- | --- | --- |
| | TruDiagnostic | Nebula Genomics |
| Testing method | Dried blood for epigenetic analysis | Saliva test for whole genome sequencing |
| Reports | Report on the speed of Biological Age via Dunedin Pace of Aging algorithm and other factors that affect aging and cellular degradation over time | An extended genetic report that is updated regularly |
| Counseling | Yes (only with the Complete Collection option) | No, but data is of the highest quality and can be used by physicians and genetic counselors |
| Raw data download | Yes (only with the Complete Collection option) | Yes |
| Cost | $229 – $499 | $0, $99, $299 |
Did you like our TruDiagnostic review? You can read more reviews on our blog and check out our complete guide to the best DNA test kit and other home tests.
You may also want to check out other biological age tests from Elysium Health, GlycanAge, myDNAge, Muhdo, and ToolBox Genomics.