7 Facts from our Muhdo Review
Location: Ipswich, Suffolk, United Kingdom
Products: DNA Lite, DNA Health, and DNA Transform
Cost: $75-$250
Reports: DNA variants and an option for epigenetic analysis. It divides reports into four major categories: Health, Diet, Physical, and Vitamins
How it works: Customers order the test, provide a saliva sample and results are available within three to four weeks (up to eight weeks for epigenetic analysis)
Counseling available: Yes
Alternative Products: Nebula Genomics offers 30X Whole Genome Sequencing that decodes 100% of your DNA and offers reports on diet and much more!
This review is written with the intent to be as unbiased as possible. However, it represents the opinion of an individual reviewer and is therefore subjective. Furthermore, at Nebula Genomics we seek to educate the public about the benefits of Whole Genome Sequencing. Information about our Whole Genome Sequencing DNA test is therefore incorporated into the review.
September 27, 2022
Pros and Cons
Pros
Epigenetic analyses direct to consumers
Tests costs are competitive
Ships worldwide
Cons
No Whole Genome Sequencing
Free shipping only available in the UK and Germany
Introduction
Muhdo is a digital health service especially for customers who want to train smarter, eat smarter and understand their body. However, it is also great for anyone who wants better insight into their health.
It provides customers with test kits that look deep into crucial areas of their DNA health with up to 60 genetic reports focused on various aspects of health and actionable insights. Additionally, it sells an advanced test that includes epigenetics. It is especially passionate about making this science accessible to the community and workplaces.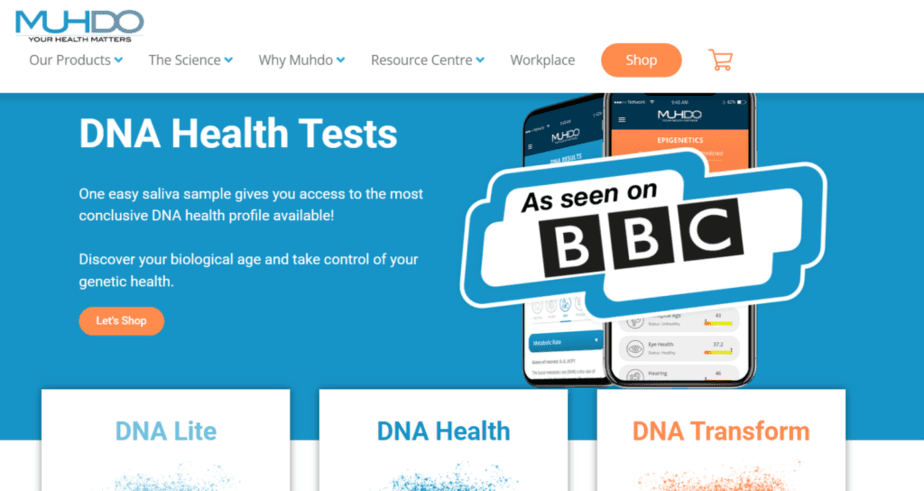 The company tests 1,000 genetic areas and provides over 300 DNA outcomes. These cover the immune system, mental, heart, skin, gut, muscle power, and others. The reports are divided into 5 core health areas and 12 key health insights.
Muhdo was founded in 2016 by James Brown and Dale Holdback. It employs a team of scientists, professional sports coaches, health professionals, and sports nutritionists. The company is based in Ipswich, Suffolk, United Kingdom.
The Science of Mudho
Two of Muhdo's DNA tests focus on the typical genetic variants that are linked to various health predispositions in the body. It employs a team of geneticists, sports scientists, nutritionists and physiologists in an effort to build the best customer focused brand.
Its third test is based on a complementary field called epigenetics.
Traditionally, epigenetics is used in cancer genetics and as an elite wellness tool. Muhdo claims to be the first company to run an epigenetics test available directly to consumers.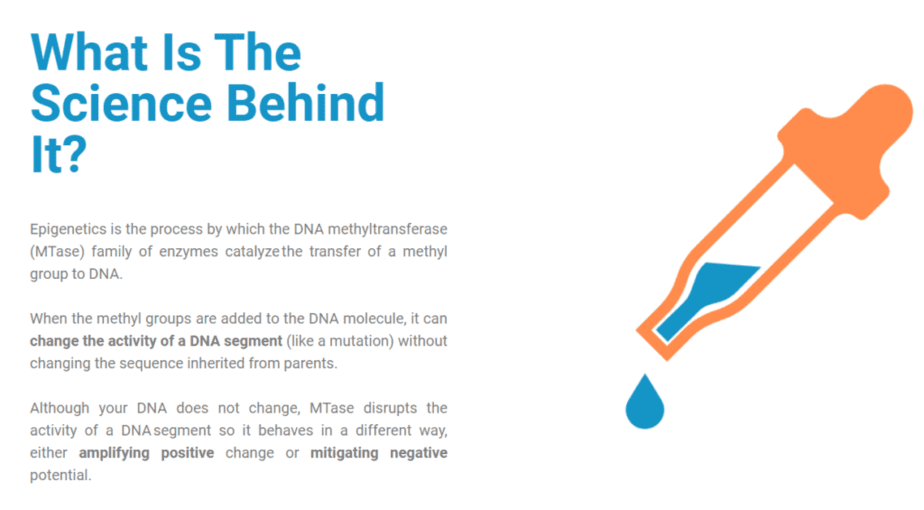 While most companies focus on inherited genes and how they affect people's lives. This company explores whether people's lifestyle and environment also contribute to their genetic predispositions and amplifies inherited vulnerabilities.
The company test kits exploit the power of epigenetics to provide customers with an in-depth understanding of their genes and how their lifestyle choices affect their overall health. The epigenetics feature is extremely important because it enhances the typical genetic test.
Epigenetics describes how the DNA methyltransferase (or MTase) enzymes family triggers the transfer of methyl groups to the DNA. As such, while an individual's DNA sequence doesn't change, its methylation can change the activity of a gene.
The tests analyze the MTase and how they are disrupting a user system either positively or negatively.
Review of Muhdo Products
Muhdo offers three products. Two of the test kits focus on genetic predispositions while the third also includes epigenetic profiling.
DNA Lite
We all have a unique genetic makeup, which needs a unique health plan specific to you. This genetic profile test gives you access to a genetic action plan showing the crucial areas that you need a boost to help improve your genetic health. It also includes over 45 reports and a meal guide with 100s of recipes.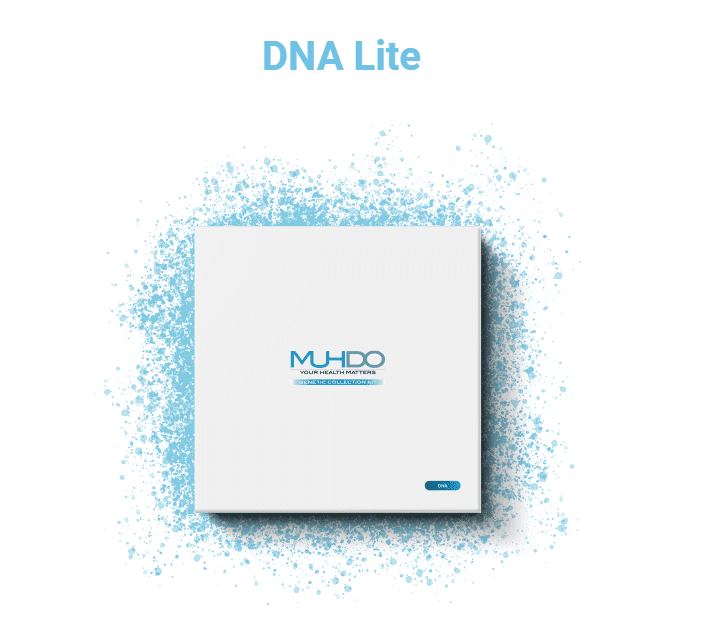 Categories included with this test are health, physical, diet, supplement response, and vitamins.
This DNA profile is a gateway into your genetic health in that it is an affordable option that provides a set of core health discoveries. Once purchased, customers have the option to add upgrades such as an on-call doctor and health insights.
DNA Health
In addition to the perks provided in DNA Lite, the DNA Health profile looks deeper into your health insight to provide you with guidelines to help improve your well-being and everyday life.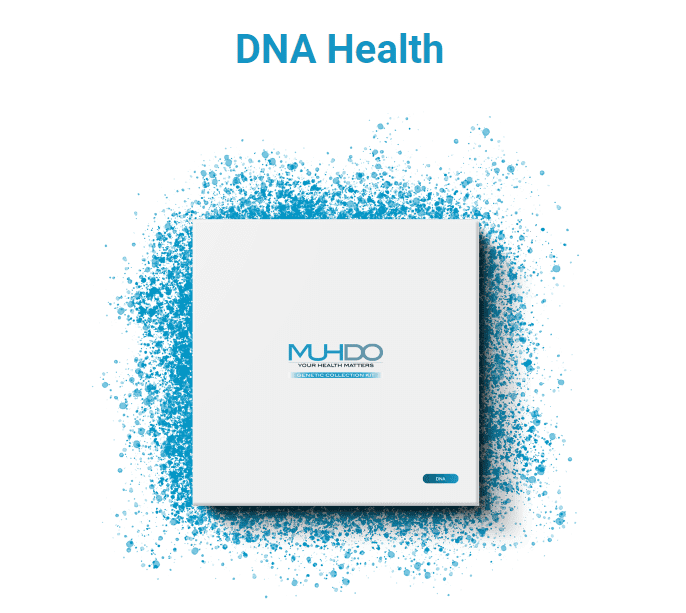 You would receive the meal guide with DNA Lite. With DNA Health, this guide is personalized and you also receive a workout planner. This feature guides best practices for weight loss, building muscle, fitness and endurance, and wellbeing.
This test increases the amount of DNA reports from 45 to 60. You get to know your response to things like saturated fats, protein, sugar, carbohydrates, your risk of lactose intolerance, snacking, and how your body metabolizes and distributes fat.
Health insights (also only available in DNA Health) include immunity, stress, risk of injury, sleep, muscle health, skin, gut, mental, and heart health.
After purchase, you can add upgrades such as an on-call doctor and epigenetic DNA analysis.
DNA Transform
Epigenetics demonstrates how our cells age (biological age) compared to our chronological age. Our biological age is a reflection of our inner health. DNA Transform helps determine your biological age and provides ways to make your inner self stay youthful.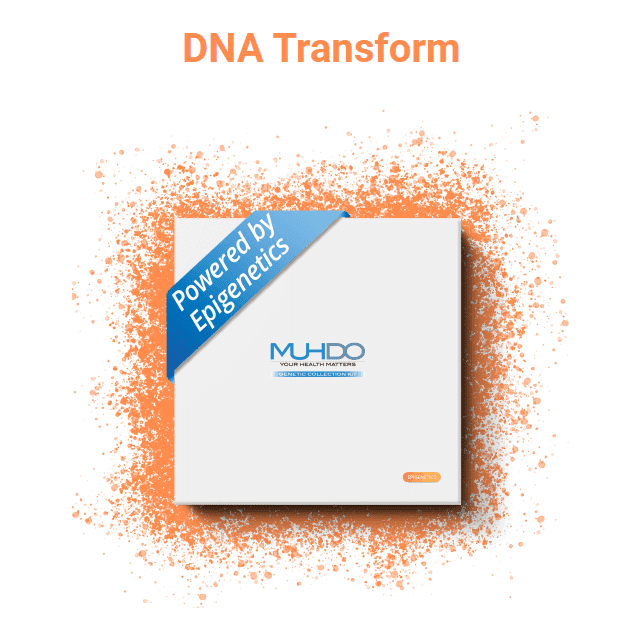 The epigenetic reports include biological age, memory age, hearing age, eye age, and inflammation. This test also comes with the features available in the other DNA tests: Core reports, Health insights, Workout planner, and Meal guide.
Customers can choose to add an on-call doctor after purchase.
On-Call Doctor
At Muhdo, your health is a priority, which is why this add-on service was created. You can access Muhdo's on-call doctors in the UK through calls, messages, or video chat. This service gives you access to registered doctors wherever you are, 24/7, even on weekends, and you can get your prescriptions delivered to your doorstep.
Review of Taking a Muhdo Test
You can purchase any of the three Muhdo tests by following the same process.
First, choose any of the three tests on the homepage and click the 'Buy Now' icon. You will receive the test in 7-14 days. Shipping is free.
You are required to download the app from either the Google Play or Apple App store to register your sample, complete your profile, and link your sample to your registration. Collect your DNA sample via saliva collection and return it to the lab in a pre-paid envelope.
Now, you wait until your result is uploaded to your user account. Results can take from three to four weeks for DNA and up to eight weeks for epigenetics results.
Review of the Muhdo Test Cost
The costs for the Mudho tests are standard, and even a bit below price compared to industry standards. They are not overpriced as they offer as much value based on the analysis.
The least expensive kit is DNA Lite which offers over 45 unique reports and an action plan. DNA Health is the next most expensive and includes about 60 health reports and a workout planner for weight management and muscle building. The DNA Transform is the costliest of the kits and offers all that the two first two tests provide customers and the epigenetics analysis.
DNA Lite: $75
DNA Health: $150
DNA Transform: $250
The company's on-call doctor service is another option available as an add on to any test. This service costs £19.99/month.
Review of Muhdo Reports
Muhdo reports are based on how a customer's genes affect diet, health, and fitness. All reports are delivered via the user-friendly Muhdo app.
DNA Lite
Category: Health Reports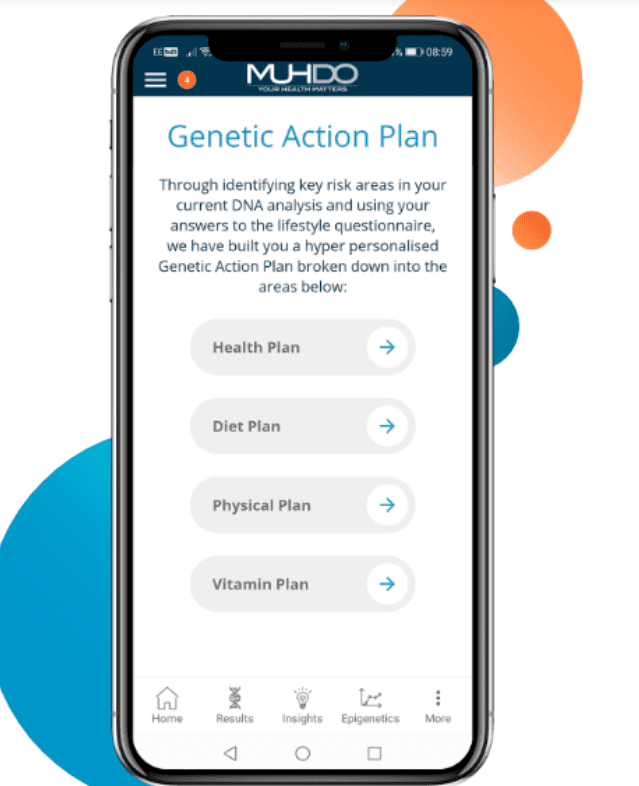 Category: Diet Reports
Carbohydrates
Saturated Fats
Unsaturated Fats
Protein
Sugar Response
Sweet Taste
Likelihood to Snack
Metabolic Rate
Fat Distribution
Yoyo Diet Response
Lactose Intolerance Risk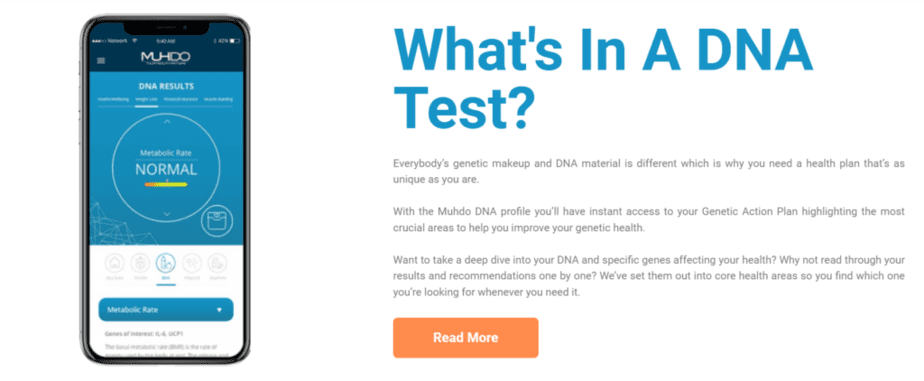 For each variant tested, you will be able to see whether your genes present a normal or elevated risk as well as details on the genetic variant analyzed.
Other report categories included in DNA Lite are Physical, Vitamins, and Supplement response.
DNA Health
The two major add ons to the DNA Health test are DNA insights. Below are two examples of the reports included.
Category: Immunity
Immune function
Vitamin D and immunity
B vitamins and immunity
Selenium and immunity
PTPN22 and immunity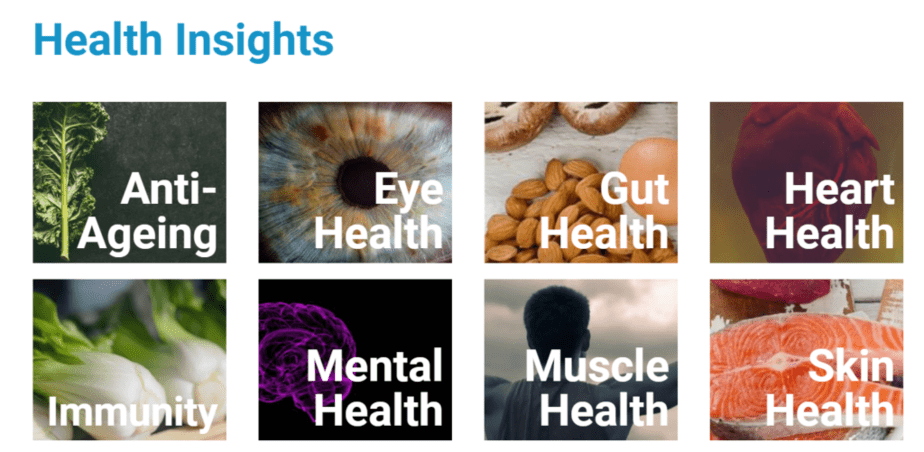 Category: Anti-aging
Keeping physically fit
Keeping cognition
Testosterone and aging
Maintaining strong bones
Back pain and aging
Stress and aging
Other DNA insight categories are heart health, mental health, skin health, addiction, gut health, eye health, injury risk, muscle health, sleep, and stress.
DNA Transform
In addition to all the features available in DNA Lite and DNA Health, DNA Transform also includes epigenetic analysis.
For example, the Biological Age category reveals how the current wear and tear on your cells compares to your chronological age. Information provided in this report can help you make lifestyle decisions that best support your biological age.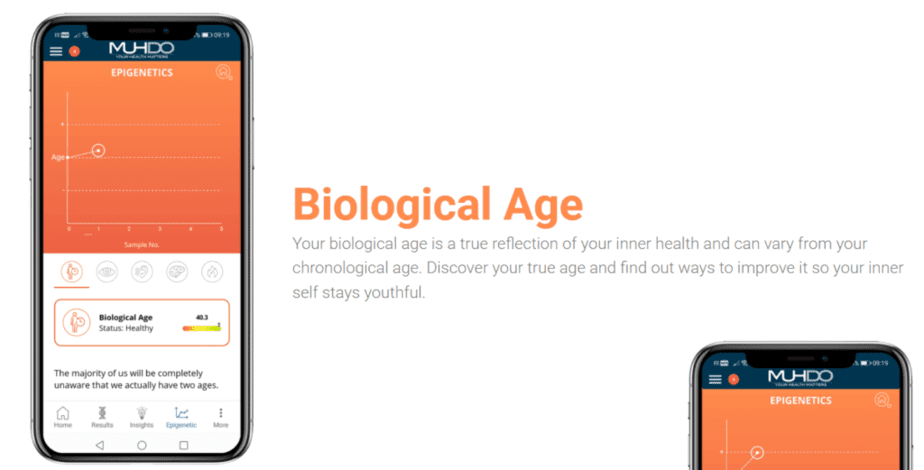 Other categories are eye age, memory age, hearing age, and inflammation score.
Review of Muhdo Privacy
Muhdo explains its commitment to protecting information in its privacy policy. Your name and contact address that you give to the company when answering their questionnaires are used to identify you and ensure that there are no errors when sending out orders.
Your genetic information that you submit to the company is used to provide you with a product or service that suits your needs. All data is anonymized in its database, identifying each sample with a unique ID number. Additionally, customer data is encrypted at all process points and stored on secure AWS servers. Finally, the company is also compliant with the European General Data Protection Regulations (GDPR).
Muhdo does not share, disclose, sell, or rent out any of its customers' information with a person who has no business in the service they provide. Any personnel or third party that is linked to the company that has access to customers' information uses it to help assist the company in the service they provide.
Other Muhdo Reviews
The DNA Health test kit is available on Amazon and has a 4.5 out of 5 star rating with 13 reviews from customers outside of the United States. Customers thought the product was easy to order and use and that the results were helpful for making lifestyle decisions.
On Trustpilot, the company has a 4.4 out of 5 star rating with over 300 reviews. Most customers noted that they had quick and productive experiences with customer service. A few reviewers replied that they did not receive their results on time. The company responded to these reviews in most cases.
The company has also been reviewed by other DNA review companies and has received relatively high reviews. These outlets include DNAweekly (8 out of 10), DNAtestingchoice (4.5 out of 5), and top10dnatests (8.4 out of 10).
Muhdo in the News
In 2021, Muhdo partnered with King's College London in a collaborative research project that focuses on providing epigenetics that improve health and lifestyle through AI advancements.
In 2022, Muhdo's parent company ToHealth was named Wellbeing Initiative of the Year at the Workplace Savings and Benefits Awards. The award recognizes employer and provider excellence and Muhdo's award is based on its strength to use its tests to improve employee wellbeing.
Other outlets such as New Scientist, Men's Journal, and Cycling Weekly have also featured Muhdo.
Nebula Genomics
Mohdu is a first of its kind genetic test to offer epigenetics at the direct-to-consumer level. In many ways, this option gives users more information than the typical DNA test on the market. In addition to genetic variants, epigenetics focuses on the molecular changes to DNA that can be influenced by environment and lifestyle factors. This can be important information to inform action plans for diet, fitness, and wellness.
However, something this approach leaves out is the other 99% of the genome, including X and Y chromosomes and regulatory regions. This deep analysis can only be offered through whole genome sequencing.
Nebula Genomics offers a comprehensive test that highlights predispositions related to diet, fitness, metabolism, disease, and much more. With 30x Whole-Genome Sequencing, Nebula sequences 100% of your DNA to get to the root cause of every biological inclination. The test is incredibly accurate and comes with other additions, including ancestry reporting and genome exploration tools.
The most comprehensive Muhdo test, DNA Transform, costs $250 for reports on 60+ genetic predispositions plus the epigenetic analysis. For only a fraction more, $299 or less, customers will get access to their entire genome and continuously updated reports. With Nebula sequencing, customers also get full access to their data and DNA exploration tools, allowing them to continue to explore variants outside of the provided reports and upload their raw data to other services.
Comparing Muhdo and Nebula Genomics
| | | |
| --- | --- | --- |
| | Muhdo | Nebula Genomics |
| Testing method | 1000 genetic areas plus epigenetic testing | Sequences all 20,000 genes and regulatory regions |
| Reports | App based reports and personalized action plans, including diet guide and workout plan | An extended genetic report that is updated regularly |
| Ancestry reporting | No | Performs deep ancestry reporting with the complete Y chromosome and mtDNA sequencing |
| Shipping | Worldwide, free in UK and Germany | Worldwide, free in the United States |
| Counseling | Yes, on-call doctor for an additional monthly cost | No, but data is of the highest quality and can be used by physicians and genetic counselors |
| Cost | $75 – $250 | $0, $99, $299 |
Did you like our Muhdo review? You can read more reviews on our blog and check out our complete guide to the best DNA test kit and other home tests.
You may want to check out our reviews on Elysium Health, GlycanAge, myDNAge, Toolbox Genomics, and TruDiagnostic, which also cover biological age tests.
Other combination tests include: