This review is written with the intent to be as unbiased as possible. However, it represents the opinion of an individual reviewer and is therefore subjective. Furthermore, at Nebula Genomics we seek to educate the public about the benefits of Whole Genome Sequencing. Information about our Whole Genome Sequencing DNA test is therefore incorporated into the review.
December 28, 2021
7 Facts from our Toolbox Genomics Review
Location: San Francisco, California
Products: Health and wellness-focused DNA and epigenetics tests
Cost: Pricing for the health-focused tests are not available. DNA tests cost $199 while the epigenetics test costs $249
Reports: The reports arrive about 6 weeks after the DNA sample has been submitted
How it works: The health-focused tests can only be ordered by a physician. You can place an order for the wellness-focused kits yourself. Once the test is ordered, the test kit is sent to you. The DNA test kit contains the swab with which you will take cheek cell samples. Once you take the sample, you send it back to the lab and wait for your results
Raw Data Access: Toolbox Genomics provides access to raw data to your physician
Alternative Products: Nebula 30X Whole Genome Sequencing decodes all the information on your genome. Nebula reads over six million positions on your genome to provide you with reliable results that can be used in consultation with a medical professional
Toolbox Genomics Introduction
Toolbox Genomics is a gene testing company based in California that offers at-home DNA and epigenetics test kits to patients who would like to learn more about their overall health and wellness. Toolbox Genomics was founded by Erika Gray, a pharmacist, and Elvina Hewitt, a nurse, who were passionate about helping healthcare practitioners understand the relationship between genetics and healthy living. Toolbox Genomics offers 17 different DNA tests, of which only 2 can be ordered directly by a consumer.
CLIA/CAP certified labs are used to process samples and generate data. By working with practitioners and wellness professionals, the company is dedicated to incorporating genetic information into practices.
Toolbox Genomics Review
Review of Toolbox Genomics products
DNA test
The DNA test is available for individuals to purchase themselves online. It decodes various genetic health predispositions and provides personalized exercise, diet, supplement and lifestyle guidance. It includes 300+ health reports from 1,000 analyzed genetic markers. This DNA test provides:
16 health predisposition traits
Custom meal plans
Personalized training regime
Vitamin recommendations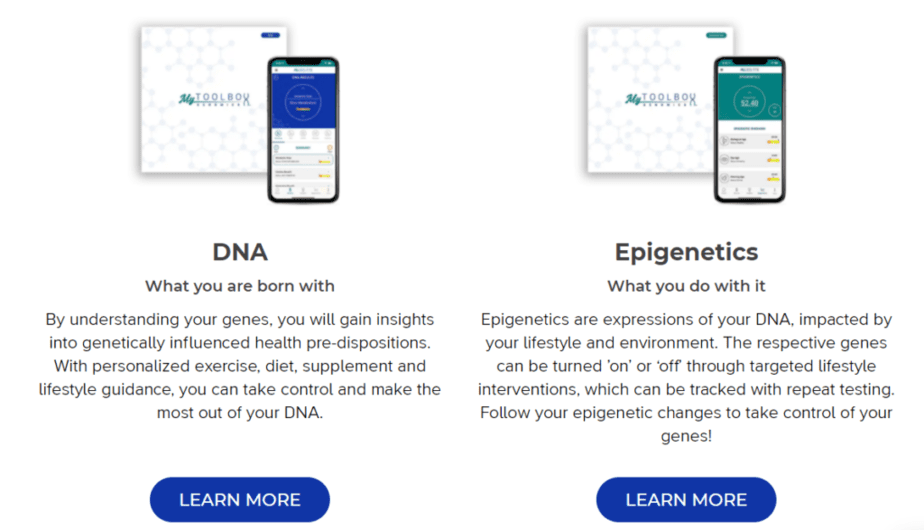 Epigenetics test
This test is also available for individual purchase. It measures the expression of DNA that is controlled by lifestyle and environmental factors. By targeting these areas, customers are able to better improve their health and wellness. By learning how their lifestyle has affected their genes, customers can view 5 insights they can change:
Biological age
Eye age
Hearing age
Memory age
Inflammation score
This test can also help you track DNA changes over time.
Both the DNA test and the epigenetics test come with a simple saliva collection kit, in-app + downloadable results, and app updates. They also include a virus risk score, which examines 60 different genes that play a role in susceptibility to different viruses, including respiratory viruses.
Elysium Health, GlycanAge, Muhdo, myDNAge, and TruDiagnostic are other companies that offer biological age tests.
Review of Toolbox Genomics Health panels
The following health panels available from Toolbox Genomics are only available through purchase by a licensed practitioner, who can provide medical advice on how the body responds to certain health conditions.
Cardiometabolic Panel
The Toolbox Genomics Cardiometabolic Panel reveals information on a patient's obesity, insulin resistance, sugar dysregulation, and other cardiometabolic conditions. This test helps to break down 8 traits and 78 genes, giving your physician insight into the risk factors of your condition.
The report of this test is accompanied by research-backed recommendations based on the results of your health testing which will enable your physician to make informed treatment decisions for you. Your physician gets detailed information on what nutrients are best for your heart and metabolism as well as lifestyle behaviors you can adopt in order to live a healthier life.
Cognitive Panel
This test is developed to assist people with psychological disorders such as depression, anxiety, loss of memory, and trauma. It helps your doctor understand your condition better to make him more proactive in recommending diet changes, exercises and treatments to improve your condition. The cognitive panel tests for 10 traits and 104 genes associated with different cognitive disabilities.
Energy/Fatigue Panel
This test will help your physician pinpoint the cause of your fatigue, headaches, and body pains. Making use of genetic testing, it analyzes 10 traits and 61 genes tied with energy and fatigue levels, allowing customized treatment plans to be created for you.

GI Panel
This test gives your physician better insight into your gastrointestinal problems such as diarrhea and constipation. The results are based on the analysis of 5 traits and 56 genes linked with gastrointestinal health. The results help your doctor make a decision on the best foods and lifestyle choices for your body.
Immune Panel
This panel is designed to help people with auto-immune conditions and other conditions that can lead to hormonal dysfunction. The panel analyzes 5 traits and 99 genes to help generate a tailored report and customized health recommendations for you.
The following tests are available to both licensed practitioners and wellness professionals:
Respiratory Resilience
The results of this test are meant to provide useful insight that will help you make the right choices for your respiratory system. This will help boost the resilience of your respiratory organs and decrease your risk of being infected by viruses in your surroundings. The test analyses 11 traits and 55 genes.
Nutrition Optimization
This test gives you insight into things like your alcohol and caffeine metabolism, food intolerances, and nutrient deficiencies. The Nourish panel is specifically designed to help you make the best diet and nutrition choices for your body based on your test results. It tests 20 traits and 39 genes in order to help you eat right and feel your best at all times.

Detox Panel
Designed to help people with weight loss problems, skin issues, mood swings and those who just want to get rid of environmental toxins, this test analyzes 17 different traits and 28 genes.
It provides an answer for why you find it difficult to lose weight and other conditions that may be caused by toxins and provides tailored diet and lifestyle recommendations to help you get rid of toxins and to stay healthy in a toxic environment.
Endurance
This test is best for endurance performance athletes and can help provide the extra bit of advantage which you need against your opponents. With specialized diet plans and lifestyle choices, you are able to eke out every drop of performance from your body. This panel tests for 24 traits and 40 genes. This includes recovery and oxidative stress.
Health Enrichment
This test provides an analysis of 21 traits and 35 genes, helping your physician make recommendations on how you can live a healthier life. This is a great test for those who are new to genetic testing as it provides a little bit of everything.
Hormone Panel
This test makes use of an analysis of 7 traits and 22 genes to shed light on the causes and treatment of hormone-related conditions such as depression, loss of libido, and irregular menstrual cycles.
Weight Management
This panel provides insight into how your body processes different foods in order to make an informed decision on the best foods to eat to attain a specific weight goal. The test also detects your risk of obesity and eating behaviors using the results from the analysis of 16 traits and 22 genes.
Additional Key Opinion Leader (KOL) Panels were specifically curated by Functional Medicine KOLs known for their renown work in their area of interest and notoriety.
Gut/Brain panel
Gut conditions can lead to brain problems, and this test has been designed to help practitioners to understand the genetic aspect of the gut to brain relationship. This panel analyses 6 conditions and 28 genes in order to give an accurate recommendation to your doctor.
Musculoskeletal Panel
This test is great for athletes, people with bad posture, and people who like to keep fit. It will help your physician choose the best diet and lifestyle decisions you will have to make in order to do more exercise.

Concussion Panel
This test is designed for people who play contact sports and have noticed a decline in their cognitive abilities and those who just want to check on their brains. The test checks for 5 conditions and 27 genes.
Taking a Toolbox Genomics Test
The Toolbox Genomics tests are only available to clients in the United States. A majority of the panels cannot be ordered directly by the client but only through a physician or practitioner. However, individuals can order the commercial DNA test or epigenetics test.
Once the test kit is ordered, the customer swabs the inside of the cheek using the included swab about a dozen times, breaks the swab into the included vial and then sends it back to Toolbox Genomics.

Results are available through the customizable Toolbox Genomics app. After receiving the sample in the lab, results for the DNA test are received in 4 weeks while the epigenetic results are available in 6-8 weeks.
Review of Toolbox Genomics Cost
The prices for most of the Toolbox Genomic tests are not available on the website as they must be purchased through a doctor's office. The DNA test is $199 while the epigenetics test is $249. If you buy the tests together, they cost $299, a savings of $50.
Currently, the tests are not covered by insurance companies.
Review of Toolbox Genomics Reports
Your Toolbox Genomic report arrives about four to six weeks after you send in your sample, depending on whether you ordered the DNA or epigenetic tests. These consumer reports are available either as a multipage PDF file in your email or through the customizable app.
The DNA results are located under the results tab at the bottom of the app. Customers can then scroll through the various genetic predispositions tested for and receive their personalized results.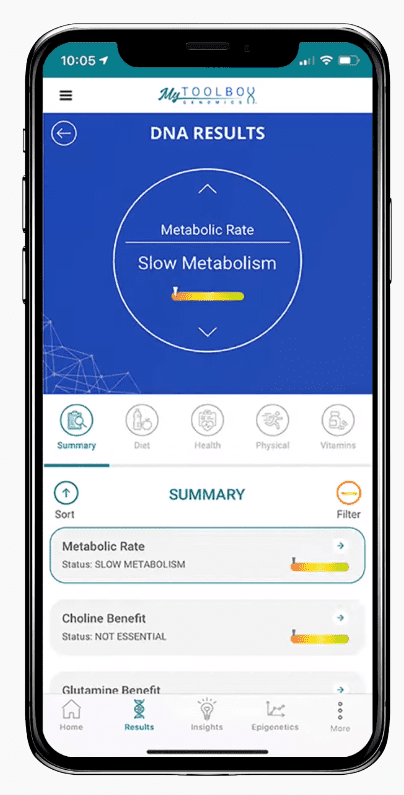 You are able to speak to an agent if you would like to have any part of the report explained further.
If purchased, the epigenetics portion of the app will provide the customer's overall biological age and a breakdown of what goes into that score.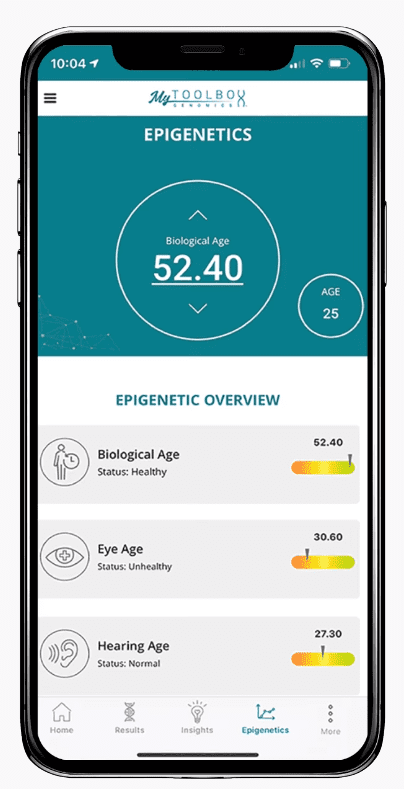 Sample reports of the health panels available to licensed practitioners and wellness professionals are available on the company's website. These samples include PDF versions of the 20-30 page health action plans and a practitioner detailed appendix. These reports can help potential customers decide if talking to their doctor about any of these panels is right for them.
Each report is divided into three sections: trait impact, traits, and recommendations. Most of the report is easy to understand and interpret. An expanded appendix provides more detailed results for healthcare professionals.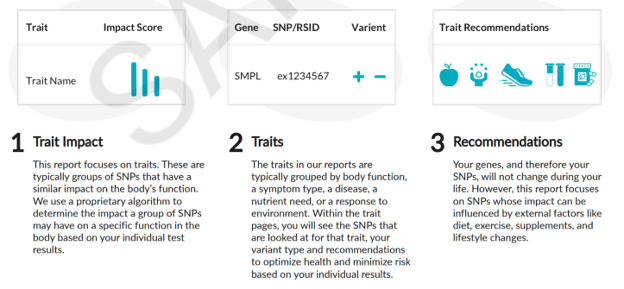 Impact traits are specific to the individual tested. They provide a high-level snapshot of the clinical significance of each trait within the panel.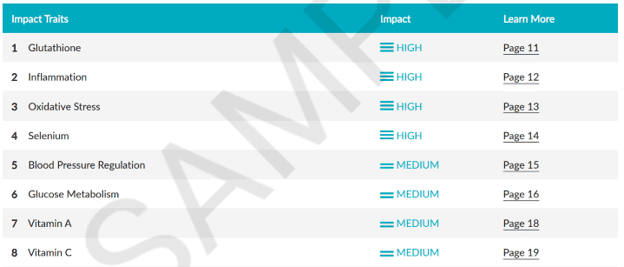 A large portion of the report is based on recommendations made on genetically influenced traits. These recommendations can include supplements (vitamins and minerals), diet, lifestyle, exercise, and further testing.
The appendix section of the report provides detailed information for health professionals. This includes the specific genes and SNPs detected in the test to prompt the specific recommendations.
Review of Toolbox Genomics Privacy
Toolbox Genomics claims to store your personal information or DNA without any of your personal details. Your sample is also destroyed once sequencing is complete and you can request that your raw genetic data be destroyed at any point in time.
Pros and Cons
Pros
Detailed reports on specific health areas
Personalized recommendations based on the results
Cons
It takes a long time to get the results of your test (4-8 weeks)
Most of the test kits can only be ordered through a practitioner
Nebula Genomics
Nebula Genomics provides a comprehensive view of your genome made possible through the use of 30x Whole Genome Sequencing. This technique enables Nebula to analyze the full genetic sequence of your DNA which is about 6.4 billion base pairs. This is a massive difference from other genetic tests which only analyze about 0.02% of your DNA or focus on specific SNPs, such as Toolbox Genomics.
The Nebula Genomics test kits can be ordered from your home. Although these tests are not diagnostic, they are of the highest quality and can be taken to your physician for analysis. They focus on predispositions to hundreds of traits and health conditions. Plus, you receive raw data of your entire genome. Thus, as more research becomes available you can continue to return to your data and discover more about your DNA. Nebula helps with this through DNA exploration tools and weekly updated reports based on the latest scientific discoveries.
The results of your genomic testing are completely private and you have total control over how your data is managed. Three test kits are available for purchase. The basic kit costs $99, the deep kit costs $299, and the ultra-deep kit costs $999. All of the Nebula Genomics test kits also provide you with ancestry reports in addition to the health reports you get.
| | | |
| --- | --- | --- |
| | Toolbox Genomics | Nebula Genomics |
| Sample collection | Cheek swab | Saliva |
| DNA testing method | N/A | Whole Genome Sequencing (30x coverage) |
| Ancestry testing | No | Deep ancestry reporting with full Y chromosome and mtDNA sequencing |
| Raw DNA download | No | Yes (FASTQ, BAM, and VCF files) |
| Report | A single report provided at the end of testing | Weekly genetic reports based on the latest research and data (learn more) |
Toolbox Genomics vs Nebula Genomics
Did you like our Toolbox Genomics review? You can read more reviews on our blog and check out our complete guide to the best DNA test kit and other home tests.
This company offers a variety of tests for different inquiries. Other companies that offer different testing options include: