7 Facts from our HAIRLOVE Growth Complex Review
Location: Boise, Idaho, United States
Products: Their flagship product, Growth Complex, promotes healthy hair growth. They also have a Nourish + Repair Serum for hair nourishment and other accessories
Cost: Growth Complex is $49. Accessories cost $22 – $57
Ingredients: Cynatine HNS (keratin), vitamin C, vitamin E, biotin, D-calcium pantothenate, zinc, selenium, and bioperine
Counseling available: No
How to order: Visit the official website
Other Products: Nebula Genomics offers 30X Whole Genome Sequencing that decodes 100% of your DNA and gives reports on diet and much more!
This review is written with the intent to be as unbiased as possible. However, it represents the opinion of an individual reviewer and is therefore subjective. Furthermore, at Nebula Genomics we seek to educate the public about the benefits of Whole Genome Sequencing. Information about our Whole Genome Sequencing DNA test is therefore incorporated into the review.
July 25, 2023
Pros and Cons
Pros
Science-backed ingredients
Customer satisfaction
Cons
Individual results may vary
Potential allergic reactions
Could be expensive
Introduction
HAIRLOVE growth complex uses carefully researched ingredients to create products that transform dull, lifeless, and thinning hair into hair that is longer, thicker, and healthier. It claims to be different from other vitamins on the market in that it prevents shedding and keeps hair in its growth phase. Items such as the flagship formula Growth Complex contain a comprehensive blend of nutrients to accelerate this growth.
The company's mission is to help individuals love and care for their hair, giving them the tools and confidence to embrace their unique beauty. The company manufacturers its products in the USA in a FDA-regulated facilities. It claims that because of the high quality of the production process, the ingredients will enter the body's system much faster than other supplements.
Additionally, a third party tests the formulations for potency and accuracy. A money back guarantee covers items up to a year after purchase if they are unsatisfied. This is known as the One Year Growth Guarantee.

Kaley Sparling, a passionate individual driven to help people transform their hair and boost their confidence, founded HAIRLOVE. She recognized the impact of vitamin deficiencies on hair health and set out to create a solution. Through much research and sourcing of high-quality ingredients, HAIRLOVE developed effective products backed by scientific studies.
The Science Behind HAIRLOVE
HAIRLOVE claims that vitamin deficiencies caused by poor nutrition from the modern diet deplete hair health. That is, when nutrients are scarce, the body puts them towards vital functions, taking from things like hair, skin, and nail growth first.
The company's Growth Serum works to counteract this depletion by supplying hair with the nutrients it needs to grow. For example, cynatine HNS is a revolutionary cosmeceutical ingredient comprised of solubilized keratin, which aids in protecting, reduce shedding, and repairing damaged hair, nails, and skin.
The company prides itself on using carefully researched and sourced ingredients to ensure the highest quality products. It has a list of studies done on each ingredient on its website. For example. one of the ingredients mentioned is piperic acid, derived from piperine found in Piper nigrum (black pepper).
A study by Choochana et al. explored the development of piperic acid derivatives as UV protection agents. The compounds showed potential as sunscreen ingredients, with varying SPF values and UVA/UVB ratios.
Review of HAIRLOVE Growth Complex and Other Products
HAIRLOVE offers a range of products designed to promote healthier and more beautiful hair.
Growth complex
A daily vitamin that revitalizes hair follicles for stronger, thicker, and healthier hair. The Growth Complex is packed with essential vitamins and minerals, which allows it to focus on reducing shedding, breakage, and thinning and promoting the growth of visibly thicker, longer, and shinier hair. For example, cynatine HNS supplements keratin to support and restore hair.
Customers should take take 2 pills daily with 8 oz. of water. The company notes that customers start seeing results after three months of using this product. It may take three to six months to see better fullness and over six months to see the full effects, like faster growing hair.

Other products
Nourish + Repair Serum: This argan oil containing omega-6 fatty acids and antioxidants repairs and nourishes the hair to treat damaged, frizzy hair and split ends. It absorbs easily and balances the pH in skin and hair, which allows it to also soften skin and help minimize wrinkles, making it a versatile solution for both hair and skincare.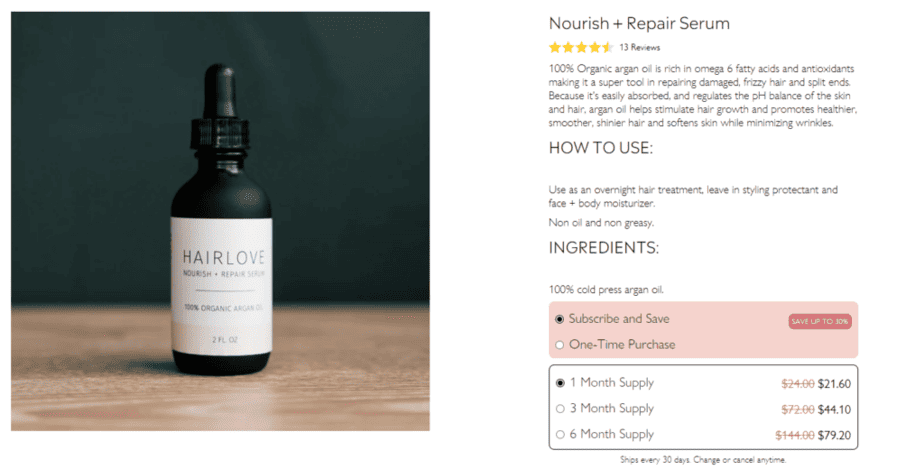 Customers can use the serum during the day, placing a few drops on their ends to keep them moisturized. It can also be used as a face moisturizer. Alternatively, customers can place it on their wet hair from midlenths to ends and leave it in overnight for a deep treatment.
Beauty Sleep Complex: The company designed this formula, made with made with non-habit forming ingredients, to assist in falling asleep quickly, staying asleep throughout the night, and waking up feeling refreshed and revitalized. It promotes quality sleep and supports the release of growth hormones and enzymes crucial for healthy hair. Additionally, it helps lower stress levels, which can cause hair loss, and stimulates the production of melatonin, a hormone known to promote hair growth.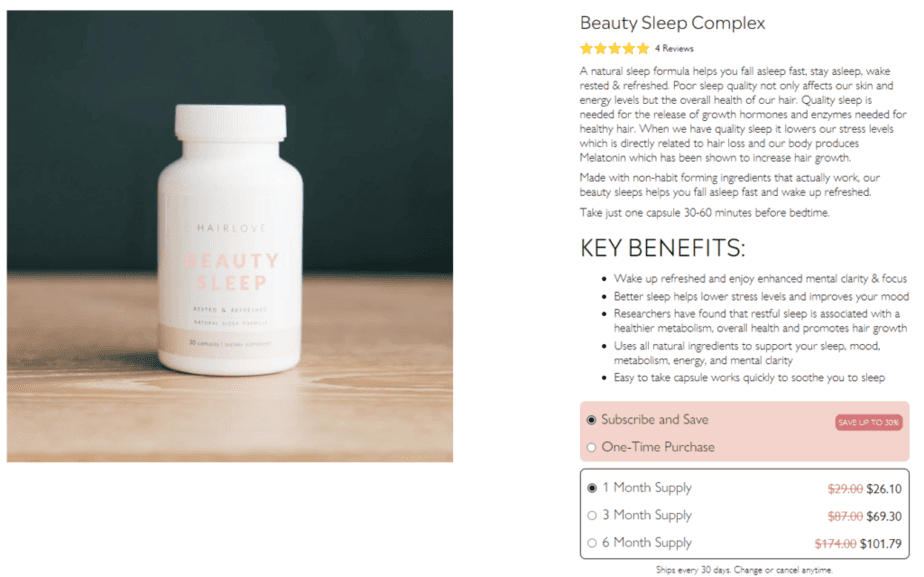 Customers should take one capsule 30-60 minutes before bedtime.
Accessories: HAIRLOVE also sells several hair accessories such as the Denman hair brush, luxury silk scrunchies, the silk beauty pillowcase, the detox scalp massager, the luxury hair towel, and the derma roller.
Review of HAIRLOVE Growth Complex Cost
Prices vary by product type:
Formulas
Growth Complex: $49
Nourish + Repair Serum: $24
Beauty Sleep Complex: $29
Customers can save up to 30% by subscribing, which will prompt the company to send refills automatically. There is also a discount when they order a supply of multiple months at one time.
Accessories
Denman Hair Brush: $37
Luxury Silk Scrunchies: $22
Silk Beauty Pillowcase: Starting from $57
Luxury Hair Towel: $27
Derma Roller: $33
Review of HAIRLOVE Privacy Policy
Most information regarding HAIRLOVE's privacy policy is found on its Terms of Service page. The link to the privacy policy in this page in unavailable.
HAIRLOVE collects personal data, including names, email addresses, and payment details, to deliver its products and services. There is a product disclaimer in the policy stating that the products have not been evaluated by the Food and Drug Administration and they are not intended to diagnose, treat, cure or prevent any disease.
It takes reasonable measures to protect personal information against unauthorized access or misuse. Users may receive promotional emails about products and services with unsubscribing options. HAIRLOVE's website is not intended for children under 13 years old, and they do not knowingly collect personal information from such individuals.
Other HAIRLOVE Growth Complex Reviews
HAIRLOVE has received positive customer reviews for its Growth Complex on its website with 4.7 stars based on over 350 reviews. Many customers expressed satisfaction with the products, highlighting how effective they are in promoting hair growth and addressing various concerns.
Some customers have specifically mentioned that they had a great success rate using HAIRLOVE's products to help them recover from hair damage caused by factors such as hair extensions or stress. In these cases, they report observing improvements in hair thickness and the growth of new hair.
On Amazon, HAIRLOVE Keratin + Collagen Complex has 30 ratings that give it an average of 3.8 stars. It has received mixed reviews. Some customers experienced positive results, such as shinier hair, improved skin, and hair growth. However, critical reviews mention side effects like acne flare-ups and dissatisfaction with the product's formulation.
Nebula Genomics
HAIRLOVE is a specialized option for those seeking to improve hair health and revitalize dull, fading hair. Did you know that hair troubles may be caused at least in part by your genes?
Nebula provides a comprehensive DNA test highlighting predispositions related to things like disease, traits, and wellness, including those on hair and skin.
With 30x Whole-Genome Sequencing, Nebula sequences 100% of your DNA to get to the root cause of every biological inclination. The test is incredibly accurate and includes other additions, such ancestry reporting and genome exploration tools. With the latter, you can easily explore your DNA and learn about discoveries focused on hair.
Regularly updated reports ensure that you will not miss the latest genetic research.
Nebula is not a diagnostic test, but the results are of the highest quality and can be used in consultation with health care professionals.
For only $299 or less, customers will get access to their entire genome, allowing them to continue to ask more questions as more research is conducted.
Did you like our HAIRLOVE review? You can read more reviews on our blog and check out our complete guide to the best DNA test kit and other home tests.
You may also be interested in these other hair care products: