7 Facts from our Rahua Review
Location: New York, New York, USA
Products: Plant-based hair care and body products
Cost: Varies based on product type and size. Generally, $6 – $176
Ingredients: 29 main ingredients, including several sacred to indigenous cultures. Example ingredients include Rahua (Ungurahua), Palo Santo, aloe, and cassava
Who this product is intended for: Although marketed mainly for women, anyone can use these products, including children
How to order: Products are available on the company website, Sephora, or Amazon.com
Alternative Products: Nebula Genomics offers 30X Whole Genome Sequencing that decodes 100% of your DNA and gives reports on diet and much more!
This review is written with the intent to be as unbiased as possible. However, it represents the opinion of an individual reviewer and is therefore subjective. Furthermore, at Nebula Genomics we seek to educate the public about the benefits of Whole Genome Sequencing. Information about our Whole Genome Sequencing DNA test is therefore incorporated into the review.
July 18, 2023
Pros and Cons
Pros
Natural and sustainable ingredients
Ethical sourcing and fair trade practices
Cruelty-free and no animal testing
Users reported positive results and improved hair health
Cons
High cost
The natural scent may not be appealing to everyone
Limited product variety compared to traditional brands
Introduction
Rahua is a rainforest-grown beauty brand that includes hair and body products. It uses rainforest ingredients such as Rahua oil to create unique nourishing formulations. The brand is committed to natural and organic ingredients, sustainability, and supporting indigenous people. Rahua oil transforms dry, damaged hair, giving it noticeable shine and makes hair feel healthy and nourished.
The company offers a diverse range of hair products for different types and concerns, including hydration, volume, color protection, and heat/UV damage protection. It also provides a variety of fragrance options. Rahua's offers shampoo, conditioner, styling products, treatments, and scalp care.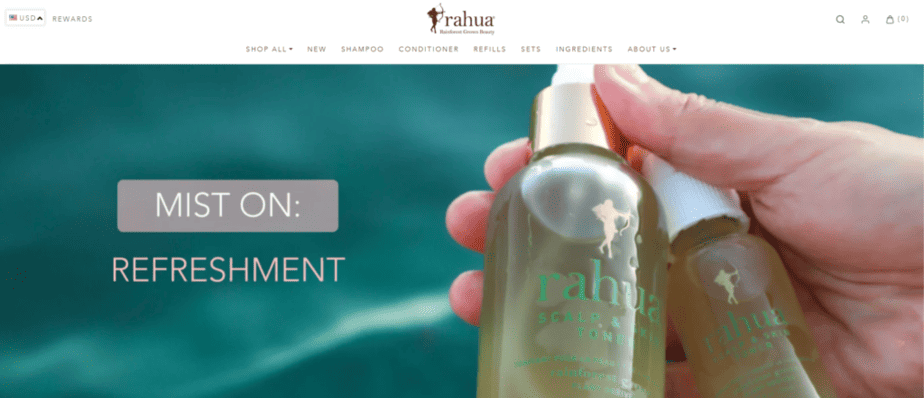 Logistics
Fabian Lliguin, a renowned hair stylist in New York City, and his wife, Anna Ayers, founded Rahua in 2008. Both founders are also environmentalists. Inspired by the powers of Rahua oil used by native communities, including the Quechua-Shuar tribes, in the Amazon rainforest, the brand aims to share this traditional beauty secret with the world. Rahua's philosophy centers around sustainability, natural ingredients, and the wisdom of indigenous tribes.
The founders have built relationships with Indigenous communities in the Amazon to help preserve the Amazon rainforest. Their work to protect the forest has helped make Rahua a carbon neutral company. Several products also support other preservation work, including Ecoagents.org, Landislife.org, and The Pink Flamingos Project.
By using Rahua products, the company believes customers are helping to preserve the rainforest through the use of safe, sustainable products that support Indigenous families.
Review of the Science Behind Rahua
Rahua uses non-toxic, plant-based products that have beneficial properties for healthy hair and skin.
The critical ingredient, Rahua oil, deeply nourishes and strengthens hair while promoting a healthy scalp. Additional rainforest ingredients like Morete and Sacha Inchi oils provide protection, shine, and moisture balance. Products may also contain other natural components such as green tea and sea salt.
These ingredients are carefully combined with plant-derived components known for their beneficial properties, resulting in effective and visible results. Rahua products are free from harmful chemicals and are formulated to promote healthy, lustrous hair and nourished skin.
The brand is also committed to sustainability and minimalizing environmental impact. It buys ingredients direct from tribespeople who cultivate them using ancient traditional methods, paying them a higher price.
In total, Rahua sources its ingredients from over 70 countries and over 10 Amazonian nations. Products are manufactured in USDA organic facilities in the United States. It is cruelty free, meaning it does not test its products on animals.
Review of Rahua Products
There are currently seven categories of products on the Rahua website: shampoo, conditioner, styling, treatments, scalp care, body care, and fragrance. The company also sells refills, sets (shampoo and conditioner), and gifts. When reviewing its products, customers can alternatively search by hair type (dry, frizzy, fine, etc.).
Products generally ship within 5-7 business days after ordering.
Here are five of Rahua's best-selling products:
Legendary Amazon Oil™
This oil is a daily hair treatment that deeply nourishes and strengthens hair. It is formulated with rahua oil, sourced from the Amazon rainforest. The product also contains morete oil, sacha inchi, aloe, and gardenia flower. The company notes that it prevents frizz and flyaways, heals split ends, and promotes shine.
The company sells the product as a 1.6 oz bottle for $44. Customers only need one to two pumps from hair's mid-length to end so it will last a while. It can be used on all hair types.
Hydration Daily Care Set
This set includes Rahua shampoo and conditioner specifically designed to hydrate hair and scalp. Designed for customers who experience any level of hair dryness, the set costs $74 for 9.3 oz of each product. Ingredients include rare Amazonian oils and natural protein-bonding sugars.
Rahua Hydration Detangler + UV Barrier
This moisturizing detangler not only helps ease knots and tangles but the Morete oil also acts as a UV barrier to protect color-treated hair. It is a lightweight formula that also smooths and softens.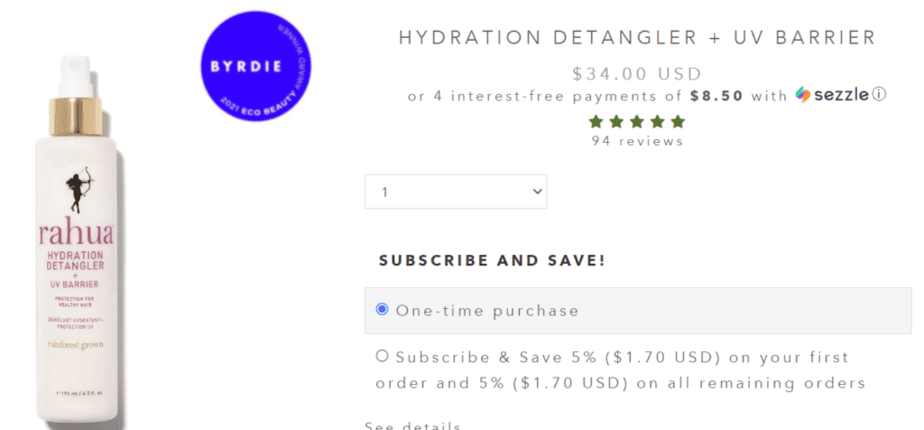 Ingredients include Morete (Buriti) oil, Rahua, Sacha Inchi, and organic mango sugars. Customers should mist the product on damp or dry hair and comb through, not washing the product away. It is designed for all hair types.
Classic Essential Hair Care Set
This set contains shampoo and hydration conditioner for maintaining healthy and vibrant hair. It claims to fortify and restore. Ingredients include Omega-9 rich Rahua oil. The set costs $74 for 9.3 oz of each product.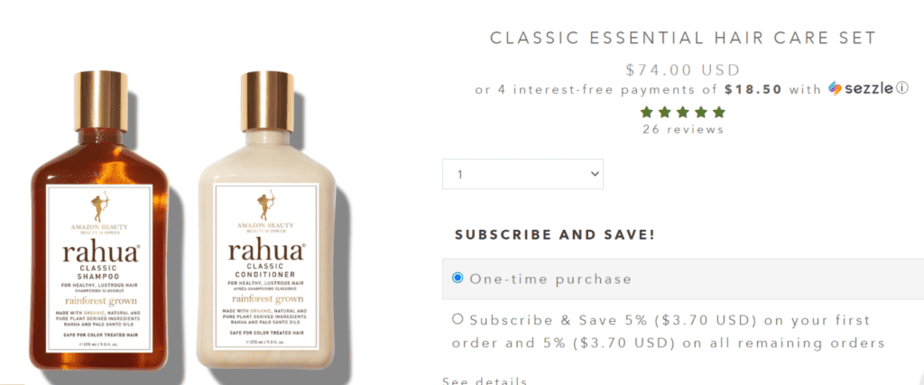 Omega 9 Hair Mask
This conditioning hair mask is enriched with omega-9 fatty acids that deeply penetrate the hair shaft, providing intense hydration and repair. It helps to restore and strengthen damaged hair, leaving it soft, revitalized, and shiny.
Ingredients include Rahua, sunflower seed oil, quinoa, lavender, and eucalyptus. The company instructs customers to apply before or after shampooing hair, combing, and rinsing after 10-15 minutes. It is intended to be used once per week and takes about 2-4 pumps per application, depending on whether the customer has thick or fine hair. A 4 oz bottle costs $44.
Review of Rahua Cost
The cost of Rahua products varies depending on the type and quantity purchased. Some ranges are below:
Shampoo: $32-$40. Sets: $58-$74. Refills: $32-$38. Travel sizes: $6-$10
Conditioner: $38-$40. Sets: $72-$78. Refills: $34-$38. Travel sizes: $6-$12
Styling: $32-$58. Travel size: $6-$14
Treatments: $32-$176. Travel size: $6-$16
Scalp care: $34-$240
Body care: $32-$60. Sets: $62-$156. Refills: $30
Fragrance: $22-$60
There is a subscribe and save option on individual products and refills that allows customers to save 5%. It is not available on sets or travel sizes.
Review of Rahua Privacy Policy
Rahua, owned by Amazon Beauty Inc., values privacy and protects the personally identifiable information customers provide. This includes name, address, phone number, etc. The company only uses this information to provide the requested services as well as marketing and research purposes.
It does not sell or rent information to third parties unless required by law.
Other Rahua Reviews
Rahua includes reviews on each product's ordering page. There is a also a page that summarizes everything. With over 1400 reviews, the products have a 5.0 rating on the company's website. Many users highly recommend the company and appreciate the effectiveness of the products and the natural, rainforest-grown ingredients.
There were a few reviews stating that the quantity of some products seemed small for the price or that the customers disliked the scent.
On Amazon, most Rahua products have a 4-4.5 star rating. The number of reviews depend on the product. Some, like the Omega 9 Hair Mask, have only two reviews while others, like the classic shampoo, have close to 600.
In the case of the classic shampoo many customers appreciated the natural ingredients and felt that the product made their hair and scalp healthier. However, some reviewers did not like the smell and thought the cost was too high.
Nebula Genomics
Rahua is a hair care company focusing on natural and sustainable ingredients. While companies like Rahua make products that benefit most customers, it's important to remember that not all products may work for all hair types. It can also be difficult to determine the exact kind of hair treatment you need.
To help determine what you may be predisposed to, you should consider genetic testing. Most companies only look for specific variants, which may or may not include genetics related to hair and skin health. On the other hand, whole genome sequencing provides you with all your genetic information, allowing you to explore variants, even if they are not listed on a report.
Nebula offers 30x Whole-Genome Sequencing, a test that sequences 100% of your DNA to get to the root cause of every biological inclination. The test is incredibly accurate and includes other additions, including ancestry reporting and genome exploration tools. Regularly updated reports ensure that you will not miss the latest genetic research.
Nebula is not a diagnostic test, but the results are of the highest quality and can be used in consultation with health care professionals.
For only $299 or less, customers will get access to their entire genome, allowing them to continue to ask more questions as more research is conducted.
Other companies
Did you like our Rahua review? You can read more reviews on our blog and check out our complete guide to the best DNA test kit and other home tests.
You may also be interested in these other companies with hair care and treatment products: