7 Facts from our Tricovit Review
Location: Plantation, Florida
Products: Four hair growth products: lotion, tablets, shampoo, and conditioner
Cost: $33 – $85
Ingredients: Naturally derived active ingredients including capsaicin, Vitamin C, menthol, amino acids, minerals, and antioxidants
Counseling available: No
How to order: Products are available to order on the company's website or Amazon
Alternative Products: Nebula Genomics offers 30X Whole Genome Sequencing that decodes 100% of your DNA and gives reports on diet and much more!
This review is written with the intent to be as unbiased as possible. However, it represents the opinion of an individual reviewer and is therefore subjective. Furthermore, at Nebula Genomics we seek to educate the public about the benefits of Whole Genome Sequencing. Information about our Whole Genome Sequencing DNA test is therefore incorporated into the review.
August 8, 2023
Pros and Cons
Pros
Natural ingredients
Developed by dermatologists
Good reviews
Cons
Individual results may vary
Cost
Results depend on continuous use
Introduction
Tricovit is a dermo-cosmetic hair thinning treatment offering a natural alternative to prescription options. Formulated by Italian dermatologists and backed by 30 years of success, the company claims that Tricovit products nourish, protect, and maintain healthy hair growth. With a balanced system of gentle surfactants, Tricovit aims to regulate scalp sebum, promote better and stronger growth, balances oil on your scalp, improves follicle health, and enhances the overall appearance of hair. 
One of the key breakthroughs in Tricovit's history came with the development of Terraliss, a binding protein derived from tannins. By transforming the richest and most efficient tannins into a safe and natural binding protein, Tricovit unlocked the potential of natural ingredients to deliver optimal results for hair growth and maintenance.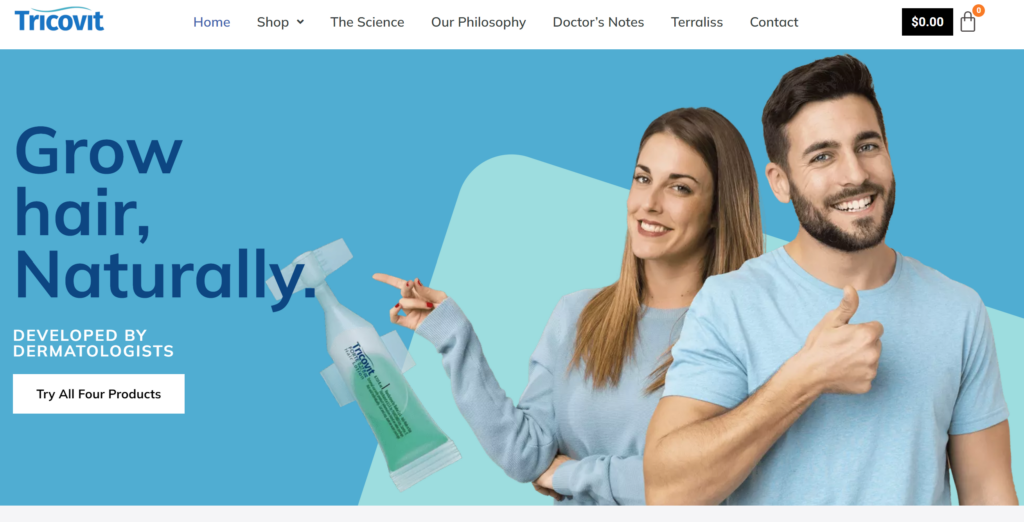 The story of Tricovit begins with the collaboration of renowned Italian dermatologists who recognized the need for advanced treatments for various hair concerns. Drawing upon their expertise in dermatology and hair biology, they used research and experimentation to create a range of products that would address the root causes of hair loss, thinning, and other common hair-related issues.
The Science Behind Tricovit
Tricovit targets different types of hair loss including androgenetic alopecia (caused by hormones), telogen effluvium (caused by stress), anagen effluviumemploys (caused by cancer drugs or other toxic chemicals), and traction alopecia (caused by local trauma to hair follicles).
The company claims that its four-step treatment combats hair loss resulting from these conditions and promotes healthy hair growth. Specifically, their formulation is designed to stimulate the growth phase of hair, regulate the amount of oil in the scalp, increase blood flow to the follicles, basic formation of hair, provide vitamins and nutrients, assist in the basic formation of hair and keratin structure, and protect hair from internal and external factors such as hormones, stress, and humidity. These components are the major aspects essential to healthy hair.
Review of Tricovit Hair Products
The Tricovit follicle treatment consists of four products. The company designed them to be taken together to promote healthy hair growth. It also notes that customers must use them for a least three months to see results.
Lotion: Offered through Tricovit, Forte lotion strengthens and balances oil for hair and scalp irregularities. It mainly affects the hair follicles to keep hair growing and prevent damage. The active ingredients are capsaicin, D-panthenol, and hyaluronic acid. Customers should apply the product to damp or dry hair three times weekly and message the scalp without rinsing.
Tablets: These Tricovit tablets are dietary supplements that contain a formulation for healthy hair and nail nutrition. They contain amino acids, methionine, minerals, zinc, iron, and antioxidants (CoQ10, glutathione, selenium, and vitamin B5). Customers should take two capsules daily.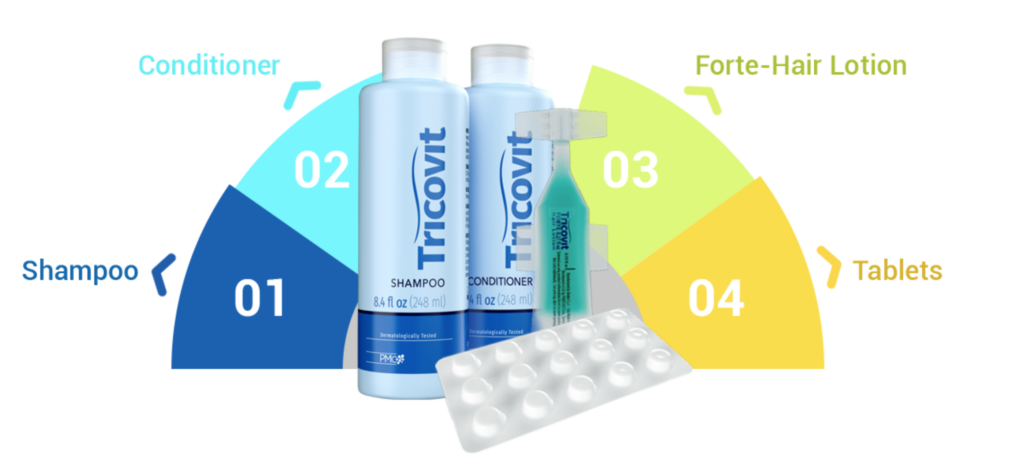 Shampoo and Conditioner: These hair products are specially formulated to cleanse the scalp and hair, remove impurities, and clear follicles of excess sebum. They create a healthy environment for hair growth and leave the hair clean and refreshed.
Customers should apply Tricovit shampoo evenly to damp hair and massage into the scalp. Rinse out and repeat as desired. Then, they can use the conditioner and and rinse, as they would with traditional products.
Tricovit shampoo contains active ingredients that help improve the condition of the scalp's natural oil and the appearance of the hair.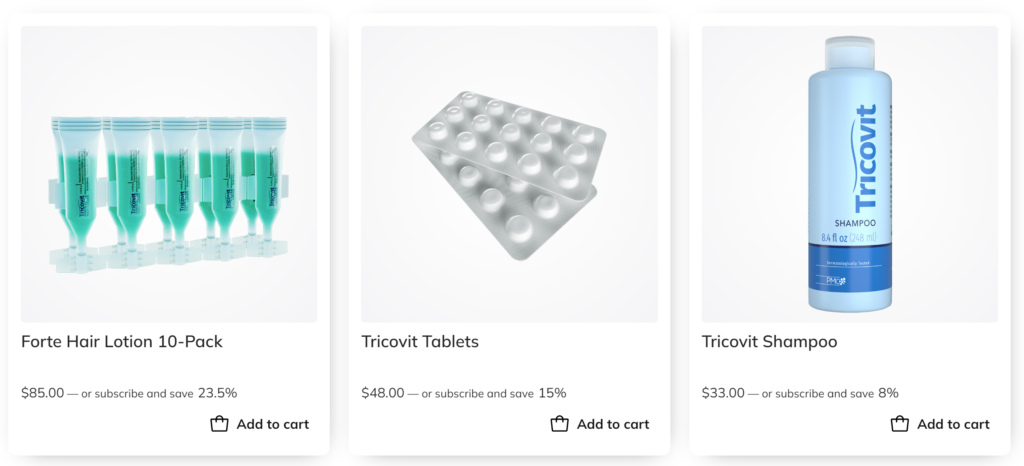 Tricovit Pro: Tricovit Pro is an advanced solution that can be paired with the Forte lotion for a more intensive hair care regimen. It provides additional support for healthy hair growth, enhancing the effectiveness of the treatment.
Review of Tricovit Cost
The cost of Tricovit products are relatively high compared to traditional hair care products. This is enhanced by the fact that customers must buy all four to take advantage of the promised treatment.
Customers can get a percentage off if they subscribe to have their products shipped automatically at regular intervals.
Lotion 10-Pack: $85 (subscribe and save 23.5% if shipped monthly 65.03 or 35% 165.75 if shipped every three months)
Tablets: $48 (subscribe and save 15% if shipped monthly 40.80 or 30% 102 if shipped every three months)
Shampoo: $33 (subscribe and save 8% if shipped monthly 30.36 or 20% 76.50 if shipped every three months)
Conditioner: $33 (no subscribe and save option)
If purchasing the full treatment every month without subscribe and save, the total cost is $199 monthly. The subscribe and saves drop the price to $169.19 or $147.75 when shipped monthly or every three months, respectively.
Plus, customers can add Tricovit Pro for $66 (subscribe and save 24% if shipped monthly or 35% if shipped every three months).
There are also bundles that save customers money:
All four products single kit: $170
Shampoo and conditioner: $60
Preventive (shampoo, conditioner, and tablets): $205
There are also subscribe and save options for these bundles.
Review of Tricovit Privacy Policy
By using the Tricovit platform, customers agree to the collection and use of personal information for various purposes, including verifying identity, processing payments, improving the platform, and communication. Your information may be disclosed to third-parties needed to provide the requested service and in compliance with applicable laws. The platform is not intended for use by minors, and certain requests for removing minor information can be made.
The company will retain data as long as necessary to comply with applicable laws and provide services. It may delete this information at any time. It uses reasonable, physical, technical and administrative measures to protect information under its control.
Other Tricovit Reviews
Tricovit offers most of its products and bundles on Amazon, where they appear to be slightly less expensive than on the company website. Most products received positive reviews on Amazon with an average rating of 4.5 out of 5 stars.
Customers have praised the product for its effectiveness in promoting hair growth and addressing hair loss issues. Some reviewers mentioned that the product started working from the beginning of use. However, there were a few negative reviews regarding issues such as missing products in one of the containers and the high price.
Tricovit has an average rating of 4.4 stars on Trustpilot with 11 reviews. The reviews are all 5 stars and praise the product for helping them regrow hair.
Nebula Genomics
Tricovit is a hair growth product that targets health and addresses concerns related to hair thinning and loss. Did you know that hair health, such as alopecia and male pattern baldness, may rely on your genetic predispositions? Nebula Genomics provides genetic testing services that empower individuals to understand their genetic makeup and make informed decisions about their health. 
Nebula provides a comprehensive DNA test highlighting predispositions related to hair health. With reports, you can easily explore your DNA and learn about discoveries focused on traits, wellness, health, and more. With 30x Whole-Genome Sequencing, Nebula sequences 100% of your DNA to get to the root cause of every biological inclination.
The test is incredibly accurate and includes other additions, including ancestry reporting and genome exploration tools. Regularly updated reports ensure that you will not miss the latest genetic research. 
Nebula is not a diagnostic test, but the results are of the highest quality and can be used in consultation with health care professionals.
For only $299 or less, customers will get access to their entire genome, allowing them to continue to ask more questions as more research is conducted.
Did you like our Tricovit review? You can read more reviews on our blog and check out our complete guide to the best DNA test kit and other home tests.
You may also want to check out these other hair products: