This review is written with the intent to be as unbiased as possible. However, it represents the opinion of an individual reviewer and is therefore subjective. Furthermore, at Nebula Genomics we seek to educate the public about the benefits of Whole Genome Sequencing. Information about our Whole Genome Sequencing DNA test is therefore incorporated into the review.
February 13, 2021
7 Facts from our Keeps Review
Location: New York, NY, United States
Products: Hair loss treatment for men
Costs: $10 – $25
How to purchase: Products can only be purchased from the Keeps website
How to use: Treatment can be ordered in either a pill, solution, or shampoo form
Access to a consulting physician: Yes
Complementary Products: Nebula Genomics 30x Whole Genome Sequencing DNA decodes 100% of your DNA and can help you learn more about your hair patterns
Keeps Introduction
Keeps is a hair loss treatment suitable for balding men who desire to have a head full of hair.
Keeps was co-founded by two young men, Steve Gutentag and Demetri Karagas, who met in the first week of college at NYU Stern School of Business. At that time, they both had full heads of hair. Ten years later, Steve began to lose his full hair, and together, they started the journey to find a convenient, effective and affordable solution for men's hair loss. Their inability to find something that suited their needs motivated them to start a company that addresses the challenge of men's hair loss.
Jerry Shapiro, MD, and Antonella Tosti, MD, are the company's medical advisors. Dr. Shapiro is one of the most respected dermatologists in the world. As a dermatology professor at NYU School of Medicine, he has authored 150 peer-reviewed papers and three books. Among the books he wrote is "Hair Loss: Principles of Diagnosis and Management of Alopecia."
Dr. Tosti is a prominent expert on hair disorders. As a Professor of Clinical Dermatology at the University of Miami, she is well known for groundbreaking research in hair disorders. She has written over 600 scientific publications and also the author of "Dermoscopy of Hair and Scalp Disorders."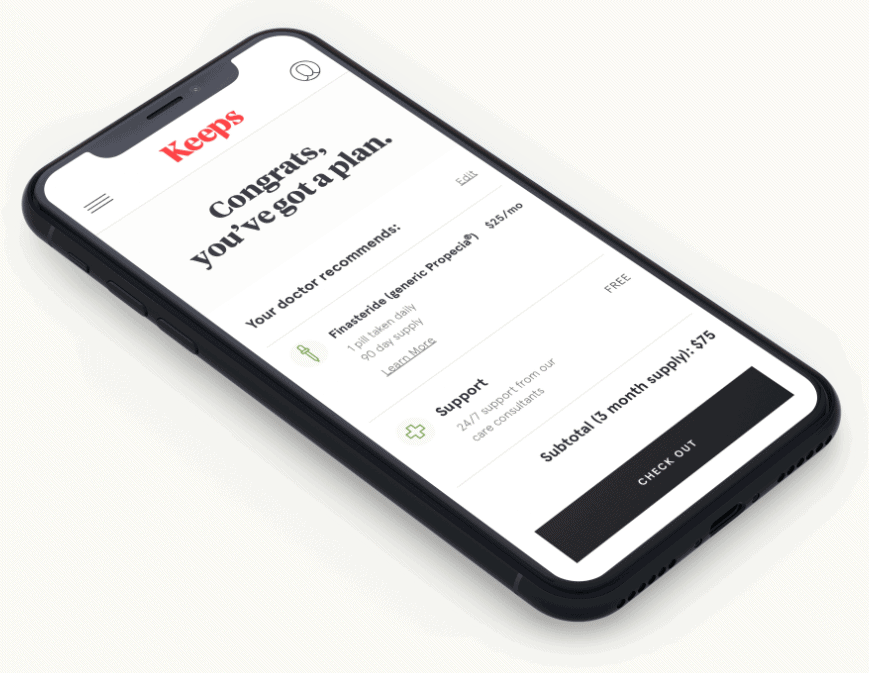 There are varieties of products, each designed for different purposes. They include the prescription drug Finasteride, 1 MG (RX), the topical solutions Minoxidil Solution (5%) and Minoxidil Foam (5%), and 2% Ketoconazole Shampoo.
Keeps is held to a high standard; thus, their products are backed by scientific research, FDA approved, doctor recommended, affordable, and matched to your unique situation.
Keeps Science
The company is an FDA approved, high-quality hair treatment engineered to help men treat hair loss. Understanding the causes of baldness or hair loss can help you understand how the product works.
There are different forms of hair loss, but the most common is the male pattern baldness, also known as androgenetic alopecia. Hair loss occurs when the hair growth cycle is disrupted or when hair follicles are destroyed.
Although there's no known cure, Keeps helps to combat the balding symptoms caused by androgenic alopecia. According to the American Hair Loss Association, 2 out of 3 males will experience some form of Male Pattern Baldness by the time they're 35.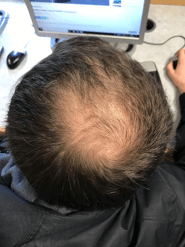 Hair loss is also often caused by genetics. Individuals can inherit the "baldness trait" from their parents. According to a recent study, there are 287 genetic regions contributing to the male pattern hair loss.
There are also certain external factors leading to hair loss. Some factors include using dyes and relaxers made of harsh chemicals, stress, and an unbalanced diet.
The prescription pill offered by the company works by blocking the production of DHT, a hormone that causes male pattern baldness while topical treatments slow down hair loss promote hair regrowth.
Keeps products are prescription strength and like many prescriptions, they are associated with some side effects. Some of these side effects include inability to urinate, pain in the testicle, depression, skin rash, sudden weight gain, chest pain or palpitations, dizziness or fainting, and swelling of the hands or feet, among others.
According to the company website, their prescription tablet is well-tolerated, and side effects only impact a small percentage of users. They report that only 3.8% of people taking finasteride in clinical studies experienced some sort of sexual side effect, including erectile dysfunction (vs 2.1% of participants taking a placebo). Patients should contact their doctor or health care professionals if they experience any of these adverse effects.
Keeps Review
Keeps Products
Keeps contains chemicals that can safely combat the symptoms of hair loss and help you regain the head full of hair that you crave.
Treatment options include:
Finasteride tablets
Minoxidil foam or solution
Ketoconazole shampoo
Finasteride tablets, 1 mg, taken once a day, can help with receding hairlines. Minoxidil (5%) foam or solution can be used for hair thinning at the head's crown. For generalized hair loss or hair loss and thinning at the crown and the hairline, a combinational treatment of minoxidil and finasteride will work best. Results from these solutions and foam products are usually observed in as little as 3-4 months of treatment.
Keeps also offer Ketoconazole (2%) shampoo for dandruff and itchiness. This prescription shampoo is not designed to stop hair loss by itself, but it can help eliminate dandruff, itching, or flakiness that may affect your hair growth and appearance. Combining the shampoo with the above medication has shown to produce a better result. Customers generally see results in as little as 2-3 weeks.
Purchasing a product
You can get Keeps products directly from the company's website. The entire process can be completed online from the comfort of your home. There are three steps involved to get Keeps products:

Step 1: Choose your plan
There are different keeps products serving different purposes. Pick a treatment suitable for your needs.
Step 2: Receive your Keeps treatment
Share your information with a Keeps licensed physician for an online consultation to confirm that the product you chose is what you need. The preferred treatment will be delivered to your doorstep every three months.
Step 3: Consistency
Track the progress of your hair growth as you continue to use Keeps. You can adjust or cancel your plan at any time.
If you're not sure about which product is right for you, you can click on the link that reads "let the doctor decide." There, you'll be required to answer some questions, snap a few photos, and a Keeps physician will recommend the best treatment plan for you.
Customers also receive access to a licensed physician with unlimited messaging for 1 year for consultation.
Keeps Cost Reviews
Keeps is a subscription service. The company claims that they are set up like this to help ensure that their customers obtain results through consistency and use in the long term.
Finasteride (tablet) & Minoxidil (solution or foam): This combination is suitable for overall thinning hair. It is a combination of daily prescription tablets & topical treatment. Both products serve the same purpose but are made of different ingredients. You'll get the tablets and the solution at $70 for your first order and $105 for subsequent orders. These rates are for three months supply; thus, it is $35 per month.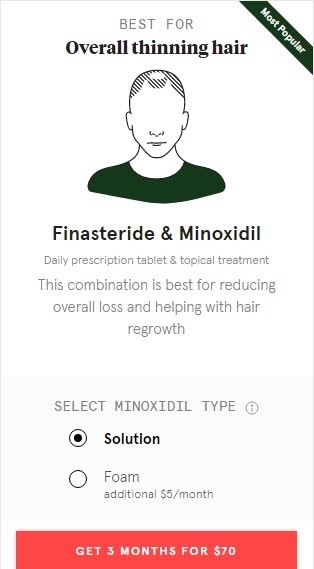 You can also order the products separately.
Finasteride, 1mg: This daily prescription tablet is made for reducing hair loss along the hairline, crown, and vertex. For your first order, you'll receive three months' supply of this product for $50 and $75 for subsequent orders. Its monthly rate is $25.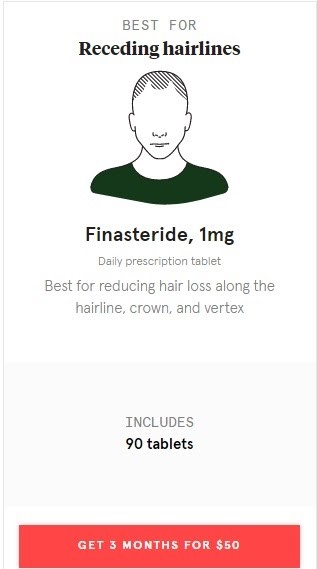 Minoxidil, 5%: You can get the daily foam or solution of this product. It is best for growing thicker, longer hair on the crown and vertex. The first order of the solution is $20 and subsequent orders are $30. If you order for the foam, you'll be charged an additional $5 per month. Therefore, the three months supply of the foam cost $45. Its monthly rate is $10 (solution) or $15 (foam).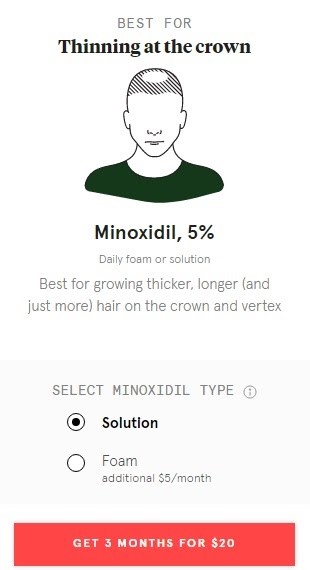 Keeps Privacy Reviews
You'll find the link to the privacy policy in the bottom of the company's website. The policy was last updated on October 22, 2020.
The company understands the importance of customers' privacy; therefore, they ensure that customers' personal information is well protected. The policy describes how data is collected, used, and shared by the company through its website, mobile apps, social media, email, etc.
The company states that "Keeps does not trade, rent, or sell your personal information to third parties" and they use industry-standard physical, technical, and administrative security measures and safeguards to protect the confidentiality and security of customers' personal information.
You can contact customer service through call or text at 833-745-3377 or email at help@keeps.com.
Keeps Pros and Cons
Pros
The entire process of obtaining the medication is online and convenient without the traditional pharmacy
Access to board-certified physicians to choose a suitable Keeps product
The products are affordable
Products are FDA approved
Cons
Treatment plans are only suitable for male patients with male pattern baldness
Video consultations are not available
Doctor consultations is not available in all states
Other Keeps Reviews
Over 2700 customers have reviewed Keeps on the company website, giving it a high rating of 4.8 out of 5 stars. Most customers rave at how well the product works to help them restore their lost hair. Even the more negative reviews admit that it works, but are critical of other aspects such as frequency of application.
Since the products are only available on the company website, reviews are not available from third-party sellers. However, some other blogs have created their own reviews.
Innerbody has determined that Keeps is a good company that offers useful products at a reasonable price. They also highlight the fact that the products are FDA approved.
ConsumerAdvocate rates the company with a 4.5 out of 5 star rating.
Nebula Genomics
Male pattern baldness is not only caused by external factors, genetic factors also play a large role. Many individuals inherit genes that make them susceptible to baldness. Researching your genetic compositions can help you understand how your genes affect your hair patterns and whether products like Keeps will work for you.
A DNA test will reveal your susceptibility to baldness, whether or not you have experienced it already. With that, you can adopt the appropriate treatment plans and suitable lifestyle that will help you maintain a full head of hair.
However, there are ample options to choose from when you decide to do a DNA test. Most DNA tests only decode 0.02% of your genetic makeup, but with 30X Whole Genome Sequencing, Nebula Genomics decodes 100% of your DNA.
We decode all 6.4 billion DNA base pairs in the human genome. This includes the complete set of all 20,000 genes, mitochondrial DNA, and the Y chromosome. Therefore, we provide highly comprehensive and accurate genetic test results.
You can also explore the Nebula Research Library to stay up to date with the most cutting-edge genomic research and learn how it applies to your DNA results.
Other hair growth treatments you might be interested in are Capillus, Nutrafol, Vegamour, and Viviscal.
Other products that can help reduce signs of aging are:
Plus, you can also check out these supplements that claim to help you age well:
Did you like our Keeps review? You can read more reviews on our blog and check out our complete guide to the best DNA test kit and other home tests.