7 Facts from our Vegamour Review
Location: Los Angeles, California
Products: Hair care products
Costs: $24 – $272
Results: Designed to help fight hair loss
How to order: You can order products from Vegamour's website or third-party sellers like Amazon
Who is this product for: People who want to enhance the look of their hair, lashes, and brows
Complementary Products: Nebula 30X Whole Genome Sequencing is a DNA test suitable for discovering rare genetic mutations. It decodes 100% of your DNA with high accuracy
This review is written with the intent to be as unbiased as possible. However, it represents the opinion of an individual reviewer and is therefore subjective. Furthermore, at Nebula Genomics we seek to educate the public about the benefits of Whole Genome Sequencing. Information about our Whole Genome Sequencing DNA test is therefore incorporated into the review.
April 3, 2023
Pros and Cons
Pros
Vegan, cruelty-free ingredients
No Vegamour side effects
It can be easily purchased directly from the company's website and third-party websites
Lots of options to choose from
Positive reviews that indicate it is effective
Cons
It takes between 30 days and 90 days of continuous use before a visible result can be noticed
Must keep using to keep results
Introduction
Vegamour is a hair wellness company that provides people with clean formulas to effectively boost hair and scalp health, based on clinical studies. To achieve this goal, it combines sustainably harvested, plant-based ingredients with the latest advances in molecular science. This article will review Vegamour's claims and product.
The company states that its mission is to "advocate the use of thoughtfully sourced plant extracts in creating superior wellness & beauty products that neither harm the beautiful people who use them nor the planet we all share." Therefore, it makes suitable hair health products from organic plant extracts.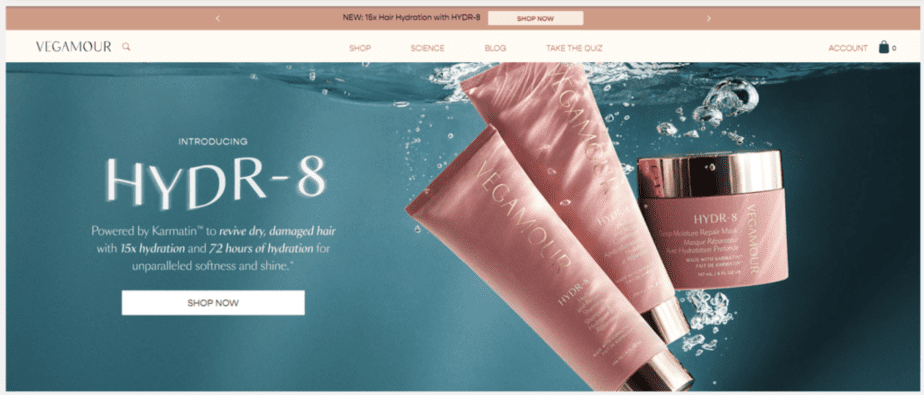 Vegamour products are 100% vegan and do not contain hormones or toxins from artificial fragrances and propylene glycol, often found in products that stimulate hair growth. Because of their natural ingredients, Vegamour products do not have harmful side effects. Some natural ingredients in its hair growth serums include mung bean, red clover, curcumin, and Nicotiana benthamiana.
People and reach
Daniel Hodgdon, the CEO and co-founder of Vegamour, graduated from Georgetown University. He has held the CEO position at the company since March 2016 and has worked with others to launch disruptive innovations in hair wellness technology. Daniel is also an advisory board member at Southern Botanica GmbH.
In the first six months of its founding, this hair wellness company drove $6 million in sales. Today, it has become a multimillion-dollar hair restoration brand that generated $30.1 million in net sales in 2021. Hundreds of thousands of people use its products. According to the company's CEO, "Vegamour is the fastest-growing hair growth company."
Vegamour makes various products, each serving different purposes.
Review of Vegamour Science
What is in the formulas?
Vegamour formulas are designed to enhance the look of longer, denser, healthier hair, lashes, and brows. Its products are made of natural plant extracts and engineered to stimulate dormant hair follicles. With such healthy stimulation, the regrowth period of your hair will be catalyzed.
Vegamour products are made of phytoactive formulas that inhibit DHT production, the hormone responsible for hair loss. The phytoactives address both the symptoms and underlying causes of visible hair thinning and fallout.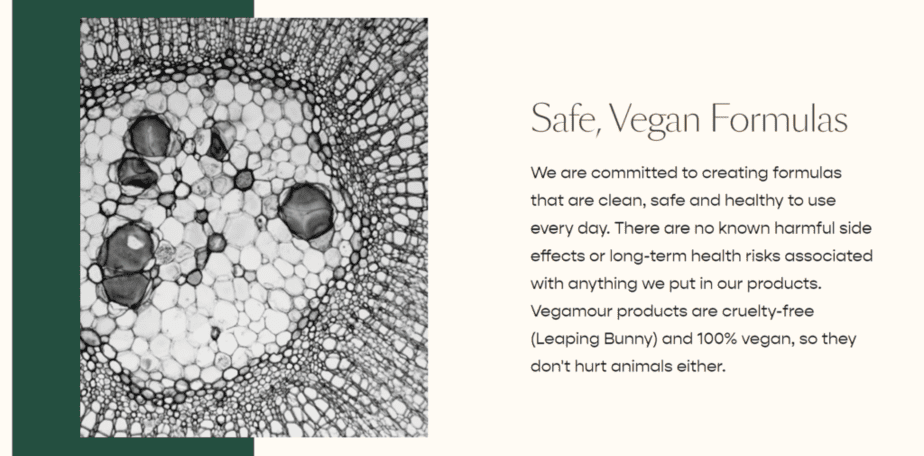 The Vegamour hair serum is suitable for those suffering from hair thinning caused by certain medications. During pregnancy and menopause, as well as those with alopecia, woman are more prone to thinning hair, and this company provides a reliable solution.
The company claims 76% less hair shedding in 90 days.
It also notes that some of its products are clinically tested by third parties to demonstrate efficacy.
What is not included?
The formulas are free from prostaglandin, gluten, parabens, toxins, dyes, and synthetic fragrances. They also don't contain phthalate, castor oil, PEG, and petrolatum.
Prostaglandin, one of the lipid compounds present in several other competitive products, causes hormone-like effects in vasodilation, muscle contraction, and inflammation. Bimatoprost is also left out of the formulation.
This compound is a significant component of many hair growth serums. But it has a number of side effects, such as red eyes and eyelids, blurry vision, a permanent darkening of the iris, eye burning, and other discomforts. But it has a number of side effects, such as red eyes and eyelids, blurry vision, a permanent darkening of the iris, eye burning, and other discomforts.
Review of Vegamour Products
There are three different product categories:
Hair (increases hair density and gives the appearance of fuller hair)
Lash (supports natural lash growth and thicker, fuller lashes)
Brow (supports natural brow growth and thicker, fuller brows)
Each item description in the shop contains information regarding the product's use and key ingredients.
You can also search for wellness products that include hair supplements in gummy, foam, and soft gel form or kits to receive product bundles. Most categories also include GRO+ Advanced products that include full-spectrum hemp infusions.
You can also order any Vegamour products from the website or from third-party online retailers like Amazon.
Review of Vegamour's Cost
Vagamour's cost can be relatively high, but customers can save 15% by subscribing to receive products monthly. Customers can skip or cancel their subscriptions at any time.
Currently, customers can receive another 20% off an order using the Vegamour discount code available on its website.
Review of Vegamour Hair Growth Products
Vegamour hair wellness formulas are fitting for aging and thinning hair. They support the natural hair growth cycle, help prevent hair loss, and enhance hair volume. Most products can be used on damp or dry hair. Most people use it on towel dried hair.
| | |
| --- | --- |
| Product | One-time purchase/subscription |
| GRO Hair Serum (also available as a 3-pack) | $58/$48 |
| GRO Hair Foam (also available as a 3-pack) | $58/$48 |
| GRO Dry Shampoo | $36/$32 |
| GRO Biotin Gummies (also available as a 3-month supply) | $36/$30 |
| GRO+ Advanced Hair Serum (also available as a 3-pack) | $74/$64 |
| GRO+ Advanced Hair Foam (also available as a 3-pack) | $68/$58 |
| GRO+ Advanced Gummies (also available as a 3-month supply) | $68/$58 |
| GRO Revitalizing Shampoo (8 oz) | $48/$42 |
| GRO Revitalizing Conditioner (8 oz) | $48/$42 |
There are various hair kits you can try that combine different products.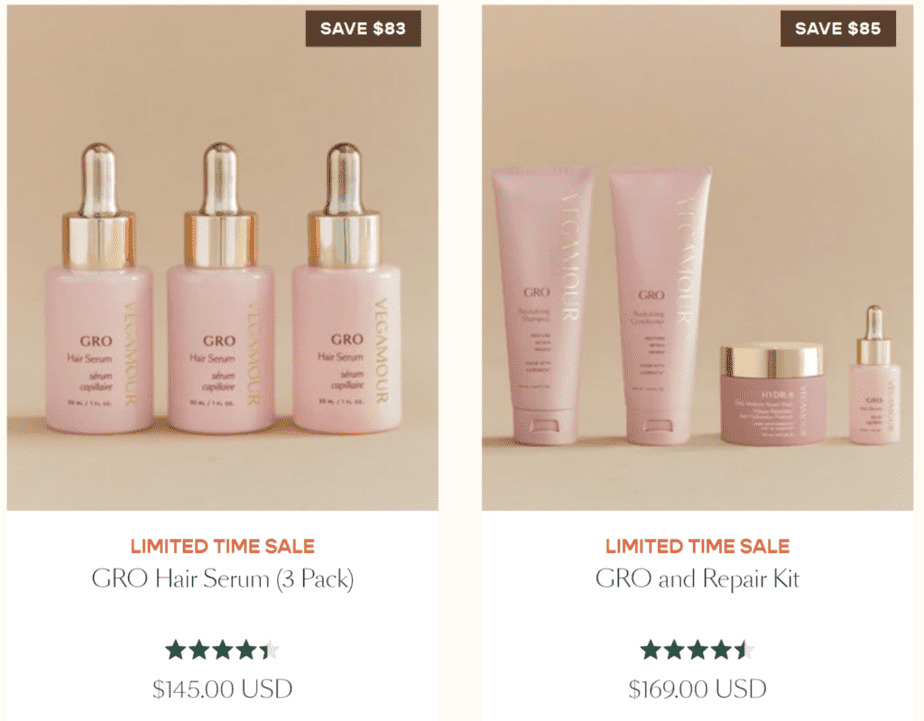 Review of Vegamour Brow Products
Thought for sparse, thin, or overplucked eyebrows. They are safe and 100% vegan. These eyebrow-enhancing formulas are clinically proven to support natural brow growth, fullness, and thickness visibly.
| | |
| --- | --- |
| Product | One-time purchase/subscription |
| GRO Brow Serum (formerly vegaBROW Volumizing Serum) | $72/$60 |
| GRO Origins Kit | $181/$161 |
| GRO Lash & Brow Kit | $128/$109 |
| GRO+ Advanced Brow Serum | $88/$78 |
| GRO+ Advanced Lash & Brow Kit | $158/$137 |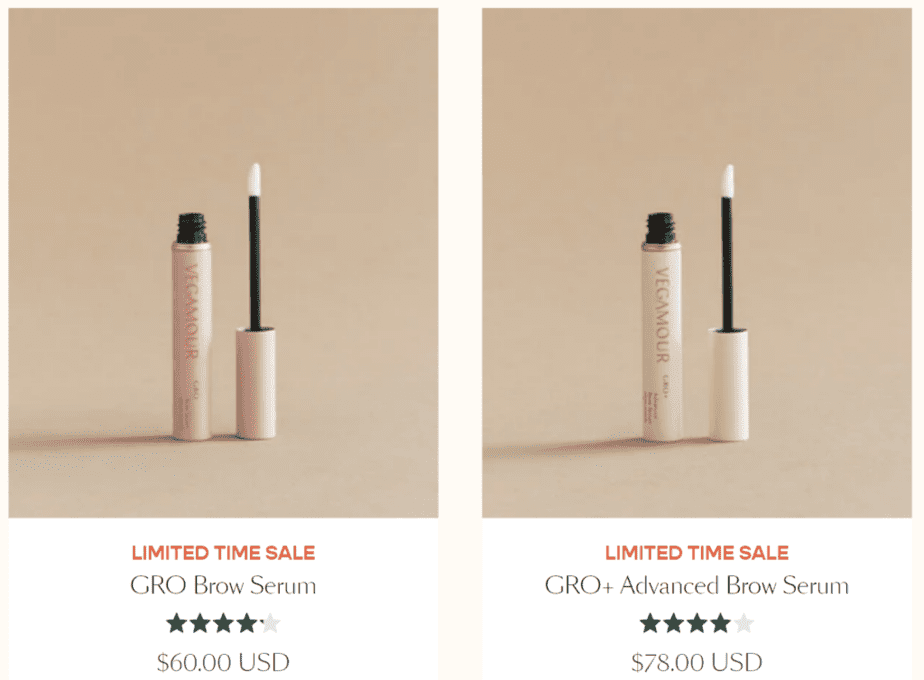 Review of Vegamour Eyelash Products
These eyelash enhancers support natural lash growth, thickness, and fullness. They also minimize breakage and loss.
| | |
| --- | --- |
| Product | One-time purchase/subscription |
| GRO Lash Serum (formerly vegaLash) | $80/$60 |
| GRO Origins Ki | $181/$161 |
| GRO Lash & Brow Kit | $128/$09 |
| GRO+ Advanced Lash Serum | $88/$78 |
| GRO+ Advanced Lash & Brow Kit | $158/$137 |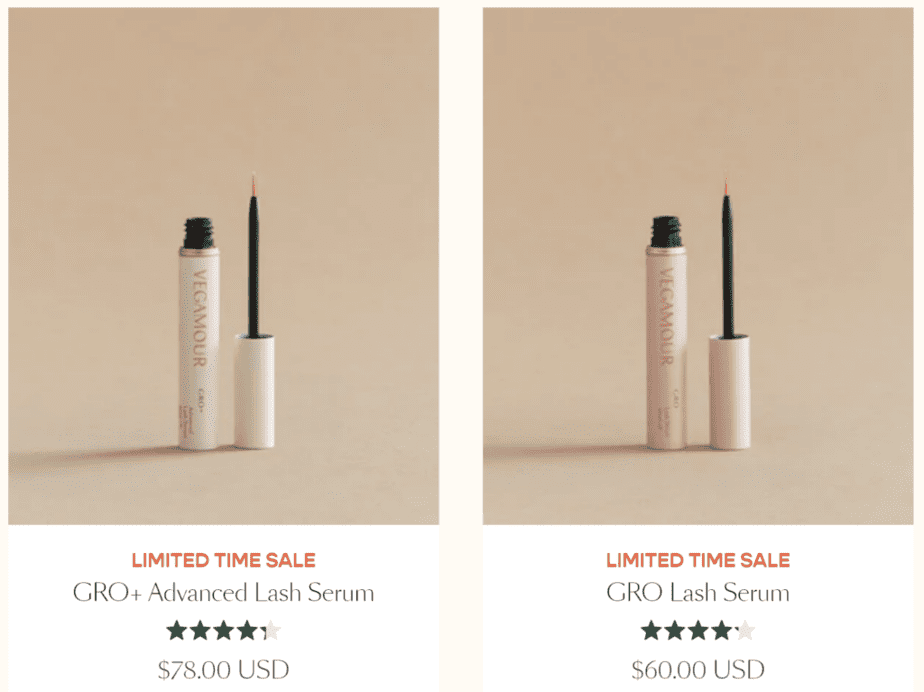 Although these products are considered natural and safe, it's important to remember that no statements have been evaluated by the Food and Drug Administration. The products are not intended to diagnose, treat, cure, or prevent any disease.
Vegamour Privacy Review
Vegamour protects its customers' personal information and takes reasonable measures to ensure that it is not released to third parties without first seeking the customer's consent.
Other Vegamour Reviews
Does Vegamour work? Vegamour GRO Hair Serum, one of the company's most popular products, has 64 reviews on Amazon, with an average rating of 4.2 stars.
Many Vegamour hair serum reviews show similar results. People claim that Vegamour serum worked as advertised and that they see the expected hair growth. Conversely, customers who gave the product lower star ratings mostly indicated that it did not make their hair grow and that the consistency felt unusual on their hair type.
Vegamour reviews on Reddit are more critical, with more responders indicating that the product did not work for them.
As with most commercial products, the bottom line appears to be that results will vary. From the testimonials on the company's website, those that put the hair growth serum to the test have had positive results.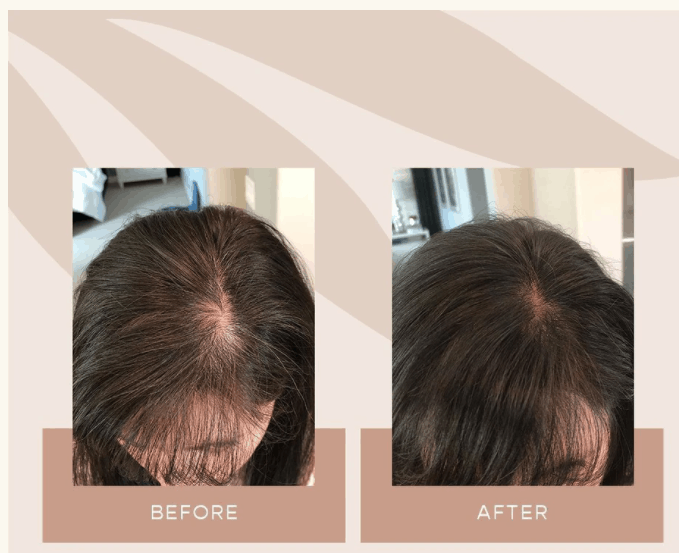 Review of Vegamour in the News
Vegamour Hair Growth Serum records a sales increase due to Pandemic-Related Hair Loss
Doctors have recorded an increase in hair thinning and loss since the beginning of the Covid-19 outbreak. Therefore, people, especially women, are looking for a way to combat this. On this basis, over 52,000 women bought Vegamour hair growth treatment to combat the pandemic-related hair loss, increasing sales by 500%. They seem to opt for this product because of its effectiveness.
Nebula Genomics
Many internal and external factors can cause hair loss and thinning. External factors may include using dyes, shampoos, and conditioners with harsh chemicals, while internal factors include genetics.
It is possible to inherit hair loss and thinning from one's parents. When you know why your hair falls off, you can adopt an appropriate solution to get rid of it. However, to know if your thinning hair and loss are caused by genetics, you should take a DNA test.
At Nebula Genomics, we offer 30X Whole Genome Sequencing, a DNA test that decodes 100% of your DNA with extremely high accuracy. This test is perfect for the discovery of rare genetic mutations. After testing every strand of your DNA, we provide reliable results that are more comprehensive than what you'll get from other DNA tests like 23andMe and AncestryDNA, which only read 0.02% of your genetic makeup.
We uphold our customer's privacy; thus, with us, you can begin your journey of discovery without risking the privacy of your most personal information. We also offer a Nebula Research Library that provides weekly reports to keep you updated on the latest scientific discoveries and DNA exploration tools.
Other products
You may also be interested in these other hair products:
Other products that may help reduce the physical signs of aging include:
Plus other tests and supplements that help you age well:
Did you find our Vegamour review helpful? You can read more reviews on our blog and check out our complete guide to the best DNA test kit and other home tests.