This review is written with the intent to be as unbiased as possible. However, it represents the opinion of an individual reviewer and is therefore subjective. Furthermore, at Nebula Genomics we seek to educate the public about the benefits of Whole Genome Sequencing. Information about our Whole Genome Sequencing DNA test is therefore incorporated into the review.
January 21, 2021
Edited by Christina Swords, Ph.D.
7 Facts from our Viviscal Review
Recommended dose: 2 pills with food and water every day
Active ingredients: Proprietary AminoMar C™ marine complex, fish oil, vitamins, and zinc
Costs: $40 per month with a 3-month subscription
Products: With a subscription, users can choose between the Nourishing Starter Kit for $240.86 and the Nourishing and Volumizing Premium Kit for $260.48
How to Order: You can order through their website and stores. Discounted prices and a 90-day money-back guarantee are only available through the websites
Who the product is intended for: Men and women who are losing hair volume
Complementary products: Nebula Genomics offers 30X Whole Genome Sequencing to help you better understand your predisposition to any of the ingredients found in this product's formula
Viviscal Introduction
Viviscal is a supplement that helps create thick hair that grows naturally. In this Viviscal Review, we will cover everything there is to know about the product, its effect on hair, Viviscal side effects, pros, and cons. Viviscal is a two-part hair care program that includes several different Viviscal professional products:
Viviscal Hair Growth Supplements
Gorgeous Growth Densifying Viviscal Shampoo/Conditioner
Gorgeous Growth Densifying Elixir
Our review will focus on the hair growth supplement since that is the core product. Plus, it is the main supplement that will better prevent hair shedding and help hair grow faster.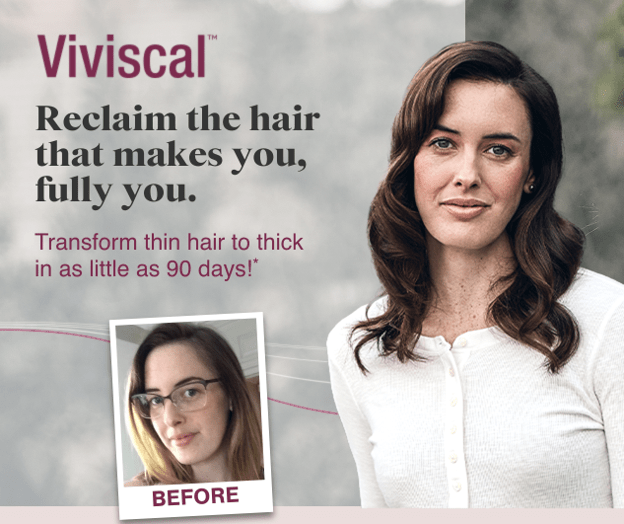 Healthier hair will make you look younger and more vibrant. This sense of well-being is something that this company has been seeking to provide their customers for 30 years. To help them achieve this, they created a scientifically formulated product that includes drug-free components and a proprietary mix (an AminoMar Marine complex) that results in an exclusive combination of vital nutrients to the hair.
It should be noted that these statements have not been evaluated by the Food and Drug Administration, although the ingredients have been clinically proven to promote existing hair growth. The product is not intended to diagnose, treat, or cure any disease.
According to the company, most users notice a change in the thickness and amount of hair within 3-6 months. Their product is backed up by 25+ years of continuous research that prove the effectiveness of their supplement.
The Company started in 1990, and Viviscal has become one of the most important hair-growth supplements in the United States. Its headquarters are located in Dublin, Ireland, and its parent company is Church & Dwight Company, which acquired it in 2017 for around €150 million. Today, this product is sold in almost 50 countries.
Even the most extensive clinical trials will not always produce the same results. Despite having a proprietary blend and other nutrients with proven efficacy to help nourish thinning hair and promote growth, this product will not always work on everyone in the same way.
At Nebula Genomics, we can help you establish if this product will effectively work for you or not. This is done through an extensive DNA test. Nebula Genomics is the only company that offers a full genome sequencing to wholly understand how your body responds to the nutrients described in Viviscal's formula.

The Science behind Viviscal
These products provide nutrients that enrich the hair follicles, resulting in faster and thicker hair growth. All ingredients are natural. The formula includes an exclusive AminoMar C™ marine complex, the key component of Viviscal Extra-Strength.
A Scandinavian professor discovered this formula studying the Inuits back in the 1980s. He realized that they had particularly healthy hair and skin. After realizing that this was due to their fish- and protein-rich diet, he isolated the key protein molecules to create what is now known as AminoMar™.
This blend of AminoMar™ with other nutrients such as biotin, Vitamin C, and Zinc, nourishes the hair follicles, strengthens, and promotes terminal hair growth, and hair becomes thicker and more robust. Let's take a closer look at the ingredients found in Viviscal.
Viviscal Ingredients
The following is a detailed view of the ingredients found in Viviscal Extra Strength Hair Growth Supplement Tablets.
Shark Cartilage & Mollusk Powder (AminoMarTM): These are the ingredients that the Scandinavian professor isolated from the Inuits' diet. They are rich in proteins, and it is designed to help thicken hair and promote existing hair growth.
Fish Oil: Omega-3 fatty acids deliver nutrients to the scalp, nourishing the hair follicles. As a result, hair becomes thicker and more affluent. This ingredient gives the pill a fishy taste.
Silica: a balance for over-fluctuating hormones. It acts directly on calcium and magnesium levels.
Biotin: A vitamin that promotes the thickening and growth of hair, giving it a healthy appearance.
Niacin: Vitamin B3 has been largely known for improving blood circulation, which encourages rich blood flow to the scalp and hair follicles. It also has an important action in turning carbs into energy and keeping the structure of blood cells.
Vitamin C: This vitamin is rich in antioxidants and promotes collagen production to produce healthier hair.
Zinc: Clears the path for hair growth by minimizing dandruff. Zinc also balances hormones and is thought to prevent protein deterioration.
Review of Viviscal: Advanced Hair Health
The ingredients found in this product have proven positive effects on hair health. Although the product does appear to help reduce hair loss and promote growth, it is not a magic pill that will make your hair look rich and voluminous overnight.

How to use the product
The dose recommended is two Viviscal pills per day, one in the morning and one at night with food and water. Viviscal advises patients to use the product for at least six months to get significant results.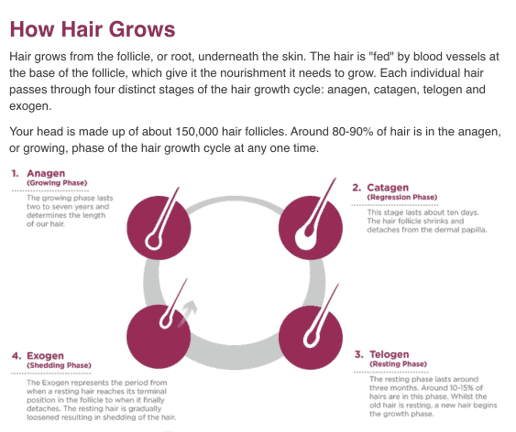 Some users report positive signs at around three months. Few report not seeing any difference whatsoever. Overall, it takes some patience before seeing a difference in hair volume. Once a goal for healthy hair growth has been achieved, these daily supplements should be taken long-term for the scalp to stay healthy and rich.
Review of Viviscal Cost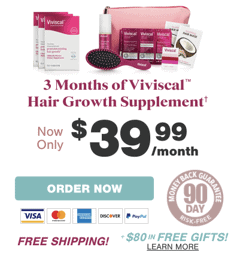 Viviscal is found in major stores nationwide and through the website. It comes in boxes with different monthly supplies. The regular box containing 180 pills (3-month supply) has a store price of $77.59.
Through the website on a special TV offer, users can obtain special promotions with a 3-month subscription that will cost users $39.99/month for the Nourishing Starter Kit and $46.66 for the Nourishing and Volumizing Premium Kit. You have to commit for three months to get that price.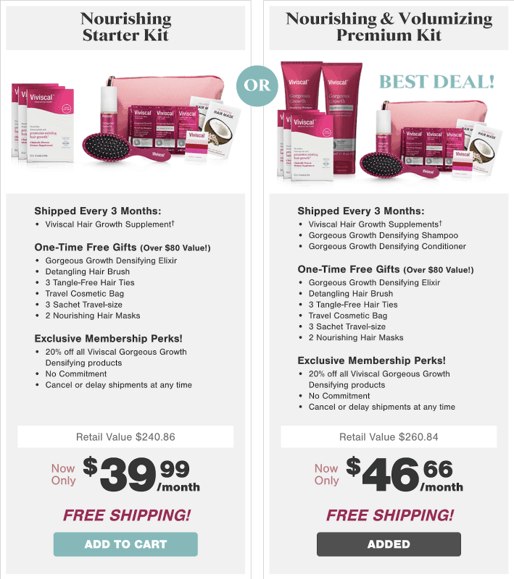 This is fair for its value, but committing to three months might be too expensive for some. Thankfully, you can also subscribe to monthly payments. You can unsubscribe at any time but only by calling customer service.
There is also a 90-day money-back guarantee. You can send the unused portion of your product within the first 90 days after your purchase.
How Does Viviscal work?
According to the website, Viviscal works in four steps through which nutrients are infused into the bloodstream and help nourish hair follicles. This encourages them to grow healthy and strong.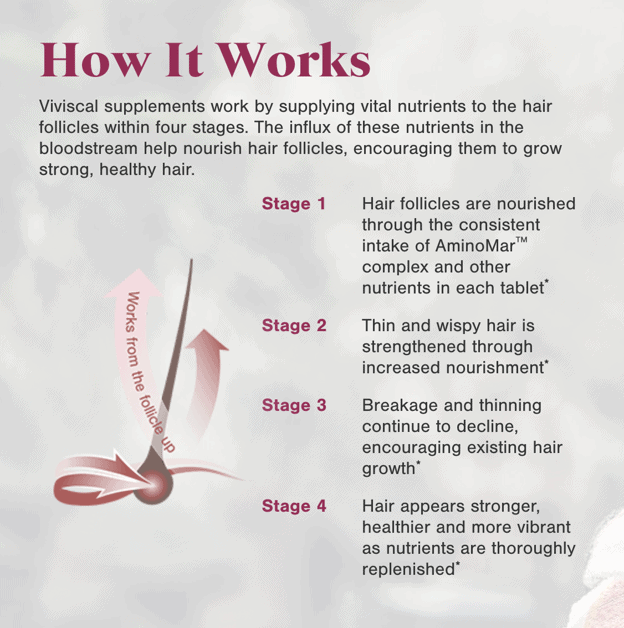 Is Viviscal safe?
Viviscal is safe in general. However, just like with any other supplements, you should be aware of the ingredients and verify if they will potentially harm you. Always consult with your physician before starting any dietary supplements program. The best way to know how responsive your body is to any ingredient and how it will impact the health is to get genetic testing.
Review of Viviscal Privacy
Viviscal collects your information to process your order. This information includes credit card information, which is safely stored for transaction purposes. When you visit the site, you authorize the use of cookies and other IP identifiers such as web browser, device, etc.
At times, Viviscal will ask you to send promotional information to a friend ("tell-a-friend"). They might ask you for this other person's information.
Viviscal will not sell your information to third parties but might share it with them. These include their affiliates, co-sponsors that help them with contests, sweepstakes, etc., credit bureaus in the case of late payments, and whenever there is a federal law requirement. They will also share your information with third parties for the sake of marketing their products.
Overall, the privacy policy is straightforward, and it is committed to protecting your information.
Viviscal in the News
Best supplements for hair loss: The supplement proven to promote hair growth
Viviscal™ Pledges $100,000 Donation To The Professional Beauty Association COVID-19 Relief Fund
Amazon Customers Say This $16 Product Helps Boost Thinning Hair
Do Hair-Growth Treatments Actually Work For Stress-Related Hair Loss? This Huffpost article reviews several other hair growth treatments, including Viviscal.
Other Viviscal Reviews
Overall, Viviscal receives positive customer reviews due to almost everyone getting results from consistent use. Customers started noticing hair growth anywhere between a few days and a few weeks.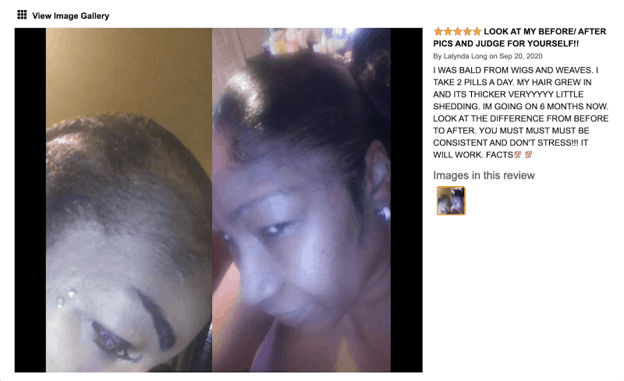 Some users will see results within a very short time.

A few reviewers did not get the results they had expected.
Viviscal Pros and Cons
Pros
It is available as Viviscal for men and Viviscal for women
It is formulated with natural ingredients proven to help hair growth
Outside studies have proved its efficacy
Simple to use as you only require two pills a day
The treatment works for all types of hair
Cons
Generally safe, but may result in side effects (nausea and skeletal stiffness) or allergic reactions (fish or shellfish)
It may be expensive for some consumers
Although most of the ingredients are natural, it has some additives and artificial color and flavoring
Nebula Genomics
Hair health supplements enrich hair follicles and scalps. This promotes hair growth that is rich in length and thickness, significantly adding volume to the crown. However, supplements contain formulas made of a variety of ingredients. How well your body will respond to these ingredients can be estimated when you upload your DNA into the Nebula Genomics database.
Supplements can also be expensive. By sequencing your DNA first, you can find valuable information as to whether certain supplements will be effective or not before spending your money.
Nebula Genomics specializes in full genome sequencing guaranteed through our 30x Whole Genome Sequencing that obtains results like no other tests out there. It is a comprehensive DNA test that decodes 100% of your genome instead of just the 0.02% provided by other genome sequencing companies such as 23andMe and Ancestry.
You can also check out this report on how genes affect male baldness to understand better the importance of knowing what's inside your DNA or this report on the genes responsible for alopecia, an autoimmune disease that causes hair loss.
Other products that help promote hair health and growth are Capillus, Keeps, Nutrafol, and Vegamour.
Other products that can help reduce signs of aging are:
Plus, you can also check out these supplements that claim to help you age well:
Did you like our Viviscal review? You can read more reviews on our blog and check out our complete guide to the best DNA test kit and other home tests.