Verge Genomics is an innovative drug development firm that creates medicines for incurable ailments. It started as a therapeutic company that sought to offer more advanced solutions for conditions and ailments that mainstream drugs have not been able to solve. Learn more in our Verge Genomics review!
Verge Genomics Introduction
Verge Genomics is a genetic company established with the aim of more quickly developing innovative drugs to better human life from all aspects. It was founded in 2015 by those improving the field: top machine learning experts and seasoned neuroscience drug developers. It has grown under the leadership of Ming Hsieh, the firm CEO who began tenure in 2016. Instead of starting with animal models, the company prides itself on starting with the human source, as stated by founder Alice Zhang. It does this by basing it's research on the largest databases of brain tissue sequences in the world, with tissue from more than 1,000 human brains.
The company shares the vision that exponential advances in computational genomics combined with new insights into neuroscience will lead to improved therapies for those with hard to treat disease.
Specifically, they use artificial intelligence to look for "master switches", or a single gene that controls many other important ones. This becomes their drug target for therapeutic development.
According to Verge Genomics, it takes 12 years and $2.6 billion to get a single drug to market with the drug discovery and development process costing $1.4 billion. Verge Genomics wants to make this process quicker and easier.
The headquarters are based in South San Francisco, CA. Since its establishment, it has achieved promising results in establishing treatments for patients of some neurodegenerative diseases.
Review of Verge Genomics Objective and Science
The company now consists of over twenty staff that include engineers, physicians, scientists, and drug developers. Verge Genomics employees have job locations all over the country.
It uses a combination of machine learning and proprietary data to tackle hard to treat conditions and is the first of its kind specifically dedicated to finding treatments for adult-based diseases. This unique combination of the fields of human neuroscience and computational genomics drives its research. Specifically, it uses a patient data-driven approach to unlock a spectrum of therapies that have escaped traditional drug discovery, beginning with diseases where patients need solutions the most: neurodegenerative disease.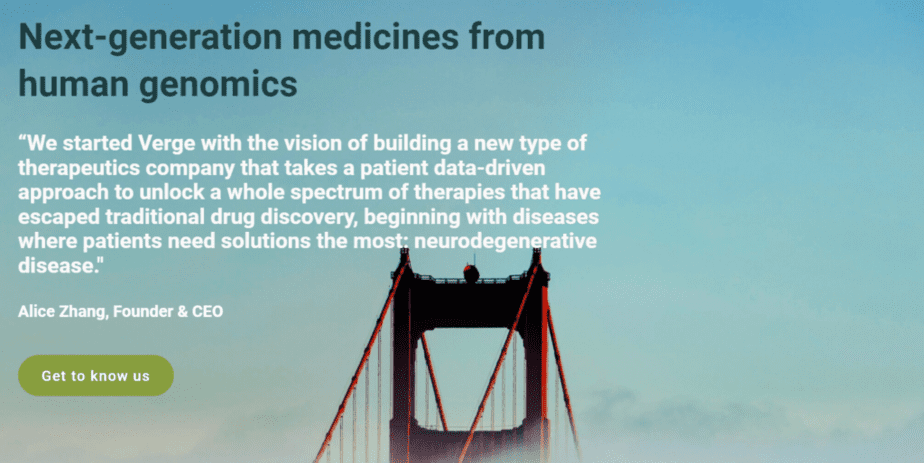 The company is one of the pioneer drug development facilities to apply the latest technological advances to create an "all-in-human" approach to drug discovery. It is equipped with a large proprietary database of patient tissue that captures human disease complexity over traditional animal models. It combines the models with human genetics to discover novel gene targets.
The institution then de-risks the human-derived targets in patient-derived neurons to generate first-in-class molecules. The company's science is that taking an "all-in-human" approach that begins and ends in patients can increase the probability of success in drug discovery and therapy development.
Review of Verge Genomics Services
While Verge Genomics is still in its growth stage, its services are already mapped out. For now, the firm offers limited services focusing on drug discovery for treating neurologic diseases. However, the firm has stated that it intends to offer more, and the therapy development is a continuous phase.
The firm's vision is to successfully offer and create Next-generation medicines from human genomics. For now, it is still in the research phase of accomplishing its goal. The only service offered currently is Potential solutions for Neurodegenerative disease.
Review of Verge Genomics Products
Verge Genomics is driven by a single goal to create groundbreaking neuroscience created drugs and therapies for new diseases and already existing ones that have no cure by looking into human genetics. The company is currently focused on neurodegenerative disease on the basis of three factors. The three diseases are extremely popular and tend to affect the global population irrespective of ethnicity and race.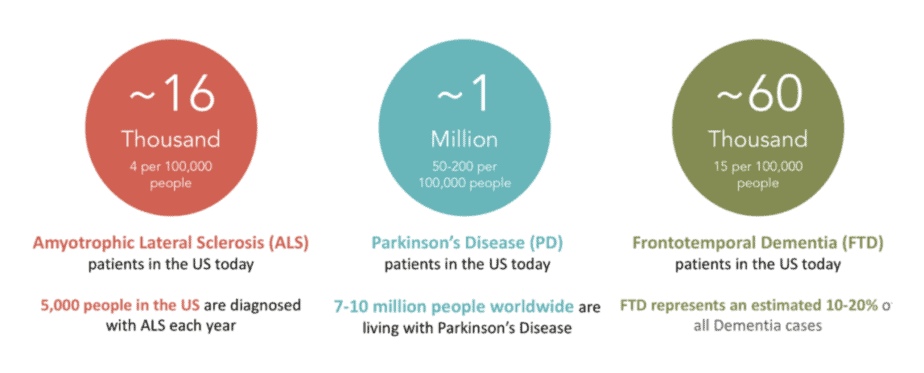 Amyotrophic Lateral Sclerosis (ALS)
Review of Verge Genomics ALS: ALS is a progressive nervous system disease that affects the nerve cells in the brain. It also affects the spinal cord, and the damage combination of these two critical parts leads to loss of muscle control.
The condition is also known as Lou Gehrig's disease, a name coined from baseball player Lou Gehrig, the first person to be diagnosed with the condition. As it stands, doctors and scientists have been unable to state why the condition occurs. The major symptoms of ALS include twitching of the muscles and tremors, limb weakness, and slurred speech. In the worst scenario, it could lead to difficulty in eating and breathing and death.
ALS is a large focus that Verge Genomics has continued to research to provide permanent treatment and cure. In fact, it is currently investigating two targets, one of which is being explored with next generation techniques. The company is dedicated to creating a drug therapy to treat ALS. The condition isn't the most common, and there are approximately 16,000 people diagnosed with it in the United States currently. On average, the disease is found in 4 out of 100,000 people, and it is commonly associated with adults. In the past decade, at least 5000 people have been diagnosed annually.
Parkinson's Disease (PD)
Review of Verge Genomics Parkinson's disease: Parkinson's disease is one of the most common neurodegenerative diseases. Its stats in the U.S have continued to raise concerns as it is among the very common forms of dementia that affect older people. As of 2021, Verge Genomics stated that approximately 1 million Americans are battling Parkinson's disease and that the number is expected to grow over time. PD is likely to affect 50 to 200 persons per 100,000 in the United States, making it a disease of concern.
Apart from the concerning stats of PD in the United States, its global outlook is no better. Based on the number of tests carried out and trends, an estimated 10 million people are suffering from the condition. With more tests, these numbers are expected to rise, highlighting the seriousness of the condition.
PD has no cure, and despite all the efforts placed on research to find a real permanent treatment, there has been very little headway. However, the introduction and continually evolving understanding of human genetics have triggered significant progress.
The organization has continued to achieve significant progress on PD drug development, and it is expected that the improvement would finally lead to an effective drug or treatment for stopping and healing the degeneration. The condition has serious genetic leaning, and as such, the company has a real chance of creating a treatment solution for it.
Frontotemporal Dementia (FTD)
Review of Verge Genomics frontotemporal dementia: Frontotemporal dementia is not the most common type of dementia condition, but it poses just as much threat as the others. It is considered one of the worst types of dementia, and it is genetically associated. This means that people with relatives or parents with FTD are at a higher risk of developing the condition.
The condition is often characterized by gradual and steady changes in the brain which are caused by lumped-up proteins that grow and destroy brain cells. As the brain cells get damaged, simple mental abilities become very difficult to carry out.
Studies have shown that the disease affects the front and sides of the brain and, unlike related dementia conditions, starts from a young age of 45 years. However, it has also been confirmed to affect people younger than 45.
According to Verge Genomics, the prevalence of frontotemporal dementia in the United States is approximately 6000, with most cases being adults. The disease is more likely to be seen in 15 out of every 100,000 people. It is more common compared to ALS and, second, to Parkinson's disease based on Verge Genomics offered products.
FTD is a serious cause for worry as it accounts for an estimated 10-20% of dementia cases in the United States.
Like most dementia, FTD has no cure, which is why it is a priority focus for Verge Genomics. With the vastly equipped personnel, available genetic data, and consistent research, the company seeks to provide a real, lasting cure to FTD in the form of drugs or permanent treatment.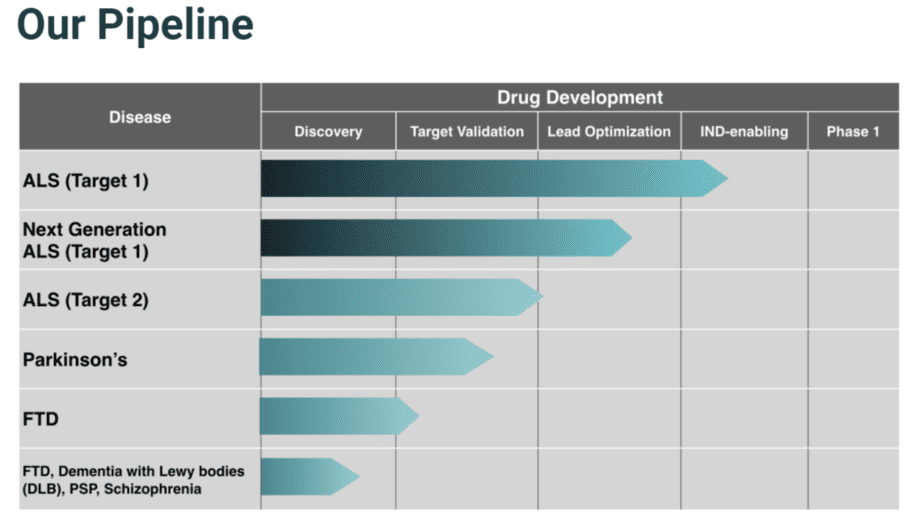 Future Products
Verge Genomics is seeking to provide many more drugs that dramatically improve the lives of patients suffering from ailments that currently look untreatable. It now offers breakthrough opportunities and drug development experiments for neurodegenerative disease with the above three mentioned, but according to their vision, they are not the only products they will be offering.
Nebula Genomics
Verge Genomics is one of the groundbreaking genetic institutions in its active and innovative methods for new drug development to help fight incurable ailments. It shares the field's top machine learning experts and seasoned neuroscience drug developers. Patients seeking to contribute to a cure for their conditions can go for Verge Genomics and contribute to the research with information and DNA.
It is important to note that Verge Genomics is not a diagnostic or genetic sequencing company. Customers interested in learning how their DNA may contribute to disease are often encouraged to seek out genetic testing that can assess predispositions.
Nebula Genomics offers 30x Whole-Genome Sequencing of DNA to provide patients with all their genetic information. The company provides the most comprehensive testing that allows you to know if you are at risk of a genetic condition. If it turns out the ailment falls under the scope of Verge Genomics, patients can reach Verge Genomics for research and drug development purposes.
Nebula Genomics data is of the highest quality and can be used in consultation with physicians and genetic counselors. They can advise patients further if additional screening, diagnostic tests, or treatment is necessary.
Below are the complimenting offers of Verge Genomics review and Nebula Genomics.
| | | |
| --- | --- | --- |
| | Verge Genomics | Nebula Genomics |
| DNA testing method | None | Sequences all 20,000 genes and regulatory regions |
| Ancestry reporting | None | Perform deep ancestry reporting with the complete Y chromosome and mtDNA sequencing |
| Purpose | Drug and therapy development for incurable diseases | Genetic testing to provide customers with detailed genetic information and predispositions |
| Data access | Patients can access data on request | Yes |
| Reports | No | Yes, weekly updated reports |
| Cost | N/A | $0, $99, $299 |
Verge Genomics vs Nebula Genomics
Did you like our Verge Genomics review? You can read more reviews on our blog and check out our complete guide to the best DNA test kit and other home tests.
More biotechnology companies focused on various disease areas are:
In addition to Nebula Genomics, you may also be interested in genetic testing companies that cover rare diseases:
December 21, 2021