This review is written with the intent to be as unbiased as possible. However, it represents the opinion of an individual reviewer and is therefore subjective. Furthermore, at Nebula Genomics we seek to educate the public about the benefits of Whole Genome Sequencing. Information about our Whole Genome Sequencing DNA test is therefore incorporated into the review.
August 31, 2021
7 Facts from our Stripe2be Review
Location: Loughborough, Leicestershire, United Kingdom
Products: A Dante Lab Company, Stripe2be offers a Whole Genome Sequencing test that analyses 100% of a person's DNA. The tests carried out by this genetic lab firm include rare disease reports and pharmacogenomics. The company offers a home kit as well as genetic counseling.
Cost: $588-$882
Reports: The company offers test results based on whole-genome sequencing tests, increasing the chances of finding a diagnosis. The major focus of the test is to diagnose rare genetic diseases using A.I algorithms.
How it works: Users upload relevant information mostly concerning your ancestry and then order the Stripe2be 30X whole genome sequencing test kit. At checkout you can choose your turnaround time as either eight weeks ($882) or two weeks ($588). Register the kit, perform the test in three simple steps, and mail it to the designated address. A notification email will be sent on result availability at the estimated time frame.
Raw Data Access: Stripe2be offers raw data access to its registered kit users. Once you perform the test, you can easily request your raw data, which will be available in any format: FASTQ, BAM, and VCF.
Alternative Products: Nebula 30X Whole Genome Sequencing is an alternative whole genome sequencing service that decodes all the information on your genome. Nebula reads over six million positions on your genome to provide you with reliable results that can be used in consultation with a medical professional.
Stripe2be Introduction
Stripe2be is a global whole genome sequencing company that specializes in helping to diagnose and treat rare diseases. Using a patient centric and unbiased approach through its artificial intelligence (AI) platform, the company serves to provide a genetic solution for patients suffering from the uncertainty or misdiagnosis of rare diseases. The company is a subsidiary of Dante Labs.
The name, Stripe2be, comes from the visualization of the DNA model, the double helix, that looks like stripes (the rungs of the ladder). Like zebras, the individual "stripes" in the DNA are what make an individual unique. Hence, the name and the zebra print on its products.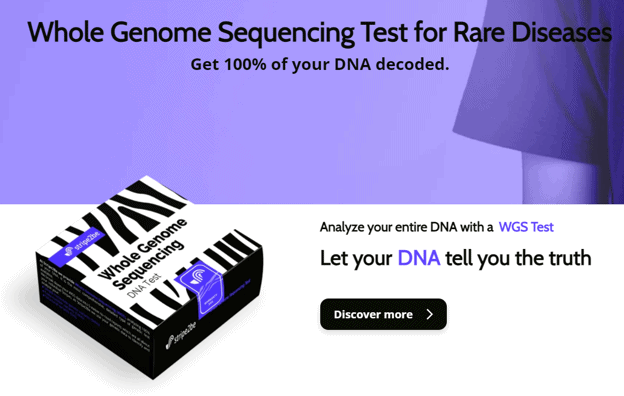 While company operations are mainly carried out in their business unit in Loughborough of Charnwood, Leicestershire, they ship their at home products worldwide. While they mainly operate as an on-site laboratory for DNA tests, it carries a range of packages that include genetic counseling, Home kits registration, personalized reports, and users' access to raw data.
Stripe2be stands out from most genetic firms because its operations have predominantly focused on diagnosing rare genetic diseases and providing support for those seeking guidance and treatment. Almost 80% of rare diseases have a genetic component. The company believes that genetic testing can help patients get diagnosed faster and have a better understanding of the origin of their condition, prompting quicker and more accurate treatment options.
Another strength of the firm is its pharmacogenomic reports. These reports help users identify specific genetic variants that could influence how their body processes more than 120 medications. The management boasts of offering "the most complete" pharmacogenomic report their customers can use to build a personalized treatment plan.
Stripe2be has collaborations with other genetic-related firms and rare disease advocacy groups such as Epilepsy Sparks, Rare Genomics, and Dazzle4Real. These companies contribute significantly to the effectiveness of Stripe2be in helping users who seek to know whether a condition is genetic or not get complete comprehensive detail.
The Science of Stripe2be
Stripe2be is a DNA genetic laboratory that provides Whole Genome Sequencing (WGS) in analyzing 100% of clients' DNA. WGS analysis offers the most comprehensive, detailed type of genetic test available by decoding the entire genome whereas many other commercial genetic tests only decode about 0.2%. The company breaks down user WGS data into easy-to-understand reports.
Democratizing of genomics data
Stripe2be believes in using WGS to democratize DNA data. This means giving users access to everything encoded in their genome. With this in mind, Stripe2be has developed proprietary technology and highly specialized laboratories with an international team of scientists, geneticists, and bioinformatics specialists. Their technology and ability to integrate sequencing and medical data provides more accurate and faster results worldwide.
Stripe2be is not just all about providing reports on your genetic complexity, but goes more into diagnosing rare diseases. The more rare a disease is, the more complex its diagnosis, research, and pharmaceutical options will be. The company believes that with better and more accessible sequencing technology, patients and their doctors will be better able to break through this complexity and find appropriate treatments more efficiently. This is especially so when the diagnosis is on rare diseases and includes a broad diversity of symptoms and signs.
Stripe2be Review
Taking a Stripe2be test
Getting to use the kit is extremely easy, and you do not need any technical knowledge to perform.
You will first sign up as a user and upload relevant information mostly concerning your ancestry. Click the "Get your test" menu and order the Stripe2be 30X whole genome sequencing test kit. There are two options available; The first test option will return your WGS results in 8 weeks while the second offers expedited results that take two weeks for you to get the test result.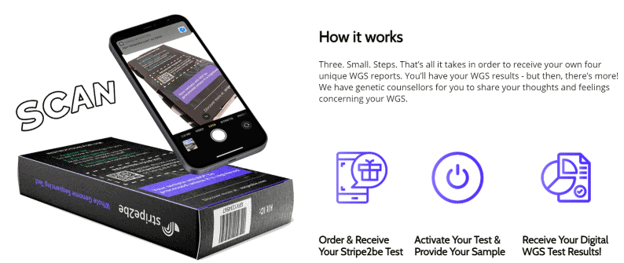 Once you receive the test, register it. You will receive a unique code that allows you to access your results when available and perform subsequent activities. You can do this online or quickly activate your kit by scanning the QR code on the back of the box. Then, you will collect your saliva sample and mail to the designated address.
Depending on the kit offered, your result will be made available at the estimated time frame.
Review of Stripe2be reports
Specifically designed to diagnose rare genetic conditions, the Stripe2be test kit offers tests for conditions such as
Epilepsy
Mental and behavioural illness
Neurodegenerative conditions
The personalized reports are created with the assistance of AI interpretation software. According to the company, they break down the WGS data into 5 easier to read reports. These reports include:
Rare disease report
The company harmonizes A.I. algorithms and genomic data to help provide diagnoses for rare diseases. It also reduces waiting times previously needed for filtering and prioritizing variants.
Pharmacogenomic analysis
The company also learns clients' personal genetic variants to know how they might influence their body processes over 120 medications. The platform also builds a personalized treatment plan with the complete Pharmacogenomic Report on the market.
Analyze all pathogenic variants
The company offers a complete variant analysis panel where you can find the answers to the cause of the insistent illness clients go through. Clients get to find answers to serious questions about their health and more.
Full raw data
With its developing science, the company uses the Whole Genome Sequencing Test to provide full raw data to clients on request, so they can make positive life changes that allow them to live healthier lives. The raw data is available in different formats such as FASTQ, BAM & VCF.
Genetic counseling
Once users receive their results, many still have questions as to how their genetic data should be used. The company offers genetic counseling to help users interpret their results and create clinical treatment plans. You can request genetic counseling at any time after purchasing your test.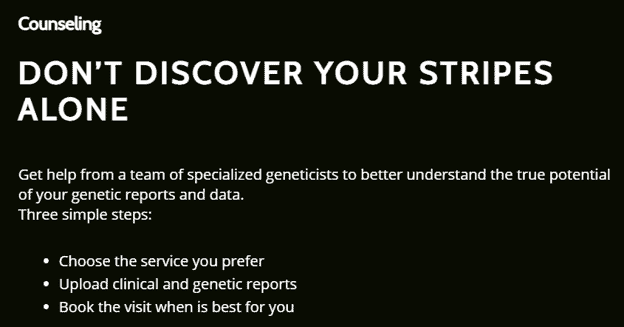 Each session lasts 1 hour for test result interpretation plus 15 minutes for questions and answers. Reports must be shared at least 2 weeks before the appointment.
There is also the option to connect with accredited rare disease associations and advocacy groups.
Review of Stripe2be cost
Stripe2be offers 30X WGS tests with reports that focus on rare genetic diseases.
Compared to other WGS kits, Stripe2be prices are on the high side. The reason is most likely a result of their ability to test and diagnose rare conditions.
The at home kit costs are:
Stripe2Be WGS 30X (2 Weeks) – $588
Stripe2Be WGS 30X (8 Weeks) – $882
The company offers two types of genetic counseling. A single general genetic counseling session costs $235 for a 75 minute session. Customers can also choose nutrigenomic counseling for $164 for a 75 minute session.
Review of Stripe2be Privacy
The company makes claims that your privacy is one of their core values. To do this, they perform all activity within the US or UK and are fully compliant with the General Data Protection Regulation (GDPR). They will collect personal information in order to process the service they offer.
Their database is compiled on a Cloud on Amazon Web Services (AWS), which they claim provides the highest level of security. If you do not want your data saved, you can request it be deleted at any time by emailing hello@stripe2be.com.
Stripe2be in the News
A subset of Dante Labs, Stripe2be was released in July 2021 as a way to tackle Rare Disease Odysseys, the long search for a positive diagnosis, on a global scale.
You can read their release statement on BioSpace.
Other Stripe2be Reviews
As of this writing, this service is only about 2 months old, which means that not many independent reviews are available online.
Some discussion threads think the revamp is a marketing strategy to divert users away from some of the more negative reviews of the parent company, Dante Labs.
Users on reddit are starting discussions on the company, including what is included in the reports. Some new customers believe the reports will be similar to those offered by Dante Labs.
Read our review of Dante Labs here!
Stripe2be Pros and Cons
Pros
Uses 30X Whole Genome Sequencing for comprehensive coverage
Focuses on rare diseases, an area often overlooked
Performs unbiased, patient centric analysis with AI features
Offers genetic counseling
Access to raw data on request
Cons
The prices for its at home kits are higher than competitors
Only geared to rare diseases and not other health conditions
No ancestry analysis
Nebula Genomics
Like Stripe2be, Nebula Genomics offers 30X whole genome sequencing (WGS) to perform comprehensive DNA sequencing that unlocks the entire genome. Most importantly, Nebula focuses on more than rare diseases. With Nebula Genomics, users receive a DNA analysis with reports that explain your genetic risk for hundreds of conditions, from rare diseases like epilepsy, to common ailments such as high cholesterol, and even cancer.
While Nebula Genomics is not a diagnostic company, our whole genome sequencing data is of the highest quality and can be used by physicians and genetic counselors. Compared to true diagnostic companies like Stripe2be, Nebula offers the best value for your money. For $299 or less, you can have 100% of your genome sequenced and access to DNA exploration, which allows you to compare your unique genetics to new research for many health conditions. Compare this to the $588 for Stripe2be, which only focuses on rare diseases.
With the Nebula Genomics Research Library, you can unlock reports on the most recent scientific research and continue to learn more about your genetic code throughout your lifetime!
| | | |
| --- | --- | --- |
| | Stripe2be | Nebula Genomics |
| Sample collection | Saliva | Saliva |
| DNA testing method | Whole Genome Sequencing (30X coverage) | Whole Genome Sequencing (30X coverage) |
| Ancestry testing | No | In-depth ancestry reporting with a full Y chromosome and mtDNA sequencing |
| Raw DNA download | Yes (FASTQ, BAM, and VCF files) | Yes (FASTQ, BAM, and VCF files) |
| Information provided | One report per every aspect tested with details, recommendations, and call to action | Weekly reports based on the latest research and data (learn more) |
| Cost | $588-$882 | $0 – $299 |
Stripe2be vs Nebula Genomics
CENTOGENE and GeneDx are other diagnostic companies that specializes in rare diseases. Some biotechnology companies you may be interested in that use genomics to develop novel therapies are:
Did you like our Stripe2be review? You can read more reviews on our blog and check out our complete guide to the best DNA test kit and other home tests.
You may be interested in other clinical diagnostic companies, many that include some panels are rare diseases.
Diagnostics and disease risks:
Includes carrier status:
Mental health:
GeneSight (clinical genomic test for psychotropics)
Genomind (pharmacogenomic testing for mental health treatment)
Tumor genetics for personalized treatment:
Did you like our Stripe2be review? You can read more reviews on our blog and check out our complete guide to the best DNA test kit and other home tests.