This review is written with the intent to be as unbiased as possible. However, it represents the opinion of an individual reviewer and is therefore subjective. Furthermore, at Nebula Genomics we seek to educate the public about the benefits of Whole Genome Sequencing. Information about our Whole Genome Sequencing DNA test is therefore incorporated into the review.
August 31, 2021
7 Facts From our CENTOGENE Review
Location: Rostock, Germany
Products: Various types of genetic testing from whole genome sequencing to single gene analysis
Cost: Varies by test. Not available online.
Reports: Reports on your testing arrive after a few weeks. Your wait period depends on the type of testing you do
How it works: Order the custom CentoCard and then send your sample via mail
Raw Data Access: CENTOGENE lets you access your raw data although it is taken off their servers a month after your report is ready
Alternative Products: Nebula 30X Whole Genome Sequencing decodes all the information on your genome. Nebula reads over six million positions on your genome to provide you with reliable results that can be used in consultation with a medical professional.
CENTOGENE Introduction
CENTOGENE is known as The Rare Disease Company as their major focus is the diagnosis and treatment of rare diseases. This they pursue through analysis and research of genetics and how it ties into rare diseases. Through genetic analysis, CENTOGENE can diagnose close to four thousand different ailments and diseases, both rare diseases and more common ones. Because the company is focused on advancements in the field of rare diseases, it can provide often better solutions for patients experiencing uncommon conditions.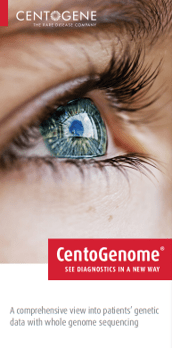 CENTOGENE NV was established in 2006 by a neurologist, Arndt Rolfs, to make genetics a solution for people with rare diseases. Dr. Arndt's experience with rare hereditary diseases as well as his drive to see advances in the diagnosis of rare illnesses led to the founding of the company. CENTOGENE has since then made great advancements in the diagnoses of rare ailments, cutting down the diagnosis period from an average of seven years to just a few days. Andrin Oswald is the current CEO of the company.
CENTOGENE has a large genetic data repository, possibly the largest in the world of information on rare hereditary diseases. With detailed information on genetics, phenotype, genotype, and other data to support the development of new treatments. The company's headquarters are in Rostock, Germany with additional operations in Berlin and the United States (in Cambridge, Massachusetts). CENTOGENE employees come from over 50 nations, making it a truly global company.
The company is also developing pharmaceutical partners in order to further advance cures for many of the diseases they diagnose. The pharmaceutical companies they work with have access to their large database and resources, including materials for patient screening and monitoring. Additionally, the company also offers a clinical studies program in an effort to increase the clinical and genetic data necessary to better understand rare conditions.
CENTOGENE Review
Review of CENTOGENE products
CENTOGENE is involved in the diagnosis of diseases as well as the treatment of all discovered diseases. With a team of professionals on standby to be consulted as well as a scientific advisory board, they aim to provide a system that eases the process of diagnosis and treatment of diseases.
CENTOGENE provides a genetic testing platform with different diagnostic services for each patient's individual needs. Overall, the company can analyze over 6,500 genes to account for nearly any genetic disorder. This diagnosis taps into CentoMD, the company's database for mutated diseases as well as several other sources worldwide to provide accurate diagnostic results.
CentoGenome
This is CENTOGENE's whole-genome sequencing service. WGS goes through the entirety of the genome region to discover any abnormalities in the DNA. This analysis can uncover the vast majority of genetic variants that cause diseases. CentoGenome is recommended for patients who have a host of symptoms that make traditional diagnosis methods ineffective. It is also an option for patients who have undergone several rounds of diagnosis without any conclusive reports. Patients who also require speedy diagnosis are also advised to take advantage of whole-genome sequencing.
CentoXome
CentoXome is the whole-exome sequencing service provided by CENTOGENE. This sequencing scans the whole of the protein-coding sections of the genome and then compares it with a database containing an eighth of all disease-causing variants from all around the world. CentoXome testing is bundled with free lifelong support as well as discounted reanalysis in case you plan to test again. CentoXome testing results are delivered within 15 days if you opt for the fast turnaround option and 30 days for the standard one.
NGS Panels
This sequencing method is employed to diagnose conditions where many genes have to be analyzed. Next-Generation Sequencing uses ultramodern research methods to reveal pathogenic variants in the genome regions. CENTOGENE's NGS Panels can be used to diagnose diseases in the categories listed below.
Cardiovascular: CENTOGENE has identified genetic variants in more than a couple hundred genes that lead to heart-related diseases. NGS helps to detect these variants early so adequate action can be taken.
Dermatology: A lot of different skin conditions have similar symptoms. Genetic testing can help single out the culprit in most skin diseases to help make sure you treat the right disease.
Dysmorphology: Birth defects and anomalies in patients can be pinpointed with the use of gene testing.
Ear, Nose, and Throat: Several inherited conditions lead to problems with the ears, nose, and throat which can be diagnosed using CENTOGENE genetic testing.
Endocrinology: Hormonal disorders such as diabetes and obesity can be diagnosed allowing for streamlined counseling and treatment for patients.
Hematology: Most diseases of the blood are genetic. Gene testing helps discover blood disease-causing variants in your genes to help tailor treatment for individual patients.
Hepatology: Hereditary diseases of the liver are easily sniffed out via genetic testing to help treat these conditions.
Immunology: An exact diagnosis of immune-related conditions is needed to carry out effective treatment of patients.
Metabolic Disorders: Special diagnostic methods, as well as medications, have been developed at CENTOGENE to help discover and treat metabolic diseases effectively.
Nephrology: Hereditary kidney diseases can now be diagnosed and treated due to recent advancements in the genetic testing procedures.
Neurology: Brain and spinal cord disorders need precise diagnosis which can only be offered by genetic testing to effect sound treatment.
Oncology: Genetic testing can make a difference in the diagnosis, treatment, and care of patients suffering from cancer.
Ophthalmology: Over three hundred and fifty distinct genes have been identified to be related to eye diseases. Genetic testing helps to pin down the exact cause of a patient's ophthalmologic disease.
Osteology: Hereditary bone conditions can be discovered to aid the treatment of patients.
Pneumology: Treatment of inherited respiratory illnesses is facilitated by the introduction of genetic testing.
Reproductive Genetics: Genetic testing can reveal information on reproductive issues such as infertility, helping people make the best decisions concerning family planning.
Single Gene Testing
Single gene testing is advised for patients with diseases that are a result of variations in a single gene. Patients who have a family history of a particular disorder can take advantage of single gene testing.
Biomarker and Biochemical Testing
A biomarker can be employed to measure the severity of a patient's health condition which can prove useful in the treatment of the condition. This can be used to test the effectiveness of a medication or treatment.
Prenatal Testing
In seven days, you will receive the results of single gene prenatal tests. Fifteen days for NGS and WGS prenatal tests. Test results for prenatal tests are received so early because they are given priority over other testing processes. You also have access to support personnel who will answer all questions you have concerning the testing.
Carrier Screening
A lot of people carry recessive genetic diseases which can become dominant in their children if their partner carries the same genes.
CentoNIPT
This is a non-invasive prenatal test that uses non-invasive methods to carry out tests on the fetus in the womb of a mother. This method of fetal testing is the safest and most reliable method to ensure the health and safety of a pregnant mother and her child.
Additional tests and services you may be interested in include chromosomal microarray testing, mitochondrial genome testing, infertility testing, newborn testing, hereditary cancer testing, and somatic mutation testing.
Review of taking a CENTOGENE genetics test
Because CENTOGENE is a diagnostic company, a test must be ordered by a qualifying physician. Patients will first have a consultation with either their doctor or a genetic counselor. If the medical professional determines you qualify for genetic testing, they will order the test from CENTOGENE on your behalf. Genetic testing is usually recommended if you have a family history of a genetic disorder or are showing signs of developing one. It may also be recommended if you are pregnant or may become pregnant and are concerned of passing a genetic disorder to your children.
In most cases, the required sample will be blood, collected on the CentoCard, which will be mailed. However, the exact sample needed will depend on the test.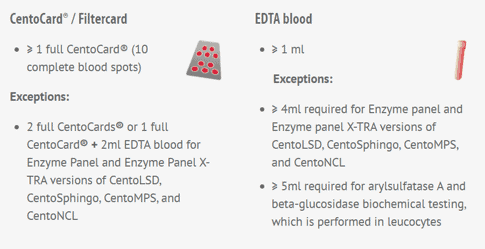 Using CentoCard, a specially designed dried blood sample filter, all your doctor has to do is request for the CentoCard. Once it is delivered, your doctor will fill in your details and transfer your blood. They will wait 2 hours for the blood to dry and then mail your blood sample just as you would mail a normal letter. Once mailed, all that is needed is to await the results of your testing.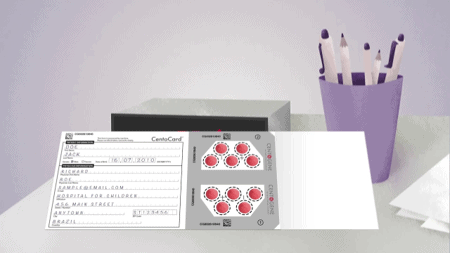 Review of CENTOGENE costs
Most insurance companies will pay for diagnostic genetic testing if it is recommended by a doctor or genetic counselor. However, each situation is unique and patients should contact their insurance company directly to confirm. If a patient is uninsured or unable to cover the cost, they may be eligible for the company's no cost research testing program.
With this company, patients also have the option to pay out of pocket. Once the sample is received, the patient will receive an invoice for the cost of the service. The company accepts PayPal and several major credit cards. The sample will be processed once payment is received.
Prices will vary by the type of test. The company does not make its prices available online. Patients or their doctor can contact the company directly.
Review of CENTOGENE Reports
You get your report in less than a month regardless of what testing method you choose. Different tests however have different waiting periods. You have to wait a mere 7 days for some test reports while you have to wait up to 20 days for others. The company has various sample reports available on their website.
Whole Genome Sequencing Report
There are two options for the whole genome sequencing. If you opt for the fast option, you get your report in 15 days or less while it can take up to 20 days for the regular option. The report includes detailed and professionally interpreted information on the patient's clinical condition. Follow-up diagnosis and analysis are also recommended.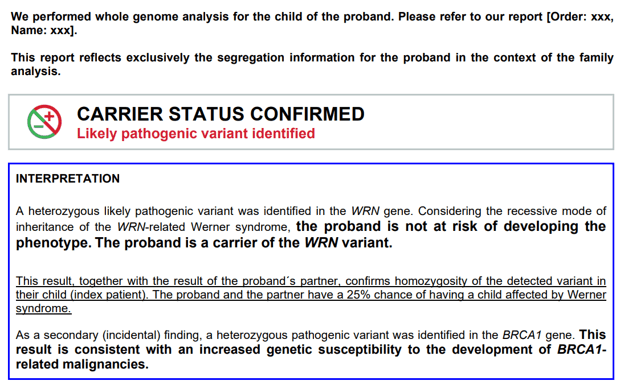 Whole Exome Sequencing Report
The reports for this diagnosis arrive in either 15 or 30 days depending on if you go for the fast or regular option. It includes a detailed evaluation of the patient's condition as well as recommendations and phenotype-based findings.
NGS Panels Report
You get a report of all variants detected as well as a detailed explanation of the data collected. You also get a list of pathogenic variants discovered.
Prenatal Testing
Prenatal testing is always given the highest priority, and therefore you get your test report in as little as 7 days with a maximum turnaround time of 15 days.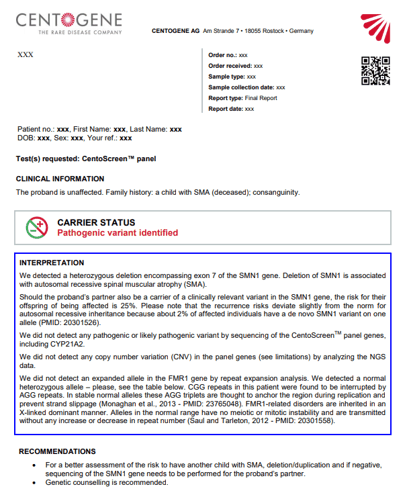 Other tests
Some of the diagnostic tests only analyze for a specific gene or genes that are known to cause disease. These tests are normally performed on patients with a family history of a certain condition, such as breast cancer.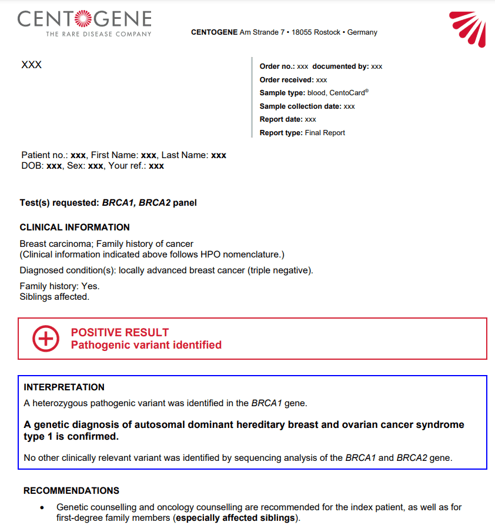 Review of CENTOGENE Privacy
The company has an impressive privacy policy that covers data protection and HIPAA.
"To support its mission of diagnosing and detecting, CENTOGENE uses Personal Data in the diagnosis of rare hereditary diseases, marketing of innovative products, partnering with health care professionals and researchers, and in relation to its Associates."
This means that personal data is collected and used in a way that supports the company's mission. This information is mainly collected to supply the patient or doctor with services requested. They do use personal information to provide the users with advertisements and other marketing. Most personal data is protected under the GDPR or General Data Protection Regulation of the EU. All users have the right to access, modify, or erase their personal data as well as report misconduct or revoke their consent to having their personal data used.
The company is bound by all HIPAA regulations, meaning that it is required by law to keep your identifiable health information private. Their Notice of Privacy Practices is available on their website and lets you know what the company can and cannot do with your health information. This notice was last updated in April 2021.
CENTOGENE in the News
The company proudly supports events and days dedicated to the awareness of rare diseases. In 2020, they supported International Gaucher Day through virtual events. In 2021, they played a role in Rare Disease Day in February by hosting a two-part virtual event, with a scientific conference program followed by our first international film festival on rare diseases.
On June 22, 2021, the company held its first virtual investor event and set a bold mission to cure 100 rare diseases within the next decade. At this event, they revealed their strategic plans for priorities like research and development and for improving access to care.
Other CENTOGENE Reviews
Since CENTOGENE is a private company that works through doctors offices, there are not many public reviews. The company does share a number of testimonials from doctors and patients all over the world, mainly praising the company for their help with diagnosing rare diseases.
Most of the negative reviews online, such as these from Trustpilot, are for the company's COVID-19 testing in the form of a PCR kit. They have a few special testing centers in European airports for passengers needing a negative test before and after travel. For those returning, they must produce a negative test 48 hours after their return. A majority of the negative reviews report long wait times.
Interested in COVID-19 travel tests? Kurix Health and Project Screen offer special testing meeting requirements for departing and arriving in the UK.
Pros and Cons of CENTOGENE Testing
Pros
Reliable diagnostics provided by professionals
A large selection of products
Large database for diagnosis of rare diseases
Usually covered by insurance
Cons
Prices are not available online
Test must be taken through a doctor's office
There is an extra cost for the high priority prenatal testing
Nebula Genomics
Nebula genomics offers the most comprehensive DNA gene sequencing available in your own home. CENTOGENE is a diagnostics company. Therefore, their tests must be approved and ordered through your medical provider. Although Nebula is not a diagnostic company, their DNA sequencing and analysis is of the highest quality and can be used in consultation with a physician or genetic counselor.
CENTOGENE's focus is on rare diseases. They offer whole genome sequencing as well as various other products that decode different amounts of the genome. At Nebula Genomics, we always perform whole genome sequencing, which decodes 100% of your DNA, at a low price ($299 or less). This gives you an extremely detailed report of your ancestry as well as your health and your diet. Our services are more general than rare diseases so you can discover genetic predispositions to many conditions, from common ailments like high blood pressure to rare diseases like epilepsy.
| | | |
| --- | --- | --- |
| | CENTOGENE | Nebula Genomics |
| Sample collection | Proprietary dried blood collection card | Saliva |
| DNA testing method | Whole Genome Sequencing, Whole Exome Sequencing, Gene panels, Single gene analysis, etc. | Whole Genome Sequencing (30x coverage) |
| Ancestry testing | No | Deep ancestry reporting with full Y chromosome and mtDNA sequencing |
| Raw DNA download | No | Yes (FASTQ, BAM, and VCF files) |
| Compatible with other services | No | Yes |
| Report | A single report provided at the end of testing | Weekly genetic reports based on the latest research and data (learn more) |
GeneDx and Stripe2be are other diagnostic companies that specialize in rare diseases. Some biotechnology companies you may be interested in that use genomics to develop novel therapies are:
Did you like our Kurix Health review? You can read more reviews on our blog and check out our complete guide to the best DNA test kit and other home tests.
Other clinical diagnostic companies, many that include some panels are rare diseases, are available.
Diagnostics and disease risks:
Includes carrier status:
Mental health:
GeneSight (clinical genomic test for psychotropics)
Genomind (pharmacogenomic testing for mental health treatment)
Tumor genetics for personalized treatment:
Did you like our Stripe2be review? You can read more reviews on our blog and check out our complete guide to the best DNA test kit and other home tests.