7 Facts from our 7DROPS Review
Location: Houston, Texas
Products: Allergy & Food Intolerance Test, Allergy Test, Food Intolerance Test
Cost: $179 – $259
Reports:
How it works: Customers create their accounts, receive their chosen test at home, and activate the kit. They provide a blood sample and return the package to the lab
Counseling available: Yes
Alternative Products: Nebula Genomics offers 30X Whole Genome Sequencing that decodes 100% of your DNA and offers reports on diet and much more!
This review is written with the intent to be as unbiased as possible. However, it represents the opinion of an individual reviewer and is therefore subjective. Furthermore, at Nebula Genomics we seek to educate the public about the benefits of Whole Genome Sequencing. Information about our Whole Genome Sequencing DNA test is therefore incorporated into the review.
April 11, 2023
Pros and Cons
Pros
Allergen panel covers nearly 100% of the globally relevant allergens
Food intolerance test includes 286 food antigens
Scientifically backed and does not include unpleasant procedures (e.g., skin tests) or scientifically unfounded food sensitivity tests (e.g., testing of hair samples)
More results than competitors
Cons
The test kit is not a substitute for medical advice or treatment
Skin prick may still be uncomfortable for some
Introduction
7DROPS offers home testing kits that allow customers to test for allergies and food intolerances. Customers can choose either an allergy test or an intolerance test or purchase a single test that includes both.
The goal of 7DROPS is to improve health and quality of life. In a word, the company claims that people will no longer need to wait for referrals or pay for overpriced and frivolous tests that only give an incomplete or false picture of sensitivities. It is also the only at-home test covering 99% of relevant allergy triggers.
This test is for people who want to confirm previous allergy test and/or food intolerance test results, see if immunoglobulin E (IgE) and/or immunoglobulin G (IgG) levels have decreased over time; or for those looking to get tested for allergies and food intolerances for the first time before seeing a specialist.
Overall, the tests analyze 295 allergies and 286 food intolerances.

Biologist Christian Harwanegg founded the company. He worked for the leading companies in immunodiagnostics for over a decade before founding his own med-tech business MacroArray Diagnostics (MADx) in 2016. The MADx team comprises more than 40 employees, including specialists in research, development, production, engineering, marketing, product management, and sales.
The test is suitable for all ages and is available in all states, excluding New York.
The Science Behind 7DROPS
At this time, its approach is based on the latest scientific findings and state-of-the-art-technology.
Using in vitro molecular diagnostics to test a panel of 117 allergen extracts and 178 molecular allergens, 7DROPS offers the most extensive panel of molecular allergens compared to other IgE allergy tests on the market. Using molecular allergens provides a more precise risk assessment, complete resolution of possible cross-reactivities, indication for immunotherapy, and differentiated dietary recommendations.
7DROPS uses both allergen extracts and molecular allergens in their testing methodology. Allergen extracts are used where molecular allergens are not well-characterized or are redundant due to high cross-reactivity. In contrast, molecular allergens are used in cases when allergen extracts are unstable.
This combination ensures the most accurate profiling of a patient's sensitization status, the first step to developing a type I allergy. To put it another way, it is the process by which the immune system recognizes a new allergen and produces IgE antibodies.
Once the lab report is uploaded to the secure 7 Drops platform, patients can consult with their allergy specialist or nutritionist to devise individualized therapeutic measures, including elimination diets.
Review of 7DROPS Products
The products include three tests:
Allergy
Food Intolerance
Allergy & Food Intolerance
The company reminds customers that only a physician can confirm a positive or negative diagnosis.

Allergy test
This home allergy test helps customers discover allergies they may react to. It includes food allergies as well as those related to things like dust, pollen, and more. In brief, it uses a few drops of blood to measure the body's total IgE (tlgE) indicating if an allergy is likely, possible or unlikely. 
It also measures Specific IgE (sIgE) against 295 allergen extracts and molecular allergens to help identify what is causing the allergy.
Allergy symptoms include:
hay fever
skin rash (hives & eczema)
oral allergy syndrome (tingly lips, mouth & throat)
nausea
stomach pain
diarrhea
vomiting
allergic asthma & trouble breathing
anaphylaxis
Food intolerance test
This type of testing helps customers discover potential food sensitivities. To this end, it uses a food drops of blood to measure specific IgG levels against 286 food antigens from 13 different food groups (including basic and novel foods). It may be able to separate issues from conditions such as irritable bowel syndrome. 
IgG is an antibody that makes up 75% of human blood serum. Markedly, it signifies memory through exposure to a food.
Symptoms include:
bloating
stomach pain
nausea
diarrhea
joint pain
headaches
nervousness & irritability
Allergy & food intolerance test
This test is a combination of the allergy and intolerance tests that analyzes the sample for all 295 allergens as well as 286 food intolerance triggers.
Review of Taking a 7DROPS Test
To take a 7DROPS test customers will order the kit online. The test kits contain:
1 blood sample tube
4 alcohol pads
3 lancets
1 transport tube
1 prepaid return envelope
Instructions
Customers follow the enclosed instructions to collect a small amount (500 μL) of blood using a small finger prick, a process much simpler than blood draws. Then, they return the sample to the lab using the prepaid envelope. Equally important, customers should return their collected blood sample promptly to avoid having the sample go bad.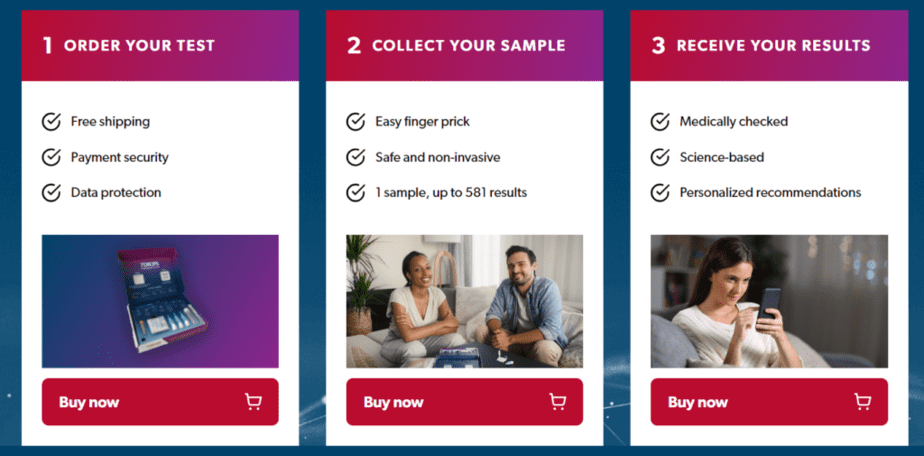 The company returns the medically checked results, including personalized recommendations, in the secure online platform. Then, results are usually ready in approximately 10 business days after the sample is mailed.
Review of 7DROPS Cost
The individual tests are around $200 each. There is a discount when buying a combination test.
Allergy Test: $179
Food Intolerance Test: $189
Allergy & Food Intolerance Test: $259
Customers can also get a reduced price when they buy 2 or more testing kits.
Review of 7DROPS Report
The reports provide different information based on whether the customer is testing for allergies or food intolerances. 
Allergy test
The first part of the report includes the patient information.
Subsequently, the results for this test start in the second section, with a summary of detectable sensitivities in the blood sample. Specifically, it will highlight the highest measured IgE concentration per allergen group (i.e., pollen, mites, insect venoms, etc.). These reactivies range from "no reactivity to allergen" to "very high reactivity to allergen" on a scale:
0 (<0.3 kUA/L) Negative or uncertain
1 (0.3-1 kUA/L) Low IgE level
2 (1-5 kUA/L) Moderate IgE level
3 (5-15 kUA/L) High IgE level
4 (> 15 kUA/L) Very high IgE level
The higher the IgE level, the greater the potential for an allergic reaction. The number of tested allergen sources will also be listed.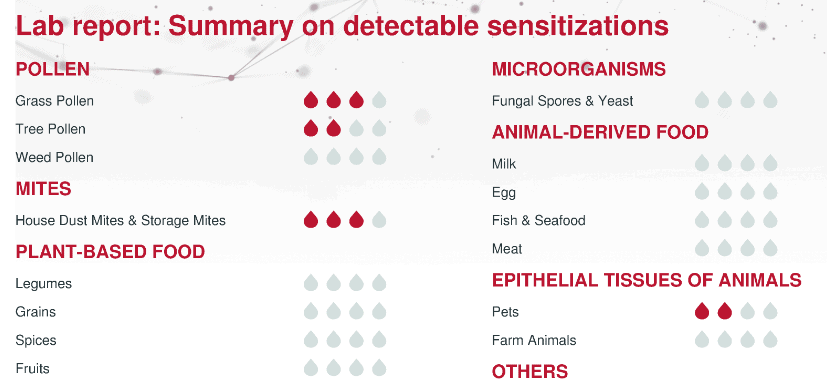 The third section is a detailed report on IgE antibody concentration for every allergen within the respective allergen group. Specifically, information includes allergen name, type, specific allergen name, function, and IgE concentration. The scaling system is also the same as in the first section. 
Furthermore, this section includes total IgE, a list of all the allergens tested, and their perspective groups.
Finally, the fourth section is an interpretation summary. It includes personalized interpretations powered by proprietary software. These results also include information related to various therapy options.
Given that allergies can lead to life threatening reactions, patients are encouraged to talk about with their doctors to diagnose a true food allergy and manage treatment.
Food intolerance test
The basic foundation of this report is similar to the allergy test.
The first section contains patient information.
Then, the second section contains summary information on IgG concentration divided into 14 food antigen groups: milk & egg, meat, fish & seafood, cereals & seeds, nuts, legumes, fruits, vegetables, spices, edible mushrooms, novel foods, coffee & tea, and others. These reactivies range from "low reactiving" to "high reactivity" on a scale:
0 (0-9.99 μg/mL) low IgG reactivity
2 (10-19.99 μg/mL) intermediate IgG reactivity
3 (>20 μg/mL) high IgG reactivity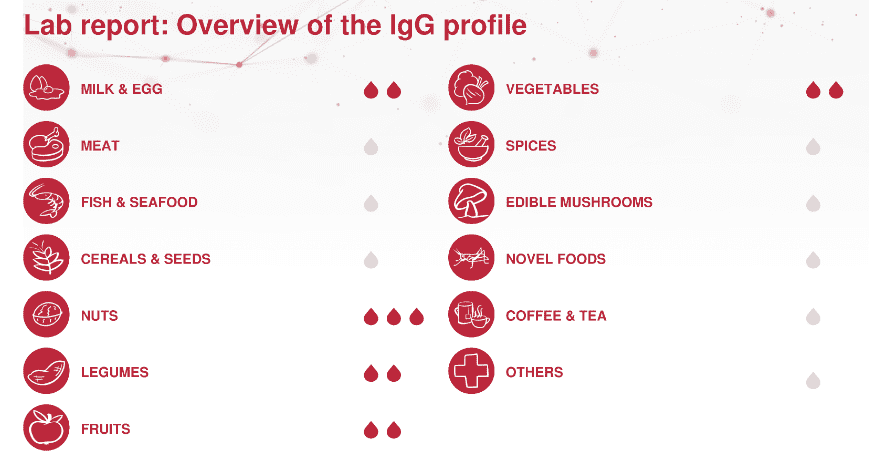 The next section provides detailed results on the IgG concentration for every food antigen tested. In like fashion, it uses the same scale as the previous section. Information includes antigen name, IgG concentration, and level of reactivity. Therefore, these results let customers see the specific foods or ingredients that may be causing their symptoms. 
Finally, the last part shows the number of food allergens tested and how they were divided into groups. Equally important, the company recommends that anyone concerned about their results should consult their doctor or registered dietitian.
Review of 7DROPS Privacy Privacy
The company collects personal information when a user creates an account, registers for a test kit, or subscribes to their newsletter. Markedly, it shares personal information, including test results, with third party labs processing the test and physicians who approve each test and review the results.
Information may also be shared with service providers, in connection with a sale or liquidation of the business, and when required by law.
Other 7DROPS Reviews
There are no reviews on 7 drops on Amazon, BBB, or TrustPilot.
Reviews on the three test types can only be found on the company's website. As a result, these ratings are all between 4 and 5 stars. 
For example, customers praised the ease of testing and quickness of the results. Many also made comments about suffering symptoms and having only suspicions of what was causing them. They credit 7DROPS with giving them insights and helping them eventually resolve these issues.
7DROPS Comparison to Other Food Sensitivity Test Companies
You may also be interested in 5Strands, Allergytest.co, Check my body health, Simply Sensitivity Checks, and YorkTest Laboratories, which also offer sensitivity testing.
| | | | | | | |
| --- | --- | --- | --- | --- | --- | --- |
| | Allergytest.co | 5Strands | 7DROPS | Check My Body Health | Simply Sensitivity Checks | YorkTest Laboratories |
| Major items tested | 38 allergies, 40-79 intolerances (food+drink), and 500-975 sensitivities (food, drink, and environment) | Up to 644 (food) and 197 (environment) intolerances | 295 allergies and 286 food intolerances | 400 – 970 (includes gut health and digestion) | 400-900+ food and non-food sensitivities | 100-200 food and drink ingredients |
| Testing method | Blood spot (allergies) or hair sample (intolerances) | Hair sample for bioresonance testing | Blood spot | Hair sample for bioresonance testing | Hair sample for bioresonance testing | Blood test |
| Who is it for? | Adults and children over 2 (if recommended) | Food sensitivities for children, adults, and pets | All age groups | Adults and children over the age of six | Adults and children over the age of six | Separate tests for adults and children age 2-17 |
| Reports | Low, moderate, and high reactions | Intolerances divided into mild to severe categories | IgE (allergies) and IgG (intolerances) | High and moderate reactivity | High, moderate, and no reactivity | High, moderate, and no reactivity |
| Counseling | No | Yes | No | Yes | No | Yes (extra fee) |
| Cost | $173-$319 (allergies/intolerances) or $99-$135 (sensitivities) | $78 – $88 | $179 – $259 | $97 – $136 | $123 – $166 | $142 |
Nebula Genomics
7DROPS helps customers discover possible allergies and food intolerances that may be causing previously undiagnosed symptoms. Another way you can assess your symptoms is by understanding your genetic predispositions.
In the early stage of many conditions, symptoms may be slight or even non-existence. By understanding what you are at risk for, you and your doctor may even be able to discover a problem prior to diagnosis.
Nebula Genomics offers 30x whole genome sequencing, a next-generation sequencing technique that decodes all 20,000 genes in the human genome. Results also come with ancestry reporting and genome exploration tools.
Nebula offers a comprehensive test for any available genetic predisposition related to disease, traits, and health and can therefore help determine whether a genetic condition is responsible for unpleasant symptoms. We also provide customers with regularly updated reports on the latest genetic discoveries. 
For only $299 or less, customers will get access to their entire genome. In effect, this allows them to continue to ask more questions as more research is conducted.
Did you like our 7DROPS review? You can read more reviews on our blog and check out our complete guide to the best DNA test kit and other home tests.