7 Facts from our 5Strands Review
Location: Lawrenceville, Georgia, USA
Products: The company has 4 products for children and adults (plus 2 bundles), five products for cats and dogs (plus 3 bundles), and 2 products for horses.
Cost: $66 – $212
Reports: Focus on how you, your child's, and pet's body responds to diet and lifestyle factors
How it works: Customers order the test and it is delivered to their home. They provide at least 10 hair strands and send them back to the lab. The company uploads the results to the online portal and 5Strands app
Counseling available: Yes (free for humans, an additional cost for pet consultations)
Alternative Products: Nebula Genomics offers 30X Whole Genome Sequencing that decodes 100% of your DNA and offers reports on diet and much more!
This review is written with the intent to be as unbiased as possible. However, it represents the opinion of an individual reviewer and is therefore subjective. Furthermore, at Nebula Genomics we seek to educate the public about the benefits of Whole Genome Sequencing. Information about our Whole Genome Sequencing DNA test is therefore incorporated into the review.
October 5, 2022
Pros and Cons
Pros
Various kits available for humans and animals
Test interpretation is easy
Sample collection is a non-invasive hair test (especially for pets)
Affordable
Cons
Only tests for intolerances, affordable allergy tests not sold
Reports can be overwhelming
Bio resonance technology is not as well studied as genetic testing
Introduction
5Strands Affordable Testing is a holistic medicine company focused on food and lifestyle intolerance. That is, customers can use its tests to help determine if eliminating certain things from their diets can improve their health and wellbeing. The company focuses on environment and food sensitivities, which are temporary issues that can be reversed by eliminating the cause from your diet. It also provides reports that act as a guide for starting an elimination diet.

The company prides itself on providing testing and analyses for affordable prices. Lisa Blaurock (President), Austine Collins (CEO/CMO), and Ethan Steed (Chief Operations Officer) currently lead the company, which is based in Lawrenceville, Georgia.
Founded in 2017 as a small business, 5Strands started as a traveling operation spreading awareness of gut and food intolerances. It believes that knowledge and intention when it comes to nutrition can solve "unsolvable" health problems.
The company includes a disclaimer on its website that states the results of these tests are for informational and educational purposes only. That is, they should not be used for medical diagnosis and they are not intended to be a substitute for professional medical advice.
The Science Behind 5Strands
Unlike most testing companies, 5Strands does not use DNA testing to create its reports. Instead, its tests work through bioresonance, a non-invasive testing method that assesses energetic alignments in the human body. In brief, this means that the technology behind their tests does not require blood and saliva.
Simply stated, bioresonance uses biophysics and unique wavelengths to reveal cellular energy. Therefore, scientists scan a hair sample to create a profile of the energies that radiate from a person or pet. This is different from the traditional blood or saliva tests.
Then, they compare this profile to the energies of the other items the kit tests for. If the energetic blueprint from the hair sample does not harmonize with the items tested, they say that the energy is distorted and the intolerance or imbalance is detected. In like manner, the stronger the distortion, the higher the intolerance or imbalance.
Review of 5Strands Products
5Strands has four products for children and adults (plus 2 bundles), five products for cats and dogs (plus 3 bundles), and two products for horses.
5Strands Human-based Tests
These tests are designed to help you make dietary and lifestyle decisions based on your unique body needs.
Food Intolerance Test
A food intolerance test evaluates the body's reaction to your current diet. It's important to realize that the standard package is an intolerance testing kit, not a food allergy test.
Intolerance involves temporary imbalance caused by food items and lifestyle that can be changed. In other words, they do not involve the immune system.
On the other hand, allergies are immediate, chronic reactions that last a lifetime. They normally involve the IgE or IgG immune response. At this point, 5Strands does not test for allergies.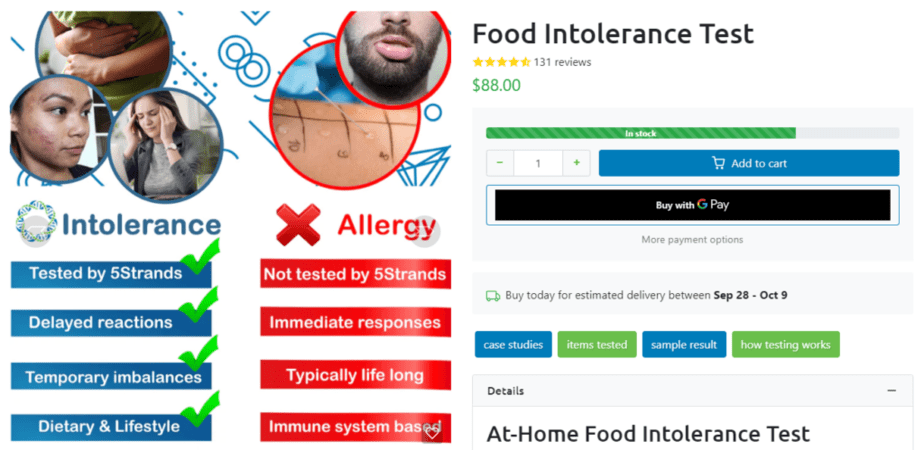 Common symptoms of food intolerance include upset stomach, bloating, headaches, etc. By understanding which foods trigger these reactions further, customers can eliminate them from their diet.
5Strands tests for 640+ proteins, grains, fruits, vegetables, seafood, gluten, additives, preservatives, sweeteners, beverages, dairy, fats, etc.
Other tests
Environmental Test: Analyzes for a total of 190 common environmental items such as pollen, plants and grasses, animal dander, natural and synthetic fabrics, and cleaning solutions.
Vitamins and Minerals Tests: Analyzes 80+ items such as key vitamins, minerals, fatty acids, and amino acids. This test also indicates nutritional deficiencies that your body may need more of through changes in your diet.
Metals and Minerals Test: Analyzes 60 metals and minerals found in your diet and environment.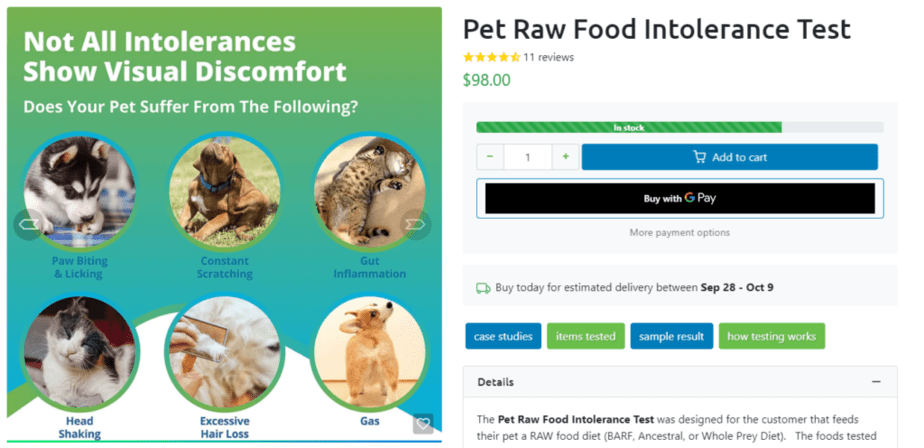 Wellness Assessment: This combination pack includes the 5Strands Food Intolerance, Environmental Intolerance, and Nutrition Imbalance tests. Overall, you will receive the testing results from 444 items that may be causing an imbalance leading to symptoms.
Health & Wellness Test: This combination pack includes the 5Strands Food Intolerance, Environmental Intolerance, Nutrition Imbalance, and Metal & Mineral Imbalance tests. Overall, you receive the results from 985 items that may be causing an imbalance leading to symptoms.
5Strands Pet Tests
The animal-based are based on many of the same functions and principles as the human ones. That is, you can test your dog, cat, or horse with these tests to help determine best practices for a healthy life.
Raw Food Intolerance Test: This tests pet food ingredients for owners who feed their pets raw food. Overall, it analyzes 300+ meats, seafood, bones, fruits, veggies, oils, and some grains. The results also include an elimination diet to help remove imbalances from your pet's diet.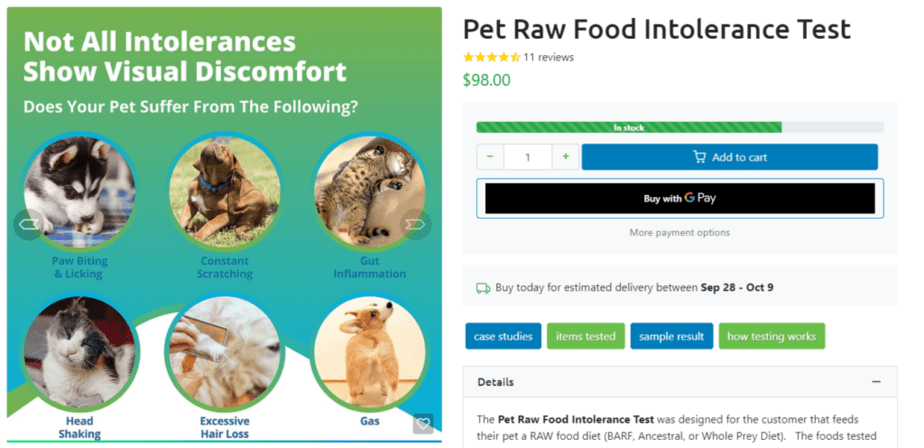 Equine Health Assessments: The Equine Health Assessment is a bundle of four different tests for horses, including metal and mineral intolerances, food intolerances, environmental intolerances, and nutritional imbalances. This test also helps to ascertain the body responses of the horse to its diet and surrounding.
Other tests for dogs and cats include:
Health & Wellness (includes Food Intolerances, Environmental Intolerances, Nutrition test, and Metal & Mineral test)
Food & Environmental (includes Food Intolerances and Environmental Intolerances)
Raw Food & Environment
Vitamins & Minerals
Metals & Minerals
Food Intolerance
Environmental test
Review of Taking a 5Strands Test
Because 5Strands does not use DNA for its analyses, you do not need to provide a saliva or cheek swab sample. After ordering your kit you will receive instructions on how to collect a hair sample. The kit includes special bags to place your sample in, shipping bag, and instructions.
Typically, you will need 10-15 strands of hair. Additionally, dye will not affect your hair analysis and you can collect it from any part of the body (head, arm, leg, face, etc.).
The company recommends shipping 20-25 strands if the hair is short. Then, to collect your pet's hair, simply use a clean comb/brush, cut, or gently pull.

5Strands ships to anywhere in the world and shipping prices are based on location.
Then, you send back to the 5Strand designated address and wait for your results to be uploaded on your account within 7-10 days of the sample arriving at the processing center.
Review of 5Strands Costs
Part of 5Strands' mission is to keep costs affordable. To illustrate, the various prices are listed below.
Food Intolerance: $88
Environmental Intolerance: $78
Vitamins and Mineral: $66
Metals and Mineral: $66
Wellness Assessment: $144
Health & Wellness bundle: $192
Pet Raw Food Intolerance: $98
Pet Food Intolerance: $88
Pet Vitamins & Minerals: $66
Pet Metals & Minerals: $66
Pet Environmental: $78
Pet Health & Wellness bundle: $212
Pet Raw Food & Environment bundle: $176
Pet Food & Environment bundle: $148
Equine Health Assessments: $194
Some pet insurances may reimburse customers for the tests. However, the company is unaware of any human insurances paying for the products.
Review of a 5Strands Report
The 5Strands reports are quite comprehensive. In brief, each report has the same general structure, with different items tested depending on the kit type. We will review the Food Intolerance sample report below to illustrate what customers receive.
Categories
Each item tested against the sample hair is placed in a category describing the body's energetic response to the item.

Level 3 (red) are items considered to have severe intolerances while level 2 (yellow) are items with moderate intolerances, and level 1 (green) are items of mild intolerances. In the event that an item does not meet the threshold to be considered an intolerance, it will be in gray.
Results
The next section provides instructions on how to use the results. In this case, the instructions describe how to implement an elimination diet and reintroduction of foods over a multi-month period.
Finally, the remainder of the report are your personalized results.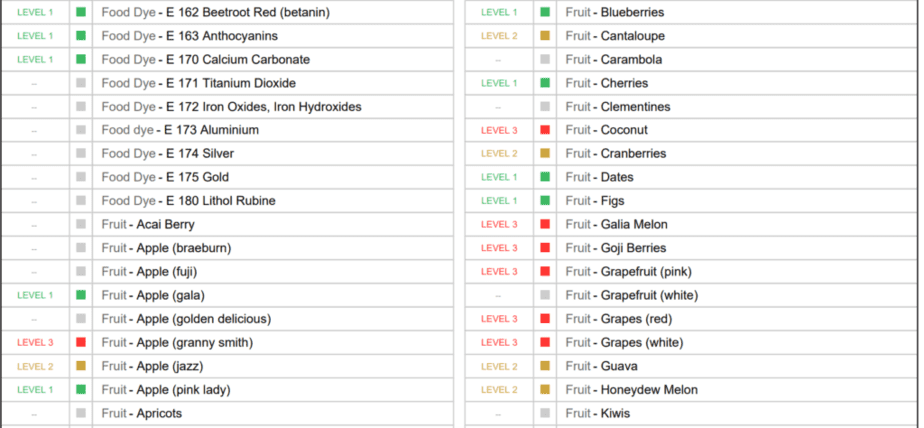 The report lists the items tested in alphabetical order by category. For example, some of the categories are beverage, dairy, food dye, fruit, grains, nuts, protein, and vegetables.
Each item has 3 columns. The first and second columns show the level and the color code respectively. Then, the third column notes the category and the specific item.
Some items are common foods, such as apples in the fruit category. It should be noted that the test doesn't just test apples, but also includes various types. In the sample above, you receive the results for braeburn, fuji, gala, golden delicious, granny smith, jazz, and pink lady apples. In this case, the results show that the individual has mild intolerance to gala and pink lady, moderate intolerance to jazz, high intolerance to granny smith, and no intolerance to braeburn, fuji, or golden delicious.
Other items tested are not as commonly known as they are trace ingredients in food. Some examples in the food dye category are anthocyanins, titanium dioxide, and lithol rubine. If customers really want to include these in an elimination diet, they will have to consult the ingredient lists on most foods and beverages.
Overall, the reports are comprehensive, but may be overwhelming.
Review of 5Strands Privacy
This website's privacy is well secured, with firewalls and SSL encryption to safeguard data. It collects information such as personal information provided, answers to questionnaires, usage details, IP address, etc. 5Strands follows HIPAA regulations.
User data is safe with this website. Aggregated or de-identified information may be disclosed to affiliates, contractors, subsidiaries, service providers, and other third parties.
5Strands will use the information collected to provide customers with its service. Contents served by third parties include ad networks, advertisers, application providers, etc. These third parties use different tracking technologies to collect your information when you make use of the website. And this collected information can be used to provide you with interest-based content.
It may also release personal information to comply with any court order, law or legal process, including responding to any government or regulatory request.
Hair samples are kept for 30 days before being disposed of using proper biohazard precautions.
Other 5Strands Reviews
There are several positive reviews on the company's testimonies section of the website for both humans and pets. Most customers noted that they used the kits to finally discover the root of their or their pet's discomfort after other methods had failed. For most, this has led to a better quality of life.
The 5Strands Deluxe Package (Health & Wellness) has a 4 star rating on Amazon with over 300 reviews. Most customers praised the results for relieving various health issues associated with their diet. However, some found the results confusing, including there being too many items, items they did not understand, or seemingly conflicting results.
Several companies focused on pets have also reviewed these products. These sites, including Canine Journal, agreed that the 5Strands is a worthwhile product to help your pet live their best life, especially if they appear to be having digestive issues.
Other Tolerance and Sensitivity Tests
Other companies that test for food tolerance or sensitivities include Allergytest.co, 7DROPS, Check my body health, Simply Sensitivity Checks, and YorkTest Laboratories.
| | | | | | | |
| --- | --- | --- | --- | --- | --- | --- |
| | 5Strands | Allergytest.co | 7DROPS | Check my body health | Simply Sensitivity Checks | YorkTest Laboratories |
| Major items tested | Up to 644 (food) and 197 (environment) intolerances | 38 allergies, 40-79 intolerances (food+drink), and 500-975 sensitivities (food, drink, and environment) | 295 allergies and 286 food intolerances | 400 – 970 (includes gut health and digestion) | 400-900+ food and non-food sensitivities | 100-200 food and drink ingredients |
| Testing method | Hair sample for bioresonance testing | Blood spot (allergies) or hair sample (intolerances) | Blood spot | Hair sample for bioresonance testing | Hair sample for bioresonance testing | Blood test |
| Who is it for? | Food sensitivities for children, adults, and pets | Adults and children over 2 (if recommended) | All age groups | Adults and children over the age of six | Adults and children over the age of six | Separate tests for adults and children age 2-17 |
| Reports | Intolerances divided into mild to severe categories | Low, moderate, and high reactions | IgE (allergies) and IgG (intolerances) | High and moderate reactivity | High, moderate, and no reactivity | High, moderate, and no reactivity |
| Counseling | Yes | No | No | Yes | No | Yes (extra fee) |
| Cost | $78 – $88 | $173-$319 (allergies/intolerances) or $99-$135 (sensitivities) | $179 – $259 | $97 – $136 | $123 – $166 | $142 |
Nebula Genomics
5Strands provides users with a vast range of test options for food intolerances for the whole family, including pets. This can be especially useful if you are having symptoms but have been unable to diagnose a cause. If you like at-home testing and want even more information on your health, you may be interested in genetic sequencing.
This type of testing goes beyond your lifestyle and what you eat and focuses on genetic predispositions that can affect how you react to certain diets and foods. This includes conditions related to diet such as obesity, type-2 diabetes, and vitamin D deficiency.
Nebula Genomics offers a comprehensive test that highlights predispositions related to diet, fitness, and metabolism. 30x Whole-Genome Sequencing is incredibly accurate and comes with other additions, including ancestry reporting and genome exploration tools.
Nebula Genomics also provides customers with regularly updated reports based on the latest scientific discoveries. As the scientific community learns new information, customers can use their data, which they have full access to, to explore these new discoveries.
Customers will get access to their entire genome for $299 or less.
5Strands vs Nebula Genomics
| | | |
| --- | --- | --- |
| | 5Strands | Nebula Genomics |
| Testing method | Bioresonace technology | Whole genome sequencing that sequences all 20,000 genes and regulatory regions |
| Sample | 10-15 hair strands | Saliva |
| Reports | Intolerances divided into mild to severe categories | An extended genetic report that is updated regularly |
| Ancestry reporting | No | Performs deep ancestry reporting with the complete Y chromosome and mtDNA sequencing |
| Counseling | Yes | No, but data is of the highest quality and can be used by physicians and genetic counselors |
| Cost | $66 – $212 | $0, $99, $299 |
Did you like our 5Strands review? You can read more reviews on our blog and check out our complete guide to the best DNA test kit and other home tests.
There are a number of food sensitivity tests available online. 4U Health also offers tests for allergies, sensitivities, pharmacogenetics, and drug tests.