7 Facts from our Check my body health Review
Location: Northampton, England
Products: Complete Sensitivity (970 items) and Essentials Sensitivity (400 items) tests
Cost: $97 – $136
Reports:
How it works: Customers order their analysis from home and follow instructions for sending for analysis. Results are typically available 3-5 days after the sample arrives at the lab.
Counseling available: No
Other Products: Nebula Genomics offers 30X Whole Genome Sequencing that decodes 100% of your DNA and offers reports on diet and much more!
This review is written with the intent to be as unbiased as possible. However, it represents the opinion of an individual reviewer and is therefore subjective. Furthermore, at Nebula Genomics we seek to educate the public about the benefits of Whole Genome Sequencing. Information about our Whole Genome Sequencing DNA test is therefore incorporated into the review.
December 7, 2022
Pros and Cons
Pros
Easy to read reports
Good customer service
Available globally
Cons
No upload or download of raw data
No physical kit
Introduction
Check my body health claims to sell the UK's most comprehensive sensitivity test. Overall, its two major products test for food sensitivities, one including more items than the other. It also sells the mDNA test for nutrition, fitness, and vitamins.
Its sensitivity tests for food, drink, environment, heavy metals, etc. are driven by bioresonance technology. To that end, Check my body health aims to improve health and wellbeing by identifying the right food and drink to optimize gut health and digestion. In contrast, Check my body health does not test for food allergies, which are immune reactions. Therefore, customers would have to take a special allergy test for antibody levels through a blood, skin prick or patch test.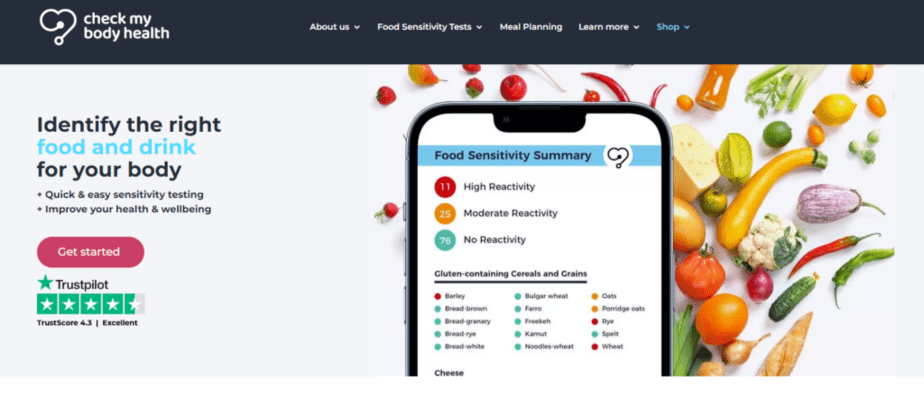 The website claims that more than 1 million tests have been performed. At the present time, they are available worldwide and currently used in 25 countries.
The company is a subsidiary brand under Global Health Tests Limited. In brief, it was founded in 2019 and is based in Northampton, England. Its products are available to users around the globe, such as the United States, Australia, and New Zealand.
The Science behind Check my body health
Check my body health believes that people may suffer with misinterpreted symptoms for years. Eventually, these small issues can turn into things like fatigue, depression, and gut issues. For this reason, it uses Bio resonance hair testing to assess food sensitivities.
Checking for food sensitivity in your diet, where the item or ingredient is disturbing, but not debilitating, can improve your quality of life. Typically, conditions should improve when you no longer consume the sensitivity.
The company processes the test with an advanced procedure known as Complementary Alternative Medicine (CAMS) and bioresonance therapy. In general, CAMs cover a vast range of therapies that are not included in mainstream medicines.
It compares the hair sample to a person's fingerprint. Accordingly, all living things give off a certain frequency, a theory based on the field of quantum mechanics.
Firstly, Check my body health analyzes the hair sample provided for the unique frequencies. Then, it compares the results to the frequencies of the items tested for and combine this with provided personal information.
Items include food items, non-food items, vitamins, minerals, metals, enzymes and bacteria.
Review of Check my body health Products
Check my body health offers sensitivity tests globally. These are the Essentials Sensitivity and Complete Sensitivity tests, which test for 400 and 970 food and non-food content, respectively.
In addition to the test results, customers also receive an elimination diet guide, food dietary template, results support from BANT registered nutritionists, and 30-day free access to the meal planners.
Unlike most at-home testing, customers do not receive a physical kit in the mail. Instead, they should follow the provided instructions on how to submit their hair sample to the lab.
The full details of the tests are given below.
Essential Sensitivity test
This is Check my body health's basic sensitivity test. In brief, it covers a wide range of 400 foods and non-food items to identify common triggers.
Food sensitivities (dairy, vegetables, grains, etc.)
Non-food sensitivities (shrubs, insects, etc.)
Metal sensitivities
Mineral analysis
Vitamins A-K
Additives, sweeteners, colorings, and emulsifiers
The Essentials Sensitivity test focuses on common food sensitivities, environmental sensitivities (such as pollen and plants), heavy metals, minerals, and a vast number of food and cosmetic additives.
These tests and analyses that are carried out are not in any way substitute for the diagnosis of medical experts. It is advised that users should seek the consultations of a qualified health provider when faced with medical issues and questions.
Complete Health Sensitivity test
This test looks for reactions to 970 food and drink items. Altogether, it is the company's most comprehensive test. What's more, the website claims it is an award winning No1 food sensitivity test.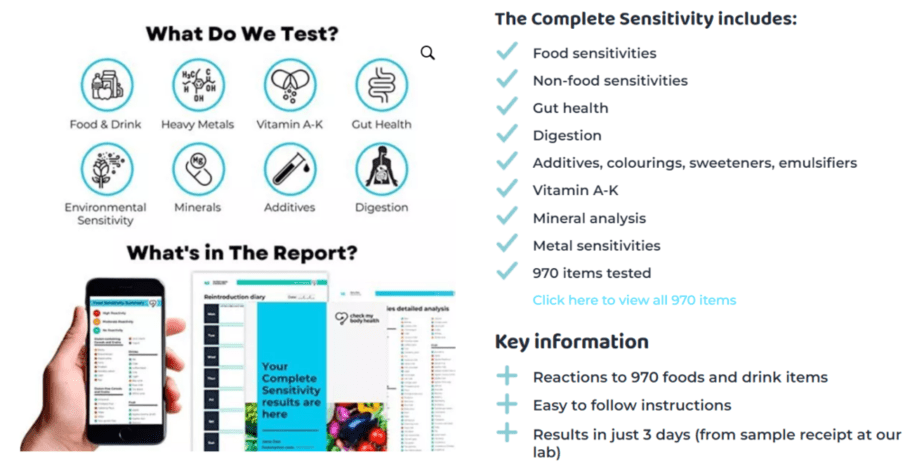 In addition to the 400 items analyzed with the Essentials test, customers receive results from even more items in the above categories plus additional information on gut health and digestion.These additional categories analyze sensitivities of digestions, including amylase, pepsin, lipase, trypsin, and enterokinase. In the gut health category, it also determines sensitivities to species like Lactobacillus acidophilus, Bifidobacterium bifidum, Bacillus coagulans, Lactobacillus reuteri, Streptococcus thermo, and Bifidobacterium infantis.
Review of Taking a Check my body health Test
The company does not send a test kit. Instead, users will need to follow the instructions below to collect the sample and send it back using a free return label provided.

First, customers select their preferred test and complete an online submission form. Then, they register online with the provided reference number, collect the non-invasive hair sample, and put it inside a bag with seals. Finally, to return the sample, customers print and attach the mailing slip with prepared postage. Check my body health sends an email when the sample arrives and results are typically available 3-5 days later.
Review of Check my body test Costs
When it comes to the cost of tests, the Check my body health features are some of the most affordable for the amount of items tested. As of December 2022, it offers 75% off on the prices of the products.
Essential Sensitivity: $97 ($25 with 75% off)
Complete Sensitivity: $136 ($34 with 75% off)
The company offers a 100% money back guarantee. Customers are asked to start the provided elimination diet for 6 weeks and keep a food diary. If they do not see improvement in their symptoms, they can contact customer service for further assistance.
Review of Check my body health Report
The Check my body health Essentials report is over 40 pages. It's important to remember that the report information is not a substitute for the purpose of professional medical advice, diagnosis or treatment.
Results
The first three sections provide background information, such as how to interpret your results, information on CAM, and customer testimonials.
The following six sections represent the analyses divided into categories of the items tested (food, non-food, and metal sensitivities, minerals and other nutrients, vitamin A-K, and additives).
Each category starts with its own background information and tips on how the category is important for health. Then, each item is rated as either high, moderate or no reactivity.
High (red): you have a sensitivity to this item
Moderate (yellow): you could potentially have a sensitivity to this item
No reactivity (blue): no sensitivity detected
To emphasize the most relevant points, the overview section shows only those items which tested as high or moderate.

The no reactivity items, as well as an easy-to-view summary of the high and moderate sensitivity items, are in the detailed analysis section. This section also has lists of the food intolerances tested.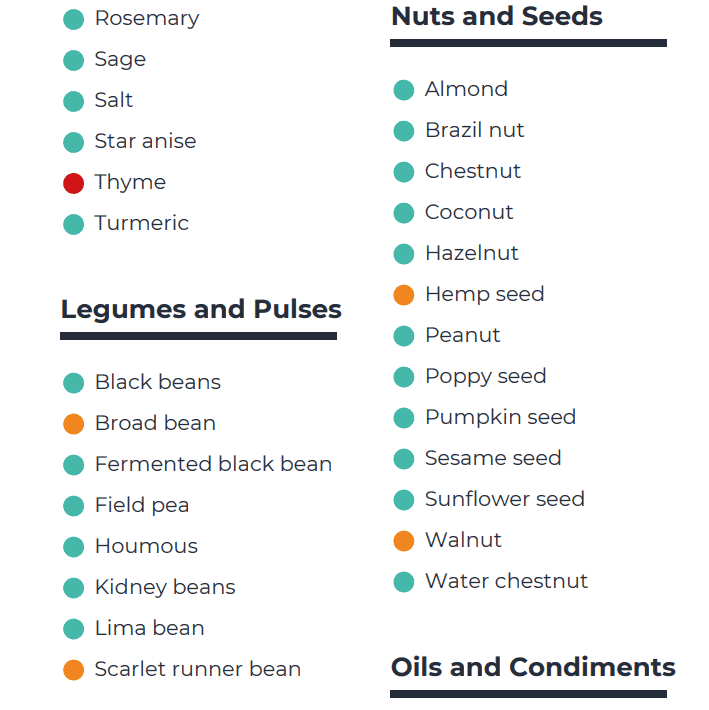 Next steps
The rest of the report provides suggestions for how to use this information to improve your health through an elimination diet. The goal is to specifically target which items could be causing health issues or gut discomfort.
Firstly, customers will see the tools for an elimination diet. In detail, this program works by removing all high and medium reactive foods from the diet for a short period, usually around four weeks. Then, each ingredient is reintroduced one at a time and a patient monitors their health for two days.
The report also includes a reintroduction diary.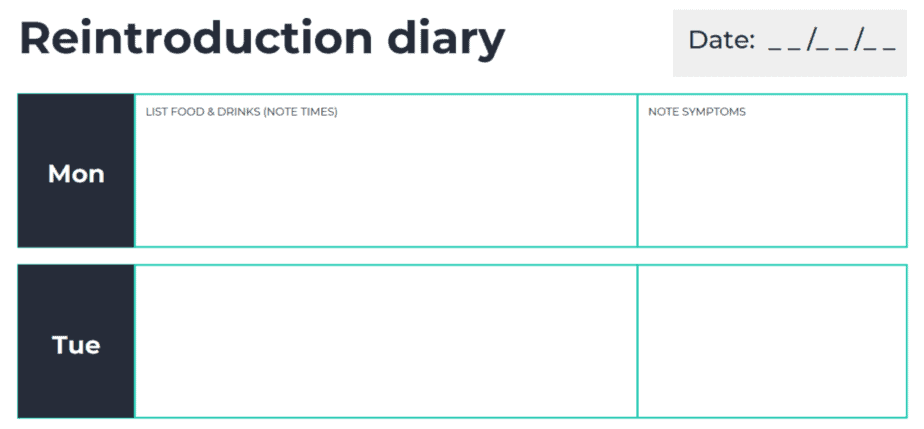 The final two sections of the report go into more detail of additives and potential sources of metals.
Review of Check my body health Privacy Policy
Check my body health collects users' personal information and handles it in accordance with US privacy law and information security. When ordering or registering on the site, as appropriate, users may be asked to enter their name, email address, phone number, credit card information, or other details to help them with their experience.
On the whole, information is only accessible by a few people needed to provide the services. Sensitive data, like credit card information, is also encrypted via Secure Socket Layer (SSL) technology and processed through a gateway provider – it is not stored on the company's servers.
The company scans the website regularly for security holes and known vulnerabilities, as well as malware.
Check my body health only uses the bioresonance hair sample to perform the analysis. It does not take DNA or any other information and it destroys the sample once the analysis is complete.
Other Check my body health Reviews
Check My Body Health has a 4.5 star rating on Trustpilot with over 1000 reviews. To summarize, the majority of users were impressed by the quick and courteous customer service. They also liked the affordability of the products.
The Essential Sensitivity test on Amazon has mixed reviews of 3.2 with about 80 reviews. Most complaints focused around customers not receiving their results. Similarly, the Complete Sensitivity test has 3.9 stars and around 250 reviews. The positive reviews significantly highlight that customers felt they benefited from the knowledge of key ingredients to eliminate from their diet.
Other Tolerance and Sensitivity Tests
Other companies that test for food tolerance or sensitivities include 5Strands, 7DROPS, Allergytest.co, Simply Sensitivity Checks, and YorkTest Laboratories.
| | | | | | | |
| --- | --- | --- | --- | --- | --- | --- |
| | 5Strands | 7DROPS | Allergytest.co | Check my body health | Simply Sensitivity Checks | YorkTest Laboratories |
| Major items tested | Up to 644 (food) and 197 (environment) intolerances | 295 allergies and 286 food intolerances | 38 allergies, 40-79 intolerances (food+drink), and 500-975 sensitivities (food, drink, and environment) | 400 – 970 (includes gut health and digestion) | 400-900+ food and non-food sensitivities | 100-200 food and drink ingredients |
| Testing method | Hair sample for bioresonance testing | Blood spot | Blood spot (allergies) as well as hair sample (intolerances) | Hair sample for bioresonance testing | Hair sample for bioresonance testing | Blood test |
| Who is it for? | Food sensitivities for children, adults, and pets | All age groups | Adults and children over 2 (if recommended) | Adults and children over the age of six | Adults and children over the age of six | Separate tests for adults and children age 2-17 |
| Reports | Intolerances divided into mild to severe categories | IgE (allergies) and IgG (intolerances) | Low, moderate, and high reactions | High and moderate reactivity | High, moderate, and no reactivity | High, moderate, and no reactivity |
| Counseling | Yes | No | No | Yes | No | Yes (extra fee) |
| Cost | $78 – $88 | $179 – $259 | $173-$319 (allergies/intolerances) or $99-$135 (sensitivities) | $97 – $136 | $123 – $166 | $142 |
Nebula Genomics
Check my body health emphasizes the role of a good diet in promoting a healthy life. To that end, it considers possible food sensitivities and provides tools to help customers identify parts of their diet that may be causing discomfort. Another way to get to the root cause of health is by discovering your genetic predispositions.
Nebula Genomics offers testing that highlights predispositions related to diet, fitness, disease, and much more. With 30x Whole-Genome Sequencing, we sequence 100% of your DNA. This is the most comprehensive test available and covers coding and non-coding regions, as well as the X and Y chromosomes. The test is also incredibly accurate and comes with other additions that include ancestry reporting and genome exploration tools.
Regularly updated reports ensure that you will not miss the latest genetic research. Markedly, for only $299 or less, customers will get access to their entire genome, allowing them to continue to ask more questions as more research is conducted.
| | | |
| --- | --- | --- |
| | Check my body health | Nebula Genomics |
| Testing method | Hair sample for bioresonance testing | Sequences all 20,000 genes and regulatory regions, providing deep info on food sensitivities and metabolism |
| Reports | Report on food and non-food sensitivities, and elimination diet | An extended genetic report that is updated regularly |
| Ancestry reporting | No | Performs deep ancestry reporting with the complete Y chromosome and mtDNA sequencing |
| Counseling | Yes | No, but data is of the highest quality and can be used by physicians and genetic counselors |
| Cost | $97 – $136 | $0, $99, $299 |
4U Health also offers tests for allergies, sensitivities, pharmacogenetics, and drug tests.
Did you like our Check my body health review? You can read more reviews on our blog and check out our complete guide to the best DNA test kit and other home tests.