7 Facts from our YorkTest Laboratories Review
Location: York, England
Products: Two food sensitivity tests, one for adults (Premium) and one for children over the age of 2 (Junior)
Cost: $142
Reports: Results for each individual IgG reaction tested
How it works: Order and receive your test, take the finger prick blood test, and receive results in your Wellness Hub account in 7 days
Counseling available: Yes
Other Products: Nebula Genomics offers 30X Whole Genome Sequencing that decodes 100% of your DNA and offers reports on diet and much more!
This review is written with the intent to be as unbiased as possible. However, it represents the opinion of an individual reviewer and is therefore subjective. Furthermore, at Nebula Genomics we seek to educate the public about the benefits of Whole Genome Sequencing. Information about our Whole Genome Sequencing DNA test is therefore incorporated into the review.
January 4, 2023
Pros and Cons
Pros
Uses an immune reaction to test for sensitivities
Good value
Easy to take blood test at home
Cons
Delivery can be slow to the US
Not good for those uncomfortable with blood
Extra fee for consultation
Introduction
YorkTest Laboratories is a food intolerance testing company that uses a blood test to analyze the body's IgG reaction to ingredients. Initially, it covered 158 foods. Now, it tests for over 200 foods and drinks. It offers a test for adults and a separate one for children over the age of two.
The test addresses issues like IBS, migraines, bloating, tiredness, and skin conditions. After they receive the results, customers can also choose to add a 30-minute consultation with a nutritional therapist for an extra fee.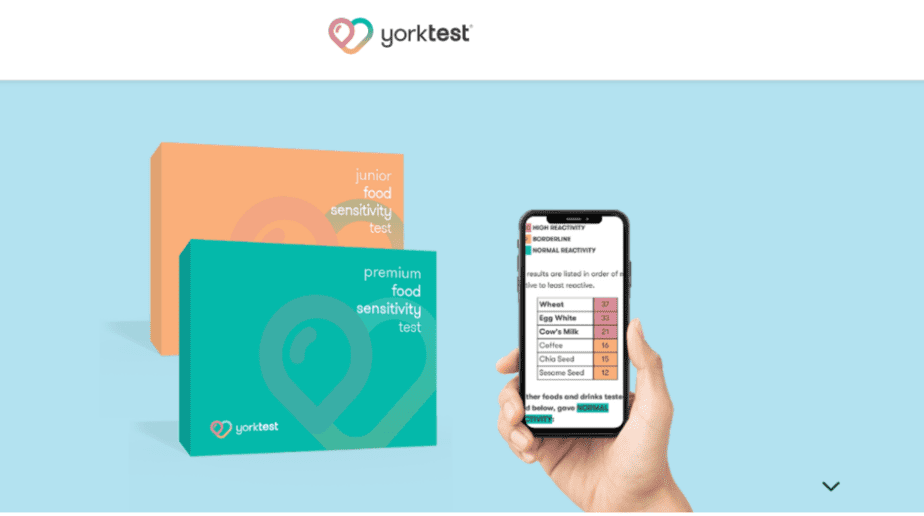 The company was founded in 1982 and thus has over 40 years of experience. Its headquarters are based in York, England. Along with 4 decades of experience, YorkTest food sensitivity and intolerance operates its own audited and certified manufacturing and testing laboratory.
Disclaimer
The company includes this disclaimer on its website:
"Disclaimer: YorkTest food sensitivity test results are provided for informational purposes only and are not a substitute for professional medical advice. The results cannot be used to diagnose, treat or cure medical or health conditions. If you are concerned about your symptoms then please contact your medical provider. Information on this website is for educational purposes only and you must never disregard professional medical advice or delay in seeking it based on the information provided.
YorkTest defines Food Intolerance as a food-specific IgG reaction. The YorkTest food sensitivity test is not an allergy, coeliac or lactose intolerance test. YorkTest tests are not offered in New York state.
82 of customers reported that their Yorktest Laboratories test had a positive impact on their health and wellbeing. Figure taken from STRAT7 researchbods survey 2021 (n=565)."
Review of the Science Behind YorkTest Laboratories
YorkTest Laboratories has over 40 years of excellence in laboratory diagnostic testing and is a leading provider of food and drink-specific IgG antibody testing programs. It notes that it uses personalized information and support to improve customer health.
The company constantly reviews its procedures based on cutting-edge research and routinely reviews ongoing research and publishes relevant papers and surveys.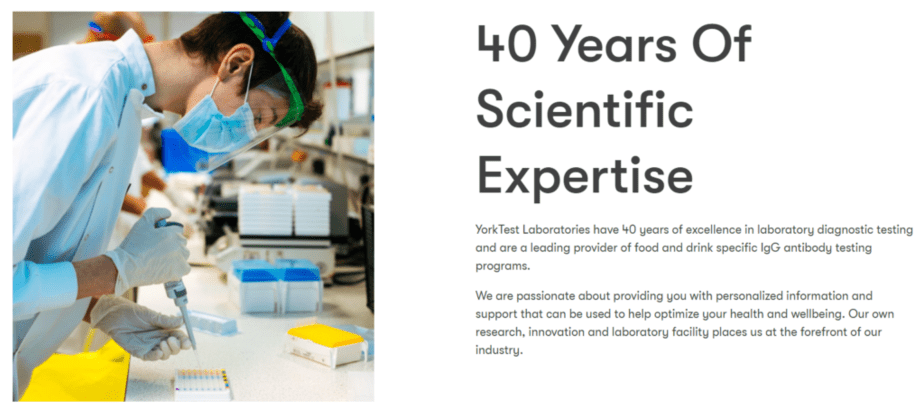 Unlike other food sensitivity sites that use hair samples and bioresonance technology, YorkTest Laboratories uses a blood sample to analyze IgG, the body's antibody reaction to proteins in foods. YorkTest notes that hair samples are not backed by science while its immune reaction tests are. The results are based on food-specific IgG antibodies and their presence helps identify foods to which a person may be sensitive.
YorkTest Laboratories measures all four subtypes of IgG (1-4) and notes these in its results. IgG1, IgG2 and IgG3 can cause inflammation which could contribute to symptoms. On the other hand, IgG4 is only present in low levels and does not meaningfully contribute directly to inflammation.
This is one type of test used as a starting point for an elimination diet, the process of removing foods and monitoring systems to help identify a sensitivity. Customers can then find alternatives such as substituting almond milk for dairy milk.
Review of YorkTest Laboratories Products
YorkTest Laboratories features affordable sensitivity tests that customers can take at home. Currently, there are two distinct products: one for adults and one for children over the age of two. Customers can also purchase bundles of either two adult tests (Couples) and one adult and one child test (Parent and Child).
The company also offers a nutritional therapist consultation, which must be purchased separately. This is a 30-minute discussion to go over your food sensitivity results in detail.
It appears that the company also once sold allergy, health, and food and drink scan tests but these products are no longer available on the website.
Premium Food Sensitivity Test
The YorkTest Laboratory Premium Food Sensitivity test is the company's flagship product. It analyzes IgG reactions to over 200 food and drink ingredients and comes with a results guidebook with a food and drinks diary.
Customers must be 18 years or older to take this test.

The goal is to optimize its customer's lives by identifying which foods they are reacting negatively to and removing them from daily intake. This often leads to realizing the need for things like gluten free or dairy free diets.
Different from other tests on the market, the YorkTest Laboratories test measures all four subtypes of food-specific IgG, which is essential as all the different food-specific IgG reactions are detected. Taking this test can help users take control of their overall health by removing ingredients that the immune system in the gut has to react to. Many confirmed that it had a positive impact on their health.
Junior Food Sensitivity Test
This test is exclusively for children between the ages of 2-17. With this test, parents optimize their children's diet by identifying food they react to.
The website provides a detailed list of the various items it tests.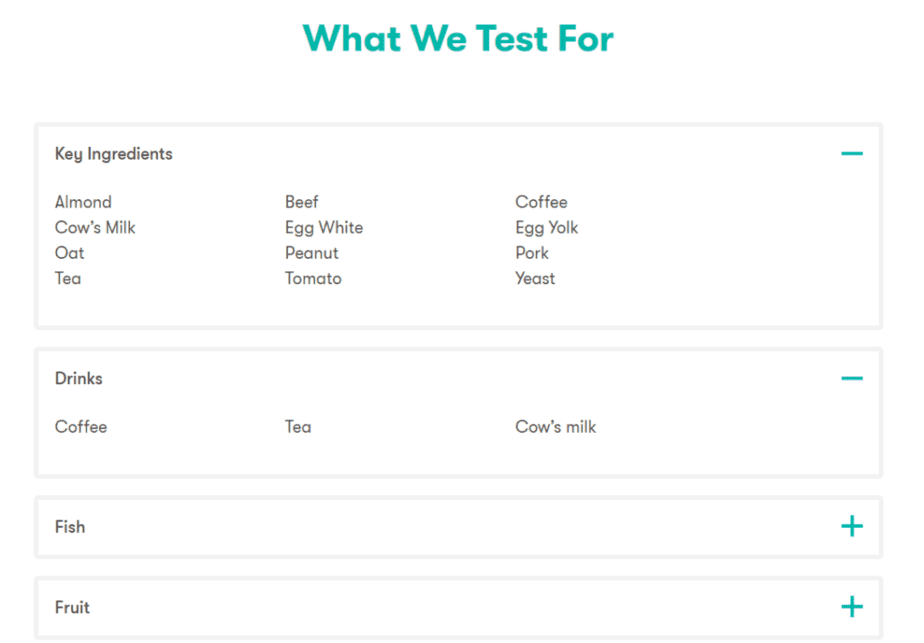 Overall, it assesses children's IgG reaction to more than 100 food substances and includes color-coded results and nutritional post-test support. The latter includes a results guidebook with a food and drinks diary and a formal letter to the child's school on request.
Some of the items tested include cow's milk, egg yolks, and egg whites.
Review of Taking a YorkTest Laboratories Test
After ordering the test, the company sends the kit with instructions. The kit includes a cleansing wipe for your finger, two lancets (single-use), an absorbent wand, a secure container for the wand, and your customer details form.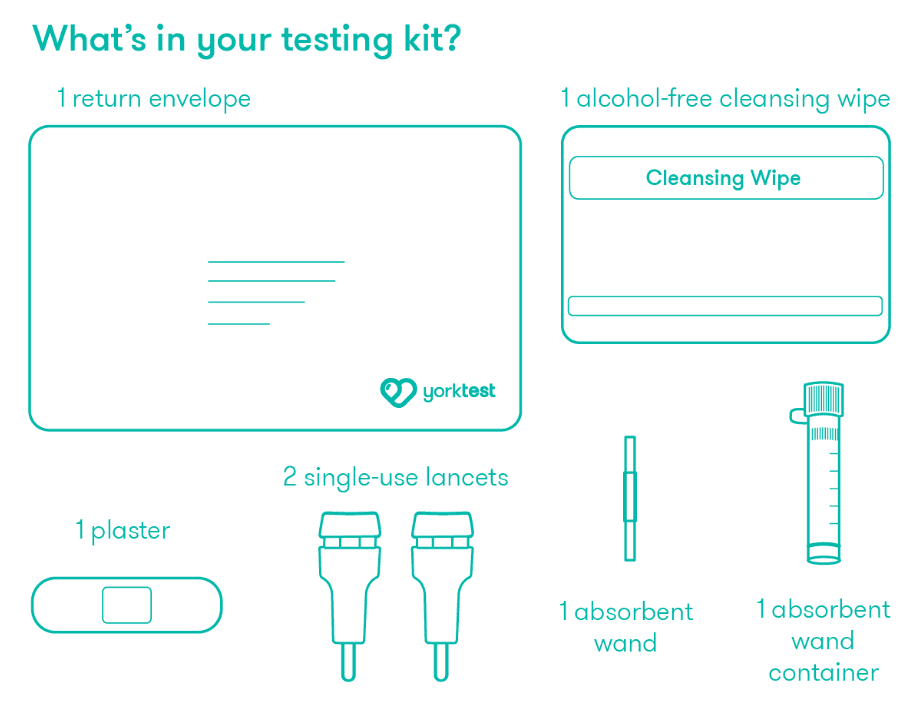 The company advertises the test as quick, simple and pain-free. Customers collect a blood sample by using the provided lancets to create a finger prick and collecting 2-3 drops of blood on the absorbent wand until it is saturated.
Then, customers send the sample back to the lab. Once it arrives, customers will receive their results within 7 days. Results include a traffic light-style guide to the level of food and drink intolerances.
Review of YorkTest Laboratories Cost
YorkTest Laboratories tests are comparable to similar tests on the market. The prices are slightly higher for the amount of items tested but it should be noted that this company uses an immune blood test rather than hair samples. Currently, the company features a 30% discount for their holiday sale.
Tests are FSA/HSA eligible.
Premium: $142 ($99)
Junior: $142 ($99)
Couples: $269 ($188)
Parent and Child: $269 ($188)
Nutritional Therapist Consultation: $59 ($41)
Review of YorkTest Laboratories Report
Like most sensitivity tests, YorkTest Laboratories uses color coding to help users easily identify food intolerances. It's a personalized report in which red designates the most reactive items, orange designates borderline reaction items, and green is no reactivity.
Customers receive their report in their Wellness Hub account and can download it at any time.
The company claims that unlike other food sensitivity tests on the market, its tests go into deep testing to discover the issue. For example, the Premium Food Sensitivity Test measures all four subtypes of food-specific IgG (1-4) which help to detect all possible varying food-specific IgG reactions. The tests are accurate, with a reproducibility rate of over 98%.
Review of YorkTest Laboratories Privacy Policy
YorkTest Laboratories collect and use clients' personal information to improve services. The company ensures the proper care of the information they collect. The information collected includes, but is not limited to, the user's full name, mailing address, email address, telephone number, or any other information defined as Protected Health Information under HIPAA laws and regulations.
The Laboratory will store test results and related data as required by applicable laws, regulations, and College of American Pathologists ("CAP") accreditation standards or equivalent regulations in other jurisdictions. It may also use de-identified data for things like quality control.
The company uses personal information to do things like provide its services, improve its business, and to comply with legal requests. YorkTest Laboratories does work with third-party marketing companies to provide targeted advertising.
Customers can request to have their account deleted only by contacting the company directly.
Other YorkTest Reviews
The consensus on TrustPilot shows that the York test is generally accepted as a reliable product, receiving 4.6 stars with almost 1,500 reviews.
Most customers who left test reviews found the process to be easy and quick. Many even stated that they saw immediate and impressive results, curing things like headaches, digestive issues, and asthma. Reviewers also had good things to say about the customer service and nutritionist consultation. The few negative reviews noted things like slow delivery times.
YorkTest Laboratories in the News
In 2022, NVM Private Equity ("NVM") announced a £10 million investment into YorkTest Laboratories. The investment will allow the company to expand its current product range in the US, together with further investment in laboratory equipment.
Other Tolerance and Sensitivity Tests
Other companies that test for food tolerance or sensitivities include 5Strands, 7DROPS, Allergytest.co, Check my body health, and Simply Sensitivity Checks.
| | | | | | | |
| --- | --- | --- | --- | --- | --- | --- |
| | 5Strands | 7DROPS | Allergy Test | Check My Body Health | Simply Health Check | YorkTest Laboratories |
| Major items tested | Up to 644 (food) and 197 (environment) intolerances | 295 allergies and 286 food intolerances | 38 allergies, 40-79 intolerances (food+drink), and 500-975 sensitivities (food, drink, and environment) | 400 – 970 (includes gut health and digestion) | 400-900+ food and non-food sensitivities | 100-200 food and drink ingredients |
| Testing method | Hair sample for bioresonance testing | Blood spot | Blood spot (allergies) or hair sample (intolerances) | Hair sample for bioresonance testing | Hair sample for bioresonance testing | Blood test |
| Who is it for? | Food sensitivities for children, adults, and pets | All age groups | Adults and children over 2 (if recommended) | Adults and children over the age of six | Adults and children over the age of six | Separate tests for adults and children age 2-17 |
| Reports | Intolerances divided into mild to severe categories | IgE (allergies) and IgG (intolerances) | Low, moderate, and high reactions | High and moderate reactivity | High, moderate, and no reactivity | High, moderate, and no reactivity |
| Counseling | Yes | No | No | Yes | No | Yes (extra fee) |
| Cost | $78 – $88 | $179 – $259 | $173-$319 (allergies/intolerances) or $99-$135 (sensitivities) | $97 – $136 | $123 – $166 | $142 |
Nebula Genomics
YorkTest Laboratories analyzes immune responses to determine food and drink sensitivity. The positive customer reviews relative to other sensitivity companies may reflect the value of this clinically tested methodology.
Another way to investigate undiagnosed symptoms is to analyze your genome for genetic predispositions. These results could inform you to conditions you are at a higher risk for, allowing you to focus on certain things related to diet.
Nebula Genomics is one of the ways users can get more insight into their health. This test uses 30x whole genome sequencing, which decodes all 20,000 genes in the human genome.
Other genetic testing sites limit their results to less than 0.2% – relating only the conditions they deem necessary. With Nebula, results also come with ancestry reporting and genome exploration tools. This gives our customers the most control over their data.
For only $299 or less, customers will get access to their entire genome, allowing them to continue to ask more questions as more research is conducted.
| | | |
| --- | --- | --- |
| | YorkTest Laboratories | Nebula Genomics |
| Testing method | Blood test for sensitivities (immune reaction) | Saliva test for whole genome sequencing |
| Reports | Reactivity to 100-200 food and drink ingredients | An extended genetic report that is updated regularly |
| Counseling | Yes (for an extra fee) | No, but data is of the highest quality and can be used by physicians and genetic counselors |
| Cost | $142 | $0, $99, $299 |
Did you like our YorkTest Laboratories review? You can read more reviews on our blog and check out our complete guide to the best DNA test kit and other home tests.
There are a number of food sensitivity tests available online. 4U Health also offers tests for allergies, sensitivities, pharmacogenetics, and drug tests.