7 Facts from our BioPet Laboratories Review
Location: Knoxville, Tennessee, United States
Services: Forensic DNA services based on canine DNA
Cost: Varies, depending on the website of the services offered
Services: Dog waste identification, canine parentage, and dog bit evidence collection
How it works: BioPet Laboratories hosts five different websites that collects DNA samples from dogs using methods like cheek swabs and fecal analysis. The websites fulfill various purposes
Counseling available: No
Other Products: Nebula Genomics offers 30X Whole Genome Sequencing that decodes 100% of your DNA and offers reports on diet and much more!
This review is written with the intent to be as unbiased as possible. However, it represents the opinion of an individual reviewer and is therefore subjective. Furthermore, at Nebula Genomics we seek to educate the public about the benefits of Whole Genome Sequencing. Information about our Whole Genome Sequencing DNA test is therefore incorporated into the review.
September 5, 2023
Pros and Cons
Pros
Hosts the first and largest dog waste management program
Good reviews from organizations
In-house laboratories
Unique approach to animal care and safety
Cons
Limited information on cost unless you call the company
No reviews from clients outside the organization management
Introduction
BioPet Laboratories provides canine DNA services and hosts DNA results in its secure, patented database, The DNA World Pet Registry®. Customers who take part in the services need an account to access the database. The virtual nature of this process allows the company to provide services anywhere in the world.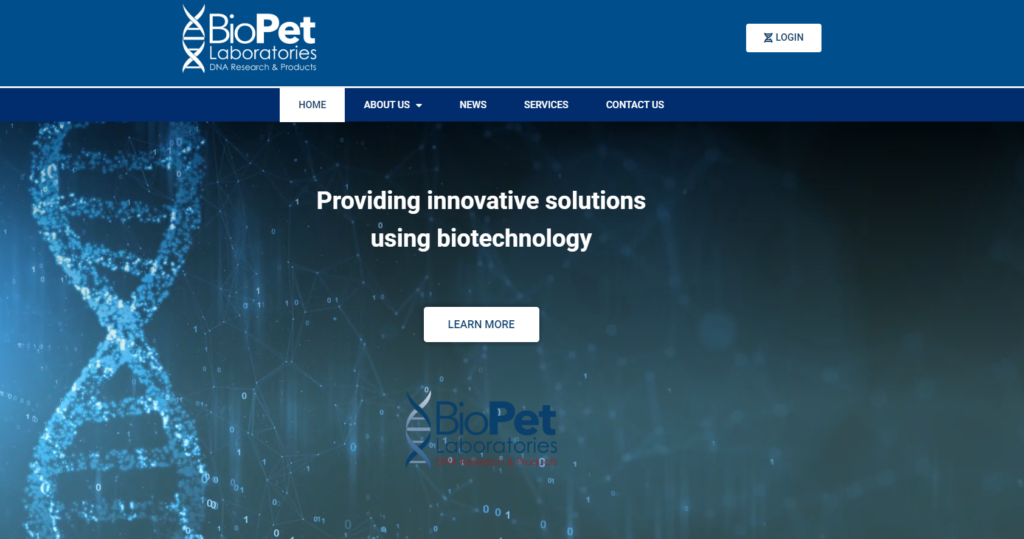 J Retinger founded the company in 2008. Thus, the company has over a decade of experience in providing canine forensic services.
PooPrints, the flagship service, uses an in-house laboratory that follows the ISO 17025:2017 international standards for molecular testing and genetic profiling. This includes compliance with sampling, sample handling, and protection, testing procedures, test reporting, record maintenance, validation of analytical methods, controlled environment, traceability, equipment calibration and maintenance, and personnel qualification.
Its common goal across all its services is to increase responsible pet ownership through education. This can be through things such as decreasing the environmental impact of dog waste.
The Science Behind BioPet Laboratories
One of the main focuses of BioPet Laboratories is the analysis of DNA samples obtained from biological materials, such as feces and buccal cells. The DNA extracted from these cells can provide valuable information about the genetic profile of a dog. It uses this biotechnology to create canine DNA profiles and perform DNA matching.
For example, PooPrints uses DNA extracted from fecal samples. Since cells shed from the intestines during the digestion process, the DNA extracted from these samples should match those collected from things like buccal swabs. Using this method, the company can match waste to dogs whose owners have submitted DNA samples, creating a waste management program that promotes proactive accountability.
Review of BioPet Laboratories Services
BioPet Laboratories offers a range of forensic DNA services.
The DNA World Pet Registry® (WPR) is the company's secure hosted database that manages canine DNA data, offering administrative tools for its programs such as PooPrints®, Proof of Parentage™, Travel Dog™, and Got Bit Kit™. The WPR allows for reduced result processing time and online access to results.
PooPrints: A flagship service that uses DNA forensic technology to identify dog owners who fail to pick up after their pets. It claims to be first and largest commercial DNA Waste Management Program used by over 7,000 clients in the United States, Canada, and the UK. Involved organizations include apartment communities, municipalities, dog parks, and more. As of 2023, the company notes that over 7,000 properties use PooPrints.
DNA Proof of Parentage: Offers accurate parentage testing for canines by comparing the DNA of a puppy to its potential parents. Results are provided as Certified or Disqualified. Once registered, a dog's genetic profile remains available for future parentage analysis by the breeder.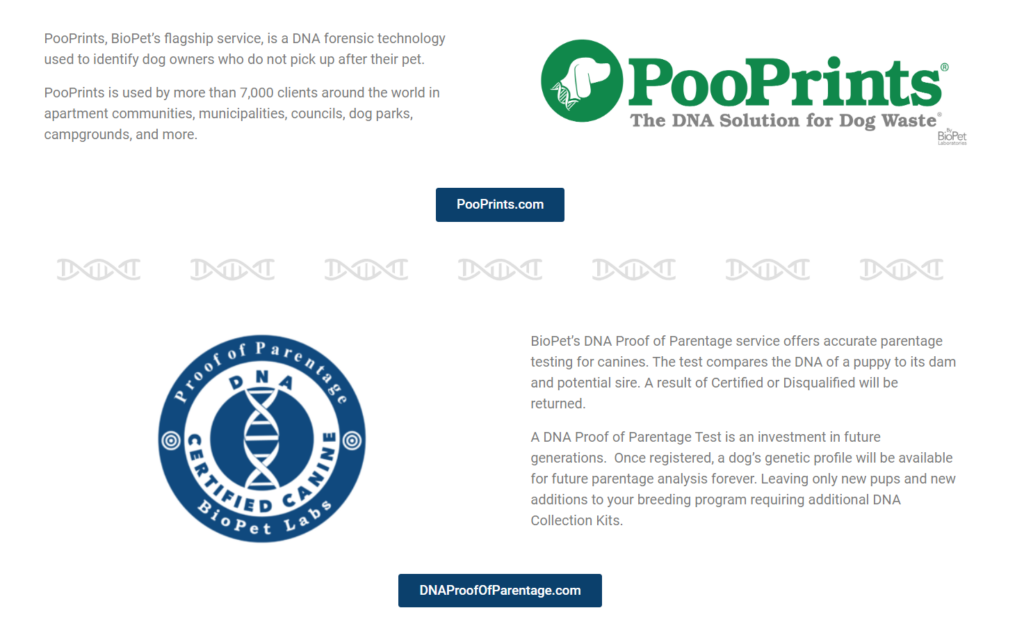 GotBit Kit: This kit is for those who are at a higher risk of bites from dog attacks such as runners, bikers, and hikers. This easy-to-carry kit allows them to collect the dog's DNA from the wound, send it in for sequencing, and store the results in the database as future evidence.
Mobile Dog: This service is an exclusive membership club for responsible dog owners, connecting them with premier pet perks, discounts, and pet-friendly places.
Review of Taking a BioPet Laboratories Test
The type of collection and test depends on the BioPet Laboratories service being used.
Organizations such as apartments, parks, and cities can implement PooPrints, a pet waste management system. Dog owners will gently swab the inside cheek of their pets to collect buccal cells and send in their sample, which the company registers on the database. When a fecal sample is found, someone who is managing the program will use a PooPrints Waste Sample Collection Kit to collect a sample and return it to lab for processing.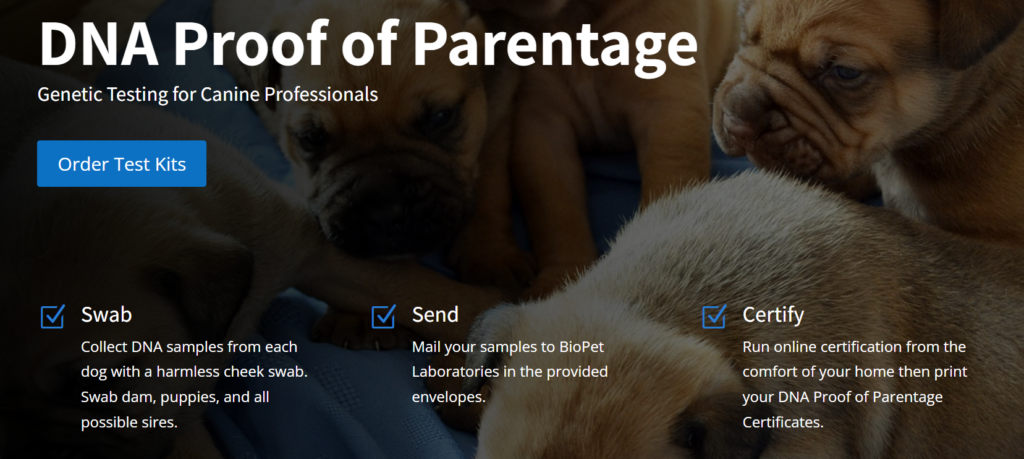 For the DNA Proof of Parentage kit, breeders will collect DNA samples with gentle buccal swab from the puppies, the mothers, and any potential fathers. Then, they will send the samples to the BioPet lab. Once the results are available, around two weeks after submitting the sample, customers can run the certification from home and print Proof of Parentage certificates.
The GotBit Kit does not match DNA, but keeps offending dog DNA on file in case it is needed for evidence. The kit needs to be ordered ahead of time and be on hand when a dog bite occurs. Someone who is bit by an unknown dog should register their kit and immediately collect DNA evidence from the wound. They send it back to the BioPet lab and the company will keep that information in their database.
Review of BioPet Laboratories Cost
The cost of a BioPet Laboratories service depends on the type.
PooPrints
Potential customer organizations must request a quote. There are additional products available that support the program:
PooPrints Marker Flags: $30
Dog Waste Station: $213
Dog Waste Bags Carton: $89
DNA Proof of Parentage service
Standard Plan: $40 per dog (No annual fees). This plan is suitable for pet owners testing less than 5 dogs per year.
Club Membership: $25 per dog (plus $100 annual subscription fee). This plan is ideal for clubs or breeders testing ten or more dogs per year.
Breeder Membership: $32 per dog (plus $50 annual subscription fee). This plan is designed for breeders testing up to nine dogs per year.
GotBitKit
Standard kit: $15
Review of a BioPet Laboratories Report
Whether it's identifying dogs and their owners through the PooPrints program, determining canine parentage with DNA Proof of Parentage, or resolving dog bite incidents with the Got Bit Kit, BioPet Labs delivers trustworthy results that meet the needs of their customers.
PooPrints uses DNA matching to identity the owner of un-scooped pet waste. The goal of this identification program is to create accountability to focus on education, not punishment. Pet waste is a pollutant that contains bacteria that can harm other living things and get into runoff that leads to drinking water.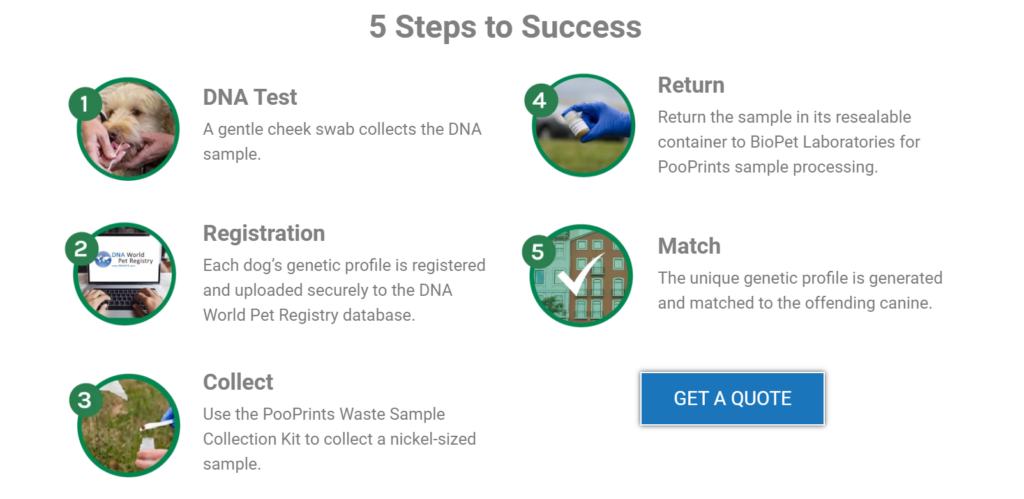 DNA Proof of Parentage tests puppies, their mother, and potential fathers. Customers receive "Certified", "Disqualified" or "Inconclusive" result for each puppy. "Certified" confirms the parentage, "Disqualified" indicates that the potential fathers are not a match, and "Inconclusive" means there could be a slight mutation on one of the markers. If a customer receives the latter, they should contact customer support.
The GotBit Kit does not provide results, but allows the customer to keep the canine DNA on record in case it is needed. If the customer is able to determine a potential dog that caused the bite, they can have a DNA sample collected and compare it to the DNA from their wound.
Review of BioPet Laboratories Privacy Policy
BioPet Laboratories adheres to the EU-US and Swiss-US Privacy Shield Frameworks and do not disclose information without permission, except when required by law. The data generated by the creation of the DNA profile of a dog remains the property of BioPet Vet Lab. Collected data is used for specific programs and can be accessed, corrected, or deleted by users and it does not sell or share personal information with third parties.
It takes all reasonable precautions to protect its website from misuse.
Other BioPet Laboratories Reviews
Since these services are not sold on third-party sites, there are no reviews on places like Amazon or Trustpilot.
There are positive customer testimonials for the PooPrints program on its website from organizations pleased with how implementing the program reduced un-scooped dog waste. Many praise the program for improving their community.
Nebula Genomics
Both BioPet Laboratories and Nebula Genomics employ advanced technology and scientific expertise in their respective fields to deliver accurate and reliable DNA testing results to their customers. While BioPet Laboratories specializes in DNA testing services for dogs, Nebula Genomics focuses on human genomics and personalized genetic testing services.
Nebula offers a comprehensive test that highlights predispositions related to diet, fitness, disease, and much more. With 30x Whole-Genome Sequencing, Nebula sequences 100% of your DNA to get to the root cause of every biological inclination. The test is incredibly accurate and comes with other additions, including ancestry reporting and genome exploration tools. Regularly updated reports ensure that you will not miss the latest genetic research.
Nebula is not a diagnostic test but the results are of the highest quality and can be used in consultation with health care professionals.
For only $299 or less, customers will get access to their entire genome, allowing them to continue to ask more questions as more research is conducted.
Did you like our BioPet Laboratories review? You can read more reviews on our blog and check out our complete guide to the best DNA test kit and other home tests.
You may also be interested in these other pet DNA testing companies:
And you can check out specialty designed pet food, treats, and supplements from Ultimate Pet Nutrition!