7 Facts from our Ultimate Pet Nutrition Review
Location: Encino, California, United States.
Products: Vitamins, nutrition supplements, and treats for dogs and cats
Cost: Varies based on product type. Generally, $17 (treats) – $70 (vitamins)
Ingredients: Holistic vet-developed formulas, excellent source of amino acids, vitamins, and minerals
Recommended dose: Varies based on product
How to order: Create an account and purchase your desired product. Customers can choose a single or multiple products at once.
Alternative Products: Nebula Genomics offers 30X Whole Genome Sequencing that decodes 100% of your DNA and offers reports on diet and much more!
This review is written with the intent to be as unbiased as possible. However, it represents the opinion of an individual reviewer and is therefore subjective. Furthermore, at Nebula Genomics we seek to educate the public about the benefits of Whole Genome Sequencing. Information about our Whole Genome Sequencing DNA test is therefore incorporated into the review.
August 16, 2022
Pros and Cons
Pros
A wide variety of food and treats
Well-enhanced nutrient supplement
Designed for both general health and specific ailments, such as joint health
Cons
Introduction
Ultimate Pet Nutrition is a company that sells nutritional supplements and other products to improve your pet's nutritional intake. Nutra Thrive for dogs is the company's most popular product. The company markets it as the first of its kind with probiotics plus nutrients, vitamins, minerals, antioxidants, and digestive enzymes.
Ultimately, it is designed with many health benefits in mind, including the goal to optimize your dog's overall health, immunity, joint health, and coat cover. The company notes that individual results may vary.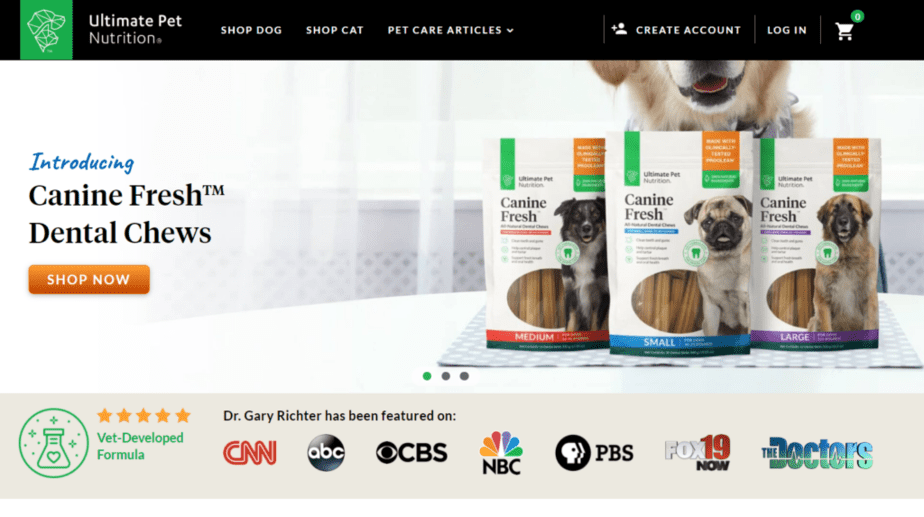 The company believes that optimal nutrition is vital to your pet's health, which is why they strive to give your animal the best product available. Dr. Gary Richter, an authority on pet health and nutrition and author of The Ultimate Pet Health Guide, founded Ultimate Pet Nutrition in 2017. He has been featured on many news outlets including CNN, NBC, PBS, and Fox19Now. The company is based in Ventura Blvd, Encino, California, United States.
The Science Behind Ultimate Pet Nutrition
Dr. Richter designed The Ultimate Pet Nutrition products to optimize them as vitamin-filled supplements, treats, and dried foods. All of the supplements and treats available for dogs and cats are made with fully tested ingredients that promote and sustain dog and cat health.
Although each formula is different, customers can be assured that they are free of fillers and artificial preservatives and contain only ingredients approved by a veterinarian. Nutritional supplements also stand out in many ways. Your pets will get probiotics that have easily absorbed nutrients, vitamins, minerals, antioxidants, and digestive enzymes.
Together, these powerful nutrients support your cats' and dogs' overall health and improve immune function, digestion, joint health and coat quality.
You can read more in Dr. Richter's book: The Ultimate Pet Health Guide.
Review of Ultimate Pet Nutrition Products
The company currently sells 23 products, 27 for dogs and 6 for cats. We will summarize a few examples below.
For dogs
Nutra Thrive for Dogs
Nutra Thrive is a comprehensive canine supplement that combines easily absorbed vitamins, probiotics, nutrients, minerals, digestive enzymes, and antioxidants. Overall, the supplement contains 23 added vitamins, minerals & amino acids, 9 superfoods, 4 digestive enzymes, and 4 probiotics. These ingredients promote things like healthy digestion and immune system support.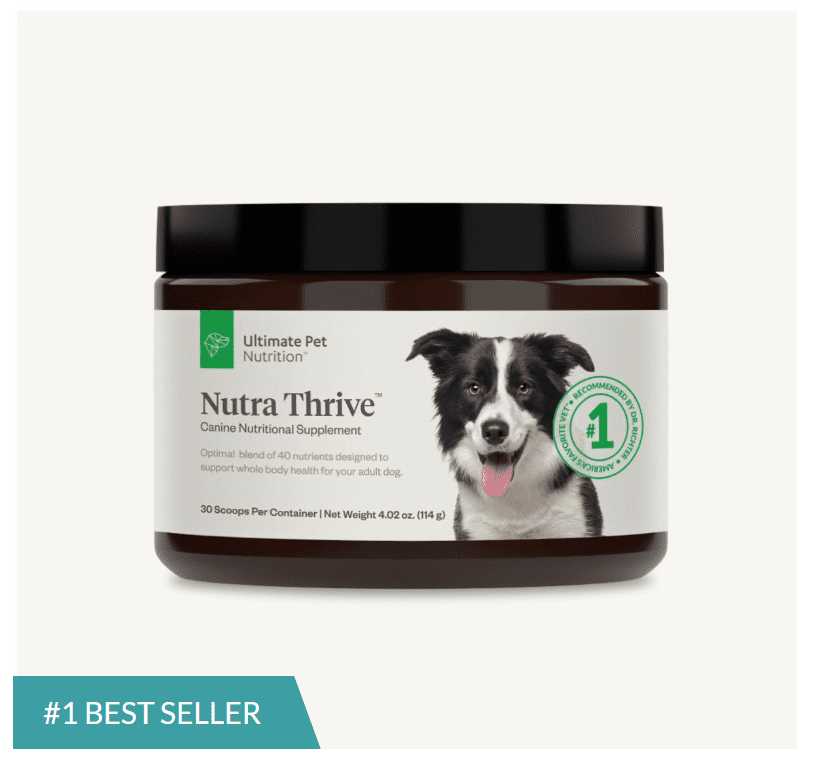 These ingredients support your dog's general health, from the digestive system to immune function with the goal to supplement your dog's typical diet.
Nutra Thrive comes as a powder pet owners mix with their regular dry dog food. Dose is based on your dog's size. 0-30 lb dogs should get 1 scoop, 30-50 lb. dogs should get 1.5 scoops, and 50+ lb dogs get 2 scoops.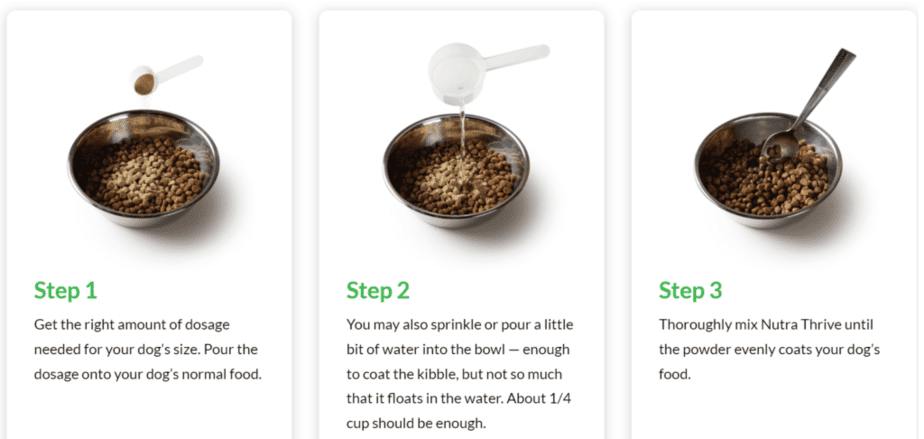 You will pour the correct dosage directly in your dog's food. You can also sprinkle or pour a bit of warm water in the bowl to dissolve the powder (~¼ cup). Then, mix the powder with the food until it is coated evenly.
A complementary Nutra Thrive product is available for cats.
Juve Flex
This chewable tablet contains ingredients that help support your dog's healthy joint function. Better joint health can keep your dog active for longer. It is ideal for any dog of any size and age that is having joint discomfort.
This product is sold as beef-and-butter flavored chewable tablets. Pet owners will give their dogs 1-3 tablets per day depending on the dog's size.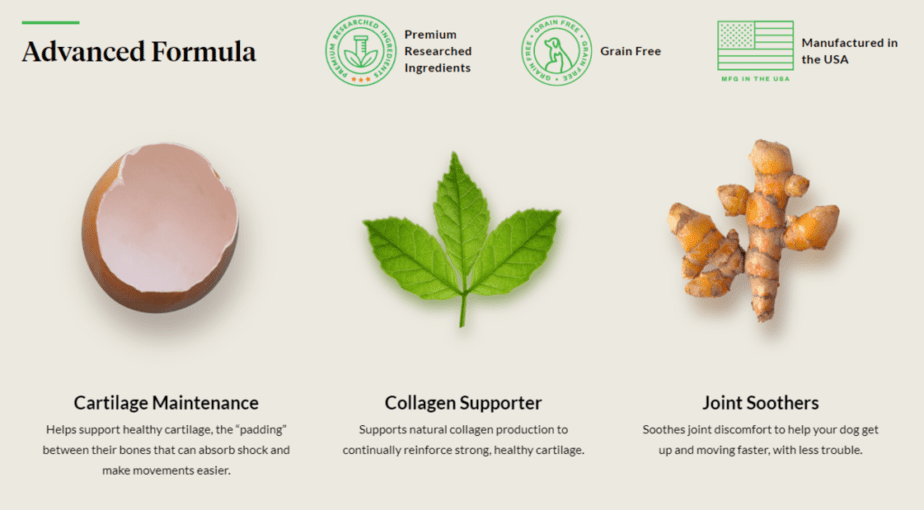 Juve flex helps to support a dog's cartilage which is the padding in their bone that makes movement easier and absorbs shock. It also supports collagen production in their body (the material used to build cartilage) and ingredients to soothe joints.
Canine Detox
This is an advanced supplement designed to improve your dog's detoxification systems like the liver. Detoxification is essential to dogs as they can encounter toxins from ingredients in their food, pollen, and dust from their environment daily.
This supplement enables your dog to fight off toxins so they can remain their carefree and playful selves for as long as possible. It contains turmeric phytosome, milk Thistle phytosome, and solarPlast Spinach leaf extract, which support the detoxification process in your dog's liver.
Canine Comfort
This premium blend of herbal compounds and extracts promotes relaxation and calmness in hyperactive, fearful, or nervous dogs. These chewable tablets help your dog increase focus, manage stress, and boost the feeling of calmness.
Canine comfort contains L- Theanine, Palmitoylethanolamide, and botanical blends that help your dog feel balanced, blissful, and mellow.
For cats
Feline Renewal
This triple revitalizing supplement is designed to support joint function, balance skin needs, and provide the energy your cat uses daily. The formula is made with astaxanthin antioxidants, omega-3, full-spectrum vitamin E from palm fruit, and wild Alaskan salmon oil to help your cat stay active, happy, and comfortable every day.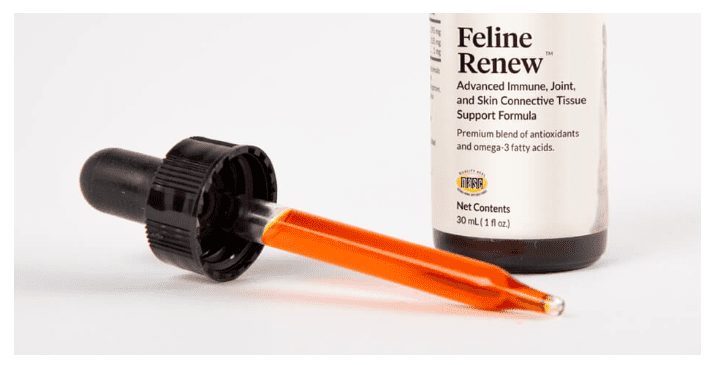 This supplement also helps nourish and hydrate the skin and supports joint function, vitality, and healthy aging in your cat.
Nutra Bites
These freeze-dried, bite-sized treats come in four flavors: chicken liver, chicken breast, chicken heart, and salmon. They are loaded with minerals, vitamins, and essential fatty acids and are low in calories.
This product helps to support digestion, maintain a healthy weight, and improve your cat's overall health.
Review of Ultimate Pet Nutrition Cost
The cost depends on the type of product and quality purchased. There is a slight discount when ordering bundles of 3 or more.
Nutra Thrive for Dogs
Single Price: $69.95
3 jars: $188.86
6 jars: $356.74
Customers can try the product for 90 days and if they are not satisfied, can request a full refund.
The remaining prices show the cost of a single product:
Juve Flex: $54.95
Canine Detox: $64.95
Canine Comfort: $62.95
Canine Radiance: $52.95
Canine Boost: $69.99
Canine Restore: $69.95
Freeze-dried raw dog food and treats: $25-$60
Food is either beef or pork and treats come in bison liver, chicken liver, chicken heart, chicken breast, beef liver, and salmon flavors.
Nutra Thrive for Cats: $69.95
Feline Renewal: $42.95
Cat Treats: $16.99
Review of Ultimate Pet Nutrition Privacy
Ultimate Pet Nutrition has a privacy policy that explains better how dedicated they are to ensuring that every information in their care is protected. Your contact address, name, or dog's name that you give out to the company is used to know you better and determine where to send your orders.
The company data collection system that can access your IP address and domain name is designed to send you newsletters and information about new products. Any other information you submit to the company is used to process your orders.
Ultimate Pet Nutrition states that it does not share, rent, disclose, or sell its customer's information to a third party with no business in their service. Any third party linked to the company with access to the customer's information uses it to help meet the customer's needs. Every customer's information with Ultimate Pet Nutrition is secure as customer privacy is their top priority.
Other Ultimate Pet Nutrition Reviews
The company has generally good reviews from customers online. Reviewers on TrustPilot give it a rating of 4.5 out of 5 stars. Most customers noted that they saw improvement in their pet's movement, coat, or overall health when using the company's products. They also felt that the company had good customer service with personalized care.
A few reviewers indicated that their pet did not like the food, to which the company replied with suggestions.
Amazon carries a few Ultimate Pet Nutrition products, including the Nutra Complete dog food. Customers give the food 4.3 out of 5 stars with over 750 ratings, most from a verified purchase. Many customers highly recommend Ultimate Pet Nutrition, appreciating the healthy nature of the product and saying that their dog loves the food. Those that gave lower reviews noted that the food was very expensive.
There are also reviews available on the Better Business Bureau (BBB, US only) that provide the company a 3.94 out of 5 star rating with close to 800 customer reviews. Customer support has responded to both positive and negative comments on this site.
Finally, the company posts reviews of its products on its website. Nutra Thrive for dogs has over 250 reviews. Many customers made positive comments about how their older dogs loved this powdered supplement. An example is a customer who's 12 year old westie with digestive issues loves this product.
Nebula Genomics
Ultimate Pet Nutrition provides dog and cat owners with innovative nutrients, treats and foods that make them stand out. Knowing what nutrition or supplements are best for either you or your pet can be tricky. One of the best ways humans can personalize their diet and fitness is to get a genetic health test.
Nebula Genomics offers a comprehensive test that highlights predispositions related to diet, fitness, metabolism, and much more. With 30x Whole-Genome Sequencing, Nebula sequences 100% of your DNA to get to the root cause of every biological inclination. The company offers disease susceptibility tests to expose genetic vulnerability that you can discuss with your doctor.
Nebula Genomics test is highly accurate and offers other added services that include ancestry reporting and genome exploration tools. Regularly updated reports ensure that you will not miss the latest genetic research.
The firm offers genetic tests for as low as $299 or less.
Interested in more ways to help your pet be their best? You might be interested in DNA testing for cats and dogs. Understanding your pet's predispositions to disease can help you and your vet design the best treatment and prevention. You can also learn about your pet's breed!
Some options for dogs include DNA My Dog, Embark, Wisdom Panel, and Paw Print Genetics. Basepaws also offers testing for cats.
Other pet services include: