7 Facts from our Paw Print Genetics Review
Location: Spokane, Washington, United States
Products: More than 300 products for canine genetic health for over 350 dog breeds.
Cost: $85 for all single tests. The company gives discounts for multiple purchases
Reports: A clinical report with results, interpretations and recommendations, as well as a Canine Genetic Health Certificate™
How it works: Customers create their accounts and choose their respective canine tests. After receiving the test, humans collect a DNA sample from the dog and ship it back to the company. Results are available on the online portal in approximately 10 days
Counseling available: Yes, expert consultations are available for canine genetic health education
Other Products: Nebula Genomics offers 30X Whole Genome Sequencing that decodes 100% of human DNA and offers reports on diet and much more!
This review is written with the intent to be as unbiased as possible. However, it represents the opinion of an individual reviewer and is therefore subjective. Furthermore, at Nebula Genomics we seek to educate the public about the benefits of Whole Genome Sequencing. Information about our Whole Genome Sequencing DNA test is therefore incorporated into the review.
July 12, 2022
Pros and Cons
Pros
Over 300 diagnostic tests available for different canine genetic health aspects
Analyzes each mutation with 2 independent methods
Additional services for DNA profiling and parentage
Veterinarian and genetic counselors available for consult
Excellent customer service
Cons
Genetic tests are less straightforward for mixed breed dogs
International shipping paid for by customer
Mainly designed for canine experts and breeders
Paw Print Genetics Introduction
Paw Print Genetics (PawPrintGenetics) offers at-home dog genetic testing. It caters to owners, breeders, trainers, and veterinarians with testing kits to help diagnose disease and evaluate their dog's risk of having or passing on hereditary diseases. It also offers dog owners an evaluation of their dog's DNA to develop a profile that can be relevant if the dog is stolen, lost, or in a dispute that requires identification.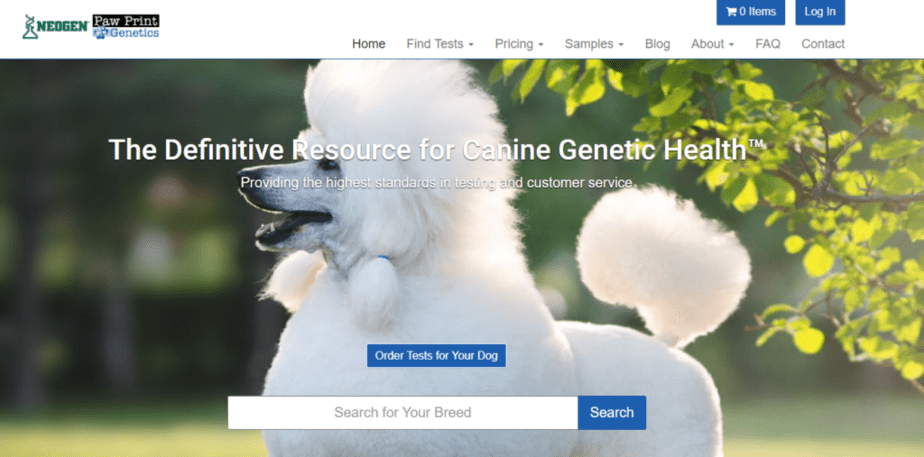 This DNA information provides customers with accurate genetic profiles, disease diagnosis, and expert advice. It also helps breeders select mates.
Lisa Shaffer, a certified American geneticist, founded Paw Print Genetics in 2013. The company is based in Spokane, Washington, United States.
The Science Behind Paw Print Genetics
Paw Print Genetics aims to achieve optimal care for dogs by providing canine genetic testing and resources. The firm has stated that its aim is simply to raise the bar for canine treatment and carrier screening.
Staff consisting of expertly trained geneticists, technicians, and veterinarians use the latest testing technology to provide accurate and comprehensive analysis. They analyze each mutation with two independent methods to ensure the highest industry standard.
The mutations analyzed are established in published literature. In the disease catalog, customers can search using the breed as most diseases are breed-specific. Others may find the Colors or Traits search interesting. A PhD geneticist and a veterinarian review and report all results.
Review of Paw Print Genetics Products
Paw Print Genetics has over 200 tests for dogs. It divides them into Disease Tests or Color Coats and Traits. Customers can search by breed, disease, and traits.
Disease Tests
There are about 230 different disease tests in the catalog, listed in alphabetical order.
For example, if you search for "American Bulldog" you will see a breed specific panel with all the tests the company recommends. Purchasing a panel appears to save you money. In this case, the panel is $60 cheaper than the individual tests.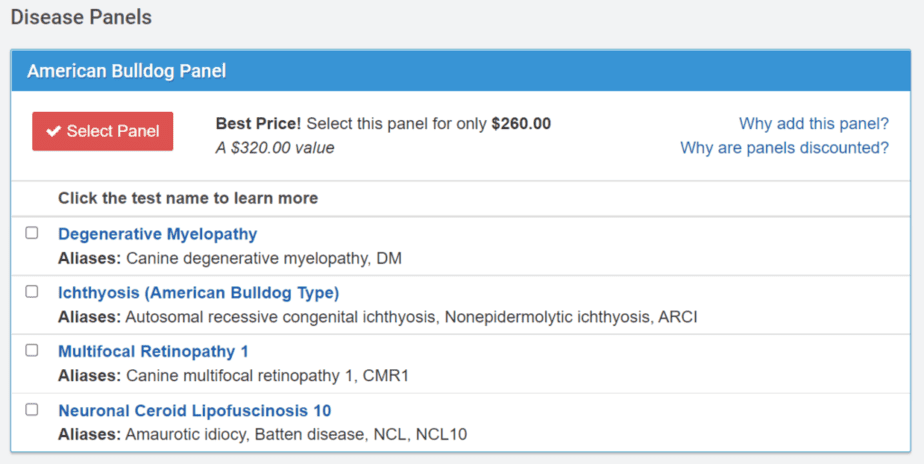 Recommended tests
The American Bulldog panel recommends four tests:
Multifocal Retinopathy 1: This condition is an inherited retina disorder that affects many dog breeds. Affected dogs show signs of blister-like lesions in both eyes that can appear pink, tan, gray, or orange, varying in location, number, and size. This genetic test evaluates the BEST1 gene to determine if a dog is the disease carrier.
Ichthyosis (American Bulldog Type): This is an inherited condition of the skin. A puppy normally shows symptoms as young as 1-2 weeks with flaky skin and a scruffy haircoat. Affected dogs are at increased risk for infections of the skin, ears, and footpads and may require treatment for these infections throughout their lives. The mutated gene is NIPAL4.
Degenerative Myelopathy: This is an inherited neurological disorder caused by a mutation of the SOD1 gene known to be carried by American bulldogs, although it is also present in other breeds. Experts believe a combination of genetic and environmental factors causes onset.
Neuronal Ceroid Lipofuscinosis 10: This is a lysosomal storage disease. It is caused by a deficiency of an enzyme needed to break down certain proteins. The result is impaired brain function and nervous system which gradually gets worse. Most dogs are euthanized two years after diagnosis as they will lose ability to walk and stand on their own.
These genetic disease tests help breeders determine mates and can also be useful for owners who want to know the genetic predispositions of their pets. Geneticists and veterinarians are available for genetic counseling at any point of the testing process at no extra charge.
Coat Color and Trait Testing
There are about 30 tests in this category. These DNA tests analyze certain genes associated with known coat color and traits. The traits are mainly linked with coat texture, such as curly or long haired. If searching for a breed in the Disease Test catalog, your results will also include recommended coat color and trait testing.

There are even downloadable diagrams for breeders interested in selecting for certain colors and traits.
Other Tests
Paw Print Genetics also offers parentage and profiling tests.
Taking a Paw Print Genetics Test
There are detailed instructions on the website for collecting, preparing, and shipping your sample. While Paw Print Genetics can accept a variety of sample types, the simplest and most used method is the cheek swab.
US and Canadian customers receive one complimentary cheek swab kit for each dog kit ordered. A return envelope and prepaid shipping labels are provided once the customer pays shipping cost. The kits are available internationally but customers must pay the extra shipping.
After receiving the test kit, print the requisition form for your order which can be found on the 'My Order Page.' Fill in the requisition page.
All kits designed by Paw Print Genetics come with a swab attached to a purple DNA stabilization solution. It's important to keep the swab sterile by not allowing it to touch anything.
Place the swab inside the cheek of your dog and scrub gently for 30 seconds. After swabbing your dog, unscrew the tube cap, place the swab into the purple solution, and invert 10 times. You then place the provided label on the tube.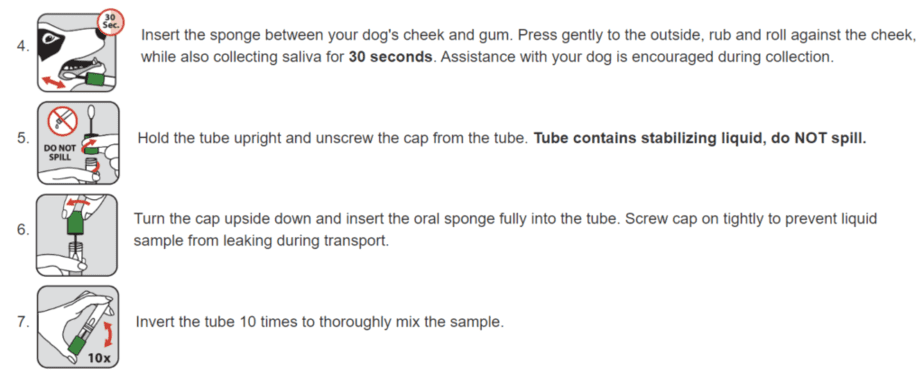 Place the solution into the collection package along with the requisition form and ship it back to the company.
If testing more than one dog, you should wash your hands in between sample collections to avoid contamination. The sample collection page also has video instructions, tips for obtaining the DNA, and recommended commercial swabs if the customer needs more.
Other samples accepted include docked tails, dewclaws, whole blood, frozen seman, postmortem tissues, dried blood spots, and umbilical cords.
Review of Paw Print Genetics Cost
Paw Print Genetic comes with a base price of $80 for a single purchase of any test. If a customer purchases multiple tests, the company applies discounts. The more items purchased, the bigger the discount. For example, ordering five disease tests lowers the price to $55 per test (for a total of $275).
The company routinely offers discounts through promotions, special events, and if customers are part of a breeder's association or club. It accepts PayPal and most major credit cards.
Once the company ships the orders, there is a $25 non-refundable processing fee per dog for any canceled orders.
Review of Paw Print Genetics Privacy
Paw Print Genetics has a privacy policy committed to protecting its client information. The agency uses the device information, your dog's genetic information, and your Paw Print Genetics account information to provide you with the necessary service.
The company also has access to self-reported information like your dog's name and breed, your dog's medical history, and habits which are also used to provide you with their necessary service.
Paw Print Genetics will not disclose, sell, share or rent out this information to a third party that will not use it to provide you with their service. Any third party that can access the client information from the agency uses it to help meet the client's needs. With Paw Print Genetics, clients should rest assured that their information is secure as the company takes pride in doing justice to privacy.
Review of Paw Print Genetics Reports
Paw Print Genetics provides users with detailed reports and certificates for each dog. Paw Print Pedigrees allow you to show off your results and demonstrate to breeders that you care about the genetic health of your dog. Here, breeder profiles are available to the public.

Owners can check the company-sponsored blogs to see the newest reports concerning Paw Print Genetics. Apart from the blog, Paw Print Genetics provides a highly accurate and comprehensive analysis of every test.
Dog owners may need the help of an expert to interpret the results successfully. The company offers counseling following test results.
Other Paw Print Genetics Reviews
The company has an active Facebook page with close to 300 reviews. These customers give the company a 4.9 out of 5 star rating. Many praised the friendly, responsive, and helpful customer service representatives and noted that they got their results quickly.
Similarly, reviews on Trustpilot give the company a 4.9 out of 5 stars. People note that they can rely on the company and that results were quick and customer service was friendly and helpful.
There are also additional testimonials on the company website.
Paw Print Genetics in the News
The company is continuously adding new disease and trait tests to its catalog. In 2021, it announced 46 new tests.
Originally owned by Genetic Veterinary Sciences, Inc, the Michigan-based company Neogen Corp purchased it in late 2021. Neogen also acquired the other genetic screens owned by the original company, including Canine HealthCheck, My CatScan, and AvianDx. 
Nebula Genomics
Paw Print Genetics is a major genetic testing company for canines, especially useful for breeders, veterinarians, and individuals. If you're already thinking about genetic tests for your dog, you may also be interested in knowing the extent of genetic information contained in your genes.
Nebula Genomics offers a comprehensive test highlighting predispositions related to diet, fitness, metabolism, disease, and much more. With 30x Whole-Genome Sequencing, Nebula sequences 100% of your DNA to get to the root cause of every biological inclination. The test includes other additions, such as ancestry reporting and genome exploration tools. Regularly updated reports ensure that you will not miss the latest genetic research.
For only $299 or less, customers will get access to their entire genome, allowing them to continue to ask more questions as more research is conducted.
| | | |
| --- | --- | --- |
| | Paw Print Genetics | Nebula Genomics |
| Testing method | Over 300 genetic tests for 350+ breeds of dog | Sequences all 20,000 genes and regulatory regions in the human genome |
| Reports | Detailed reports and certificates for each dog | An extended genetic report that is updated regularly |
| Counseling | Yes | No, but data is of the highest quality and can be used by physicians, and genetic counselors |
| Cost | $80 for single tests | $0, $99, $299 |
If interested in your pet's DNA, you may also want to check out Wisdom Panel, Embark, DNA My Dog, and Basepaws.
You may also be interested in specialty designed pet food, treats, and supplements from Ultimate Pet Nutrition!
Did you like our Paw Print Genetics review? You can read more reviews on our blog and check out our complete guide to the best DNA test kit and other home tests.