7 Facts from our Canine HealthCheck Review
Location: Spokane, Washington, United States.
Products: A genetic health and disease screening tests for dogs
Cost: $180
Reports: More than 325 different inherited diseases and traits
Counseling available: No
How to order: Order on the company's website or Amazon.com.
Alternative Products: Nebula Genomics offers 30X Whole Genome Sequencing that decodes 100% of your DNA and gives reports on diet and much more!
This review is written with the intent to be as unbiased as possible. However, it represents the opinion of an individual reviewer and is therefore subjective. Furthermore, at Nebula Genomics we seek to educate the public about the benefits of Whole Genome Sequencing. Information about our Whole Genome Sequencing DNA test is therefore incorporated into the review.
September 12, 2023
Pros and Cons
Pros
Claims to be the most comprehensive genetic test for dogs
Easy to use
Fast turnaround time
Affordable
Cons
Some customers found the results difficult to read
Results only available in PDF and difficult to share
Can only ship automatically to the U.S. and Canada
Introduction
Canine HealthCheck®, a Neogen product, offers an extensive testing panel that covers more than 325 diseases and traits commonly found in dogs. The tests include genotypes for coat colors and traits and for each disease, clear, carrier, or at-risk/affected results. They are based on published medical literature, ensuring that the program provides accurate and relevant information about the genetic health of canines.
The broad range of tests allows for comprehensive screening and evaluation, assisting dog owners and professionals in making informed decisions regarding their pet's preventative health.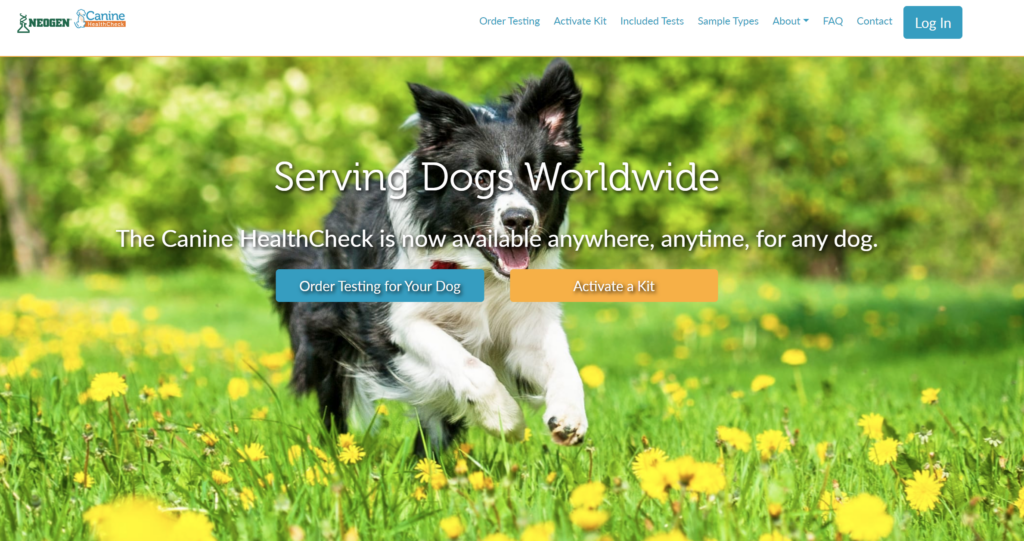 Veterinarians and Ph.D. geneticists who are expertly trained in genetic diagnostics help develop this screen. The company claims that its screen is the only one to have this kind of expert input.
Neogen, a highly regarded laboratory renowned for canine genetic testing, is the company behind Canine HealthCheck®.
The company accepts samples from all over the world. However, it will only ship kits to the United States and Canada. Other international customers should contact the company to receive instructions on how to order and return their kit. In all cases, it promises a turnaround time of 14 days or less after the sample arrives at the lab.
The Science Behind Canine HealthCheck
Canine HealthCheck uses advanced molecular biology techniques to analyze a dog's DNA. Just like human DNA testing, the company identifies and analyzes genetic variations, known as genetic markers or variants, associated with various inherited diseases and traits in dogs.
This trait and health screen is not a breed identification test. Additionally, customers should not use the results as a diagnostic test. Instead, they can use another Neogen product, Paw Print Genetics®, for diagnostic testing. Since both products use the same lab, customers can use the existing DNA from the Canine HealthCheck to perform this test in most cases.
The testing process involves obtaining a DNA sample from the dog, typically through a cheek swab. The DNA is then extracted and processed in a laboratory setting. Next, the genetic markers of interest are examined using techniques such as polymerase chain reaction (PCR) and DNA sequencing.
Review of Canine HealthCheck Tests
Canine HealthCheck tests for over 325 inherited diseases and traits in dogs. These tests cover a wide variety of health issues affecting metabolism, bones, eyes, kidneys, and more.
The goal is to provide pet owners with insight on how to best care for their dog and give them information to help identify problems early and intervene if necessary. Dog owners of any breed, whether purebred or mixed breed) can take advantage of this test.
There are three options to choose from:
Enhanced Canine HealthCheck: Includes 23 traits and 156 diseases
Comprehensive Canine HealthCheck: 32 traits and 227 diseases
Premium Canine HealthCheck: 45 traits (including colors) and 283 diseases

Customers can use the company's website to see if a particular trait or disease is included in the screening option. The items are listed alphabetically and include a search feature. A PDF comparison chart is also available.
Taking a Canine HealthCheck Test
Customers order their test through either the company's website or Amazon.com. Once the kits arrive, customers collect a DNA sample by swabbing their dog's cheek. Then, they return the sample to the lab using the prepaid envelope. Results are available through the customer's secure online account no later than 14 days after the sample arrives at the lab.
Review of Canine HealthCheck Cost
The Canine HealthCheck Kit costs $180. The company notes on its website that this is less than $1 per test.
An older version of the test is available on Amazon for $119.
Review of Canine HealthCheck Report
For each gene tested, the report marks it as normal, a carrier, or at-risk for the diseases. Color and trait results include the genotype.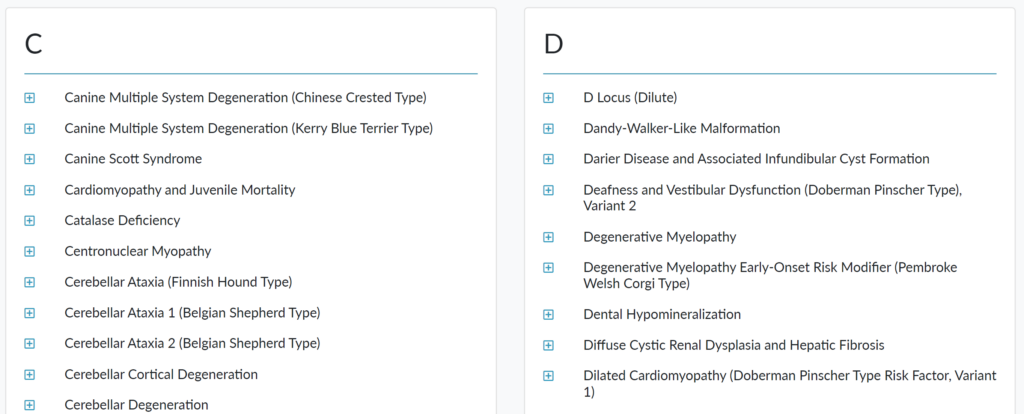 Review of Canine HealthCheck Privacy Policy
Canine HealthCheck collects the information customers provide, such as name, contact details, and details about the dogs to be tested.
It collects this information to provide and enhance its services, communicate with customers, and send relevant marketing materials. Some information they use may be anonymized.
They may share your information with third-party service providers, such as those that collect payment, and disclose it in certain legal situations.
Canine HealthCheck takes reasonable, industry-standard security measures to protect information.
Other Canine HealthCheck Reviews
Canine HealthCheck has received positive reviews on Trustpilot with a TrustScore of 4.7 stars with over 240 reviews. Customers praise the company's fast turnaround time, accurate test results, and comprehensive testing options. Some customers have also mentioned the affordability and value for money provided by the testing services.
However, a few reviews said the desire for additional tests or improvements in report readability.
On Amazon, the product has a 4.1 star rating although that is with only about 20 rankings.
Reviewers have found the test to be affordable and a valuable tool for breeders and pet owners to ensure the health of their dogs.
Most of the negative reviews reveal that the Amazon test is the older version that does not include the full comprehensive panel.
Nebula Genomics
Canine HealthCheck specializes in comprehensive genetic health and disease screening for dogs. If you're interested in how genetics influence traits and disease, you may also be interested in testing for yourself. Nebula Genomics offers a comprehensive sequencing option for human genetic testing and personalized genomics.
Nebula Genomics sequencing includes ancestry information, carrier status for genetic diseases, and wellness reports. We focus on delivering personalized genetic insights to individuals interested in understanding their own genetic makeup and health.
We curate personalized and easy-to-understand summaries of the most critical studies on the genetics. With reports, you can easily explore your DNA and learn about what new discoveries say about your genetic predispositions.
With 30x Whole-Genome Sequencing, Nebula sequences 100% of your DNA to get to the root cause of every biological inclination. The test is incredibly accurate and includes other additions, including ancestry reporting and genome exploration tools. Regularly updated reports ensure that you will not miss the latest genetic research.
Nebula is not a diagnostic test, but the results are of the highest quality and can be used in consultation with health care professionals.
For only $299 or less, customers will get access to their entire genome, allowing them to continue to ask more questions as more research is conducted.
Did you like our Canine HealthCheck review? You can read more reviews on our blog and check out our complete guide to the best DNA test kit and other home tests.
Other companies
Or, check out these other genetic testing companies for pets:
You may also be interested in specialty designed pet food, treats, and supplements from Ultimate Pet Nutrition!