This review is written with the intent to be as unbiased as possible. However, it represents the opinion of an individual reviewer and is therefore subjective. Furthermore, at Nebula Genomics we seek to educate the public about the benefits of Whole Genome Sequencing. Information about our Whole Genome Sequencing DNA test is therefore incorporated into the review.
December 8, 2021
7 Facts from our Wisdom Panel Review
Location: Vancouver, Washington
Products: Offers comprehensive DNA tests and results for dogs and cats with over 200 genetic conditions, 350+ breeds, types, varieties, traits, and a free call with a licensed veterinarian to discuss health findings
Costs: Wisdom Essential ($99), Wisdom Panel Complete for Cats ($129), or Wisdom Panel Premium ($159.99)
How it works: Collect a DNA sample from your pet, return to the lab, receive results back from Wisdom Panel online
Ordering: Tests can be ordered online through the company website or retailers such as Amazon.com or Chewy.com.
Reports: Essential information about your pet's genetic makeup. The DNA results are divided into health, ancestry, and traits categories
Wisdom Panel Introduction
Wisdom Panel is a DNA testing company that sequences and analyzes DNA from dogs and cats. This company comprises a group of professional pet lovers working diligently to strengthen the bond between pets and their owners through world-leading insights powered by DNA.
The company believes that better science means you can care smarter for your pup or kitty. Thus, it uses in-depth knowledge of science to offer dog and cat genetic tests. It believes pets are fascinating and deserve to be understood on a deeper level. The company has spent over 20 years developing smarter genetic tests that help owners learn more about their furry friends.
With its two dog DNA kits and one cat DNA kit options, Wisdom Panel can shed more light on the pet's unique ancestry, physical traits, and predisposition towards essential health conditions. The three tests contain the same ancestry, trait, and medical complication information. With Premium for dogs and Complete for Cats, customers receive additional health results, including health risks and a veterinarian follow up call. These services are designed to help you better relate with your pet and make medical decisions to improve their health and happiness.
The company comprises veterinarians working diligently to deliver excellent services. These veterinarians include Dr. Freyer, DVM, Dr. Laura Inman, DVM, and Dr. Annette Louviere, DVM.
Wisdom Panel Science: The Unique DNA of Pets
Wisdom Panel works on the principle that living things, including pets, have unique DNA. Understanding this uniqueness can help adopt the right way of life to make such pets live healthier and happier.
It analyzes 100,000 DNA locations and cross-reference each report with the most extensive database in the world. With that, it can fish out the small yet significant differences between mixed-breed dogs and cats. In addition, Wisdom Panel partners with Neogen Genomics lab to analyze DNA test samples. The lab processes more than 1.5 million samples from a variety of sources every year.
This difference helps choose the most suitable training, nutrition, and care for the pet's unique needs. It doesn't believe in the "one cap fits all" approach, which involves adopting a single training and nutrition method for a particular pet breed. You may learn that your dog or cat is a breed mix you didn't know about and understand that certain approaches, such as training methods and feeding, will work better for them than others.
Wisdom Panel Review
Three tests are available:
Wisdom Panel Essential
Wisdom Panel Premium
Wisdom Panel Complete for Cats

The two dog testing options include the following:
Essential
Medical complications – 25+ tests for medication sensitivity, immune deficiency, and bleeding disorder
Breed breakdown – 350+ dog breed identification, types, and varieties—the most comprehensive test on the market
Family tree – trace your dog's ancestry back to their great-grandparents
Coat color and type – 20+ tests on coat color, patterns, and texture, as well as hairlessness and shedding
Body features – 10+ tests for head and body shape, eye color, and high altitude adaptation
Ideal weight range – Get a personalized recommendation based on breed groups and tests at seven genetic markers
Premium
In addition to everything included in the Essential package, the premium test also provides:
Health risks – 180+ health tests for genetic predisposition (genetic mutations) towards disease
Veterinarian follow-up call – If your dog has a notable health result, a veterinarian can walk you through it over the phone
Carrier status – Find out if your dog could pass down genetic risk factors to their puppies
Complete
On the other hand, the test for cats includes:
Medical complications – 45+ tests that detect key genetic disorders and medical complications
Breed breakdown – 70+ breed identification, types, and varieties—the most comprehensive test on the market
Multi-generational family tree – trace your cat's ancestry back to their ancestors
Coat color and type – 25+ tests on coat type and other features
Blood type – Identification of cat's blood transfusion risk
Veterinarian follow-up call – If your cat has a notable health result, a veterinarian can walk you through it over the phone
How to take Wisdom Panel Test
There are four simple steps to take the DNA test — order online, swab, test, and result.
After receiving the kit, the next step is to collect the sample. Rub the sample collection swab gently against the inside of your pet's cheek, with the same gentle force you apply when brushing your teeth. Be careful not to allow the swab to touch the fur or other surfaces, as doing so can contaminate your sample and affect the DNA results. Air-dry the sample for about 5 minutes before returning the swab to its protective sleeve.
Use the provided test sample ID to activate your kit online. You can also do this by checking the company's website. There, you'll find a link that reads "Activate Kit." Once your kit has been activated online, you should mail the swap back to the laboratory, where the test will be carried out.
You can track the test's progress online, and the result will be ready in about 2-3 weeks. You'll be sent an email to notify you when your report is up for you to view. You can now log into your account at WisdomPanel.com to view the test results with your Wisdom Panel login.
Wisdom Panel Cost Reviews
There are two tests you can choose for your dog— the Wisdom Panel™ Essential for $99.99 and Wisdom Panel™ Premium for $159.99. In addition, the company now features one for your cat—the Wisdom Panel™ Complete for $129.99.
Wisdom panel coupons are often available through websites such as Chewy and RetailMeNot.
You may also be interested in comparing costs to determine which dog DNA test is best for you.
Wisdom Panel Reports Reviews
The reports comprise three different categories of your pet's DNA: health, ancestry, and traits. Each of these categories will break down the unique genetic makeup of your pet. It also describes how each of the factors can influence their health and lifestyle.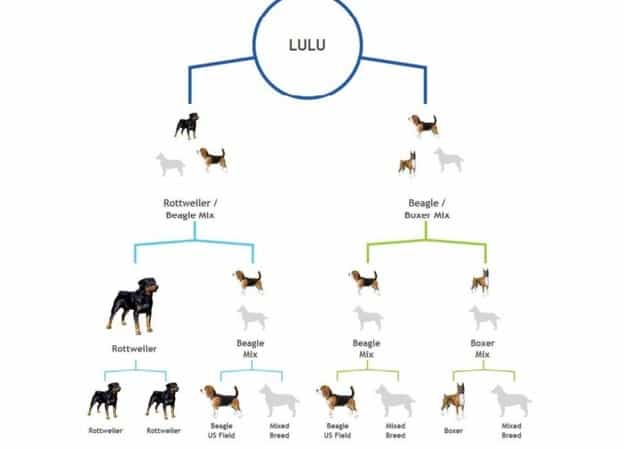 In the health section of the report, customers can discover undiagnosed problems or health conditions. Working with a vet, you can help plan for their future health needs. In the case of the dog tests, the Essential option provides health information on over 25 medical complications. However, you will have to purchase the Premium kit to access your dog's genetic results for the over 180 health predispositions and carrier status information. These additional services are useful for early disease detection and comprehensive breed information.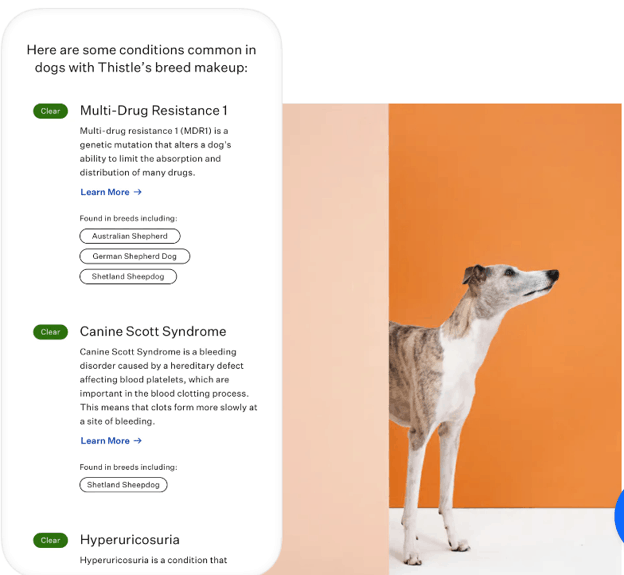 In the ancestry section, the results include breeds present in your four-legged friend (down to 1%) and trace their family members back three generations. Therefore, breed mix reporting allows you to trace the DNA of your pet up to its great grandparent. You may be surprised to learn your bulldog is a large percent American Staffordshire Terrier or German Shepherd or that your American domestic cat is part Norwegian forest cat!
With the publicly available Wisdom Panel Breed Library, users can learn more about their pet, including physical characteristics, history, traits, temperament, care, and genetic health conditions.
The trait section of the report will decode the genetic factors that may explain why your pet displays traits that are unique. Thus, you will know why they have a specific hair length and color, muzzle shape, etc. These factors will help you proactively plan the suitable training and nutrition your pet needs to live healthier.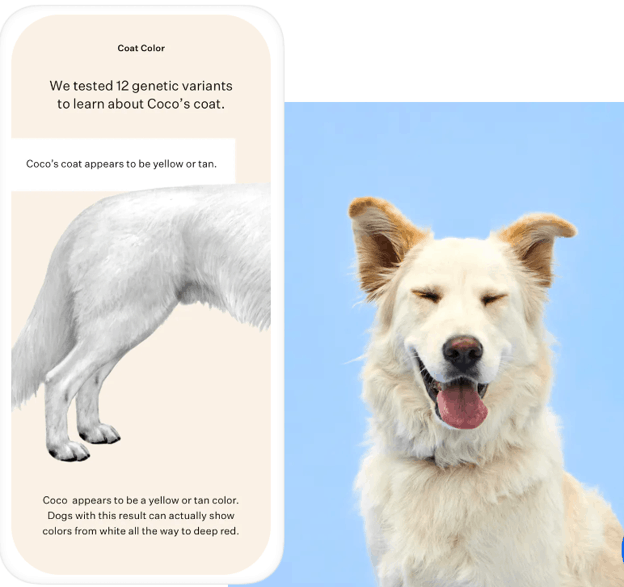 Wisdom Panel Privacy Review
Wisdom Panel is a brand of Kinship Partners, Inc, a subsidiary of Mars, Incorporated. This large corporation has a privacy statement that applies to all users of its services.
This privacy policy refers to how it takes care of personal data you might have to share when registering your pet. All identifiers such as your name, ID, email address, location, or anything that might be used to identify a person are kept confidential and only available to third-party providers or government agencies when strictly required by law.
Wisdom Panel in the News
On April 2021, Business Wire announced how Wisdom Panel had hit a record of more than 2.5 million dogs getting tested. This makes the company the world's largest service provider of dog DNA detection.
Later, on June 15, 2021, the company announced the launch of the CAT DNA test. This was great news for cat lovers.
On July 28, 2021, Business Wire also revealed what it considered the most accurate breed detection system available, referring to Wisdom Panel. The test's accuracy has been proven to be top of the line several times.
The company also hit a headline in the UK's Independent. This post details their own experience utilizing the services on a Rhodesian Ridgeback named Barley.
Other Wisdom Panel Reviews
Amazon: rated 4.5 out of 5 stars.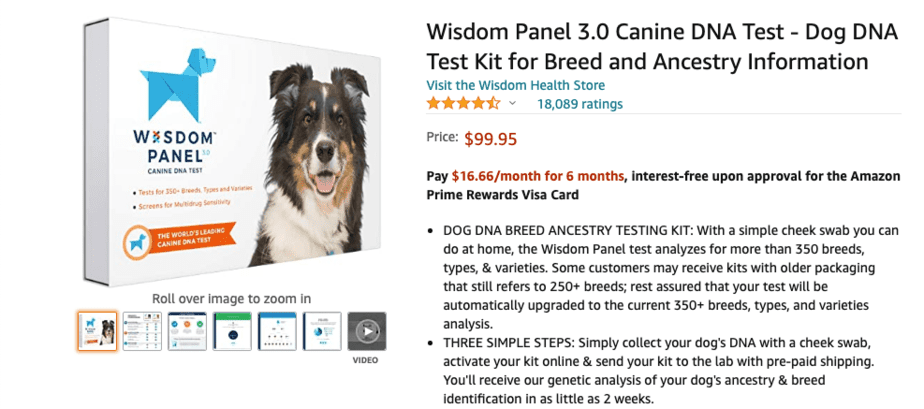 Many clients shared their experiences on Amazon. They spoke about how excited they are to finally know about their pet's genetic makeup and how accurate the report they got is. Many of them rate the company 5 out of 5 stars and highly recommend its service. Overall, the product has over 18,000 reviews, indicating the diversity in the number of people who opted for the test.
On Amazon, you can choose from the Essential and Premium test kits, as well as Wisdom Panel 3.0 (more than 250 breeds), Wisdom Panel 4.0, and Wisdom Panel Health, which are older products.
There are a series of comments on Twitter made by several satisfied customers of this company. You may want to take some time to see what people are saying about them on the #WisdomPanel Twitter hashtag.
People also made a lot of comments about this product on Reddit. You may want to check out the comments if you still doubt whether to also opt for a Wisdom Panel Test or not.
They are also a well rated dog DNA service on Chewy.com.
Pros and Cons
Pros
The test is quick and easy to use
Health, ancestry, and trait reports are comprehensive
One account can be used for multiple kits
The report is easy to understand
One company for both cats and dogs
Cons
Data sharing is challenging
May be expensive
Nebula Genomics
While thinking about sequencing their pet's DNA, pet parents should also look into sequencing themselves! Nebula Genomics is a personal genomics company that offers 30x Whole Genome Sequencing for humans. Unlike most DNA tests which only decode 0.02% of the human genome, Nebula Genomics will analyze 100% for $299 or less.
Nebula Genomics also helps customers make sense of their data. The Nebula Research Library is updated regularly with new reports that allow you to learn more about genetic traits and health predispositions. It also provides users deep dives into their ancestry discovery.
Wisdom Panel is passionate about using DNA testing and veterinarian expertise to improve the health of pets. With Nebula Genomics, human customers receive full access to their DNA data. Our Whole Genome Sequencing data is of the highest quality and can be used by physicians and genetic counselors, helping you keep every member of your family healthy!
| | | | |
| --- | --- | --- | --- |
| | Embark | Wisdom Panel | Nebula Genomics |
| Testing Method | Genotyping chip | Genotyping chip | 30X Whole Genome Sequencing |
| Reporting | Dog health, ancestry, and traits | Dog and cat health, ancestry, and traits | Human genetic health predispositions |
| Ancestry Reporting | Yes | Yes | Deep ancestry reporting with full Y chromosome and mtDNA sequencing |
| Trait Reporting | Yes | Yes | Yes |
| Data Exploration Tools | No | No | Yes |
| Cost | $99 – $149 | $99 – $160 | $0, $99, $299 |
Want more DNA testing for your pet? You should check out these other reviews for Embark dog DNA test kit and Basepaws (cat DNA testing).
Did you like our Wisdom Panel review? You can read more reviews on our blog and check out our complete guide to the best DNA test kit and other home tests.