This review is written with the intent to be as unbiased as possible. However, it represents the opinion of an individual reviewer and is therefore subjective. Furthermore, at Nebula Genomics we seek to educate the public about the benefits of Whole Genome Sequencing. Information about our Whole Genome Sequencing DNA test is therefore incorporated into the review.
August 29, 2023
7 Facts from our DNA Ancestry Project Review
Location: Vancouver, British Columbia, Canada (Genebase)
Products: Y chromosome DNA and mtDNA tests
Cost: $119-$1779
Reports: Genetic genealogy with access to databases for haplogroups, finding relatives, and links to indigenous populations
How it works: Purchase a participation kit online, receive results, use the databases
Raw DNA download: No
Other Products: Nebula Genomics offers 30X Whole Genome Sequencing that decodes 100% of your DNA and offers reports on diet and much more!
Pros and Cons
Pros
Focus on genetic makeup
Part of Genebase
Multiple coverage options
No membership or subscription fee
Cons
No mention of DNA privacy
No DNA upload or download options
Some website information appears out of date
Introduction
The DNA Ancestry Project specializes in genetic genealogy services, catering to a diverse range of clients, including legal clients, government departments, and private individuals worldwide interested in family history. It is associated with the genetic testing company, Genebase.
With a solid commitment to accuracy, the company runs all tests twice to ensure precise DNA test results.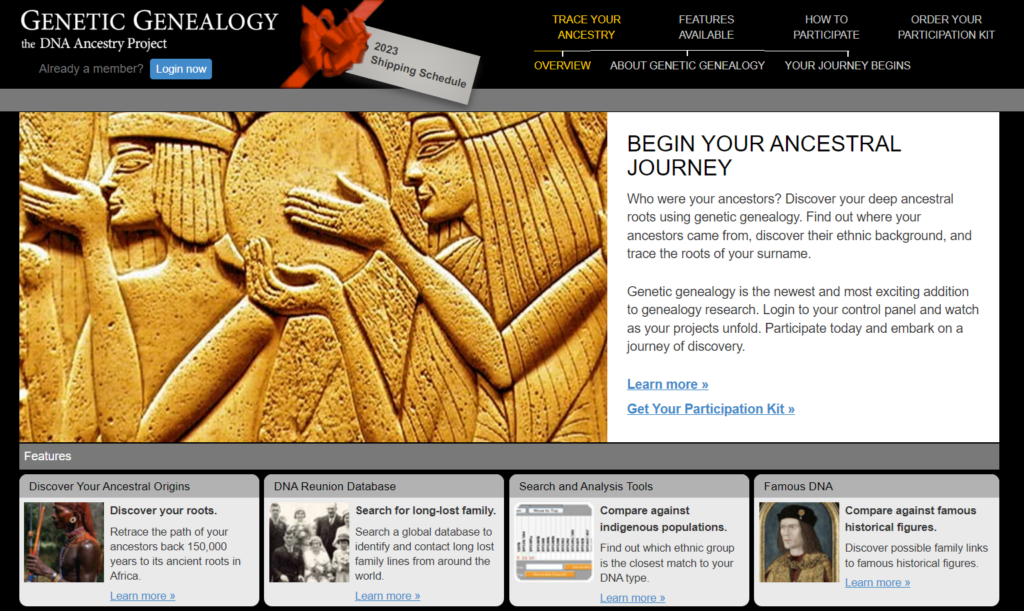 On its "Company Info" page, the company seems to exclusively describe legal DNA testing services related to paternity such as being able to provide expert PhD testimony and expert testimony letters in court. However, its main website is much broader, offering services for helping all individuals understand their ancestry.
The DNA Ancestry Project's laboratory holds accreditations from reputable organizations such as American Association of Blood Banks (AABB) and is ISO17025-accredited, accredited by the College of American Pathologists (CAP) and CLIA certified.
The DNA Ancestry Project focuses on genetic genealogy, the process by which modern individuals can trace their ancestral origins through time. This service claims to help individuals identify who their ancestors were, where they lived, and which migration paths they took around the world.
This company uses DNA to identify an individual's ancestors and demonstrate how they branched into modern day people. Once customers recive their report, they can use the results in genetic databases the company collects on its website.
Review of the DNA Ancestry Project Test
The DNA Ancestry Project offers three types of ancestry DNA testing: packages that trace paternal lines, maternal lines, or a combination of both.
The tests for the paternal lines are based on testing a certain number of specific locations on the Y chromosome. Therefore, only people born male can take this test.
It is based on testing short repeated sequences of DNA called short tandem repeats (STRs). The more STRs tested, the greater the test's accuracy. The company offers four levels of accuracy:
Standard: 20 STR markers
Advanced: 44 STR markers
Advanced: 67 STR markers
Premium: 101 STR markers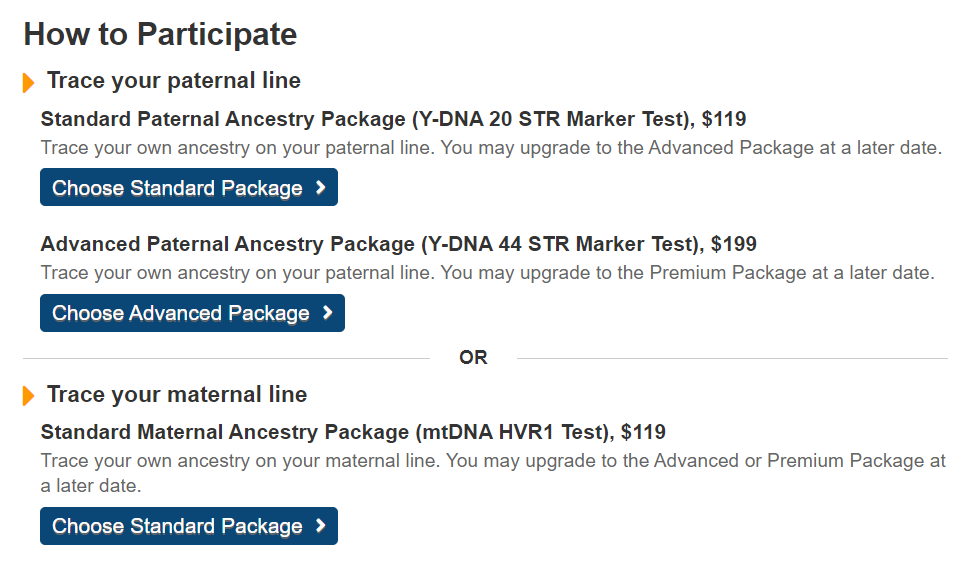 The tests for the maternal lines are based on mtDNA, which is mitochondrial DNA passed on from mother to child, including both males and females. This means that everyone can take the maternal lineage test. There are three levels of accuracy for the maternal test based on how much of the mtDNA the test sequences:
Standard: HVR1 (Hyper-variable Region 1)
Advanced: HVR1 and HVR2
Premium: HVR1, HVR2, and Coding Region (complete mtDNA)
If a customer choses a standard package (typically the lowest coverage), they can upgrade to the higher coverage options at a later date.
The company also offers combination packages for those who want to test both their maternal and paternal lines. Once again, only males can use the paternal portion of these combinations.
Standard: Y-DNA 20 STR Marker + mtDNA HVR1
Advanced: Y-DNA 44 STR Marker + mtDNA HVR1 + HVR2 Test
Advanced: Y-DNA 67 STR Marker + mtDNA HVR1 + HVR2 Test
Premium: Y-DNA 101 STR Marker + mtDNA HVR1 + HVR2 + Coding Region Test
Review of Taking the DNA Ancestry Project Test
Customers start by ordering a DNA Ancestry Project test, which the company calls a "Participation Kit." The results include a detailed report and DNA certificate revealing ancestral markers and haplogroup information.
To get a DNA test kit, customers choose the desired genetic ancestry package based on either paternal or maternal DNA. They must create an account at the time of purchase. Then, they follow the instructions provided in the participation kit to collect the DNA sample using the enclosed mouth swab.

Once customers complete the swabbing process, they use the self-addressed envelope included in the kit to send the sample back to the laboratory.
The laboratory will process the sample and generate a formal DNA report and certificate.
Once the test is complete, customers have access to projects on the company's website involving ancient people from around the world.
Review of DNA Ancestry Project's Cost
Costs range from just over $100 to over $1700 depending on the amount of sequencing coverage desired.
Paternal Line Tracing:
Standard 20 STR Marker: $119
Advanced 44 STR Marker: $199
Advanced 67 STR Marker: $269
Premium 101 STR Marker: $339
Maternal Line Tracing:
Standard mtDNA HVR1: $119
Advanced mtDNA HVR1 + HVR2: $189
Premium mtDNA HVR1 + HVR2 + Coding Region: $1528
Combination Packages
Standard (Y-DNA 20 STR Marker + mtDNA HVR1 Test): $238
Advanced (Y-DNA 44 STR Marker + mtDNA HVR1 + HVR2 Test): $388
Advanced (Y-DNA 67 STR Marker + mtDNA HVR1 + HVR2 Test): $458
Premium (Y-DNA 101 STR Marker + mtDNA HVR1 + HVR2 + Coding Region Test): $1779
Additionally, shipping and handling costs $10 for regular delivery or $25 for express delivery.
Review of DNA Ancestry Project Reports
The DNA Ancestry Project test provides a DNA report based on the type of test selected. There are also several features available that allow customers to input their results and receive additional information. The features are based on constantly updated databases on the company's website. They are free for users who have their results.
DNA Haplogroups
Haplogroups are ancient family groups based on the idea that we all descended from a common ancestor. By inputting DNA results into this database, customers can see which haplogroup they belong to and the migration pattern out of Africa. The feature also provides historical information. These results do not include ethnicity estimates from a reference population.
Indigenous DNA
This feature allows customers to compare their DNA with published markers of indigenous populations from around the world and determine which are the closest genetic match to their DNA type.
DNA Reunion
This database is for customers who want to search for missing family members. They can search DNA matches in the database for both close and distant relatives. It's important to remember that the DNA results are restricted to either the paternal or maternal line, depending on the type of test performed.
Famous DNA
This database is for customers who want to compare their DNA to famous people, including royalty, throughout history.
Review of the DNA Ancestry Project Privacy Policy
The DNA Ancestry Project collects personal information, such as name, address, email address, and telephone number, solely to carry out the requested services. The company ensures that agents and contractors with access to this information maintain its confidentiality. They do not use personal information for any other purposes without consent.
There is no mention in the company's privacy policy regarding how it shares DNA samples.
Other DNA Ancestry Project Reviews
Since these products are only available on the company's website, there are no third-party reviews on sites such as Amazon or Trustpilot.
Nebula Genomics
The DNA Ancestry Project specializes in DNA testing for ancestry tracing. While sequencing your Y chromosome and mtDNA is one way to unlock genetic information, there is tons of additional information waiting in your autosomal DNA as well. Nebula Genomics offers comprehensive genomic sequencing for both ancestry (sequencing the Y chromosome and mtDNA) and things like health, traits, wellness, and more.
Nebula Genomics believes that the latest genetic technology offers the best advantage to users looking to improve their health. That's why Nebula provides a comprehensive test highlighting predispositions related to diet, fitness, disease, and much more.
With 30x Whole-Genome Sequencing, Nebula sequences 100% of your DNA to get to the root cause of every biological inclination. The test is incredibly accurate and includes other additions, including ancestry reporting and genome exploration tools. Regularly updated reports ensure that you will not miss the latest genetic research.
Nebula is not a diagnostic test, but the results are of the highest quality and can be used in consultation with health care professionals.
For only $299 or less, customers will get access to their entire genome, allowing them to continue to ask more questions as more research is conducted.
DNA Ancestry Project vs. Nebula Genomics
| | | |
| --- | --- | --- |
| | DNA Ancestry Project | Nebula Genomics |
| Sample collection | Cheek swab | Saliva sample |
| Testing method | Y chromosome and mtDNA | Sequences of all 20,000 genes and regulatory regions |
| Results | DNA report and access to genetic genealogy databases | Genetic predispositions |
| Ancestry reporting | Yes | Performs deep ancestry reporting with the complete Y chromosome and mtDNA sequencing |
| Counseling | No | No, but data is of the highest quality and can be used by physicians and genetic counselors |
| Cost | $119 – $1779 | $0, $99, $299 |
Did you like our DNA Ancestry Project review? You can read more reviews on our blog and check out our complete guide to the best DNA test kit and other home tests.
Other companies
You may also want to check out these other ancestry-focused sites: