7 Facts from our DNA My Dog Review
Location: Toronto, Canada
Products: 5 products that include Deceased Dog DNA Breed Testing, Breed Test, and Allergy Test
Cost: $69 – $189
Reports: Breakdown of breeds in various ranges
How it works: Customers create their accounts and choose their canine tests. After receiving the test, they use a cheek swab to collect a cheek cell sample from their pet, and ship the DNA sample back to the company. Results will become available online after two weeks
Veterinary service available: No.
Other Products: Nebula Genomics offers 30X Whole Genome Sequencing that decodes 100% of your DNA and offers reports on diet and much more!
This review is written with the intent to be as unbiased as possible. However, it represents the opinion of an individual reviewer and is therefore subjective. Furthermore, at Nebula Genomics we seek to educate the public about the benefits of Whole Genome Sequencing. Information about our Whole Genome Sequencing DNA test is therefore incorporated into the review.
July 5, 2022
Pros and Cons
Pros
Affordable
Standard and advanced tests available
Constantly adding new breeds to database
Results are straightforward and easy to understand
Participates in charities for shelter dogs
Cons
Although continuing to add breeds to its database, there are currently just over 100 breeds, which is less than competitors, which may have over 350 breeds
Not a breed health test or health screening
Some customer reviews claim the tests are not accurate
DNA My Dog Introduction
DNA My Dog (DNAMyDog) provides at-home genetic testing for your pet. The company offers dog owners or breeders DNA kits to help determine their canine's breed composition and ancestral heritage from over 100 breeds, including German Shepherd dogs, Shih Tzu, Labrador Retriever, Poodle, German Shorthair Pointer, Border Collie, American Staffordshire Terrier, and many more. The information in the reports include genetic aspects of a dog's breed, personality traits, predisposition to the diseases, and more.
It also offers an allergy testing kit to help owners discover their dog's sensitivity and intolerance to 100+ allergens that could lead to health issues.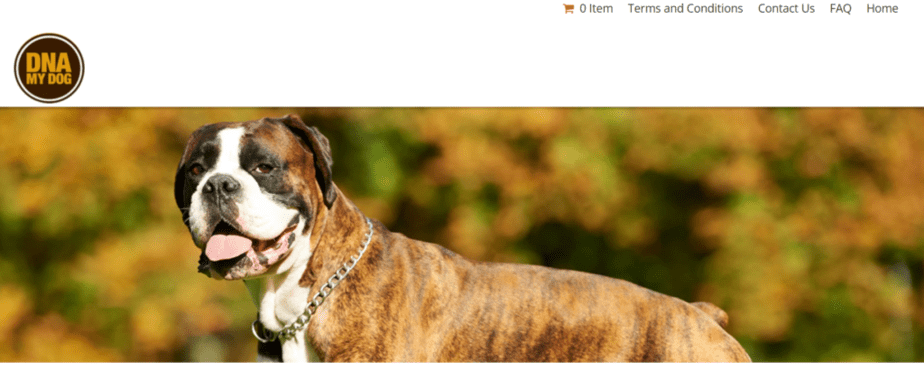 This service enables owners to prioritize their dog's wellbeing and safety and have a happy pet. Mindy Tenenbaum, an avid animal lover, founded DNA My Dog in 2008. The test was originally developed with the goal that a better understanding of the dog genome would help the fight against human cancer as the two show many similarities.
The company is based in Toronto, Canada.
The Science Behind DNA My Dog
Just like DNA testing for humans, DNA My Dog analyzes genetic markers in your pet and compares them to a reference database.
These tests are only designed to reveal the genetic composition for mixed breed dogs and cannot confirm if a dog is purebred. The database covers the most common breeds found in the mixed breed dog population, as recognized by the American Kennel Club® (AKC). As new breeds become popular in mixed breed dogs, the company will add them to its database. Some tests also reveal predisposition to disease and a host of other conditions, such as allergies.

Behind My DNA currently carries out service all over Canada and the United States. However, it seeks to expand its reach and reach a more global audience.
Review of DNA My Dog Products
DNA My Dog offers six products and services, five for dog owners and one restricted to law enforcement, Humane Societies and insurance companies for the purpose of canine genetics.
Breed Test
This is the standard dog breed identification test. It helps unravel the most common breeds in your mixed dog's DNA. It also exposes genetic health concerns, your dog's unique personality traits, and your dog's predisposition to diseases.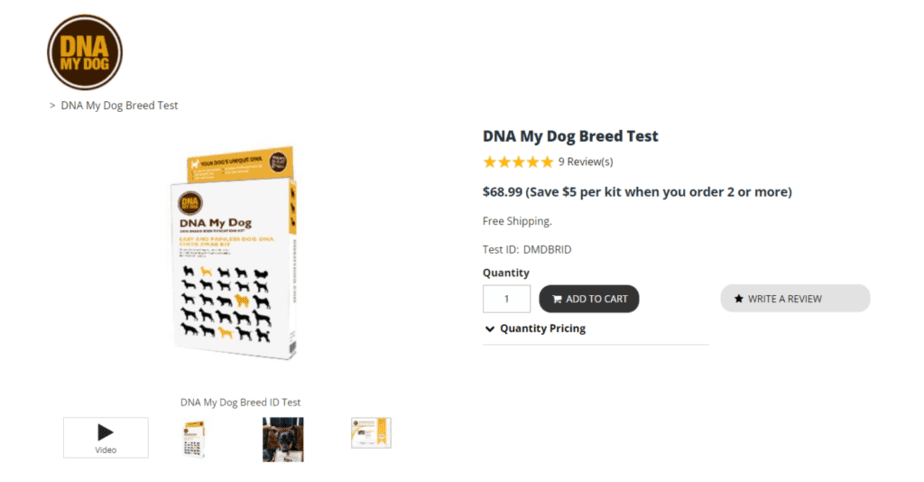 DNA results include a report on the dominant breed in your dog's DNA, a breakdown of the levels present in your dog's DNA, and much more. It also has a customized photo of the breed rooted in your dog's genetic composition.
NEXTGEN Breed Identification and Genetic Age Test
This DNA test helps to determine the genetic age of your dog, which can be different from the actual age. Genetic age gives dog owners insight into the proposed longevity of their dogs from a cellular point of view.
Specifically, this test helps measure your dog's telomere length, the dynamic, protective caps of the DNA strand that shortens with age. The report will compare how your dog is aging on the cellular level compared to their biological age, ranking as Excellent, Good (cellular age and biological age match), moderate, and severe.
This test is not recommended for dogs under 1 year of age as the telomere length will not be accurate. The kit also includes the Breed Test.
Breed Test PLUS Wolf – Canid/Hybrid Test
In addition to the standard Breed Test, this kit will determine whether your dog has any coyote or wolf DNA.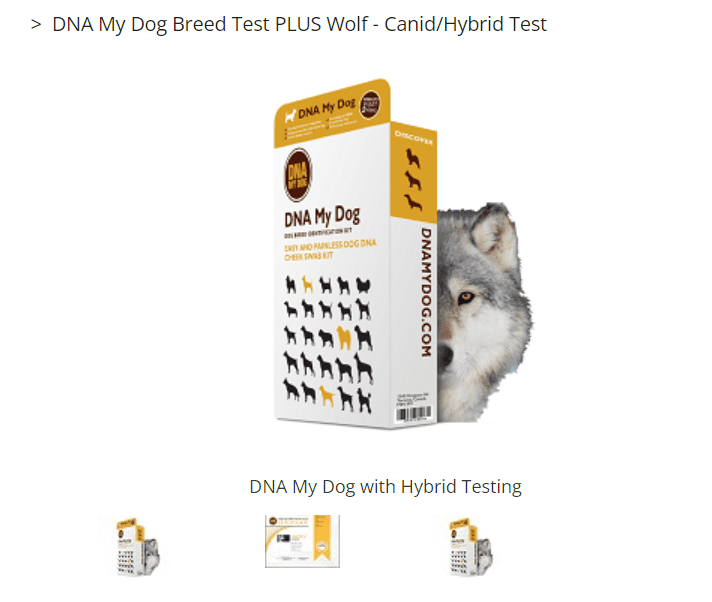 Deceased Dog DNA Breed Testing
This service helps to determine the breed of a deceased dog through objects that the dog came in oral contact with. With toothbrushes, toys, bones, teeth, blankets, chewed household items, or other items that have the dog's saliva, owners can discover the deceased dog's breed. This service cannot use dog collars, fur, clothing, water, and food dishes to determine a disease dog's breed and the items must not have come in contact with any other dog.
The items are sent to a third-party lab which extracts the DNA and then sends it to DNA My Dog labs.
Allergy Test My Pet Canine Allergy Test
This test helps you discover your dog's intolerance and sensitivity to over 100 factors that your pet may be reacting to. These may be environmental sensitivities, household products, and food allergens.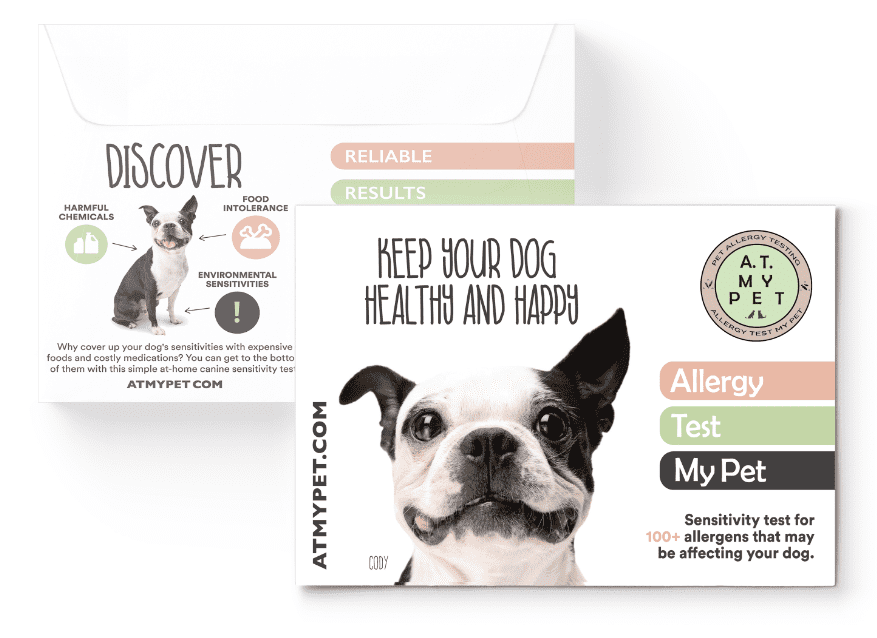 It will help you know the food that is safe in your dog's diet, the food to avoid, and the factors that affect your dog's wellbeing.
Veterinary Forensic Service
This service is used to unravel criminal activities, fraud, and abuse against animals. Veterinary forensic service helps analyze evidence to help provide law enforcement, insurance companies, and human societies with relevant investigative information.
Organizations can contact the company directly to learn more about this service.
Taking a DNA My Dog Test
Owners are shipped the testing kit and provided instructions for collecting a saliva sample from their pet.
You can order the test from the company website and register the customer ID. Then, you take the sterile, gentle polyester tipped swab to collect saliva from your pet's cheek. Place the swab in the collection package and send it back to the DNA My Dog laboratory.
Results are available online about 2 weeks after the sample is received at the lab.
Review of DNA My Dog Cost
DNA My Dog pricing for its Breed Test is quite affordable as it aims to allow every user to know more about their dogs without having to spend a fortune. Dog owners can find the standard test for dog breed as low as $69.
The additional tests are higher, but still relatively affordable:
Breed Test PLUS Wolf – Canid/Hybrid Test: $89
NEXTGEN Breed Identification and Genetic Age Test: $100
Allergy Test My Pet Canine Allergy Test: $108
Deceased Dog DNA Breed Testing: $189
Review of DNA My Dog Reports
The DNA My Dog Breed Identification Test provides information based on a mixed breeds unique DNA profile. The results of the DNA analysis are printed on a hand-certified DNA analysis certificate that is suitable for framing. This can be a custom photo certificate of the breeds determined by the DNA test. Customers can choose to submit a photo of their pet, but it is not necessary.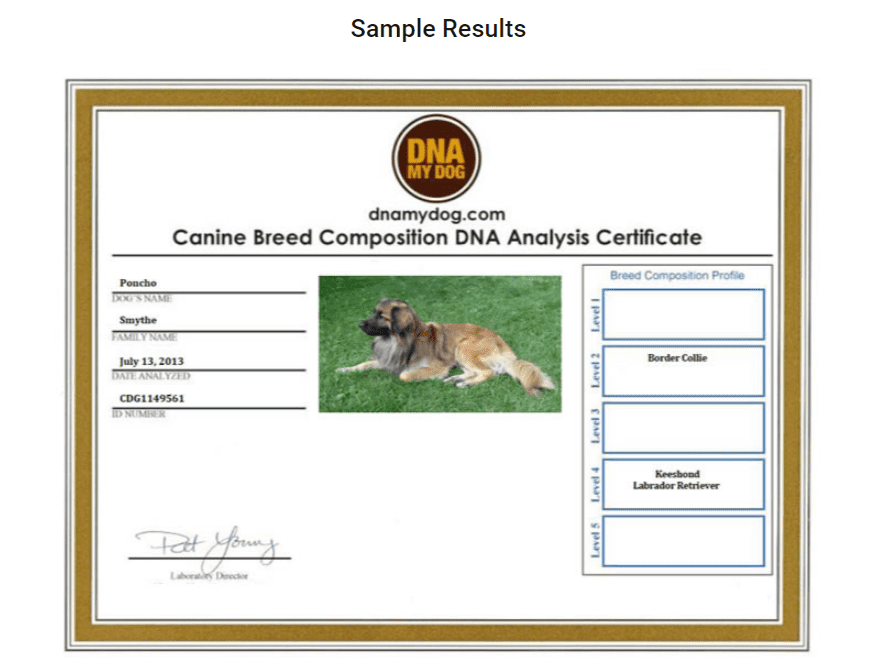 On the certificate, your dog's breeds are divided into 5 levels in the composition profile. The levels represent ranges of breeds, rather than absolute values. For example, level 1 recognizes a majority of one specific breed in your dog's DNA (61%-99% of your dog's genetic makeup is this breed). A highly mixed breed dog will not normally have a breed in this category.
Level 2 represents breeds that may be easily recognizable in your dog (40-60%). Dogs at this level have mixed ancestry but may also have a purebred ancestor.
Level 3 represents a range of 26%-39%. Level 4 is 10%-25% DNA. This level is common for largely mixed dogs.
Finally, level 5 is 10% or less. These breeds are likely carried over from multiple generations.
Customers may also see level S (single match) or level T (trace match).
Information in the report will cover dog breed composition, unique personality dog traIts, genetic health conditions and vulnerabilities, and disease predisposition.
The results also include:
A percentage breakdown of all levels found in a Dog DNA to determine its full breed
A report on the dominant genes that determine personality traits and health concerns
A custom photo certificate that shows the breed composition of your dog.
Other DNA My Dog Reviews
DNA My Dog has been reviewed on third party sellers like Amazon and Chewy. On Amazon, the Breed Test has a 3.8 out of 5 stars with over 5500 reviews. Some reviewers found the product informative and noted that the results explained a lot about their pet. Many appeared happy with the results and noted that the company provided great service.
However, others claim that the product is inaccurate based on their knowledge of their pet's parents or different from similar dog DNA tests. Others had doubts about small dogs being reported as having large dog ancestry and vice versa. Some customers also noted that they never received the results.
The reviews on the pet supply website, Chewy are similar. The product has a 3.2 out of 5 stars with almost 400 reviews. The comments were similar to those expressed on Amazon.
In general, reviewers liked the customer service, although some had complaints about not being able to request a refund from customer support when they felt their results were inaccurate.
The company also has a section of their website dedicated towards testimonials, which are largely praise for the product.
Review of DNA My Dog Privacy
DNA My Dog knows how important confidentiality means to customers, which is why they are keen on protecting the privacy of their customers. Your dog's genetic information, device information, and DNA dog account information that the company can access is used to provide you with their relevant services. This company cannot sell, rent, disclose or share their customer's information with a third party that will use it wrongfully against the customer.
All third parties that can access customers' information through the company use it to help meet the customer's request.
Nebula Genomics
DNA My Dog offers a fun, informative analysis of a mixed breed dog's ancestry. A feature that makes the company stand out is the additional options, which include cellular age, deceased DNA analysis, and allergy information.
While you are investigating DNA testing for your dog, you may also be interested in genetic sequencing for yourself. While many at-home consumer DNA testing companies offer a limited peek into your genome, the most comprehensive information can be obtained through whole genome sequencing. This process decodes 100% of the human genome, ensuring accuracy and a complete data set of autosomal, Y chromosome, and mitochondrial DNA.
Nebula Genomics offers 30x Whole-Genome Sequencing with regularly updated reports relating your genome to disease predisposition, metabolism, diet, fitness, traits, and much more. With its whole-genome sequencing, this platform helps you discover the root cause of every biological inclination.
The company also provides important information on ancestry reporting and genome exploration tools. There is also an updated regular report on the latest genetic research and breakthroughs. Plus, this service is affordable. The price for the full kit and reporting features is $299 or less.
| | | |
| --- | --- | --- |
| | DNA My Dog | Nebula Genomics |
| Testing method | Marker analysis for dog breed identification | Sequences all 20,000 genes and regulatory regions in the human genome |
| Reports | Breed analysis | An extended genetic report that is updated regularly |
| Cost | $60 – $189 | $0, $99, $299 |
Other companies
If interested in your pet's DNA, you may also want to check out Wisdom Panel, Embark, and Basepaws.
If interested in your pet's DNA, Embark, Wisdom Panel, and Paw Print Genetics are other DNA tests for dogs while Basepaws is genetic testing for your cat.
You may also be interested in specialty designed pet food, treats, and supplements from Ultimate Pet Nutrition!
Did you like our DNA My Dog review? You can read more reviews on our blog and check out our complete guide to the best DNA test kit and other home tests.