7 Facts from our MicroGenDX Review
Location: Lubbock, Texas, United States
Products: At-home tests for infections (33 infection types in 20 tests)
Cost: Self-pay: $150-$355 for most infections, $50-$99 for STI/STD, $99 for COVID-19; may be lower with insurance
Reports: Viral loads and antimicrobial recommendations
How it works: Patients in the United States need a doctor to sign/order the testing itself. Once the sample is submitted the lab uses qPCR + NGS DNA diagnostics. Results are sent to the ordering doctor 24-48 hours for qPCR and 3-5 business days for next generation sequencing (NGS)
Counseling available: No
Other Products: Nebula Genomics offers 30X Whole Genome Sequencing that decodes 100% of your DNA and offers reports on diet and much more!
Pros and Cons
Pros
Can be ordered online and completed at home
More accurate than standard culture labs
Comprehensive qPCR and NGS technology
Can be billed through insurance
Cons
Needs to be ordered by a physician
More expensive than standard lab tests
Introduction
MicroGenDX is a laboratory that provides a combination of PCR and next-generation DNA sequencing for microbial molecular diagnostic tests. Although the laboratory has many advances in technology, collaborations and clinical trials, commercial testing specifically focuses on patients suffering from infections.
It designed its technology, described more below, to enhance the standard means of diagnosing infection (culture) to improve patient outcomes.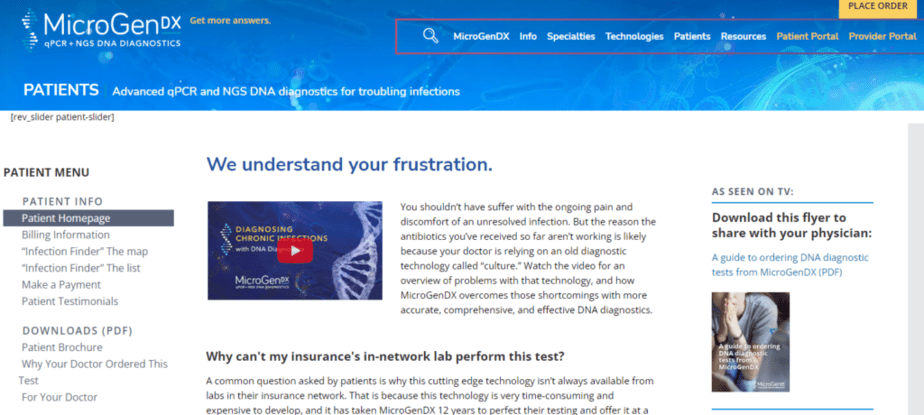 Randall Wolcott founded the company in 2008 under the name of Pathogenius. He specializes in wound care and has been an expert in the profession for the past 20 years. He is also a member of the Global Wound Expert panel that was created in 2015.
Its predecessor, Southwest Regional PCR, claimed to be the first lab to offer a 2-step process combining qPCR and NGS to identify microbes. In 2017, Rick Martin purchased the laboratory and rebranded under MicroGenDX. The lab is CLIA-certified and CAP-accredited.
Over time, the laboratory has continued to grow and offer more types of tests. It claims to have run over 700,000 sequencing tests since its inception.
The Science Behind MicroGenDX
MicroGenDX seeks to serve users from all spheres by providing one of the vastest state-of-the-art microbial DNA sequencing diagnostics for different infections.
The standard method of diagnosing infections is through culture labs. On the other hand, this company uses the faster and more comprehensive MicroGenDX qPCR+NGS technology. This process is a combination of PCR testing and genetic sequencing. With this approach, the results are more comprehensive (identifies 100% of the microbes in a sample), accurate (99%), and faster (3-4 days) than culture.
Results from a head-to-head comparison study between culture and NGS for diagnosing UTIs showed that the latter was a more sensitive technique.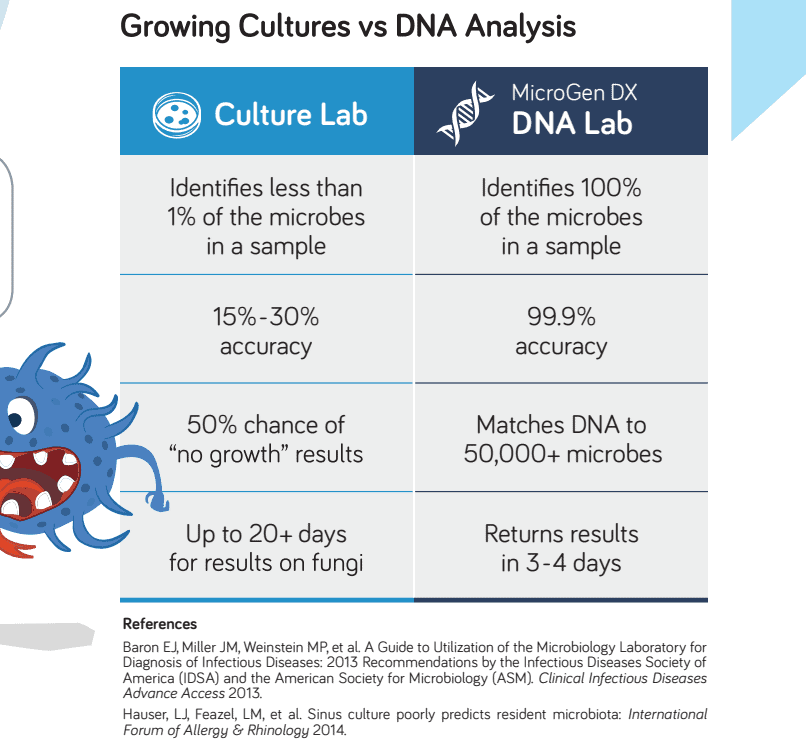 It is one of the most comprehensive microbial diagnostics for ENT/AFB, orthopedics, microbiology laboratories, urology, podiatry, OB-GYN, and other medical specialties. A team of molecular biologists, biochemists, bioinformaticians, computer scientists, and physicians support the company. 
The targeted, rapid approach with the MicroGenDX tests allows symptoms to get resolved faster and lower the overall cost and time for infection treatment. Because it is a clinical test, patients order it through their physician.
Patients can order the tests in the United States and internationally. There are some restrictions on certain types of tests. For example, the STI/STD tests cannot be ordered in New York.
Review of MicroGenDX Products
MicroGenDX features several specialties, including infectious diseases and COVID-19. All submitted lab requisition forms must include a qualified physician's signature on the lab requisition form.

In total, MicroGenDX offers 20 tests.
UroKEY (Urinary Tract Infections or UTI)
MensKEY (Urine + seman)
WomensKEY (Urine + vaginal)
Vaginal
Prostate
Rectal swab
SinusKEY (ENT)
COVID-19
Pulmonary (respiratory)
NailKEY (nail)
Respiratory viral
WoundKEY (wound)
OrthoKEY PJI OR (periprosthetic joint infection)
OrthoKEY PJI (periprosthetic joint infection)
Gastrointestinal
Full STI (CT/NG/TV/MG)
Basic STI (CT/NG)
HSV
HPV
Oral-HPV
Patients can use the company website to help identify and locate their suspected infection. This interactive map will also recommend the type of test they should order to diagnose it.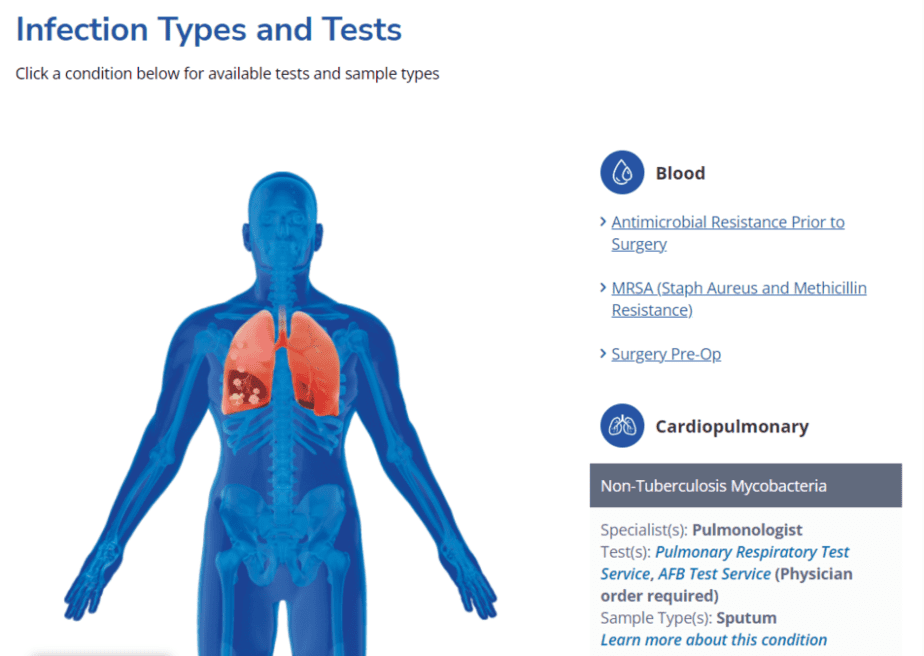 Below, we will review one of these tests.
MensKEY Complete
This product tests the semen and urine samples of men for over 50,000 potential pathogens. Like the other products, the kit comes with everything customers need to perform a self-collection. In this case, it includes a shipping box (with the return label attached), 1 90ml collection cup, 2 bio bags, 2 lab requisitions, 1 multi-purpose swab, and 2 sterile alcohol prep pads.

Customers may be interested in this test to help detect UTI, interstitial cystitis, bladder infection, prostatitis, epididymitis, plus STIs/STDs. It detects bacterial load and resistant genes.
It also detects the following bacteria:
Mycoplasma hominis
Streptococcus agalactiae
Enterococcus faecalis
Escherichia coli
Staphylococcus aureus
Gardnerella vaginalis
Ureaplasma parvum, etc.
If customers don't have a doctor to sign the requisition form, they can use the company's telemedicine services for an additional fee.
Review of Taking a MicroGenDX Test
The process of taking a MicroGenDX test depends on the type of test ordered. Some examples of samples include urine collection, vaginal swabs, semen collection, nasal swab, sputum collection, and more.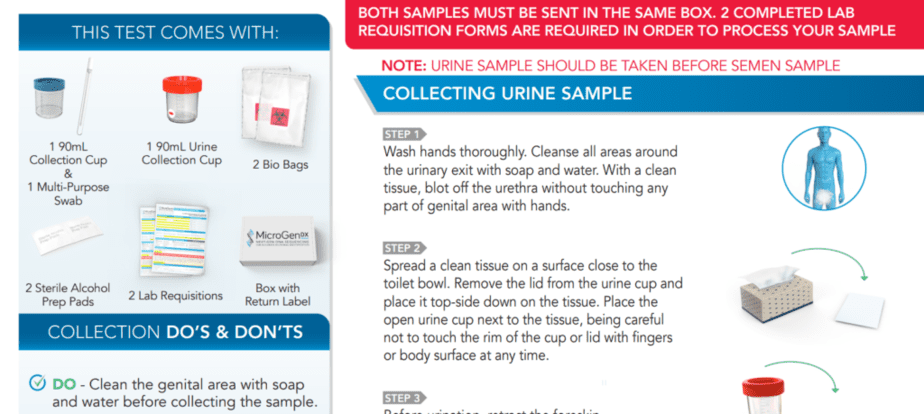 The product comes with detailed instructions for how to perform the test. Customers can also access instructional videos on YouTube.
Review of MicroGenDX Cost
The final cost for these tests depend on a lot of factors including the type of insurance and the health professional who ordered the test. Usually, MicroGenDX will bill most insurance companies after it sends the results to the physician. Patients then work with insurance to determine the final amount they pay. Most MicroGenDX tests are covered by Medicare, select Medicaid, and private insurance.
For uninsured patients or those experiencing financial hardships, MicroGenDX offers payment plans and a cash discount.
Without insurance or discounts most tests run from $150-$355.
The STI/STD tests run slightly lower from $50-$99.
The Covid-19 test is $99.
Review of a MicroGenDX Report
The MicroGenDX report is sent directly to the ordering physician. Patients can request a copy from their doctor's office.
Details in each report will vary based on the type of test but they all follow the same format. Below is an example using the Urology sample report.
After the patient demographics, the report highlights the resistance genes detected in the sample.

The resistance genes detected in this sample were beta-lactam, macrolide, aminoglycoside, and tetracycline. These reflect which antimicrobials will not work for the patient and will be important for the antimicrobial recommendations in the next section.
The next section of the report includes detailed results of the analysis of the various bacteria and fungi tested for.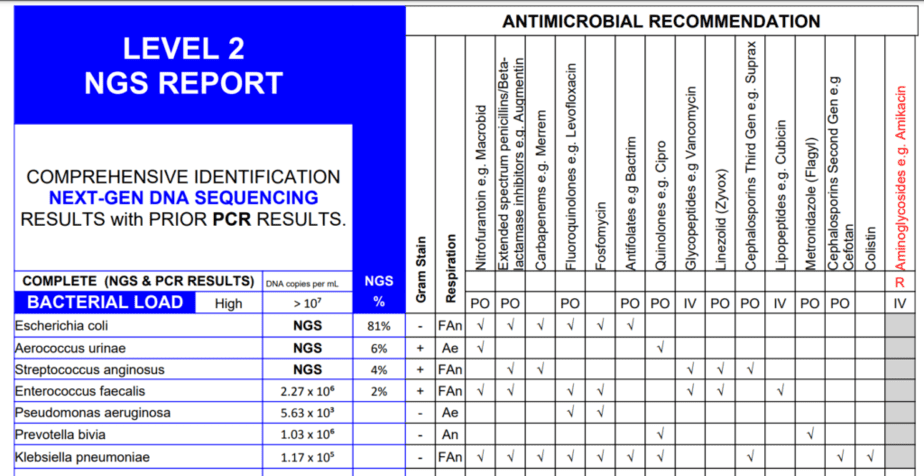 A key at the bottom helps the physician interpret the results.

In this case, the patient has high viral loads of E. coli, A. urinae, and S. anginosus along with medium loads of E. faecalis and P. bivia and low levels of P. aeruginosa and K. pneumoniae.
The gram stain and respiration information provide more information on the types of bacteria. Finally, the report lists the antimicrobial recommendations at the top. For each strain the report indicates whether each antimicrobial is effective or if resistance genes to that antimicrobial were detected. There is also information on the delivery type, including whether it is available in oral formulations, intravenous, or topical.
Review of MicroGenDX Privacy Policy
The MicroGenDX privacy policy applies to microgendx.com, and Southwest Regional PCR Laboratory, DBA MicroGen Diagnostics, LLC and governs data collection and usage. It collects and processes users' information through their website and other applications that link to this notice. The personal information of users is collected from:
Users directly when register and make a purchase on the official website of the company
The information generated from users through cookies and similar technologies
Information collected from users includes:
Personal information: Name, Email address, account name, state, etc.
Demographic information: age and gender
Internet information: This includes data collected when users interact with the website
Other information collected includes the ones based on the user's device location or IP address.
The company uses customer personal information to operate and deliver the services requested. It does not sell, rent or lease its customer lists to third parties. It will share information with legal authorities where necessary.
MicroGenDX uses SSL Protocol and data tokenization and encryption to keep information secure.
Users can request that their personal information and data be deleted although there are circumstances where this is not possible, including when it is needed to complete transactions, detect security instances, and complete research.
Other MicroGenDX Reviews
Since this company is a diagnostic service provider that can only be offered through a doctor's office there are no major customer reviews available from third-party sites.
The company does share customer testimonials on its website. These reviews are positive reflections on how the tests helped patients discover bacterial infections. Oftentimes they were getting negative results from standard lab cultures or were having undiagnosed symptoms or chronic infections.
A few of the product pages also have rankings and most are rated 5.00 stars.
Nebula Genomics
MicroGen DX is a research and diagnostic company that focuses its cutting edge technology on identifying various infection types. A large part of their service is identifying bacteria through NGS.
Nebula Genomics also believes that the latest genetic technology offers the best advantage to users looking to improve their health. That's why Nebula offers a comprehensive test that highlights predispositions related to diet, fitness, disease, and much more.
With 30x Whole-Genome Sequencing, Nebula sequences 100% of your DNA to get to the root cause of every biological inclination. The test is incredibly accurate and comes with other additions, including ancestry reporting and genome exploration tools. Regularly updated reports ensure that you will not miss the latest genetic research. 
Nebula is not a diagnostic test but the results are of the highest quality and can be used in consultation with health care professionals.
For only $299 or less, customers will get access to their entire genome, allowing them to continue to ask more questions as more research is conducted.
| | | |
| --- | --- | --- |
| | MicroGenDX | Nebula Genomics |
| Testing method | Varies depending on the type of test (blood, urine, sputum, etc.) | Sequences all 20,000 genes and regulatory regions |
| Physician needed | Yes | No |
| Results | Presence of infections | Genetic predispositions |
| Reports | Diagnoses possible infections in patients and reveals bacteria resistance level | An extended genetic report that is updated regularly |
| Ancestry reporting | No | Performs deep ancestry reporting with the complete Y chromosome and mtDNA sequencing |
| Counseling | No | No, but data is of the highest quality and can be used by physicians and genetic counselors |
| Cost | $150-$355 for most infections, $50-$99 for STI/STD, $99 for COVID-19 | $0, $99, $299 |
Other companies
Did you fomd our MicroGenDX review helpful? You can read more reviews on our blog and check out our complete guide to the best DNA test kit and other home tests.
You may also be interested in Verisana, a gut health testing company that includes specific options for certain infections. Several companies offer at-home STD testing including MyLab Box, STDCheck.com, and LetsGetChecked.
Or, if you need prescriptions you can check out MintRx or Nurx and for telehealth with a live doctor you can visit PlushCare, Teladoc and Lemonaid Health.