7 Facts from our PlushCare Review
Location: San Francisco, California
Products: Virtual appointments and prescriptions for primary care and mental health with more than 50 doctors that specify different health issues
Cost: Typically less than $30 with insurance; $129 for initial appointments and $69 for follow-ups without insurance. Membership is $15 per month
Reports: No
How it works: Customers create their accounts and book an online appointment. They get a session with a chosen health specialist and may get prescriptions for their condition
Counseling available: Yes
Other Products: Nebula Genomics offers 30X Whole Genome Sequencing that decodes 100% of your DNA and offers reports on diet and much more!
This review is written with the intent to be as unbiased as possible. However, it represents the opinion of an individual reviewer and is therefore subjective. Furthermore, at Nebula Genomics we seek to educate the public about the benefits of Whole Genome Sequencing. Information about our Whole Genome Sequencing DNA test is therefore incorporated into the review.
November 29, 2022
Pros and Cons
Pros
Easy and convenient way to get care
Customers report good interactions with the doctors
Cheaper than most in-office health visits
Accepts most major health insurances
Cons
Automatically enrolled in membership program when booking first appointment
Reports of poor customer service and billing issues
Urgent care not available in every state
Introduction
PlushCare is a telehealth company for primary care and mental health that connects people in the U.S. to doctors through video chat. Users can use the platform to schedule a medical care appointment with a PlushCare doctor and it is just like visiting an office. Ryan McQuaid and James Wantuck co-founded the company in 2014. Its headquarters are based in San Francisco, California.
Ryan McQuaid is the current CEO. He is a former lead product marketing manager at AT&T's mHealth platform and is dedicated to helping people find medical assistance. James Wantuck is a medical professional known for giving health guides through videos.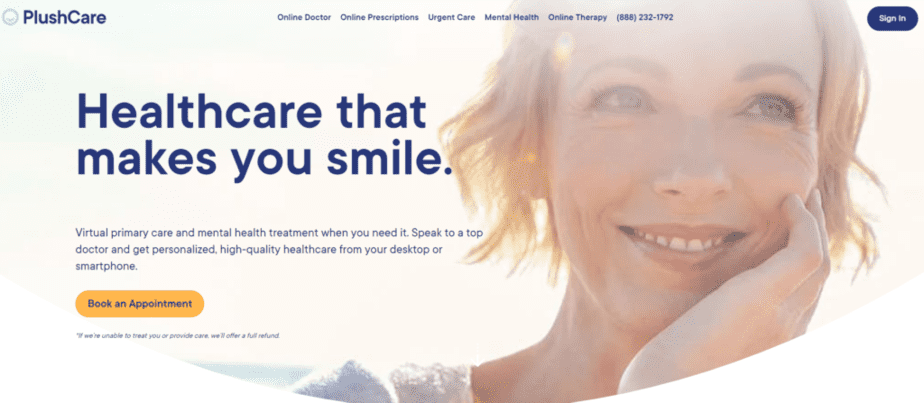 The company prides itself on convenience, offering primary care and mental health treatment through a computer or smart device. Additionally, it partners with most major insurances, labs, and pharmacies. The consulting physicians trained at the top 50 U.S. medical schools and have 15 years of experience on average.
As of 2022, PlushCare has served 550,000 patients.
The physicians make use of audio-video technology to carry out consultations and assist people around the globe. The company launched Lemur in 2017. Lemur is a HIPPA-compliant tool that helps doctors to carry out diagnosis, treatment, and prescription directly from the platform. PlushCare has been of help to many people, and up to date, they are still in the business of offering solutions to health issues.
The Science Behind PlushCare
PlushCare science is simple. The company seeks to provide its users with the best health specialist for varying conditions that range from mental health conditions to regular concerns and symptoms to more urgent cases that require specialist intervention.
However, it is essential to note that the firm does not sell or produce medications. At best, a booked health specialist may provide prescriptions from a local pharmacy.
PlusCare investment in technology has been to improve user and specialist interactions.
Review of PlushCare Services
PlushCare is a service-based platform. It offers health advice, prescriptions, and counseling from the convenience of home. Ideally, patients receive the care they need without traveling to a doctor's office or spending time in a waiting room.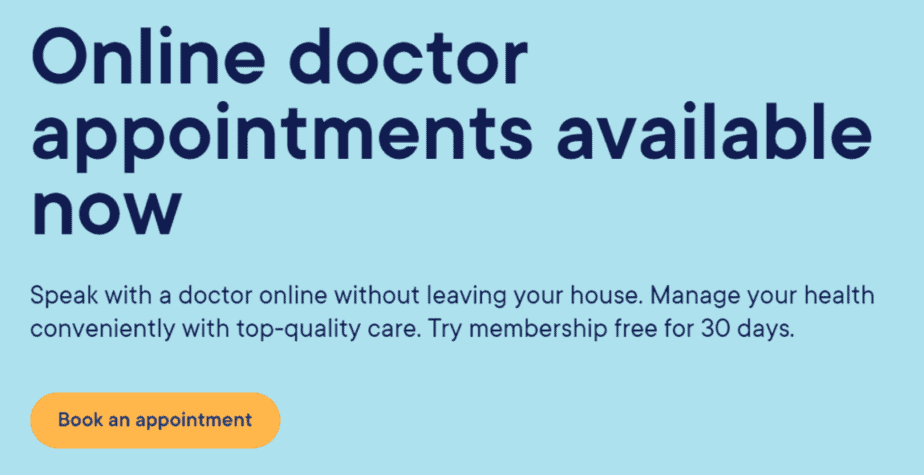 Its services are online doctors and prescriptions. The type of service is based on the needs. Physicians can treat the following medical conditions plus many more:
Urgent care (not available in all states)
Mental health and online therapy
General health and preventative care

Cold
Fever
Flu (influenza)
Seasonal allergies

Sexual health

Yeast infections
UTI (urinary tract infections)
Vaginitis
Erectile dysfunction
Birth control
Genital herpes
STD testing
HIV (PrEP)
How to Use PlushCare Service
PlushCare makes use of technology to provide telehealth to its customers. Although the exact process differs based on which service is used, the general steps are the same.
Online doctor
First, customers book an online visit using the appointment scheduling feature. Patients can book most appointments on the same day. Customers will see a doctor on their smartphone or computer. During the appointment the medical provider will discuss the patient's medical history and work to recommend the best treatment, lab tests, referrals, or next steps.
If the doctor prescribed medications or refills, customers pick them up from their local pharmacy.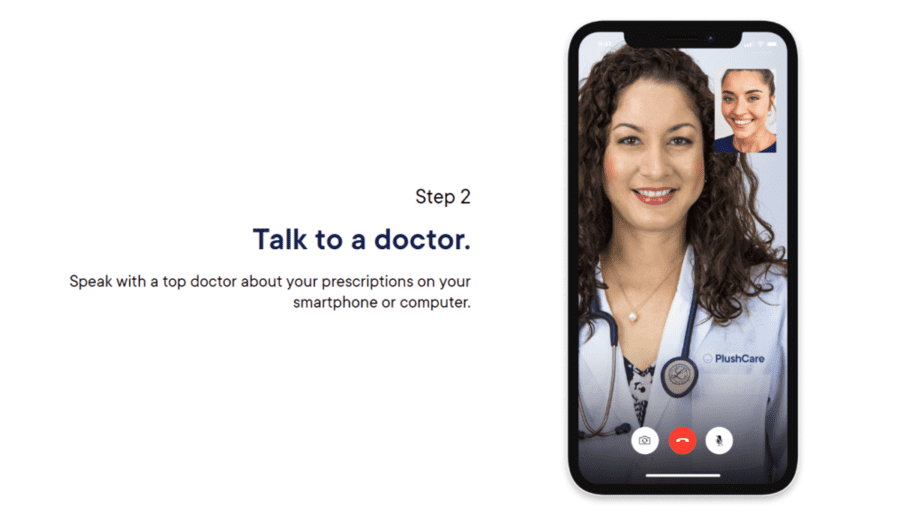 The company markets this service as an accessible way to tackle medical issues. Patients can receive care anywhere with a stable internet connection, making it especially convenient in the absence of a medical facility or in remote areas. They can access preventative care on a regular basis and continue to see the same provider. Care is available in all 50 states and Washington D.C.
Doctors are typically available 24/7, including evenings, weekends, and holidays.
Online prescriptions
Most appointments to establish a new prescription take 15 minutes or less. The board certified physicians can create care plans and prescribe treatments including antibiotics, birth control, antidepressants, hypertension medication, and more.

The online doctors can also set up prescription refills for 90 days. All prescriptions are made at the doctor's discretion. PushCare cannot prescribe controlled substances.
Because everything is done online patients can make an appointment and receive medications even while traveling within the domestic United States.
Review of PlushCare Prescription Cost
The price of the PlushCare prescriptions varies depending on whether the user is visiting for the first time and whether they have insurance. Although Plushcare works with insurance, in most cases even patients paying out-of-pocket will pay less than if they went to a doctor's office.
Most insurances are accepted. Therefore, the patients' online doctor consultations are typically $30 or less, which consists of the copay. To see if you are covered you can either enter your insurance into the platform or contact the insurance company directly.
For self-pay patients, a new online doctor visit is $129 and follow-ups for ongoing conditions are $69.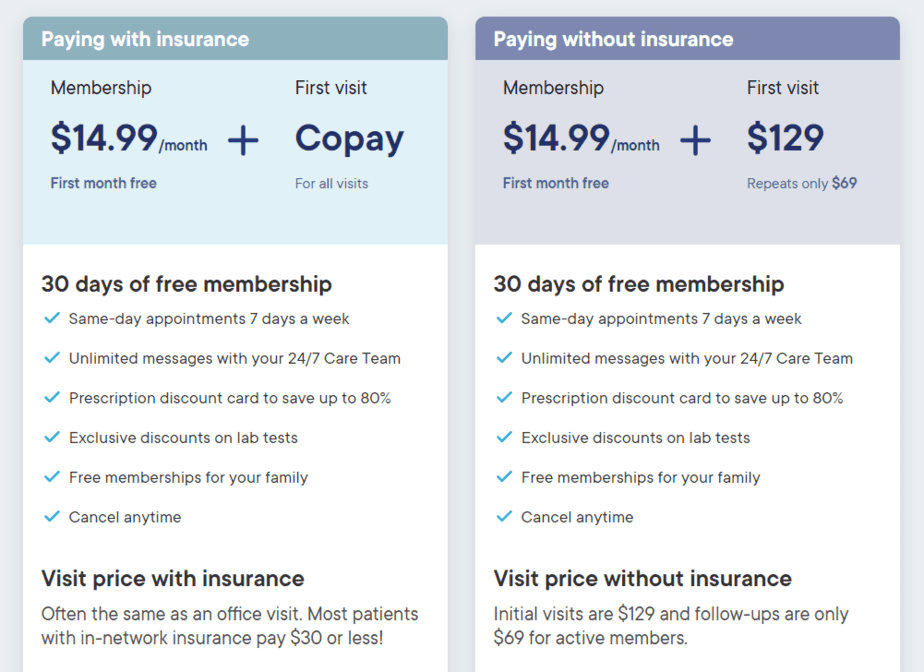 Customers who think they will use this service long term can choose to become a member for $15 per month with the first month free. Membership covers the cost of all future services. Customers have reported being charged monthly for membership without opting in to the service. The bottom line is that first time customers should be aware of this and choose this service if they are willing to take on this cost.
Additionally, all patients receive a prescription discount card that can save them up to 80% on medications. If unable to provide care, the company will issue a full refund.
Review of a PlushCare Report
Since PlushCare bases its business model on telehealth services, there are no written reports.
Patients can receive diagnosis, treatment plans, prescriptions, and referrals during appointments.
Review of PlushCare Privacy Policy
PlushCare ensures that the information of users is kept private and well taken care of. The company collects important information, including: personal information, such as your name, telephone number, email address, birth date, gender, race, electronic signature, etc.
It also collects health information, such as physical or psychological state of health, medical history, medical treatment or diagnosis, etc.
PlushCare will not share private information with third parties except where necessary. It follows all guidelines covered under HIPAA. The company may share Personal Information with our partners' providers, pharmacy, or any other person working with them on your behalf.
Personal information may also be shared with legal bodies when requested for investigation once any unlawful activities are suspected.
Other PlushCare Reviews
There are mixed reviews of this company online. Overall, for those that did see a doctor, most were pleased with the care they received. However, the biggest complaint is with the company's business model, which automatically enrolls customers in the monthly membership program without the customer's knowledge.
On Trustpilot, customers give the service 4.2 stars with over 1,000 reviews. A majority of people note that they found the service easy and convenient to use and the doctors to be kind, engaging, and able to help them. Others note that they had a poor experience either with the technology or with customer service. The largest complaint was that they were automatically enrolled in the $15/month membership program without their knowledge.
On the other hand, customers gave the company only 1.27 stars on the Better Business Bureau (U.S. only) with 75 reviews. Some customers said that they booked an appointment and the doctor did not show at the appointment time. They were unable to receive customer service from the phone number provided.
However, the biggest complaint by far is the automatic enrollment of the membership service. This is especially noticeable with customers who report that they did not receive the care they wanted and were still being charged the monthly fee.
PlushCare in the News
In 2021, the public health navigation company Accolade acquired PlushCare. The parent aims to supplement in-person primary care visits with PlushCare's virtual care.
In 2022, PlushCare conducted a study that aimed to analyze stress levels in the U.S. They investigated four million geotagged tweets from 340 major U.S. cities that matched search terms in the following categories: money, careers, relationships, education, social media, and the news. Then, they analyzed the stress level of each tweet using a stress detection tool developed at Wolverhampton University, TensiStrength, and calculated the percentage of stressed tweets overall and in each category in every state.
Overall, PlushCare found that the western most states are the most stressed, generally. It also broke down stress into categories such as news, education, and money. Different states came out as the most stressed in each of these categories.
Nebula Genomics
PlushCare offers users a way to connect with primary care and mental health professionals online and order prescriptions if recommended. Customers can take advantage of the service anywhere in the U.S.
One way to potentially prepare for your current and future health is to know what your body is genetically predisposed to. Everyone's unique genetic blueprint tells a different story about their health – it just needs to be decoded.
Nebula Genomics offers a comprehensive test that highlights predispositions related to diet, fitness, disease, and much more. With 30x Whole-Genome Sequencing, Nebula sequences 100% of your DNA to get to the root cause of every biological inclination.
By knowing your genetic predispositions you may be able to work with a primary care provider to create preventative health plans and improve your quality of life as you age.
The sequencing is incredibly accurate and comes with other additions, including ancestry reporting and genome exploration tools. Regularly updated reports ensure that you will not miss the latest genetic research.
For only $299 or less, customers will get access to their entire genome, allowing them to continue to ask more questions as more research is conducted.
Did you like our PlushCare review? You can read more reviews on our blog and check out our complete guide to the best DNA test kit and other home tests.
You may also be interested in virtual health care such as: