7 Facts from our Teladoc Review
Location: Teladoc has several branches across North America. The headquarters is in Purchase, New York.
Services: Primary care, mental health, nutrition, sexual health, pediatrics, dermatology, etc.
Cost: For general medical care, $0 and above. However, without insurance, service costs start at $75
Reports: Offer quality healthcare to the general public at affordable prices, especially when you have health insurance. Over 3,000 state-registered doctors are available to individual patients for the best services.
How it works: Visit the company's website and register or download the app. As you'd normally do at a doctor's office, you fill out a brief medical history, then set up an online doctor's appointment. You can also get started by placing a call to 1-800-Teladoc
Privacy: Teladoc services are protected by the doctor-patient privilege
Complimentary Products: Nebula Genomics 30X Whole Genome Sequencing (WGS)
This review is written with the intent to be as unbiased as possible. However, it represents the opinion of an individual reviewer and is therefore subjective. Furthermore, at Nebula Genomics we seek to educate the public about the benefits of Whole Genome Sequencing. Information about our Whole Genome Sequencing DNA test is therefore incorporated into the review.
May 17, 2022
Pros and Cons
Pros
Convenience remains the number one benefit of telehealth services
Appointments are available 24 hours a day
Services are cost-effective and relatively cheaper than an office visit
Same-day appointments possible
Costs of services are fixed
Cons
No follow-up after a general medical visit
Absence of physical examination may limit a doctor's diagnosis
A good number of negative reviews involving unprofessional or no-show doctors and trouble with scheduling
Teladoc Introduction
Teladoc is a telemedicine and virtual care company that uses technology to connect patients with various high quality medical personnel. All registered members have access to the vast number of healthcare professionals. Quality care through this service is available to patients in the United States.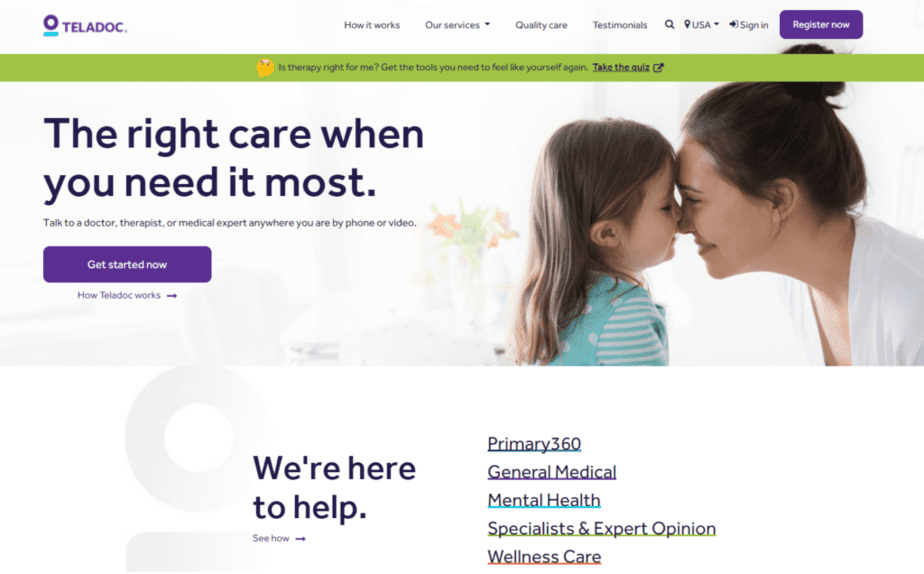 To get started on Teladoc, you register on their platform through the website or the Teladoc app. Though, a simple phone call, too, might suffice. You schedule appointments using any of the platforms. Then you can connect to one of Teladoc's specialists and talk to a doctor.
You, as the customer, get to choose the mode of receiving the services; it could be through video calls, messaging and emails, or even phone calls. The choice is up to you; the most important thing is that all medical appointments and meetings are virtual.
G. Byron Brooks and Michael Gorton established Teladoc in 2002 in Texas. The initial mode of operation involved granting customers and patients access to state-licensed medical practitioners remotely.
Teladoc did a nationwide launch in 2005. Today, it is a global leader in telemedicine and boasts over 17.5 million members with thousands of doctors and specialists with years of experience in different fields. Reports indicate that about 92 percent of patients have received good results after consulting with Teladoc.
Review of How Teladoc Works
Customers set up their account either online, over the phone, or on the Teladoc app. After filling out a medical history, the company connects you with the right medical care.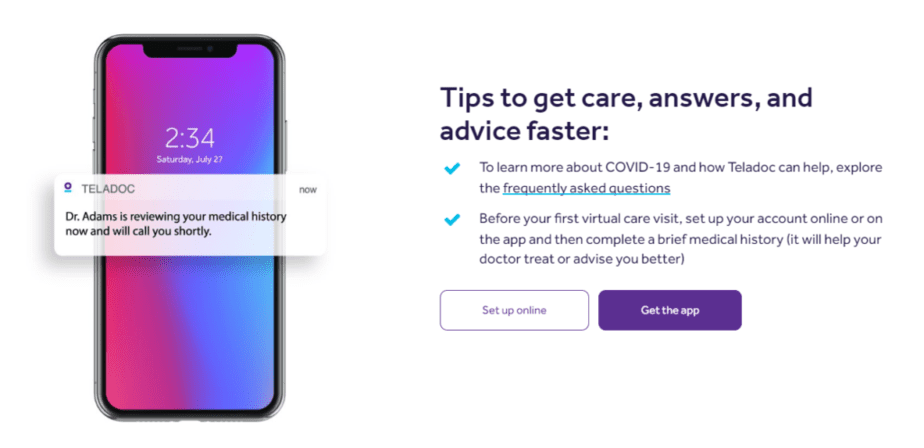 Teladoc offers you referrals to its doctors, therapists, or specialists via virtual appointments that don't take weeks to schedule. If you give consent, the company can share your results with your primary care physician.
The service is available in all 50 states.
Review of Teladoc Services
On the Teladoc website, the health care services rendered are grouped into five broad categories:
General Medical
Primary360
Mental Health
Specialist, and Expert Opinion
Wellness Care
Provided you are a registered member, you have access to any of these services. All these healthcare services are provided by state-licensed health professionals.
These services are mainly for medical advice. You should not use Teladoc for emergency purposes. In case of an emergency, call 911.
General Medical
Teladoc General Medical service provides 24/7 access to basic non-emergency health needs for adults and children, such as sore throat, cold, allergic reactions, flu, sinus infections, etc. The services are available to all registered members, even those without health insurance. For the latter, general medical, dermatology, mental health, nutrition, and back and joint care specialists are available for a flat rate.
This plan is best designed for individual meetings, as there is no room for follow-up. The operation of the general medical service can be likened to that of an urgent care office.
Primary360
The Primary360 plan is best for routine medical checkups and general well-being. It gives you access to a primary care doctor through phone and video calls. Unlike the general medical services, Primary360 encourages relationship building with a specific doctor and allows for continued access to regular checkups. It also gives room for chronic condition management.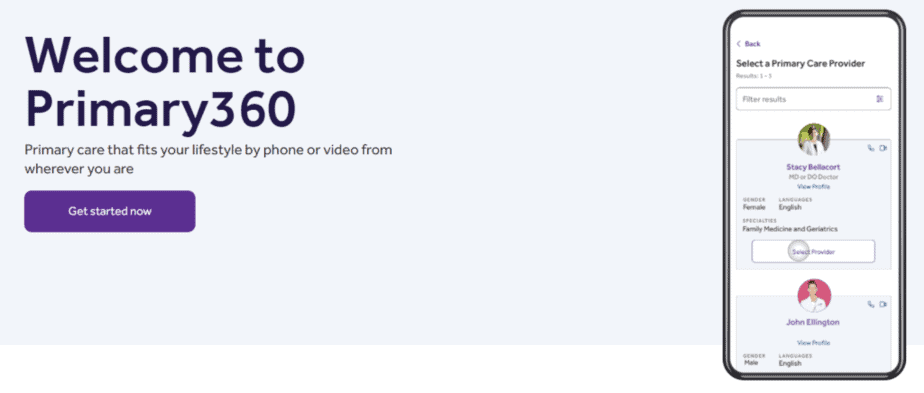 With Primary360, there is room for personalized care plans for individual patients where your doctor gets to monitor your health over time. Also, with the aid of the plan, you can request a specialist if you feel the need to see one. What's more, the 24/7 access allows you to meet with primary health care professionals to attend to any non-emergency situation that may arise at off-hours.
Notably, all the doctors in the Primary360 plan are board certified in family health practice. Doctors may require you to get some lab work and tests to know how best to serve you. This plan is available only to adults – 18 and above. Although there are options for children, pediatricians are made to attend to kids on non-emergency issues.
Mental Health
The mental health service connects members to licensed therapists and psychiatrists for mental health conditions like stress, anxiety, substance abuse, ADHD, trauma, depression, PTSD, etc.
Like the Primary360 plan, the mental health program is personalized for individual patients. After signing up for the mental health service, you can select a therapist or psychiatrist of your choice. Also, there's room for building a relationship with your doctor to produce the best results.
State laws prevent psychiatrists from prescribing controlled substances to patients in any online therapy program. However, they can prescribe medications like antidepressants, antipsychotics, and mood regulators for patients. It is best to work well with these doctors to get the best results from these services.
Specialist and Expert Opinions
The specialist and expert service program connects you to thousands of registered health officials in different areas of specialization, such as dermatology, oncology, management of pain, cardiology, etc. The service covers over 450 specialties.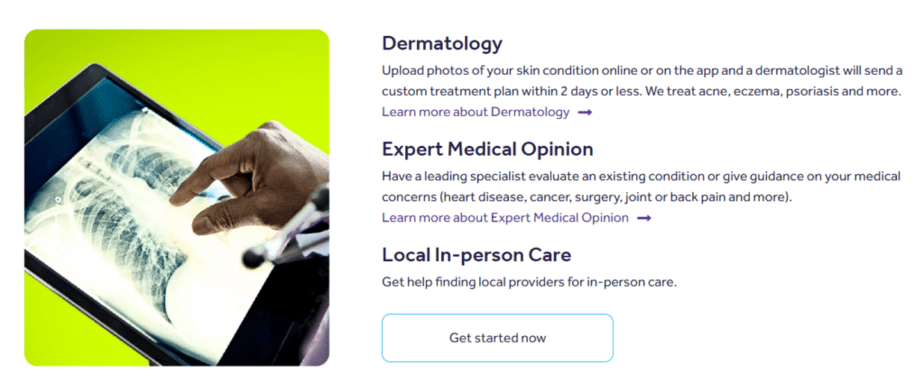 Often, patients require these services for second opinions on certain medical conditions. You get to ask experts questions and receive advice on medical diagnoses, therapies, surgeries, or the best way to treat a specific condition.
Perhaps, you are still not satisfied with the expert's help; Teladoc can help you locate and recommend healthcare specialists around you. However, they boast of having successes in 45 percent of diagnoses modification, 75 percent in treatment modification, and have helped patients avoid surgeries in 39 percent of cases.
Wellness Care
Teladoc's wellness care plan provides you with helpful services to improve your general well-being. This package gives you access to licensed nutritionists, health coaches, dietitians, and exercise specialists that can assist you in: nutrition, sexual health, neck and back care, and smoking cessation.
These personnel will assist you in designing viable nutrition guidelines and exercise plans to better your health condition.
Review of Teladoc Cost
Generally, telemedicine is cheaper than in-doctor visits. For example, the average cost of telehealth services is below $80, compared to about $140 to $150 spent when seeing a doctor in an office.
Often, the costs of Teladoc services are dependent on your health plan. It accepts most major insurances. With insurance, general health care can be as low as $0. However, without insurance, a visit is about $75. Also, insurance therapy sessions could be as low as $0 to about a hundred, while psychiatric schedules could be as high as $299 for your first meeting, and subsequent ones, about $119.
Once you've set up an account with Teladoc and provided your health insurance details, you'd get the cost of the services after inputting the healthcare service you require.
Is Teladoc for Me?
Teladoc Health is an outstanding choice for anyone in need of convenient, easily accessible healthcare. It is best suited for individuals who may not have a chance to get an in-person appointment with top health experts or those with extremely busy schedules.
Since Teladoc is a virtual healthcare provider, you need to note the following:
You need a computer or a smartphone with an internet connection to access the platforms – the website or the mobile app.
The services are strictly for non-emergency situations.
Other Teladoc Reviews
The company has had a wide range of reviews, ranging from positive to negative. On Capterra, positive reviews noted that the company was quick and easy to set up an appointment with and that the doctors were professional. Some of the negative reviews highlighted bad experiences with scheduling taking too long, doctor's not showing up to appointments, poor customer service, and trouble with the app.
Reviewers on Trustpilot rank the company as 3.4 out of 5 stars with 187 reviews. As with Capterra, the reviews range widely, with some customers having good experiences and others claiming no-shows and poor communication with the doctors.
Review of Teladoc Privacy and Confidentiality Policies
All healthcare service providers are required by law to maintain certain confidentiality levels, which is what the doctor-patient privilege is designed for. Teladoc uses secure servers that help ensure the confidentiality of your Protected Health Information (PHI) as stated by the law.
The telemedicine company adheres to all state, national, and international health regulations, including the 1996 US Health Insurance Portability and Accountability Act (HIPAA).
However, there are certain scenarios when Teladoc is required to provide information. For example, when your insurance company requests proof of treatment or when you need to meet with another doctor. In the scenarios stated above, Teladoc still requires your written approval to share your PHI, which you may choose to revoke at any time.
Nebula Genomics
Teladoc Health, like many other telehealth companies, is designed to help make top health services accessible to all patients, regardless of location or insurance plan. It is safe to say they have been able to achieve this mission over the years, as they have provided services ranging from primary care, mental health, management of chronic conditions, and so on.
If you're interested in how to best know your health from all angles, you may be interested in genetic testing. This is a personalized way of accessing predispositions to a variety of conditions that can be discussed with a doctor, such as your primary care physician or any of the Teladoc professionals.
DNA tests and genetic information provided by Nebula may help improve your health and, if well optimized, extend your lifespan. Our results can give your doctors the necessary information on how best to carry on unique therapy and treatment plans that best suit you. What's more, our services are less than $300.
Other companies
Did you like our Teladoc review? You can read more reviews on our blog and check out our complete guide to the best DNA test kit and other home tests. Other telemedicine companies available to patients in the U.S. are:
If you're looking for more ways to analyze your health at home, you may be interested in these at-home lab tests:
Specific conditions
General health and wellness
Gut health