7 Facts from our Lemonaid Health Review
Location: San Francisco, CA
Products: Personalized healthcare for mental health, men's health, women's health, general health and skin as well as blood testing for certain conditions
Cost: Most initial consultations are $25. Some services are priced monthly and in most cases prescriptions are a separate fee. Blood testing may also include a lab fee
Reviews: Good-very good
How it works: Patients will sign up and select a service. Then, they will have an appointment with a doctor 100% online who can diagnose conditions and write prescriptions
Telemedicine available: Yes
Complementary Products: Nebula Genomics offers 30X Whole Genome Sequencing that decodes 100% of your DNA and offers reports on diet and much more!
This review is written with the intent to be as unbiased as possible. However, it represents the opinion of an individual reviewer and is therefore subjective. Furthermore, at Nebula Genomics we seek to educate the public about the benefits of Whole Genome Sequencing. Information about our Whole Genome Sequencing DNA test is therefore incorporated into the review.
May 24, 2022
Pros and Cons
Pros
Convenient, affordable health care via telemedicine
A wide variety of services
An online company that prescribes medication
The website and app are very easy to navigate
Prices are competitive
Cons
Not intended for regular medical care
Lab tests still require in-person visits
Lemonaid Health Introduction
Paul Johnson, Jason Hwang, and Ian Van Every founded Lemonaid Health, a telemedicine company, in 2013. The company is based in San Francisco, California, United States. It offers people more than 30 treatments for various health conditions like depression, anxiety, hair loss, erectile dysfunction, and more. This initiative allows patients the security and convenience of obtaining diagnosis and prescriptions from the comfort of home.

Lemonaid Health has enabled thousands to gain access to quality healthcare. The company's process starts with an online consultation which allows a health practitioner to write you prescriptions for medications to help treat your condition. Their services cover conditions like asthma, high blood pressure, acid reflux, cholesterol, migraine, genital herpes, cold sores, hypothyroidism, sinus infection, and many more.
They also offer blood testing services, birth control medications, skin treatments, and health and wellness coaching. The services are available in all 50 states and Washington D.C. Lemonaid Health also wants to help people live a happy life by breaking the hindrance that prevents them from accessing quality healthcare. With the help of its online platform, Lemonaid Health has improved patients' experience when searching for quick, convenient clinical care.
Logistics
The company's mission is to "break down barriers that limit people from getting quality healthcare, empowering them to live happier lives." While Lemonaid Health currently operates in the US, it seeks to expand its reach through the continuous increase of its lab locations so its products can reach more users. The company claims to have helped hundreds of thousands of patients get quality care at home, having reached the 100,000 patient mark in 2019.
Review of Using a Lemonaid Health Service
Patients start by selecting the health service that interests them on the company's website. The services are categorized as mental health, men's health, women's health, skin, and general wellness. You can also choose a blood test or a primary care video visit. 
You start by filling out some standard information to pair you with a medical professional, including your zip code, sex assigned at birth, and birthday.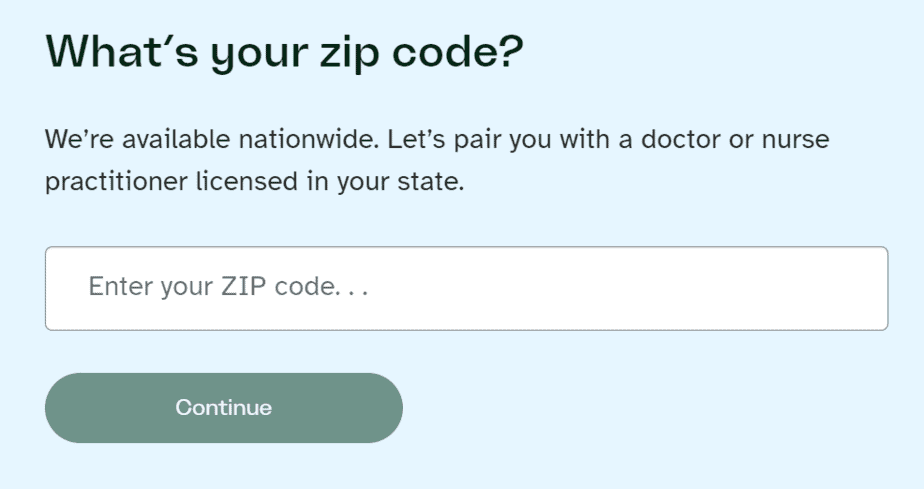 Depending on the service, patients will either consult a doctor or nurse practitioner through video or telephone conference or see them entirely online. Generally, users of the service will provide a full health and medication history and discuss new treatment options. They can either order their medication through the mail, which arrives in 2-3 days after ordering, or have it delivered to a local pharmacy. 
The company also offers up to 5 different blood tests on different conditions. Users will answer health questions, pay visit and lab fee, and have their case medically reviewed. After payment, users visit a Quest Diagnostics lab in their local area to have the test performed. Lemonaid Health reviews the results and gives prescriptions if appropriate.
Review of Lemonaid Health Services and Products
Lemonaid Health offers telehealth services and prescriptions to help users improve their health from home. Wait times for appointments are often much less than regular doctor visits. Plus, patients can save time and money by getting their prescriptions from home.
Services are provided by one of four medical groups, including LMND medical groups in certain states.
Mental Health
Patients can find help in this category for issues including anxiety, depression, insomnia, health and wellness coaching, and stop smoking. The company claims that 80% of patients who never took medicines for depression or anxiety see 50% improvement in 8 to 12 weeks.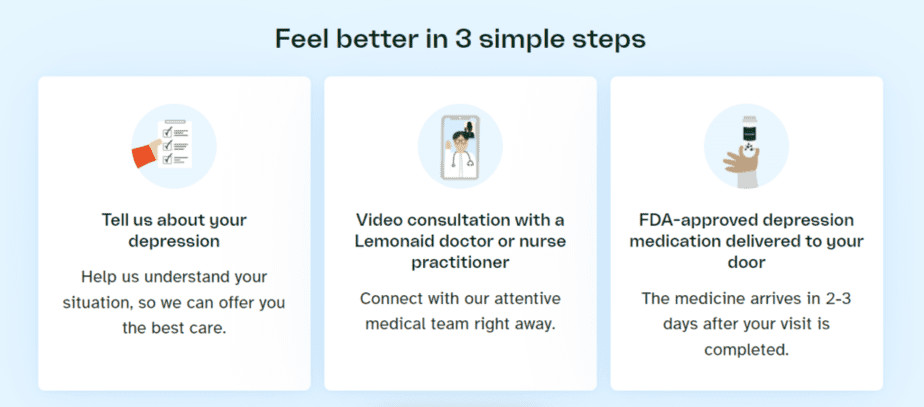 In the cases of anxiety, depression, and insomnia patients will fill out a medical history and meet with a doctor or nurse practitioner via video call. Lemonaid Health's medical team will discuss treatment options and provide support. FDA-approved medications can then be delivered to your home.

Health and Wellness Coaching is designed to improve relationships, de-stress, lose weight, and make personal lifestyle changes that stick. It pairs you with a professional who can help you take on life challenges. This service includes a 45-minute initial consultation based on your health goals, follow up appointments to increase accountability, and check-in options via secure text messaging in between.
For those who are looking to quit smoking, Lemonaid Health offers consultations for the prescription Zyban. Patients start by answering health questions, after which a professional reviews the information, and patients receive the delivery. Some states require a video chat or phone call before Zyban can be prescribed.
Men's Health
This category includes consultations and prescriptions for erectile dysfunction, premature ejaculation, and hair loss (male-pattern baldness).
For erectile dysfunction (ED), patients can obtain either Viagra or Cialis Daily from Lemonaid Health. They take the former as needed. This medication works by increasing the blood flow to the penis when aroused. Viagra contains an active chemical called sildenafil citrate which also helps to treat elevated blood pressure in the arteries or pulmonary arterial hypertension. Cialis Daily is a great option that enables men to be ready spontaneously. It contains 5 mg of tadalafil which men take every day, allowing them to have a sufficient quality to help resolve the erectile issue whenever they want to have sex.
BlueChew is another company that specifically offers consultations and treatments for ED.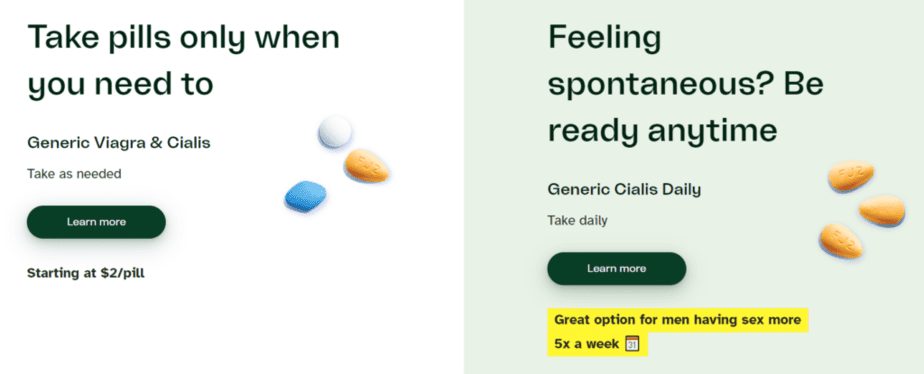 The company offers antidepressants, especially SSRIs, and PDE5 inhibitors to treat premature ejaculation (PE), defined as when a man ejaculates sooner than he or his partner would like during sex. Though doctors currently prescribe these oral meds as a treatment for this condition, the FDA hasn't approved any oral medication specifically for PE. As a result, any premature ejaculation pills prescribed are off-label.
For hair loss, patients complete an online assessment, which medical professionals review. If appropriate, the company ships a prescription of finasteride to your door. This service is only for men experiencing male-patter baldness and is not prescribed to women or to treat other hair loss conditions such as alopecia.
Women's Health
After a quick consultation with the medical team, women can order birth control online and have it delivered once every 3 months. Patients attend one consultation per year. 
Women can also receive same day diagnosis and prescription fill for UTIs. After filling out a medical history and paying the $25 visit fee, the company reviews your history and send prescriptions to local pharmacies. Some states require a quick video consultation while others it is a simple phone call. The typical prescription is a 7-day course of the antibiotic Macrobid.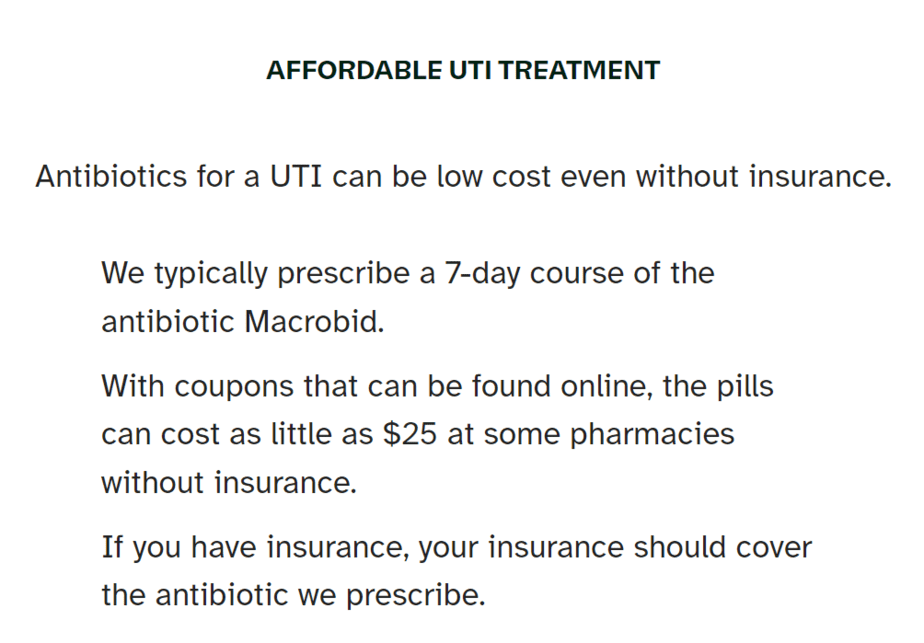 Menopausal women ages 45 – 59 can receive treatment for hot flashes as well as vaginal pain and dryness. Patients fill out their health history and menopause symptoms, have their information reviewed, and receive a 90-day supply of medications in 2-3 business days. For hot flashes, you will receive 2 separate medicines: a daily estrogen cream that you apply to your skin and a progesterone pill. For vaginal dryness/pain, the company prescribes estrogen vaginal cream. This service is for patients who had their period stop between 1-5 years ago. Those who are on hormone replacement therapy and have had their period stop over 5 years ago may also be eligible.
General Health
The general health services all follow a similar pattern. Patients fill out their health history, which medical professionals review within 24 hours. In some states, it requires a quick video consultation between the patient and medical practitioner. Treatment is delivered to your door within a few days. Lemonaid Health covers the following conditions:
Cold sore
Genital herpes
Sinus infection
Asthma
Acid reflux
High blood pressure
Migraine
Hypothyroidism
Flu
Cholesterol
Lemonaid Health also offers primary care services for continued care. Patients will share medical needs, personal interests, and goals and the company will pair you with an online doctor that fits your needs. The first consultation lasts about one hour in which you and the practitioner will create a health plan. For a monthly subscription plan, you have access to an online medical care doctor through call, text, or video chat anytime.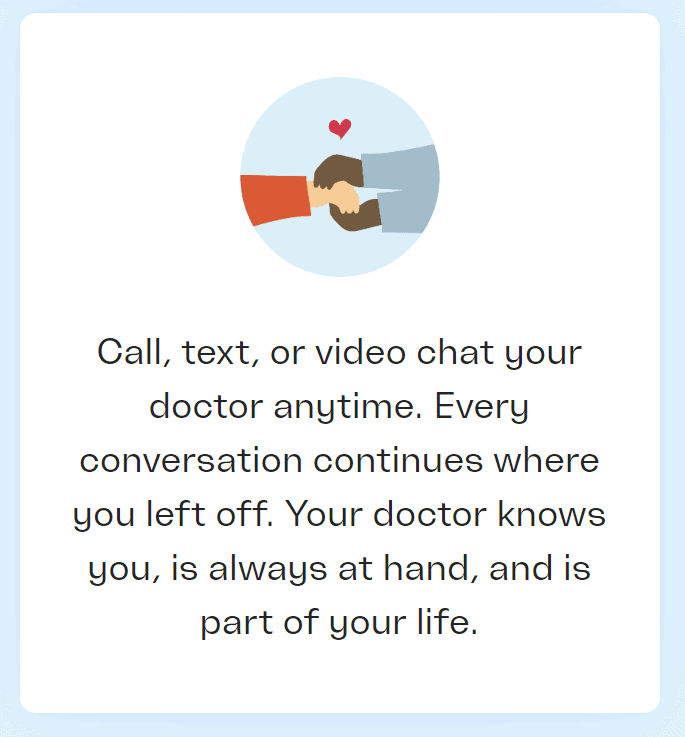 Another telemedicine company you may be interested in specifically for migraines is Cove Migraine. Additionally, a service not offered by Lemonaid Health is hyperthyroidism medications. For this condition, you may want to check out Paloma Health.
Skin
Patients with skin conditions can access treatments for acne and dark spots.
Lab testing
Lemonaid Health partners with Quest Diagnostics to help patients get affordable lab testing without a visit to a doctor's office. These services include both the $25 service fee and an additional lab fee. Test results typically take three to five business days from when you go to the lab to provide your urine sample. When results are ready, you receive a secure message through your Lemonaid Health account and your results will be available through the Quest DIagnostics website.
Through this company, you can get testing for the two most common STDs, chlamydia and gonorrhea. If the results for chlamydia are positive, you can optionally pay for a follow-up visit with Lemonaid Health practitioners who can prescribe an effective antibiotic.
For more confidential, online STD testing options you may want to check out MyLab Box or STDcheck.com.
Lemonaid Health also collaborates to offer an A1C Blood Sugar Test, which can indicate your risk of prediabetes and diabetes.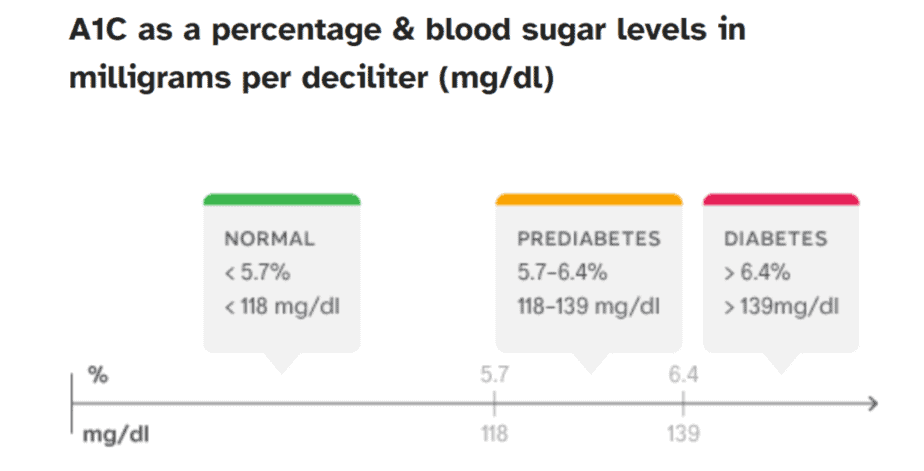 The cholesterol test is a blood test that can indicate whether a patient may benefit from cholesterol-lowering medication. The Lemonaid medical team will review your medical history and lab results and can provide statins if appropriate.
The company also offers a blood type test and an in-lab COVID-19 antibody test. Before taking the latter, you will have to wait for 18 days after being exposed to the virus to enable the antibodies to show appropriately.
Review of Lemonaid Health Cost
The cost for Lemonaid Health varies depending on the type of services ordered. Most initial consultation fees are $25, which is often cheaper than most copays at doctor's offices. Lemonaid Health does not work with insurance.
Any medications cost extra. Some services – like depression and anxiety – are a flat fee per month that includes consultations and any medicines we prescribe and ship.
A subscription service to unlimited virtual care via a primary care professional costs a monthly fee of $99.
Lab testing will include both the $25 service fee and an additional lab fee, between $9-$28.
Review of Lemonaid Health Privacy
Lemonaid Health outlines how it takes information from users. The company collects personal details revealed by clients during the registration process, login information, self-reported information, device information, location information, and more.
All the information that Lemonaid Health collects is used for its intended purpose, which is to provide treatment for the client's condition. The company may share certain details with third party affiliates that help to make treatments more effective.
Lemonaid Health states that it does not use the information illegally and only uses it to better the health of its users. It does not sell, rent, share or disclose this information. Clients can reach out to customer service if they choose to delete their information. After deactivation, the user history and data can no longer be accessed.
Lemonaid Health in the News
In June 2021, Lemonaid Health expanded internationally, launching in the UK in partnership with Boots Online Doctor services. Patients will register on onlinedoctor.boots.com and complete an online consultation. They follow a pay as you go model where the initial fee covers both the consultation and prescriptions.
In October 2021, it was announced that 23andMe had acquired Lemonaid Health in a $400 million deal, giving the genetic testing company access to telemedicine resources for its customers.
Other Lemonaid Health Reviews
Customers who provide a Lemonaid Health review generally rate it very good. Many of these reviews are highlighted on its website.
It also has a 4.5 out of 5 star rating on Facebook with over 200 reviews and a 4.9 out of 5 star rating on highya with almost 1500 reviews. Most customers praise the quick response time and ease of ordering prescriptions online. A few were displeased with only having a few options of medications for certain conditions.
Nebula Genomics
Lemonaid Health offers many services to its users experiencing certain health issues. Oftentimes, the cause of these ailments is unknown. When seeing any medical professional, it may be helpful to know if you are predisposed to certain conditions, whether you are experiencing them or at a greater risk.
Nebula Genomics offers a comprehensive test that highlights predispositions related to many conditions, diseases, and traits. With 30x Whole-Genome Sequencing, Nebula sequences 100% of your DNA to get to the root cause of every biological inclination. The test is incredibly accurate and comes with other additions that include ancestry reporting and genome exploration tools. Regularly updated reports ensure that you will not miss the latest genetic research.
For only $299 or less, customers will get access to their entire genome, allowing them to continue to ask more questions as more research is conducted. Other telehealth companies you might be interested in are:
Did you like our Lemonaid Health review? You can read more reviews on our blog and check out our complete guide to the best DNA test kit and other home tests.
If you're looking for more ways to analyze your health at home, you may be interested in these at-home lab tests: