This review is written with the intent to be as unbiased as possible. However, it represents the opinion of an individual reviewer and is therefore subjective. Furthermore, at Nebula Genomics we seek to educate the public about the benefits of Whole Genome Sequencing. Information about our Whole Genome Sequencing DNA test is therefore incorporated into the review.
February 22, 2022
7 Facts from our STDcheck.com Review
Location: Houston, Texas, United States
Products: Individual tests for the 10 most common STDs and 3 combination panels, plus consultation services
Cost: $24 – $258
Reports: Each test panel analyses a patient's status to the STD that it covers. The result is reflected as Positive or Negative
How it works: Customers create their accounts and purchase a test after answering the recommended questionnaire. They provide provide blood or urine samples at one of the CLIA-certified labs and results are available in 1-2 business days
Raw data available: No
Alternative Products: Nebula Genomics offers 30X Whole Genome Sequencing that decodes 100% of your DNA and offers reports on diet and much more!
STDcheck.com Introduction
STDcheck.com is a subsidiary health care company of HealthLabs founded in 2010. The company, whose headquarters is based in Houston, Texas, provides comprehensive STD tests for patients who seek sexual health information through confirming their status concerning sexually transmitted disease. This online STD testing service provides FDA-approved test panels and the HIV RNA test, detecting the virus within 11 days of exposure. The ability to detect HIV that fast makes the firm a unique enterprise.

STDcheck.com currently has more than 4,500 nationwide STD testing centers. Its ability to offer tests that patients take without a doctor's visit or consultation is a benefit for those who may not be comfortable with these types of conversations. This company allows users a judgment free space, especially if potential patients have been putting off testing to avoid consultation.  Results can be used to obtain peace of mind or take medical steps, if necessary.
Logistics
STDcheck.com works in collaboration with its parent company to follow all HIPAA rules and regulations. It uses CLIA-certified labs, like Quest Diagnostics and LabCorp and all its tests are FDA approved/cleared. As of 2022, the company has performed over 2 million tests.
STDcheck.com seeks to provide the best STD panels globally to provide patients with quick results about their health status. With its competitive pricing, the company desires that everybody find it extremely easy to test when appropriate, without fear of stigma or cost.
It also ensures that users get post-test care through its consultation service if they test positive for an STD. The consultation service is a paid session, and patients meet with physicians that provide them with expert info and prescribe treatment.
Review of Taking a STDcheck.com Test
All the tests have a similar pattern of performing them. However, some require a little more modifications. Waiting periods after exposures differ for different STDs, ranging from 24 hours to 9 days.
Taking an STDcheck.com test is quick, easy, and confidential. To purchase a test, customers create an account on the company website. You can choose to have your results delivered through your account on a secure online platform or by calling a number.
You do not need to receive a physical, provide your medical records, or get a physician's approval to take any of the tests. Using your account, you order a test, take the order form to a lab, and test at one of the over 4,500 facilities nationwide. No appointment is necessary and some customers even go to a lab the same day. To find a test center, simply enter your zip code when prompted.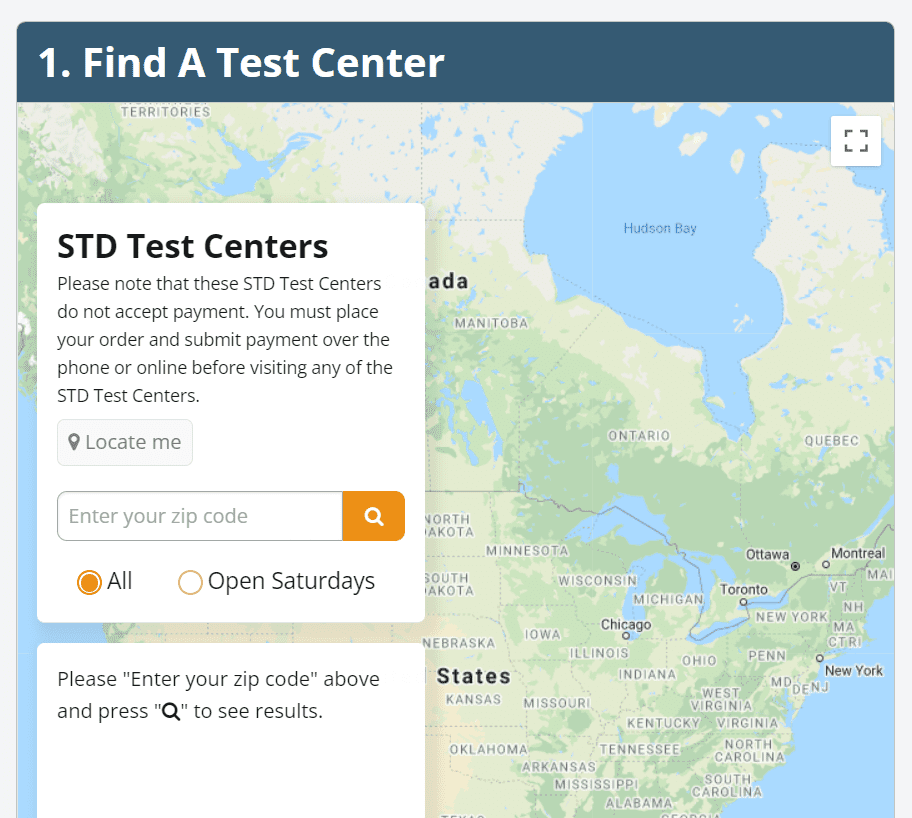 To ensure the highest accuracy, the company performs all tests using either a blood or urine sample, which take about 5 minutes to complete. Since the company's labs test for many conditions, no one in the center will know what you are testing for. 
You will receive your results within 1-2 days. STDcheck.com does not offer at-home testing.
For the urine tests, gonorrhea and chlamydia, you should not urinate for at least an hour before performing them. Also, if you are taking the wellness panel, you will need to fast 12 hours before taking the test.
If you are positive, STDcheck.com provides a doctor consultation and written prescription for $95.
Review of STDcheck.com Products
The company offers either individual tests or panels. Individual tests are ideal for those concerned about a single infection or want to test after treatment to see whether the infection has been cleared. The company recommends the multi-test panels as the most comprehensive way to test for the most common infections.
Individual Tests
The company offers 10 different individual STD tests. 
HIV
HIV 1 and 2 Antibody (4th Gen): This standard HIV test uses two methods to examine the blood for HIV type-1 and type-2. It identifies the human immunodeficiency virus antigen and the antibodies created by your immune system to help fight HIV. This test is important if you think you have been exposed as you can have HIV with no symptoms allowing you to infect your spouse or partner without your knowledge.
HIV RNA Early Detection: This test helps you to detect HIV at an early stage if you were recently exposed to the virus. This test can detect HIV in 9 to 11 days after exposure by searching for the virus's genetic material in your blood. This highly effective test is the only FDA-approved HIV RNA test available.
Herpes
Oral Herpes: The company carries out this specific type of chemiluminescence immunoassay test with your blood sample to identify the specific antibodies that help to fight against herpes 1 virus. This test is an FDA-cleared herpes type 1 with a specific 97% and a sensitivity of 96%.
Genital Herpes: This test is an FDA-cleared specific type for genital herpes that searches the blood for the virus antibodies and can differentiate between genital herpes and oral herpes. This test has a specificity of 98% and a sensitivity of 97%.

Hepatitis
Hepatitis A: This FDA-cleared hepatitis test helps examine the blood for IgM antibodies that are proteins produced by the body in responding to a viral infection. If your blood shows the presence of these antibodies, that indicates that you have been exposed to the virus. This test has a high and equal specificity and sensitivity rate of 95%.
Hepatitis B: This FDA-approved hepatitis B test searches the blood for viral proteins surface antigens. These surface antigens are the earliest signs of life-threatening infection and are present when a person has a long-term chronic infection. If your test result is positive, a confirmation test is carried out at no additional cost to provide you with an accurate test result. Early detection is essential with hepatitis B, resulting in liver complications.
Hepatitis C: This FDA-approved hepatitis C test searches the blood to identify antibodies our body produces in response to a virus present in the blood. This test has a specificity of 99.99 % and a sensitivity of 100%.
Other
Chlamydia: This FDA cleared nucleic acid amplification test examines the urine for chlamydia trachomatis bacterium, which indicates the infection. The test has a sensitivity of 99.8% and a specificity of 99.3%.
Gonorrhea: The nucleic acid amplification test tests the urine to search for the Neisseria gonorrhoeae bacteria that causes gonorrhea. If the urine test indicates the presence of the bacteria, it means you have a gonorrhea infection. This test is the most preferred and recommended method for determining gonorrhea infection.
Syphilis: The Rapid Plasma Reagin Syphilis test searches the blood for antibodies against syphilis infections to determine if a person has the infection. If the test is positive, the bacteria presence is confirmed with a treponema pallidum assay. This test is essential so you can get treated early and avoid infecting your partner unknowingly.
Combined Test Panels
The company offers three different combination packages.
Herpes I and II: This is a dedicated test looking into Herpes condition. The test provides results for both Herpes I and Herpes II through an immunoassay. The test can determine positivity even if there is no outbreak and has an accuracy of 97% – 99% of detecting beginning infection.
Chlamydia and gonorrhea: This urine based test has a sensitivity rate of 99.8%. It searches for both types of bacteria in one sample.
10 Panel STD test: This is a comprehensive STD test that tests for the most common viral and bacterial STDs. The 10-test panel is very important as an individual may have multiple STDs and most do not present symptoms.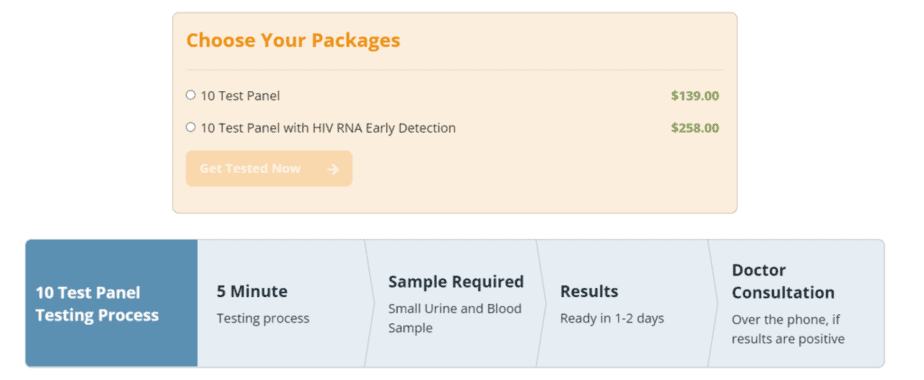 The 10 panel STD tests cover all the company's individual tests except for HIV RNA Detection Tests.
10 Test Panel with HIV RNA Early Detection: This test is an advanced package to the 10 Panel STD Test as it covers HIV RNA Early Detection. While the test is the most expensive, it is the most comprehensive and is less expensive than purchasing the individual tests.
Doctor Consultation
The company offers a consultation service for an additional fee that makes it possible for patients to communicate with expert doctors if any results are positive. The doctors helps the patients with the right guidance and recommendation on how to best manage the condition
While the company clinicians will not suggest medications to take for all conditions, they recommend prescriptions for patients with Gonorrhea or Chlamydia.
Review of STDcheck.com Cost
STDcheck.com's products are affordable, with the costliest panel at $258. Below is a full list of the company test prices.
10 Test Panel with HIV RNA Early Detection: $258
10 Panel STD Test: $139
HIV RNA Early Detection Test: $119
Chlamydia and Gonorrhea: $99
Herpes I and II Test: $79
Gonorrhea Test: $59
Chlamydia Test: $59
Syphilis Test: $49
HIV 1 and 2 Antibody (4th Gen) Test: $49
Oral Herpes Test: $45
Genital Herpes Test: $45
Hepatitis A Test: $24
Hepatitis B Test: $24
Hepatitis C Test: $24
STDcheck.com accepts most payment options, including gift cards, PayPal, and HSA / FSA accounts. To ensure privacy, the payment appears as "HealthLabs.com" on statements.
Also for privacy, the company does not accept health insurance. However, customers can request an itemized receipt for insurance reimbursement purposes.
Review of STDcheck.com Reports
The report of every STDCheck is comprehensive and extremely easy to understand. You get to know if you have a disease or not with the negative or positive tag in the result column. All individual tests will provide either Positive or Negative results depending on which test is performed. The other comprehensive panels, such as the Herpes I and II tests, 10 panel Tests will provide positive or Negative results for all the diseases that they cover.
Results from STDcheck.com are usually available 1-2 business days after taking the test as a single page report.
The first half of the report is the demographic information, including name, age, date of birth, and address. The second part provides details of the laboratory collection and processing dates.
The last section lists the infections tested for and whether you are positive or negative for each.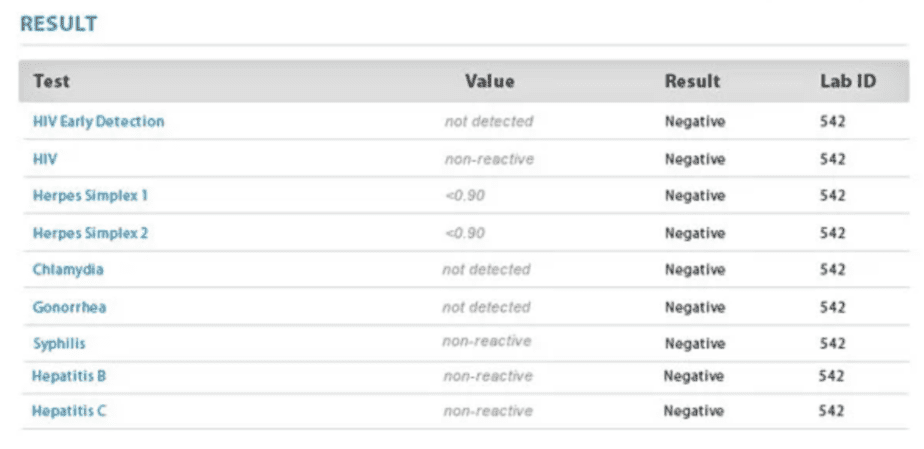 Review of STDcheck.com Privacy
Results are posted on a user's secure online account, which is encrypted and secure. The company does not contact insurance, doctors, or any other partners.
STDcheck.com states that it takes the privacy of its customers seriously and does not sell information. The company is HIPPA-compliant and testing is 100% private. You are not required to get prior approval for a test and you do not need to show your ID at the lab. A unique number is provided to connect you with your results.
The company takes all reasonable steps to ensure your privacy through communication. As such, all communication is performed under "HealthLabs.com". This includes the email to notify you that your results are available on the secure online portal. The company will never leave a voicemail or text message unless requested. They also have a live chat option for customers to connect with care advisors on private questions and concerns.
Other STDcheck.com Reviews
The company includes patient testimonials on its website, with an overall rating of 9.8 out of 10 with over 5000 ratings. Customers especially cite its service, speed, and convenience. Fast and easy were some of the most used comments.
Reviews on Trustpilot give the company a 4.8 out of 5 star rating with over 2000 ratings. Once again, people cited the process as fast and easy.
Pros and Cons
Pros
Comprehensive one time 10-panel STD test
Accurate results
Over 4,500 testing locations nationwide, including Washington, D.C., and Puerto Rico
All tests are FDA-approved and labs are CLIA-certified
Doctor consultation available for positive results
Cons
Only offers STD tests
No at home testing options
Does not accept insurance
Nebula Genomics
STDcheck.com is a major healthcare company that partners with national labs to help patients discover whether they have any sexually transmitted disease or not. With its 13 different types of test panels and comprehensive analysis, patients can determine what is responsible for their health and take further steps after getting their results.
While it stands out as one of the most trusted firms for sexually related diseases, it does not offer genetic or other health testing. The company prides itself in focusing on a specific area, which is great for customers who know what they need. If looking into health and wellness, you may also be interested in understanding how your genetic health may predispose you to certain conditions.
Nebula Genomics is a genetic testing company you can trust to give a comprehensive DNA test. With 30x Whole-Genome Sequencing, the test analyses every single gene in the human body. This is compared to only about 0.2% with most other at home genetic tests. Nebula includes reports on metabolism, fitness, immunity, ancestry, and more. Plus, with regular updates, your reports can keep you up to date with the latest genetic research.
| | | |
| --- | --- | --- |
| | STDcheck.com | Nebula Genomics |
| Testing method | Blood and urine to look for 10 most common STDs | Saliva sample to sequence all 20,000 genes and regulatory regions |
| Reporting | Positive or Negative STD | Genetic predispositions |
| Focus on privacy | Yes | Yes |
| Report for making medical decisions | Yes, all tests are performed at a CLIA-certified lab | No, but data is of the highest quality and can be used by physicians and genetic counselors |
| Cost | $24 – $258 | $0, $99, $299 |
STDcheck.com vs Nebula Genomics
Did you like our STDcheck.com review? You can read more reviews on our blog and check out our complete guide to the best DNA test kit and other home tests.
Other companies
STDcheck.com offers on-site testing at CLIA-accredited labs. For at-home STD tests, you should check out our MyLab Box review. Or, you can check out MicroGenDX, which offers advanced technology for a wide range of infections.
Other companies that offer health and wellness testing on-site and at-home include:
You may also be interested in virtual health care such as that offered by PlushCare, Teladoc, and Lemonaid Health!