7 Facts from our Verisana Health Review
Location: Hamburg, Germany
Products: Over 50 at-home lab tests
Cost: $49 – $260
Reports: Tests for hormones, gut, STDs, and others
How it works: Customers order their test at home, and activate the kit. They provide the appropriate sample (saliva, stool, or blood) and return it to the lab using prepaid shipping material. Results are available in about 3 weeks
Counseling available: No
Other Products: Nebula Genomics offers 30X Whole Genome Sequencing that decodes 100% of your DNA and offers reports on diet and much more!
This review is written with the intent to be as unbiased as possible. However, it represents the opinion of an individual reviewer and is therefore subjective. Furthermore, at Nebula Genomics we seek to educate the public about the benefits of Whole Genome Sequencing. Information about our Whole Genome Sequencing DNA test is therefore incorporated into the review.
December 7, 2022
Pros and Cons
Pros
Convenient
The kits are easy to use and test results are easy to interpret
Cons
Longer turnaround time (up to 3 weeks)
Lab is in Germany
Introduction
Verisana is an analytical laboratory that specializes in the monitoring of certain health complications. The company focuses on at-home testing for hormonal imbalances, metabolic disorders, and peripheral diseases that can make the body unstable and supports patients in their quest for health and wellbeing.
The tests are not intended to substitute for the consultation of a physician.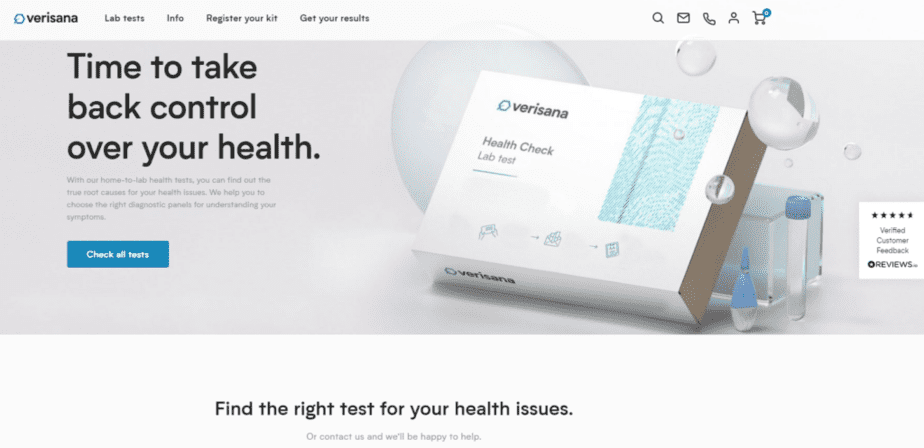 Christian Ziegert founded Verisana in 2011 and the company took its major start in 2012. Ziegart is the current CEO of the company. Other members include Michaela Banderob, the head of operations, and a team of experienced healthcare and laboratory professionals.
The Science Behind Verisana
The company claims that it uses the best technology to drive accuracy for its different tests. Its lab is CLIA-certified and approved to provide all the test kits they offer uses.
Scientific studies back up its diagnostic tests. Before offering them, the company ensures they are based on reliable and well-established methods. Since customers take the tests at home, they get the added advantage of privacy. If needed, Verisana helps its customers choose the right panel and connect with appropriate specialists.
Review of Verisana Products
Verisana offers laboratory testing to monitor customers' health. They also provide users with good wellness plans and guidance on how to maintain good health. Potential customers can review which product is best for them as each test page includes the markers tested for, symptoms or what the test is suitable for, and a sample collection guide.
Overall, the company sells over 50 products. We've broken down the categories and provided some examples below.
Hormone Tests
The comprehensive hormone test measures the level of 5 essential hormones to check for imbalances. The hormones include: progesterone, estradiol, DHEA, diurnal cortisol, and testosterone.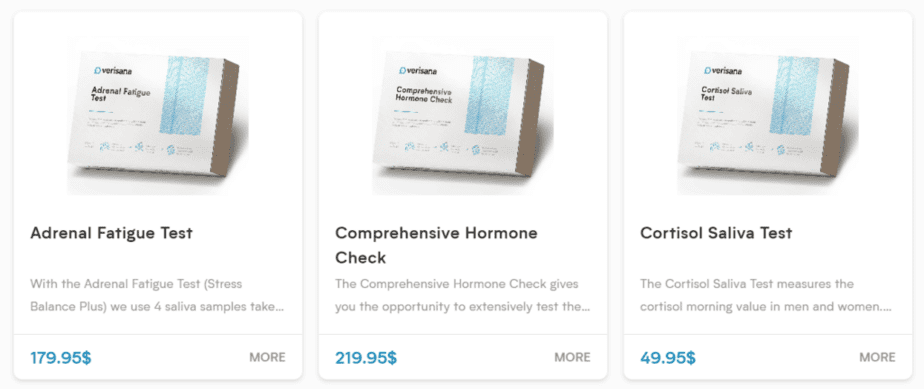 The dysfunction or disbalance of these hormones can cause serious health issues such as menstrual problems, skin problems, potency problems, and chronic fatigue.
Other hormone combination tests:
Adrenal fatigue
Diurnal cortisol
Estrogen dominance
Women's fertility
Female hormone
Male hormone
Weight hormone
Additionally, customers can search for and purchase tests for individual hormones.
Customers collect a saliva sample for this test and send it back to the lab. The report shows the analyzed hormones and reference ranges.
Gut health tests
Customers can comprehensively examine their intestines based on their stool samples. The gut is the second engine of the body after the brain, which is the reason why it plays a crucial role in the general well-being of an individual. The gut health tests are divided into Fungi and Bacteria and Leaky Gut and Inflammation. This test lets you know if levels of certain hormones increase your risk for this latter condition.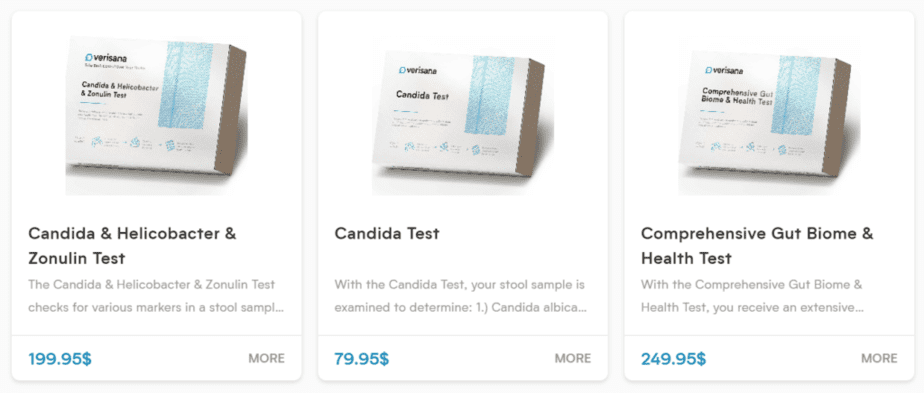 They can examine their guts for the infection of candida and mold, bacterial imbalance of the intestine flora, secretory IgA (gut mucosal immunology), and Helicobacter pylori.
Users collect a stool sample and send it to the lab. Technicians test the sample for each analyses, and information is provided on the current levels within the reference ranges for the age of the customer. The test results also include a graph to show if the user is on the green or red line. This makes the result easy to understand.
Other ways to test your gut health include:
STD tests
With the Verisana comprehensive STD test, samples of male and female users can be analyzed to determine if they have HIV, syphilis, hepatitis C, chlamydia, herpes simplex virus type 2, and trichomoniasis. These are sexually transmitted diseases. Many of them do not show symptoms until the disease progresses, making it possible for infected individuals to be unaware of an infection. The kits examine users for possible infection.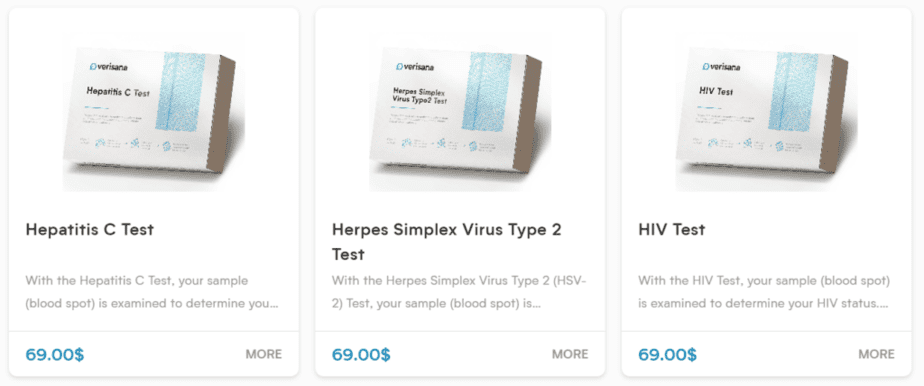 In this test, users collect two samples, a urine sample and a blood spot. Information will be provided about the STD status of the user. If a user is confirmed positive, it is advised they talk with a health practitioner about treatment options.
MyLab Box and STDcheck.com also offer at-home STD testing.
Other tests
The company provides additional tests that include food sensitivity and allergy, blood tests, and heart health and cholesterol panels.
Review of Taking a Verisana Test
The process for taking a test depends on the type of product ordered. All instructions are similar in that they provide detail on how to collect the samples and ship them to the lab for analysis. Customers receive a lab report via email in about 3 weeks after the sample arrives at the laboratory. The report contains detailed explanations of the biomarkers analyzed.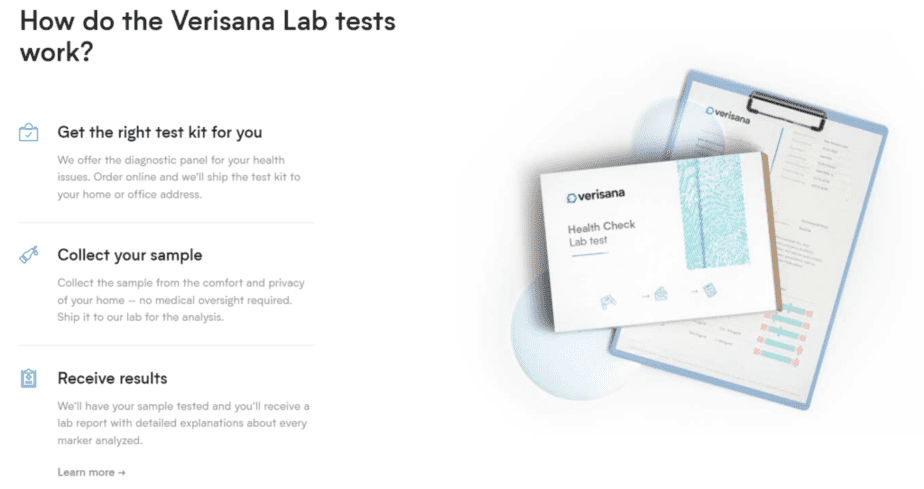 For the hormonal tests, users collect a saliva sample. The kit comes with a sample collector (small container). Users may repeat the process several times within the relevant period.
The gut test requires the collection of a stool sample. Customers take the blood tests by pricking their finger with a provided lancet and collecting a dried blood sample with a few drops of the produced blood.
With this service customers only receive their quantitative test results. The reports do not include individualized therapy recommendations or consultations.
Review of the Verisana Test Costs
The prices of the at-home Verisana tests are typically cheaper than those conducted in a doctor's office. Verisana is not contracted with any insurance companies and therefore its tests are not usually covered by insurance except with the insurer that covers at-home diagnostics.
Costs vary depending on the type of product:
Hormone: $50-$220
Gut health: $80-$250
STDs: $69-$200
Others (food sensitivity/allergy, blood tests, heart health): $49-$260
Review of Verisana Reports
Versiana Provide a comprehensive report for its different tests. These results help patients and their doctors make better decisions on treatments and preventative care.
Each report is based on analyzed biomarkers that provide specific information on a person's health and generally includes the same types of information. We'll look at a Comprehensive Hormone report below as an example.
The top of the report shows the customer's demographic and contact information.
Next, the report contains the results of the laboratory analysis.

Each biomarker or analyte tested for is listed, along with the exact result and reference range for that age group. The report also shows the result on a colored scale for easy visualization of values that are low (left) and high (right).
The remainder of the report contains a brief summary of the biomarkers tested and what abnormal results typically mean. These are meant to serve as an interpretation aid. They should not be used to make medical decisions or stop or start any therapy or medication. Customers should talk with their doctor for further treatment or prevention plans.
The company also notes the following information is available with its results:
"Further to that, we always recommend the discussion of the mailed results with your doctor or practitioner. Although we do not offer medical advice ourselves, we will gladly assist you in finding a suitable therapist in your area. Besides, further information is available on our website, especially in the different test categories, under "health conditions" and the FAQs."
Review of the Verisana Privacy Policy
The company collects information when users order or purchase items on their website. The details include the name, address, mailing address, phone number, credit card information, and social security number.
The information is collected to personalize the user's experience, to improve the company's website for better service, quick transaction process, and follow-up.
Verisana releases information only with its business partners to provide the customer the requested service, by notifying the customer, or to comply with legal obligations.
Other Verisana Reviews
Verisana has an excellent review from Reviews.Io, with respondents giving the company a 4.7 rating with over 500 reviews. Most customers found the products convenient. The low reviews noted that they did not believe the test results would be valid since the sample needs to be shipped to labs in Germany.
Amazon reviews on Verisana female hormone test and HPV women tests scored 4.0/5 and 3.8/5, indicating relative positive reviews on the test.
Nebula Genomics
Verisana tests are for customeres who want to test their current status for things like hormones, gut, and sexual health. These are important markers that may influence the kind of treatments or preventative medicine recommended by physicians. Testing biomarkers for current status is just one way of picturing your overall health.
Another way is to explore your genes and learn about your genetic predispositions. Nebula Genomics offers 30x whole genome sequencing. This next-generation sequencing decodes all 20,000 genes in the human genome. Results also come with ancestry reporting and genome exploration tools.
Testing for both genes and biomarkers can be a complimentary way to get the most comprehensive view of your health. It's important to remember that while customers can, and should, interpret results, expert opinion by the customer's doctor is needed when considering health changes.
For only $299 or less, customers will get access to their entire genome, allowing them to continue to ask more questions as more research is conducted.
| | | |
| --- | --- | --- |
| | Verisana | Nebula Genomics |
| Testing method | Salvia, blood, and stool tests | Saliva test |
| Results | Biomarker levels | Whole genome sequencing |
| Reports | Quantitative results and reference ranges | An extended genetic report that is updated regularly |
| Counseling | No | No, but data is of the highest quality and can be used by physicians and genetic counselors |
| Cost | $49 – $260 | $0, $99, $299 |
Did you like our Verisana review? You can read more reviews on our blog and check out our complete guide to the best DNA test kit and other home tests.
Other tests
You may be interested in these other at-home tests for biomarkers and general health factors: