7 Facts from our Nurx Review
Location: San Francisco, California
Products: Covid-19 Test Kit, STI Full Control Kit, Clearblue Easy Ovulation Kit, HPV Screening and other drugs and treatments
Cost: Depends on location and insurance. Costs as low as $0
Reports: Positive or Negative status of tested conditions
How it works: For the testing kits, customers ordered their desired tests, which come in discreet packaging, take the test, and send it back to the labs. For prescriptions, customers either complete a health history or speak with a medical professional to obtain a prescription
Counseling available: No
Alternative Products: Nebula Genomics offers 30X Whole Genome Sequencing that decodes 100% of your DNA and offers reports on diet and much more!
This review is written with the intent to be as unbiased as possible. However, it represents the opinion of an individual reviewer and is therefore subjective. Furthermore, at Nebula Genomics we seek to educate the public about the benefits of Whole Genome Sequencing. Information about our Whole Genome Sequencing DNA test is therefore incorporated into the review.
November 22, 2022
Pros and Cons
Pros
Wide range of services
A convenient way to order prescriptions
Discreet shipping
Compatible with or without health insurance
Cons
Birth control and contraceptives not available in all 50 states and Puerto Rico
Mixed reviews from customers
Reports of prices becoming higher when advertised
Reports of poor customer service
Introduction
Nurx is a healthcare company that offers patients personal treatment plans and various at-home testing kits and oral contraceptives. The company is part of a new wave of telemedicine which saves on transportation and time away from work. Nurx was founded in 2014 and has its headquarters in San Francisco, California.
The company majorly focuses on essential treatment and products that have to do with providing prescriptions without coming into the doctor's office for an appointment. Categories include birth control pills and sexual health, personalized treatment for acne and other skin conditions, general health, and mental health. Nurx advertises its products as private, convenient, and affordable which are positive aspects considering their products for STI testing, birth control, and others.

History
Edvard Engesaeth and Hans Gangesterkar co-founded Nurx. Edvard Engesaeth is an entrepreneur dedicated to making healthcare accessible and affordable for everyone. He has an MD degree from the MUW and did an internship program at St. Olav's University Hospital, Norway.
Hans Gangester is the co-founder and was the CEO of the company for four and a half years (Nov 2014 – Apr 2019). He has a BA honor in mathematics and computer science from the University of Cambridge. He did law programs and earned degrees from The George Washington Law School and BPP Law School.
The co-founders of Nurx shared a common value and built a strong team. The current CEO of the telemedicine company is Varsha Rao.
The Science Behind Nurx Test
Nurx is designed to provide patients with proven, FDA-approved tests and treatments online. Available tests include STI testing, HPV screening, and as of 2022, a COVID-19 test. The tests are analyzed at the company's partner laboratory, Molecular Testing Labs™ (MTL).
Nurx sells the Lucria Check It COVID-19 test. To learn more about this PCR quality at-home test you can check out our blog post.
The company's medical team will contact the patient once lab tests and results are ready to discuss future health and treatment plans.
Review of Nurx Testing Products
Prescription medications
For the variety of medication options, the exact process will vary by prescription types. Some require the customer to attend a virtual consultation while others only require a simple medical questionnaire. Prescriptions can be shipped in a few as 3-5 business days.

Nurx offers the following medications. These span medications like those for birth control, oral and genital herpes, and mental health and skincare products such as treatment for dark spots, fine lines, wrinkles, and uneven pigmentation.
| Birth control + sexual health | Skincare | General Health | Mental Health |
| --- | --- | --- | --- |
| Birth control | Melasma | Migraine | Anxiety & OCD |
| Emergency contraceptives | Acne | Genital herpes | Mild and moderate depression |
| HIV PrEP | Rosacea | Cold sore | Seasonal Affective Disorder (SAO) |
| | Anti-aging | UTI | Premenstrual Dysphoric Disorder (PMDD) |
| | Psoriasis | | Postpartum & Menopause Depression |
| | Eczema | | |
Although the company advertises things like the ability to get birth control prescriptions anytime, it should be noted that some prescriptions, such as birth control, are not available in every state. The Centers for Disease Control and Prevention do not require an appointment before a doctor prescribes contraceptives. For birth control, Nurx allows customers to choose the kind of birth control they want where they choose from 50 formulas, pill, ring, patch, or shot.
Additionally, insurance does not cover all types of the assessments and prescriptions offered such as the anti-aging treatments.
Testing kits
STI Full Control Kit: This kit is used at home to check for five sexually transmitted infections that can cause serious harm if left undiagnosed. Specifically, it tests for HIV, chlamydia (genital, throat, and rectal), gonorrhea (genital, throat, and rectal), syphilis, and Hepatitis C. The kit is FDA-authorized and the collection method includes urine samples, throat swabs, rectal swabs, and finger prick cards.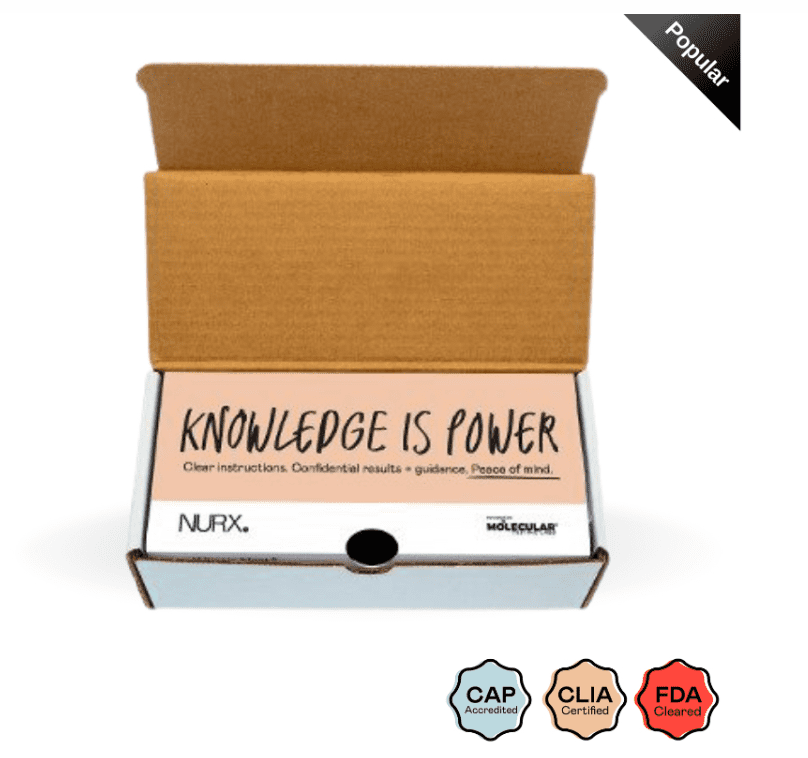 The variations of this kit are the Basics Covered Kit (genital chlamydia, genital gonorrhea, HIV, and syphilis) and the Healthy V kit (includes trichomoniasis but does not include the rectal forms of the infections).
These testing kits can be used by any gender.
HPV Screening: The HPV screening kit is another product that Nurx offers. Without testing it is hard to tell if one has HPV since many people don't experience symptoms.
This kit is used to test for HPV and determine the risk of cervical cancer by testing for the 14 high-risk strains of the virus that most likely lead to the disease.
Review of Taking a Nurx Health Test
Nurx features a variety of health tests as well as prescription delivery to the customer's home. The exact process will depend on the type of test or prescription ordered.
For the STI testing and HPV screening customers will answer a few health questions and pay the consultation fee, which includes unlimited messaging with the medical team for a year about the tests or results. The Nurx medical team reviews the responses or sets up the appointment.
Customers follow the included instructions to take the test and return it to the lab in the prepaid return package. Everything is sent free in discreet packaging.

Once the results are available, a member of the Nurx team will reach out to discuss them with the patient. If the tests are positive for a virus or disease the team will help facilitate a prescription or further care. Customers receive access to the medical team whether their results are positive or not.
To order a prescription on Nurx, customers will generally follow a similar procedure. They will either fill out a health questionnaire, submit a short video exam, or schedule an initial consultation with a Nurx medical professional. The medical team provides personalized treatment.
The company ships any ordered prescriptions to the patient's door or to a local pharmacy. In most cases patients receive their treatment at their door with automatic refills.
If needed, the one-time consultation fee includes the ability to connect with a medical provider for assessments and prescription adjustments for the medicine the medical team prescribes online.
Review of Nurx Health Products Costs
Nurx products are reasonable considering patients can do everything online. The summary of the testing costs is below:
Lucira Check it Covid-19 test kit: $65
STI Kit: $75+
HPV: $49+
The lab testing kit prices do not include a $15 consultation fee. Additionally, the prices reflect the lowest one could pay if insurance covers the test. Nurx accepts most insurance to cover the cost of these tests.
A medical team reviews, prescribes, and follows up on the medication. Most, but not all, prescriptions are billable through insurance. It is important for customers to check the website and talk to their insurance provider.
Consultation fees are not billable to insurance and are paid as a one-time fee. Insurance may also charge copays that are paid by the patients.
Birth control: $0-$15 per month + $30 consultation fee
Emergency contraception: $0-$45 per pill + $15 consultation fee
HIV PreP: $0-$164 for the test + $25 consultation fee
Melasma treatment: $90 for a 3-month supply + $40 consultation fee
Acne treatment: $0-$30 per month + $40 consultation fee
Rosacea treatment: $0-$40 per month + $40 consultation fee
Anti-aging treatment: $0-$30 per month + $30 consultation fee
Facet psoriasis and eczema treatment: Insurance accepted for your first virtual visit. Medications start at $15 per month
Cove migraine treatment: Check out our blog post!
Genital herpes and cold sore treatments: $0-$75 for a 3-month supply + $20 consultation fee
UTI treatment: $65
Mental health: $55 per month
Customers can pay extra for expedited delivery.
Review of Nurx Report
The Nurx reports depend on the type of tests that customers subscribe to. For general at-home tests, customers will get an overview of positive or negative for each of the conditions tested for.
The STI reports are dependent on the choice of kits that patients buy. There are three major test kits:
Basic Covered Kit
Healthy V Kit
Full Control Kit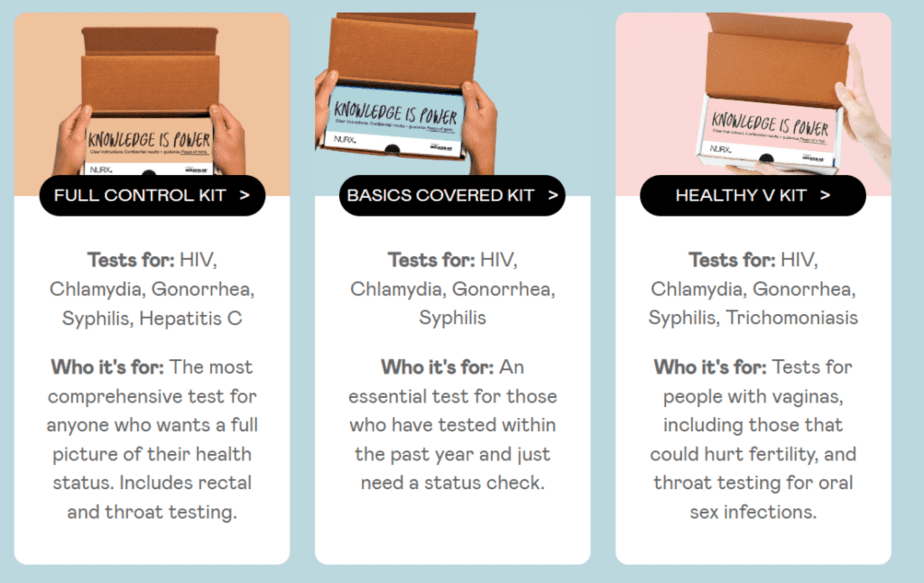 The diseases on each report that each test covers include:
The Basic Covered Kit: Chlamydia (Genital), Gonorrhea (Genital), HIV, Syphilis
Healthy V Kit: Chlamydia (Genital), Chlamydia (Throat), Gonorrhea (Genital), Gonorrhea (Throat), Trichomoniasis, HIV, Syphilis
Full Control Kit: Chlamydia (Genital), Chlamydia (Throat), Gonorrhea (Genital), Gonorrhea (Throat), Gonorrhea (Rectal), HIV, Syphilis, Hepatitis C
Review of Nurx Privacy Policy
User's account information includes the information collected when a user creates an account with the company. They include the user's name, Email address, birth date, state, and zip code.
User's Nurx test results: The information collected includes the date and time a user took the test, run time data, cartridge serial number, and other information that can enhance the services of the company. The company also collects details of users' visits to their platform.
Medical information may be used and disclosed in connection with the Health Care Services in accordance with the Health Insurance Portability and Accountability Act ("HIPAA").
The information collected is used to provide users with better services. They are not shared with others except where legally required.
Other Nurx Reviews
Nurx has only a 2.0 star review on Trustpilot with almost 300 reviews. The most common complaints were from customers who indicate that they are unable to order their medication, that it does not come on time, surprise bills, and poor customer service. Many also do not believe that the company offers transparent pricing.
Positive reviews indicate that the service was quick and easy to use.
Similarly, the company has a 1.87 star review on the Better Business Bureau (US only). The most common complaint is that it takes the consultation fee before supplying the service and customers do not have a good experience with customer service.
Nurx in the News
In February 2022 Nurx announced that it would merge with a similar telemedicine company Thirty Madison and operate under the Thirty Madison brand. The goal will be for the two companies to operate under a single platform with currently 750,000 active patients.
Nebula Genomics
Nurx is a telehealth program that offers different types of tests and access to prescriptions. However, its offering may be limited depending on the type of care you need. There are also other ways to investigate your health and prepare for the future.
Nebula Genomics offers a comprehensive test that highlights predispositions related to diet, fitness, disease, and much more. With 30x Whole-Genome Sequencing, Nebula sequences 100% of your DNA to get to the root cause of every biological inclination. The test is incredibly accurate and comes with other additions, including ancestry reporting and genome exploration tools. Regularly updated reports ensure that you will not miss the latest genetic research.
Unlike Nurx, Nebula Genomics ships its kits to anywhere in the world. Although genetic testing is not disease testing, it can give you the information for you and your healthcare provider to discuss your risks and make treatment or preventative plans.
For only $299 or less, customers will get access to their entire genome, allowing them to continue to ask more questions as more research is conducted.
| | | |
| --- | --- | --- |
| | Nurx | Nebula Genomics |
| Tests available | STI and HPV tests available. Also an online prescription service | Genome sequencing that decodes all 20,000 genes and regulatory regions |
| Reports | Positive or negative for the tested condition | An extended genetic report that is updated regularly |
| Ancestry reporting | No | Performs deep ancestry reporting with the complete Y chromosome and mtDNA sequencing |
| Counseling | No | No, but data is of the highest quality and can be used by physicians and genetic counselors |
| Cost | Varies. Sexual health testing kits start at $49-$75 | $0, $99, $299 |
Did you like our Nurx review? You can read more reviews on our blog and check out our complete guide to the best DNA test kit and other home tests.
Other companies:
MintRx is another service that offers online prescriptions for a variety of conditions, including sexual health.
Companies that offer testing for sexual health:
More ways to get online prescriptions:
BlueChew (at home diagnosis and prescriptions for erectile dysfunction)
Other general wellness tests: