7 Facts from our MintRx Review
Location: Riviera Beach, FL, United States
Services: Mail order pharmacy, online doctor's office, and lab testing
Cost: $90 – $550
Reports: Biomarker results and reference range
How it works: Prescriptions require a photo upload or MD consultation. Medications ship within 1-3 days after approval. Tests require sample collection and shipping back to lab. Results are available within 3-5 days.
Counseling available: No
Other Products: Nebula Genomics offers 30X Whole Genome Sequencing that decodes 100% of your DNA and offers reports on diet and much more!
This review is written with the intent to be as unbiased as possible. However, it represents the opinion of an individual reviewer and is therefore subjective. Furthermore, at Nebula Genomics we seek to educate the public about the benefits of Whole Genome Sequencing. Information about our Whole Genome Sequencing DNA test is therefore incorporated into the review.
December 28, 2022
Pros and Cons
Pros
Quick turnaround
Results/prescriptions are private and confidential
Good customer service
Cons
Not available in some states
Expensive for product alone
Introduction
MintRx is a Cloud Health Care Company in which all health services are facilitated online. Its goal is to expand access to prescription and natural health products. The company also operates two brick and mortar stores in Florida: Mint Pharmacy and Skin Clinic.
Some of the services include FDA approved generics, telemedicine, custom-compounded prescriptions, thousands of manufactured medications, natural products and at-home lab testing. The company offers a broad range of services, providing treatment to people with issues like acne, hair loss, erectile dysfunction, sexual health, etc.
It is also an authorized online store to sell Obagi prescription-only skincare products.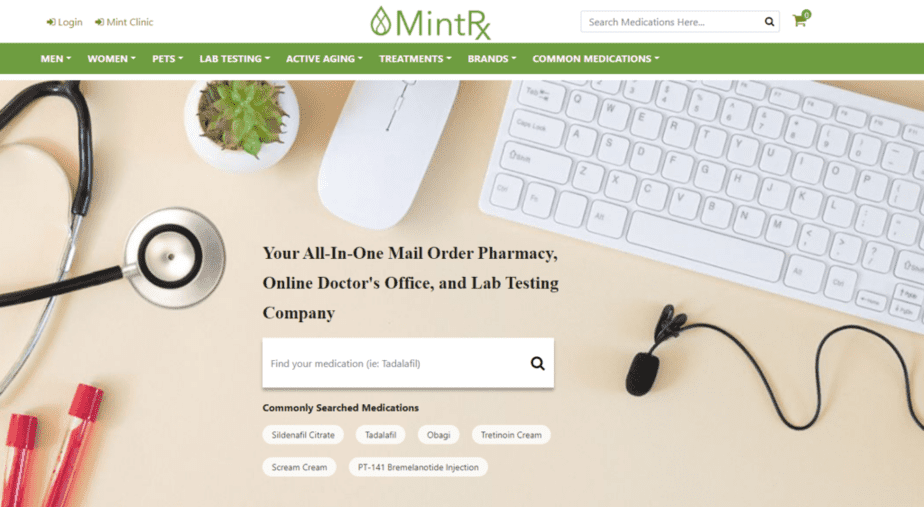 The company holds Digital Pharmacy Accreditation from the National Association of Boards of Pharmacy (NABP). It offers custom-compounded products including custom-made Rx products like Lady V, Scream Cream, generic and custom compounded ED meds, Rectal Rocket and fré topical pain cream. The compounding lab is approved by the Pharmacy Compounding Accreditation Board (PCAB). It currently serves 49 states and accepts FSA/HSA Debit Cards.
Founded in 2016, the company is based in Riviera Beach, Florida. The working team is headed by Dr. Candace Chumley. She focuses on the treatment of acute and chronic health conditions. There is also Tod Work, who works and leads the pain management program.
The Science Behind MintRx
MintRx offers both prescription and natural health products. It also provides access to lab tests. The company's science for its lab tests is standard and can be used for informational purposes.
The company analyzes the relevant biomarkers for any test that patients buy a kit for. Finally, it facilitates online doctor appointments.
The company states that it breaks down three key barriers to health: financial, geographical, and educational.
Review of MintRx Products
MintRx offers 3 main types of services: online doctors, prescription and natural product treatments, and laboratory testing.
Treatments
Most of the available treatments require a prescription. Customers will be prompted to create an account and upload a photo of the prescription after checkout. If they don't have a prescription they can obtain one from an online MD for an extra fee in some cases. Patients can also obtain refills from this service.
The MintRx pharmacists will review the prescription and ship the medication within 1-3 days of approval.
Since MintRx offers several products for sexual health, customers may find this process to be more comfortable and private that traditional means of obtaining prescriptions from a doctor's office.
Typically, customers can also choose the strength and amount. This information must match the prescription.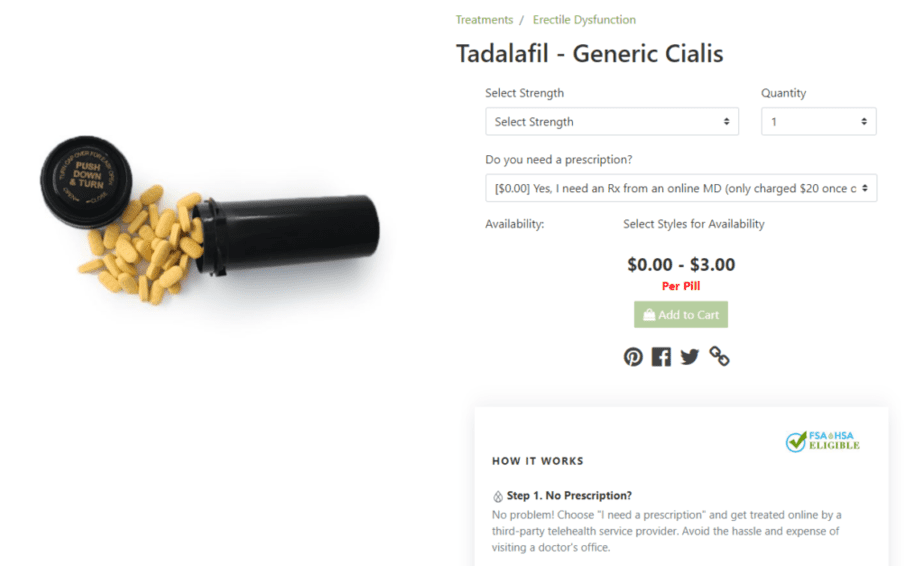 Customers should also note that the price is listed as price per pill. The cost will vary depending on the strength and quantity.
The company offers treatments for the following conditions:
Thyroid
Erectile dysfunction
Hair loss
Skin concerns (includes Obagi prescription-only skincare products)
Cold sores/herpes
Low libido/vaginal atrophy
Women's hormones (Harmony BHRT – bio-identical hormone replacement therapy)
Mental health
Migraines/headaches
Excessive sweating
Weight loss
Prescription medications ship to 49 states and Washington DC while over the counter medications ship to anywhere in the United States.
There are at-home testing companies that specialize in many of these conditions including BlueChew (at home diagnosis and prescriptions for erectile dysfunction), Cove Migraine (telemedicine consults and treatments for migraines), empowerDX (women's, men's, heart, mental health, and more), and Paloma Health (at-home thyroid testing and consultations).
Lab testing
MintRx is a store for different types of testing. It produces its own lab tests including those for insulin growth factor, testosterone, and thyroid (TSH).
Customers can also order tests from 5Strands for food and environmental sensitivity analysis.
Below is a summary of some products MintRx offers. Customers collect the samples for these tests via dried blood spots. The company cannot offer at-home lab test kits to NY, NJ, RI, MD or MA.
Testosterone
This hormone plays a major role in the reproduction and sexuality of males and females. It is involved in reproduction and also affects energy levels, hair growth or loss, and muscle mass.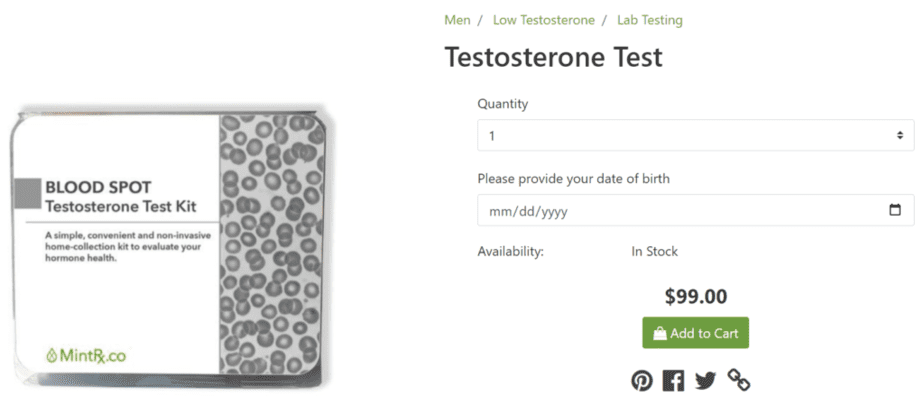 The test analyzes testosterone imbalances that cause issues like acne, sleep disturbances, sexual dysfunction, and other health conditions.
Women's hormone
This kit measures two significant hormones in women: estradiol and progesterone as well as testosterone. These hormones are most likely to be imbalanced because of conditions like stress, aging, illness, and menopause. Women start to experience issues of low libido, troubled sleep, brain fog, adult acne, hot flashes, etc. when these hormones are imbalanced.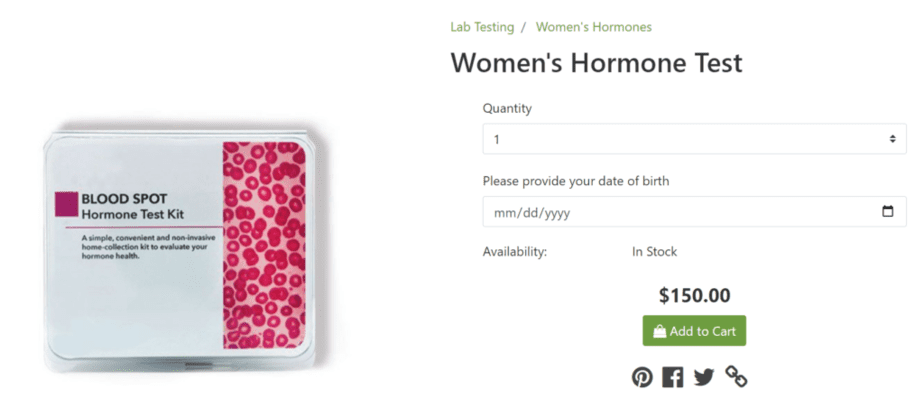 Insulin Growth Factor (IGF-1)
With this kit, users can check their insulin growth factor, also known as somatomedin C. It controls the effect of the major growth hormone that helps the body metabolize glucose for cell use and skeletal muscle growth. Optimum IGF-1 levels are based on factors such as age, gender, underlying diseases, and the general health of an individual.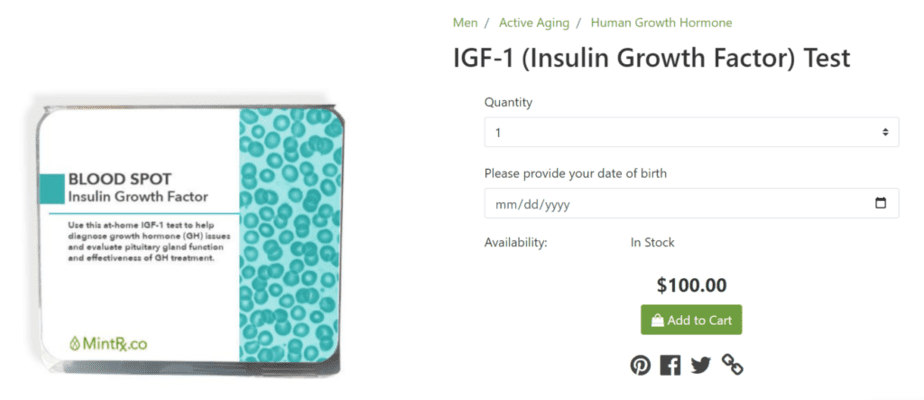 Patients can suffer major health issues like pituitary gland dysfunction, cancer, and diabetes due to an imbalance in IGF-1.
Thyroid function
This test measures TSH, free levels of T4 and T3. It also looks for the presence of Thyroid Peroxidase Antibodies (TPOab).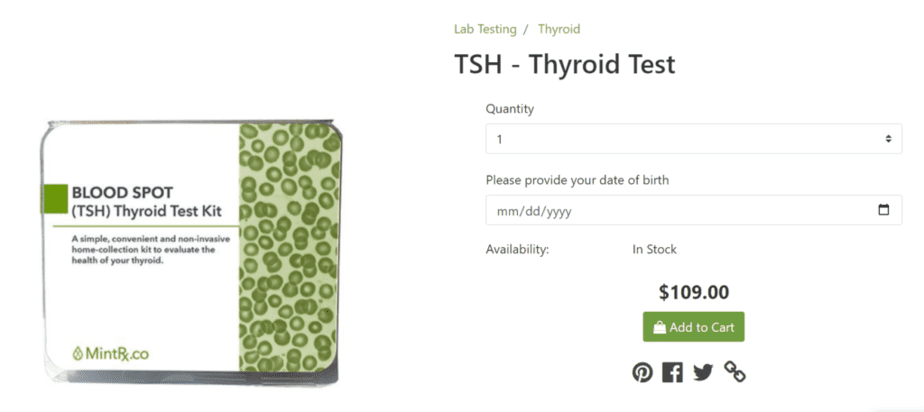 Other companies that offer at-home biomarker testing include Everlywell (wide range of health and wellness tests), imaware (at home blood tests for wide range of health conditions), InsideTracker (biomarker health tests and optional DNA test), LetsGetChecked (wide range of health and wellness tests), Rightangled (UK based DNA and biomarker testing), RxHomeTest (biomarkers and genetic tests), and Verisana (hormone, gut, and STD tests plus many more).
Review of Taking a MintRx Test
MintRx tests involve collecting a dried blood sample for biomarker analysis. Customers should follow the instructions provided in the kit and send it back to the CLIA-certified lab with the prepaid shipping envelope. Then, results are sent electronically in 3-5 days after the sample arrives at the lab.
Review of MintRx Cost
Because MintRx sells third-party products on its site, the external company sets these prices. Prescription prices are based on the drug company's price as well.
MintRx prices for its own blood spot test products are reasonably affordable ranging from $90-$550.
Follicle-stimulating hormone (FSH): $90
Luteinizing hormone: $90
Testosterone: $99
Insulin growth factor (IGF-1): $100
TSH (thyroid): $109
Vitamin D: $120
Women's hormone: $150
Cardiometabolic profile: $250
Thyroid function: $250
Women's fertility: $550
The tests are not covered by insurance but most are FSA and HSA eligible.
Review of MintRx Report
Reports for MintRx tests are based on biomarkers. Generally, results will include your quantitative result and reference ranges based on age and gender. For example, the table below shows an excerpt of the ranges for the IGF-1 test for US men and women. It's important to remember that reference ranges may differ slightly from lab to lab.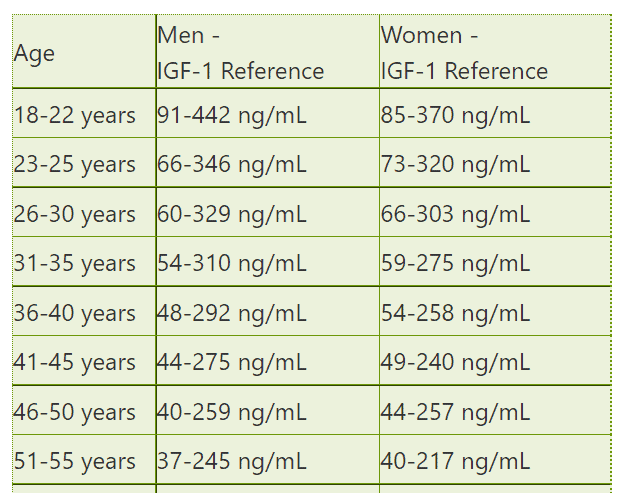 MintRx delivers results electronically 3-5 days after the sample arrives in the lab.
Review of MintRx Privacy Policy
MintRx collects customers' personal information and treats them appropriately, in compliance with the law. All processes are HIPAA- and HITECH-compliant. It also ensures the safety of information through a secure medical intake form, which is used to collect health information. By accessing the services of MintRx, users consent to the collection and use of information based on the privacy policy.
Information is collected to identify and reach clients to provide information on orders and refills, reply to inquiries, make company announcements and marketing, etc.
The information collected is not linked to any other website or a third party and will not be sold. It is only released with customers' consent, in response to a legal request, for safety purposes, or if an account violates terms or usage guidelines.
Other MintRx Reviews
MintRx has a 3.8 star review on Trustpilot with over 2,000 reviews. Many customers liked that they could get their prescriptions online, appreciated the value, and had good interactions with customer service.
Some customers had complaints about things like not receiving their orders or had issues with certain batches. A Reddit thread from 2020 noted that the prices can be expensive, but usually not more than what a doctor's visit costs.
Nebula Genomics
MintRx provides laboratory tests, prescriptions, and pharmaceutical supplements for better health. By partnering with other companies, the site acts as both a brick and mortar store and an online landing page for a variety of health products. It also gives customers access to in-house lab testing.
Before investing in certain lab tests you may be interested to know if your genes are playing a role in these health conditions. Nebula Genomics offers 30x whole genome sequencing technology, which decodes all 20,000 genes in the human genome. Results also come with ancestry reporting and genome exploration tools.
Whether thinking about a lab test in-person or online, understanding genetic predispositions can help you better assess your health.
Nebula offers a comprehensive test for any available genetic predisposition related to disease, traits, and health. We also provide customers with regularly updated reports on the latest genetic discoveries.
For only $299 or less, customers will get access to their entire genome, allowing them to continue to ask more questions as more research is conducted.
| | | |
| --- | --- | --- |
| | MintRx | Nebula Genomics |
| Testing method | Dried blood spot for biomarker results compared to reference ranges | Saliva test for whole genome sequencing |
| Reports | Numerical results on different biomarkers and reference ranges | An extended genetic report that is updated regularly |
| Counseling | No | No, but data is of the highest quality and can be used by physicians and genetic counselors |
| Cost | $90-$550 | $0, $99, $299 |
Did you like our MintRx review? You can read more reviews on our blog and check out our complete guide to the best DNA test kit and other home tests.
Similar services are offered by the company Nurx for sexual health testing and at-home prescriptions.